Google Chrome is the market leader of the web browser industry popular for its speed, reliability, and performance. However some users reported, Chrome running slow or not responding after updating to Windows 11 and their browsing experience was altered. Why is Chrome running so slow? There are many reasons that may impact Chrome speed and performance, such as caching blocks, outdated software, some extensions, too many open tabs or too much use of resources, and more. Whatever the reason, this post brings troubleshooting methods to fix the issue if Google Chrome is Slow on Windows 11.
Fix Slow Google Chrome on Windows 11
Over time, Chrome collects a substantial amount of cached data and cookies from websites you visit. This can lead to slower performance. Clearing these can help speed up the browser. Again Chrome's extensions can be incredibly useful, but having too many of them can slow down Chrome browser.
Running an outdated version of Chrome can lead to performance issues. Updating Chrome to the latest version often includes bug fixes and performance improvements. Having too many tabs open simultaneously can strain system resources. Closing unnecessary tabs can help speed things up.
Disabling hardware acceleration in Chrome's settings can be a solution, especially if your graphics card or drivers are causing compatibility issues.
Before applying the solutions listed below check and make sure that you have a stable Internet connection. In addition, disconnect the VPN (if connected) because that may impact your Internet speed and make Chrome slow.
If Google Chrome won't open in single or double click then
Open task manager using shift key + Ctrl key + Esc
Under the process tab look for Google Chrome, right-click on it, and select end task from the context menu.
Let's try to open the browser again.
Pro tip: You can type chrome://restart in the Chrome address bar to relaunch your browser quickly.
Restart your computer
Restarting your PC always fixes different issues if it is caused due to any small glitch. It's a common solution everyone using any gadget carry out at first when any issue happens. To restart your Windows 11 computer:
Press the Windows key to open the start menu, at its bottom right corner click on Power.
Then from the small menu click on Restart
Once done open the Chrome browser and check its performance.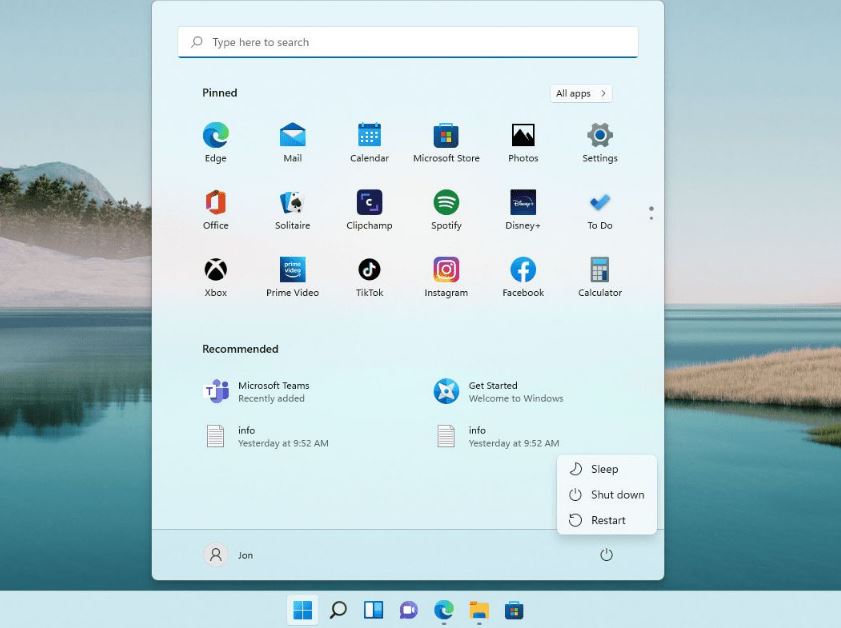 Clear Google Chrome Cache
Over time, Chrome accumulates cached data and cookies from websites. This can slow down the browser's performance. If you still find Chrome slow on Windows 11, then you should try clearing the Google Chrome cache that disperses off the junk files thus clearing up a lot of memory.
Press Ctrl + Shift + Delete key combinations While the Chrome browser is open or type in chrome://settings/clearBrowserData in the URL box and press enter key,
Clear Browsing Data dialog box will pop up, go to the advanced tab and select time range all time.
By default, cookies and other site data, cached images & files will bear a checkmark. If not, manually select these two options.
And finally click on Clear Data to Clear Google Chrome Cache and cookies, which not only fix the problem but also improve Chrome speed as well.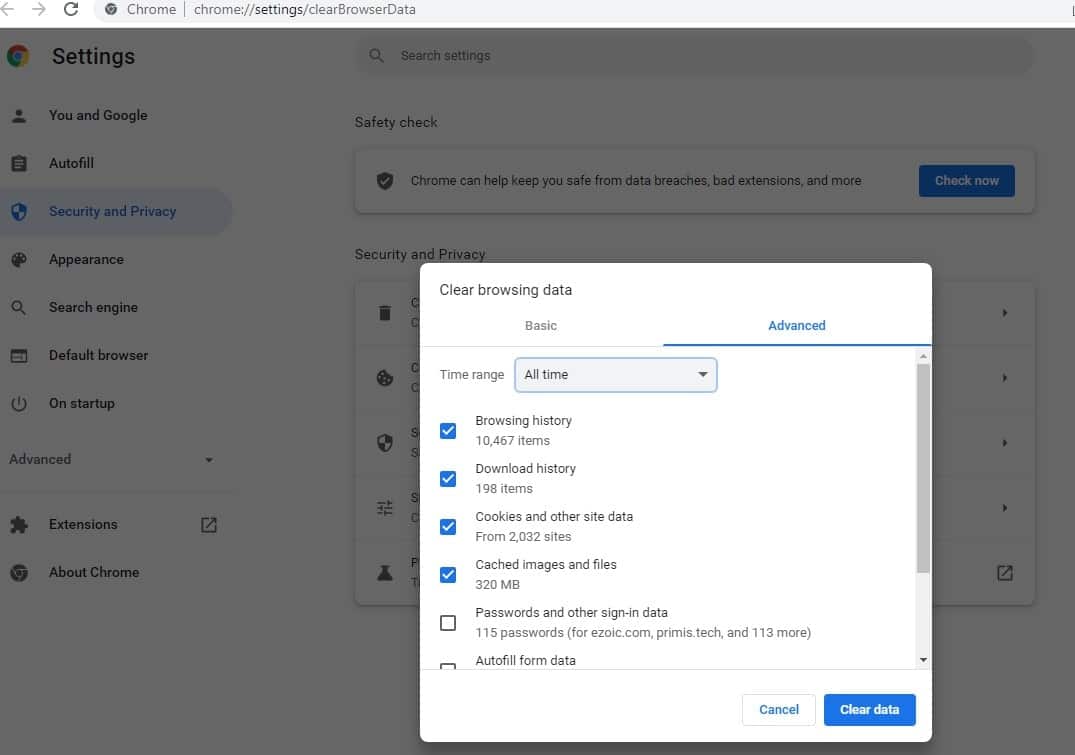 Remove Unwanted Extensions
If you have a number of Chrome extensions installed on your browser, it may also cause Chrome slow on Windows 11. because extensions will perform actions on the page that will delay the loading. You should try removing unwanted extensions, and check if it fixes the slow Chrome or not.
Extensions can enhance Chrome's functionality, but having too many can lead to sluggish performance
Open Chrome browser, Then in the address bar type Chrome://Extensions to view all the extensions installed on Chrome.
Each extension will have an option Remove beside it.
From here, remove or disable the unwanted extensions and you should be able to use Chrome without it slowing down.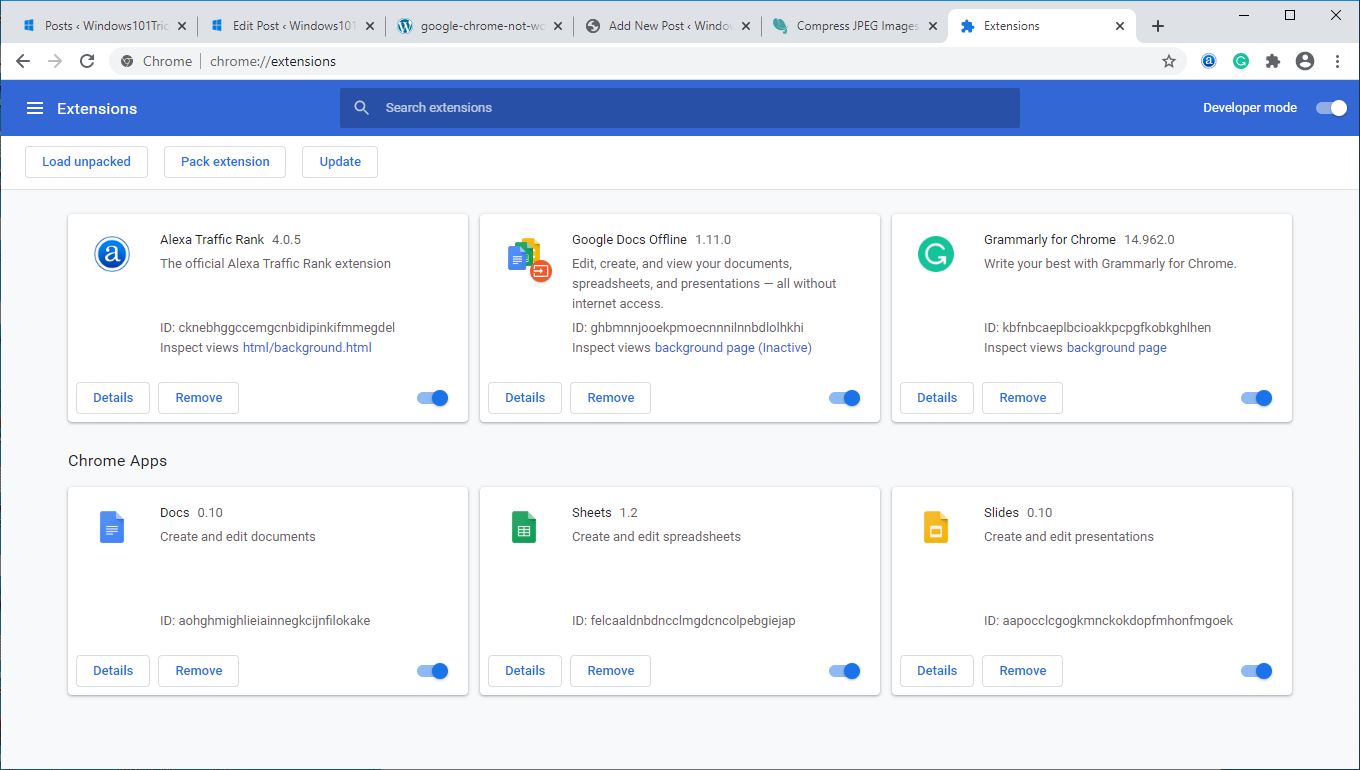 End High CPU Chrome Processes
One of the main reasons behind Chrome slow on Windows 11 is multiple tabs open on your browser. Again when you start Chrome, multiple processes start in the background that include, preload pages, as well as extensions. These processes consume CPU resources, thus causing Chrome to slow down. Let's open the Chrome task manager to find out which process on Google Chrome is consuming more power and disable them.
To open task manager on Chrome:
Press the shift key + Esc while the browser is open. alternately, click the menu button More, Select More tools → Task Manager.
This will display a list of processes actively running on the Chrome browser,
Check the Memory Footprint and the CPU Usage and Close the processes that display high CPU usage.
to do this Click the process to highlight it then click on End Process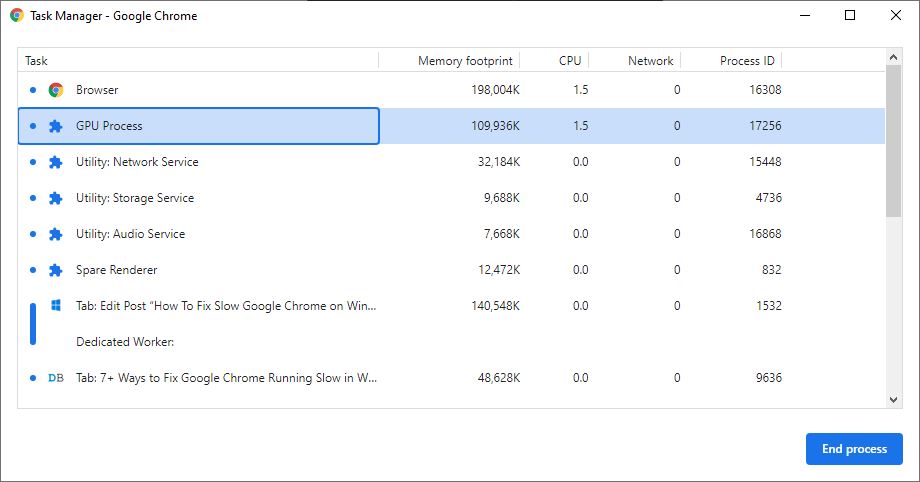 Update Google Chrome
If you still face slow Chrome in Windows 11, then you can try updating the browser to fix slow Chrome in Windows 11. Chrome automatically installs updates, but Still, you can manually check for updates and in case the Chrome browser has not been updated.
Updating Chrome to the latest version often includes bug fixes and performance improvements.
Open the Chrome browser.
In the URL bar type Chrome://Settings and press enterkey.
On the left-hand panel, click on About Chrome.
If your PC is connected to the internet, then Chrome will automatically update itself.
After the Chrome browser updates, re-launch the browser and check the latest build should work smoothly.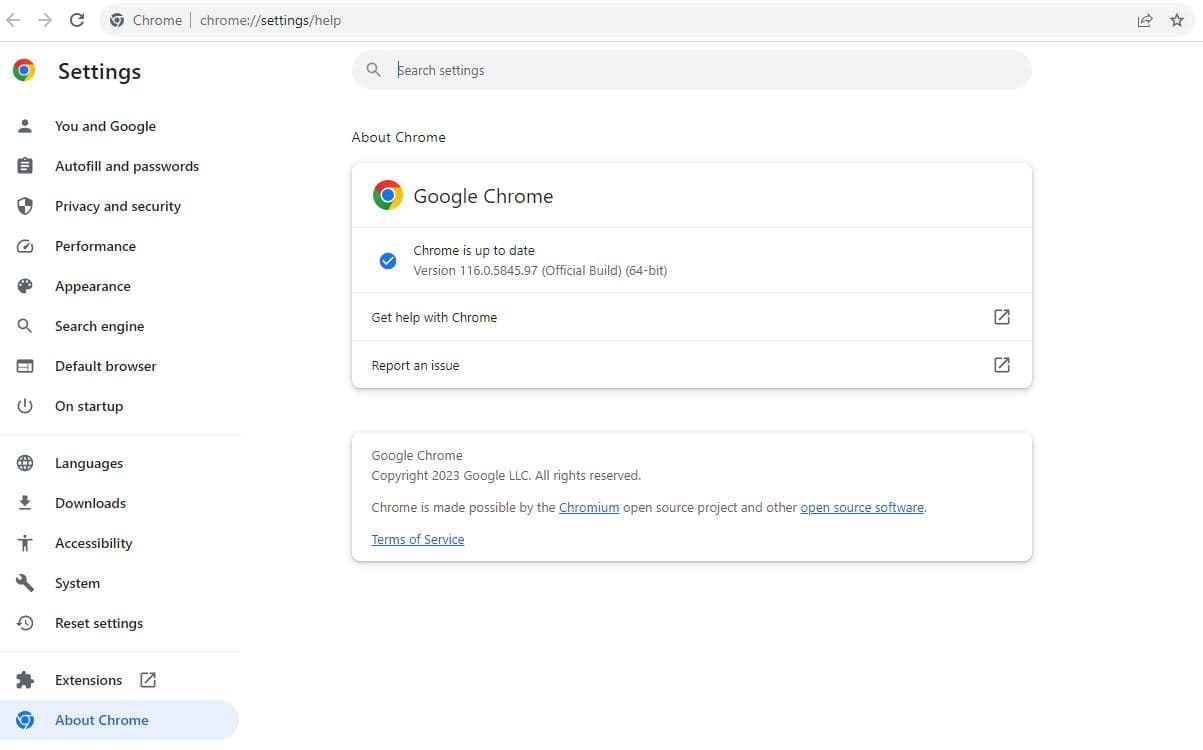 Disable Hardware Acceleration in Chrome
The hardware acceleration technique in Chrome was introduced to reduce the workload of the CPU in a computer by assigning heavy computing tasks to specialized hardware such as GPU. Enabling this option Speeds up things but sometimes it may cause some unexpected issues like chrome slow on Windows 11. If the above solutions didn't fix the problem, still chrome slow or not responding then disable hardware acceleration to fix the issue.
Hardware acceleration can cause compatibility issues, leading to slower performance. Disabling it may improve Chrome's speed.
Open Chrome settings from the Menu button On the upper right corner
expand advanced then click on system
And finally, here From the System section, toggle off "hardware acceleration when available
Restart your Chrome browser and see if it is still slow to open or not. 

Disable Preload Pages
Another thing that you can try doing is disabling the preload pages. Chrome uses cookies to predict and enhance your browsing experience. However, this can sometimes make Chrome slow. To disable preload pages, follow the steps given below-
Open Chrome settings using chrome://settings/cookies on the address bar,
And turn off the toggle preload pages for faster browsing and searching
After doing so, close Google Chrome and then open it again.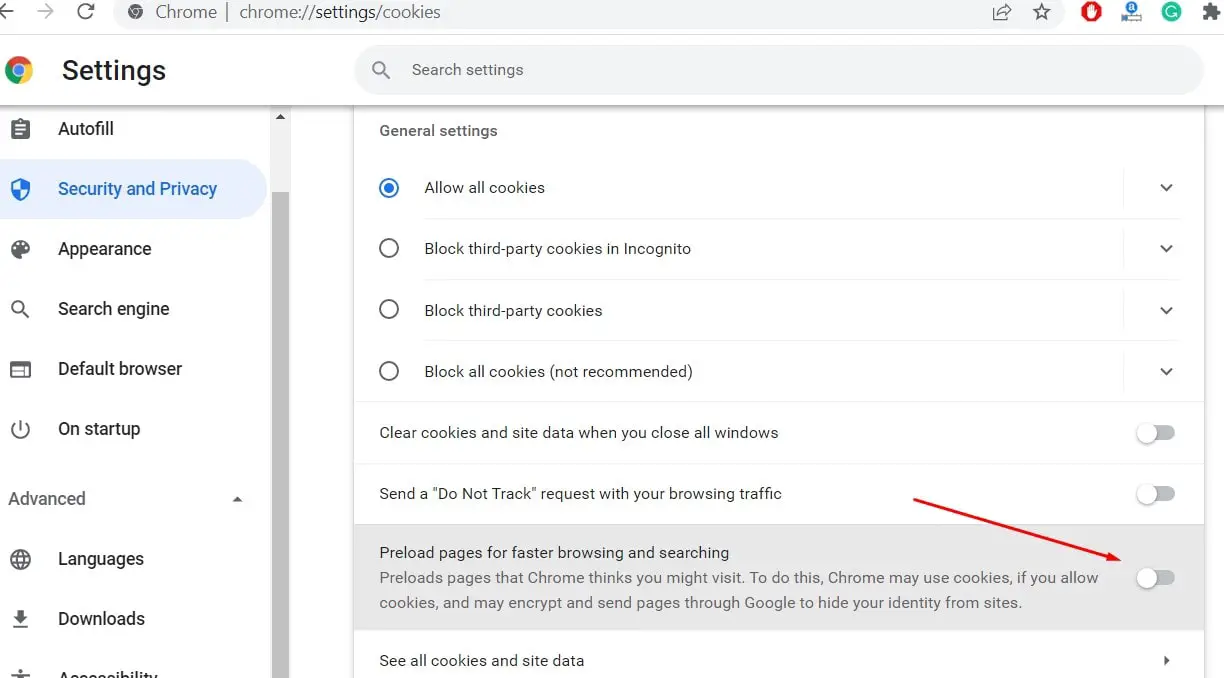 Malicious software can slow down Chrome's performance. Regular scans with reputable antivirus software can help identify and remove any potential threats. Run a thorough scan using your preferred antivirus or anti-malware program.
Having too many tabs open simultaneously can strain system resources. Closing unnecessary tabs can significantly improve Chrome's speed. Consider using extensions like "The Great Suspender" to automatically suspend inactive tabs.
Outdated or incompatible graphics drivers can impact Chrome's performance, especially if hardware acceleration is in use. Visit the website of your graphics card manufacturer and ensure you have the latest drivers installed.
If none of the above solutions work, consider performing a browser reset. This will revert Chrome to its default settings, potentially resolving any underlying issues. Go to Chrome's settings -> Reset settings. Click on "Restore settings to their original defaults" and Reset settings when it prompt for confirmation.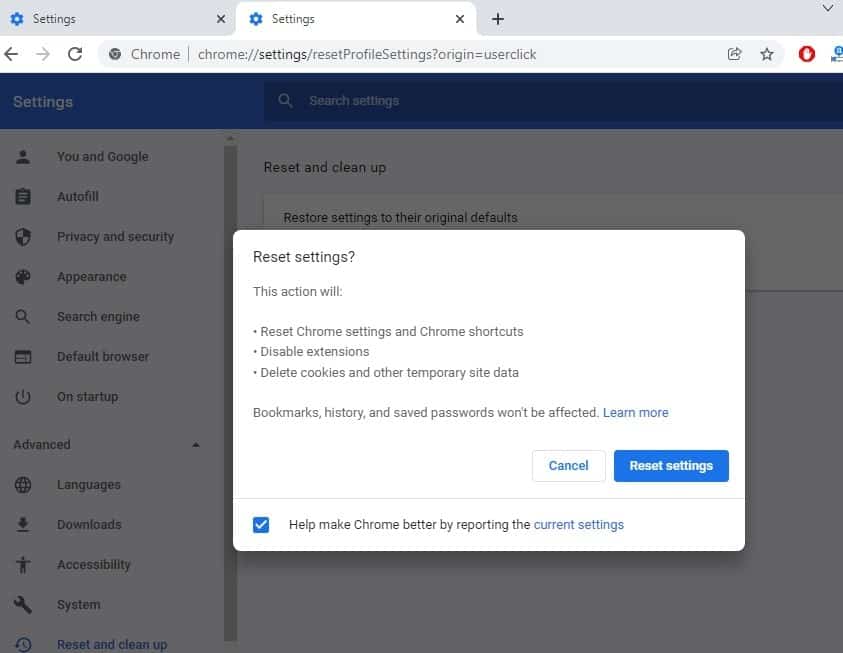 Pro Tip: Use an Ad-Blocker Extension, this is the best tool for the browser if you wish to browse the web without any load of scripts and ad codes. Chrome takes around 10-15 secs to load a complete site without adblockers while an adblocker can bring down the load time to a couple of seconds.
Frequently Asked Questions (FAQs)
Why is Google Chrome running slow on my computer?
Chrome can slow down due to accumulated cache, too many extensions, outdated software, or even malware. These factors can affect its performance.
Can extensions affect Chrome's speed?
Yes, having too many or poorly optimized extensions can slow down Chrome. It's recommended to disable or remove unnecessary ones.
How do I update Google Chrome?
Click on the three dots in the upper right corner, go to "Help" > "About Google Chrome." Chrome will check for updates and install them if available.
Should I disable hardware acceleration in Chrome?
In some cases, disabling hardware acceleration can resolve compatibility issues and improve performance. Go to Chrome's settings and toggle off "Use hardware acceleration when available" under "Advanced" > "System."
How can I clear cache and cookies in Chrome?
Open Chrome, click the three dots, go to "Settings" > "Privacy and security" > "Clear browsing data," select "Cookies and other site data" and "Cached images and files," then click "Clear data."
Also read: