This issue can caused by a variety of reasons such as network issues, software bugs, outdated app, corrupted files, or firewall/antivirus restrictions
Spotify is the most popular music streaming service available on multiple platforms including Windows 10. You can download the Spotify app from the Microsoft Store to enjoy music on your computer. But some users report, Spotify won't open or the Spotify application is not responding on Windows 10. Reasons for this problem could be various and you need to apply multiple solutions to troubleshoot this problem. Here in this post, we have few effective methods to fix Spotify not working on Windows 10 PC.
The Spotify app won't open on Windows 10
The first and most effective solution we recommend, click on the Windows icon -> power then restart. Yes restart Windows 10 this will refresh the system, and fixes minor software conflicts that might be causing Spotify won't open or not respond on Windows 10
If the Spotify application is not responding, then open task manager. Under the Processes tab look for Spotify right-click on it to open options and select End task.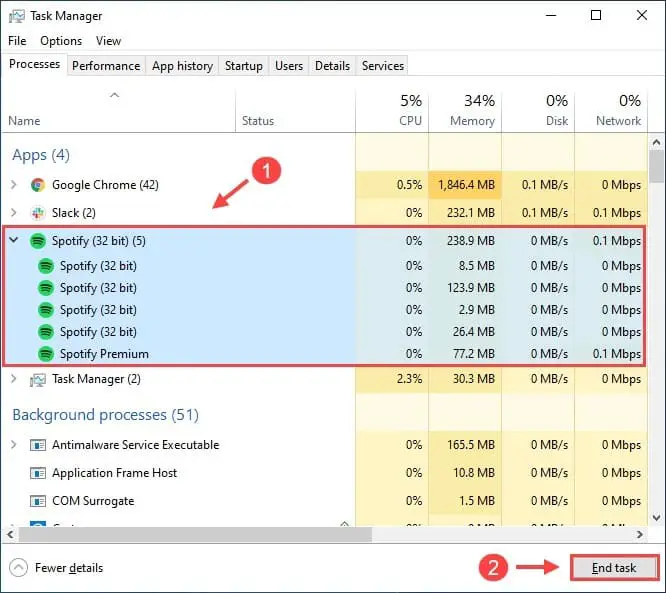 There are chances, third party antivirus programs might prevent some applications from opening. Try disabling your antivirus program temporarily and then relaunch Spotify to check if it works.
Install windows update
Microsoft regularly releases Windows updates with security improvements and bug fixes. And installing the latest Windows updates fix previous problems as well. Let's check for and install the latest Windows updates that might have a fix for the Spotify app bug.
Press Windows key + S type Windows update and select Check for updates.
Hit the check for updates button to allow the download and install available Windows updates from the Microsoft server.
Once done you need to restart your computer to apply them, now check the status of the Spotify app.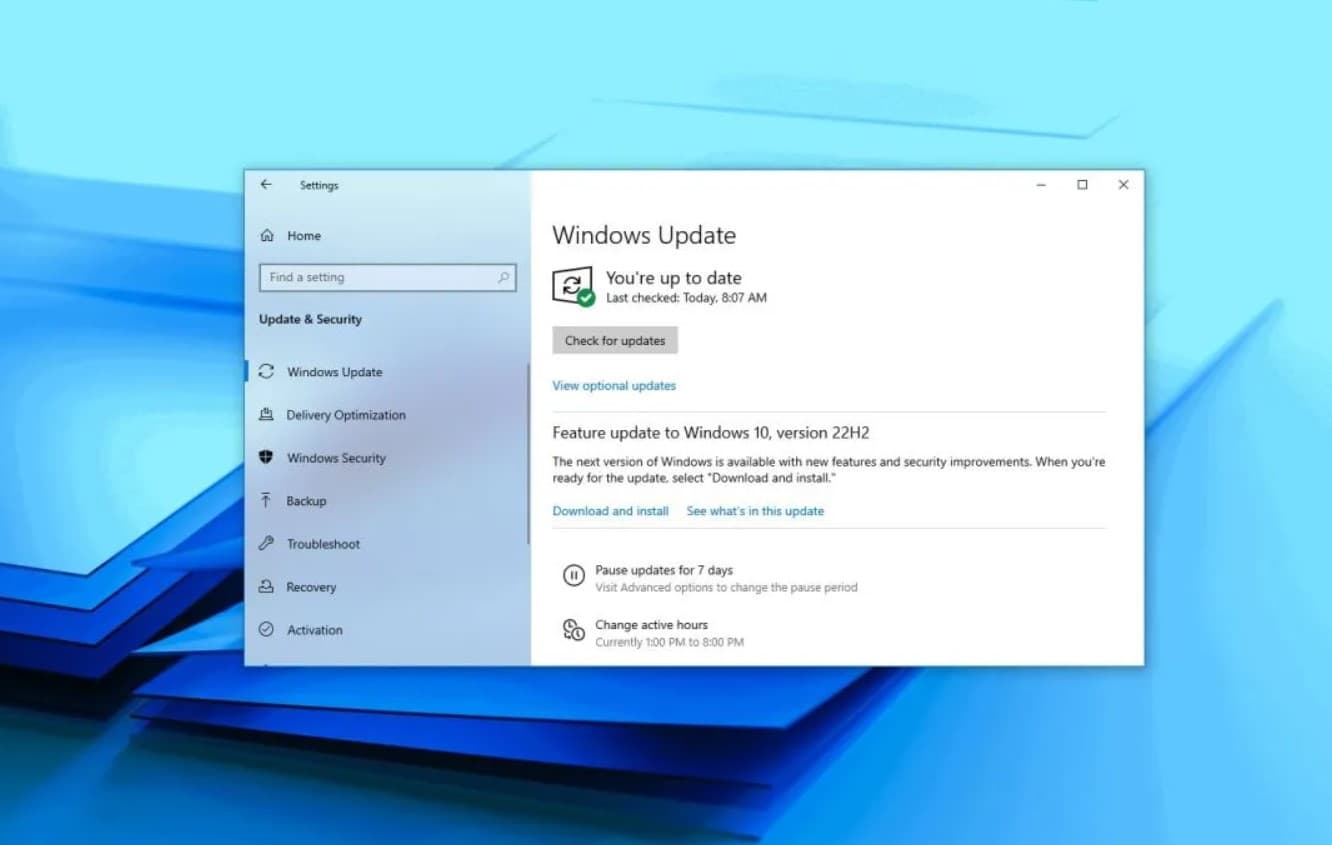 Perform a Clean Boot
Sometimes third-party programs that interfere with Spotify also cause Spotify not to launch. Start Windows 10 clean boot state that helps figure out if the problematic software causing the issue.
Press Windows key + R, type msconfig.msc and click ok,
This will open System Configuration, Go to the services tab.
Checkmark on Hide all Microsoft services and click Disable all.
Switch to the Startup tab and click Open Task Manager. Then disable all the startup items and go back to System Configuration.
Click Apply and OK Then restart your PC.
Now start the Spotify app, and check if it works properly. If the answer is yes then you need to open System Configuration and enable these services and programs one by one to find out the problematic one.
Reset the Spotify app on Windows 10
Windows 10 has the option to reset the app to its default setup and fix the most possible issue with the app.
Right-click on the start menu select Apps and Features,
scroll down to locate Spotify select it then click advanced options,
This will open a new window, here check the app permission is toggled on,
Scroll down and click on reset and click reset again when waring popup prompt opens,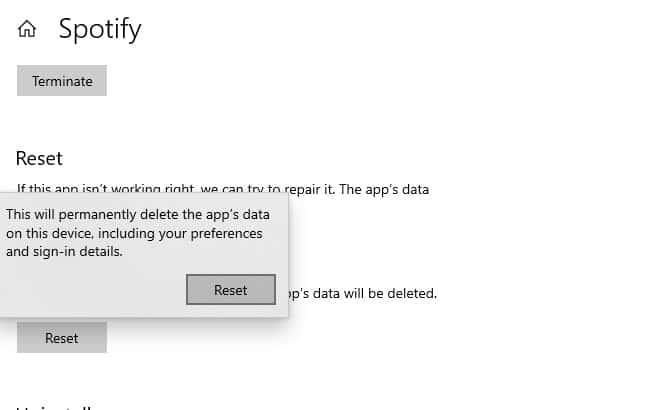 Once done close everything and restart your computer,
Now again open the Spotify app and check there is no more problems with the app on Windows 10.
Reinstall Spotify app
If you are still haven't managed to fix the Spotify app problem, then it's possible that there is something wrong with the installation files of Spotify. Reinstalling the Spotify app probably fix the problem on your computer.
Press Windows key + I to open the Settings app, Click on Apps then Apps & Features,
Scroll down to locate the Spotify app select it then click uninstall
Follow the on-screen instructions to remove the app from your computer.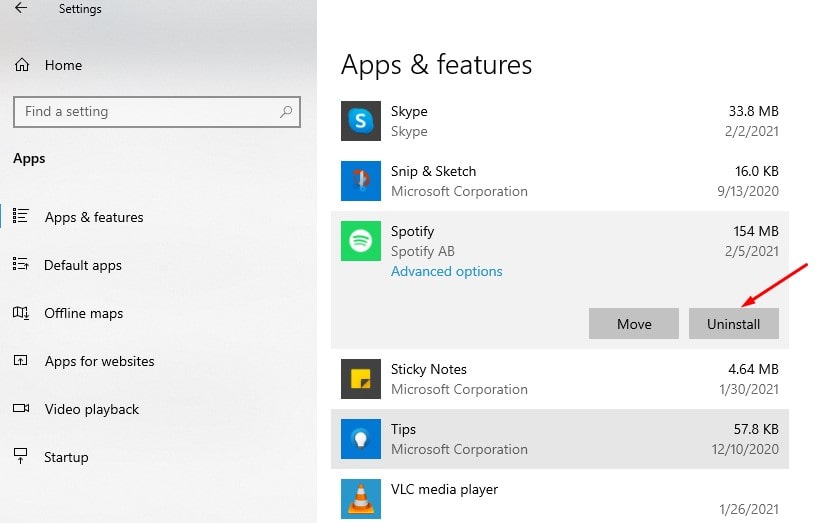 Now navigate to C:\Users\YOURUSERNAME\AppData\Roaming\, delete the Spotify folder here and Restart your computer,
Download Spotify's 'full installer package' from its official site here, and install it with administrative privileges.
Did these solutions help fix Spotify won't open or the Spotify application is not responding on Windows 10? Let us know on the comments below,
Also read: