Did you notice "start menu search not working" after install or upgrade Windows 10 version 20H2? When attempting to search for items in the Windows 10 start menu – no results are shown. And the same thing happens whether you're searching for files, programs or Windows 10 features. There are many reasons "may be Third-party programs especially the PC optimizers and antivirus, corrupted system files or installed update and any windows services Stopped not responding etc" that can cause this issue. Here some quick solutions you may try to fix windows 10 start menu search not working after update.
Windows 10 Start Menu Search Not Working
First of all restart Windows Explorer, which may clear whatever the minor bug encountering the problem.
Press Ctrl + Shift + Esc to open taskmanager,
In the process, tab look for windows explorer right-click and select restart.
Do the same thing with the Cortana search process, On the same task manager, look for Cortana, Right-click and select end task. This will end the current process and will restart the Cortana process again.
Also, disable and completely remove all third-party antivirus software (if installed) from your device.
Sometimes corrupted, missing system files, (Especially during the windows 10 upgrade process ) Also cause search results to stuck Or didn't show search results. Run the System file checker to check and restore if any missing system files causing the issue.
Start windows into clean boot state and check start menu search results showing, If yes then any third party application causing the issue. Find out and uninstall the problematic application and check windows search started working.
Check windows search service running
Windows search is dependent on windows search service, If due to some reason the service not started or stuck running that might cause Search on Windows 10 refuses to work.
Press Windows key + R, type services.msc and click ok
This will open the windows service console, scroll down and locate windows search,
Look at its status, if it's running then right-click on windows search select restart,
If the service not started, then double click on windows search service to open its properties,
Here change the startup type automatic and start the service next to service status.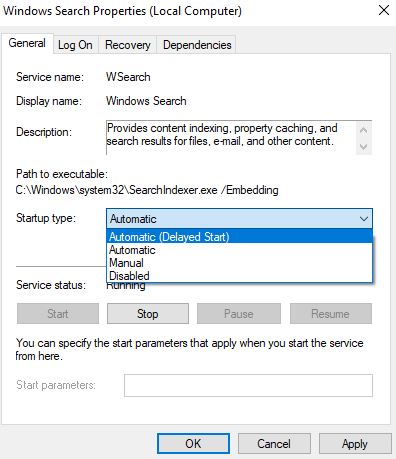 Run Search and Indexing troubleshooter
Run Windows Search and Indexing troubleshooter from Settings ( Windows + I ) Update & Security -> Troubleshoot -> click on search and indexing, run the troubleshooter to check and fix if any problem causing windows to search results stuck or not working.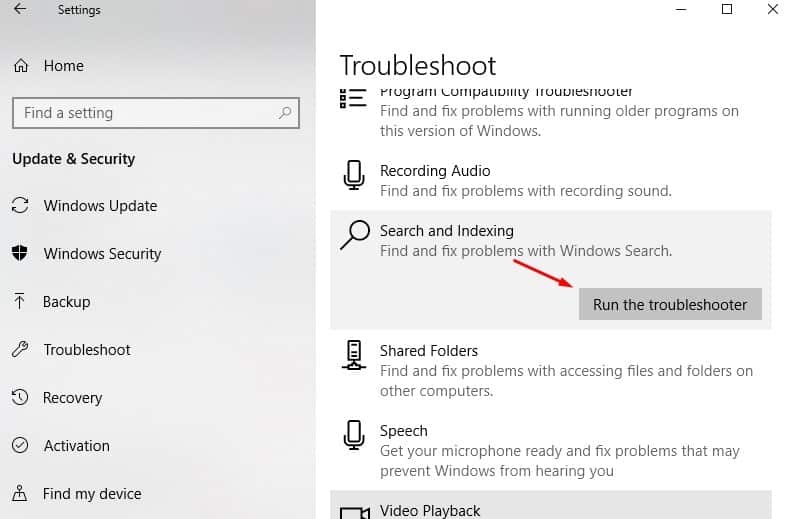 Restore indexing service
Again if due to any reason search index stopped, corrupted then windows search stop showing search results. That causes open indexing options ( From Control Panel\All Control Panel Items ) Click on Advanced options and click Rebuild button under the Troubleshooting category.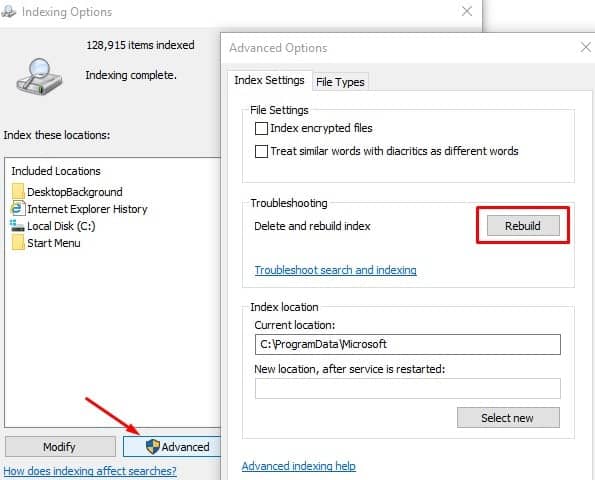 Rebuilding the index may take a long time to complete message popup click ok to start the process. Keep in mind that this might take quite a while to finish. If that doesn't help, just click on the "Troubleshoot search and indexing" link from the same dialog and follow the on-screen instructions.
Check with a Different user account
Again some users report creating a new user account profile and login in with newly created user account helps them to fix the windows search problem. You can try the same, To check it helps or not. To create a new user account open the command prompt as administrator, type net user "Username" "password" / add
Note Replace" username with newly create a user account and replace password: set password for the user account.
log off from the current user account and login with the newly created user account and check start menu search working perfectly. If yes then there is a problem with old user account simply transfer old user account data to the new user account and continue with the newly created user account.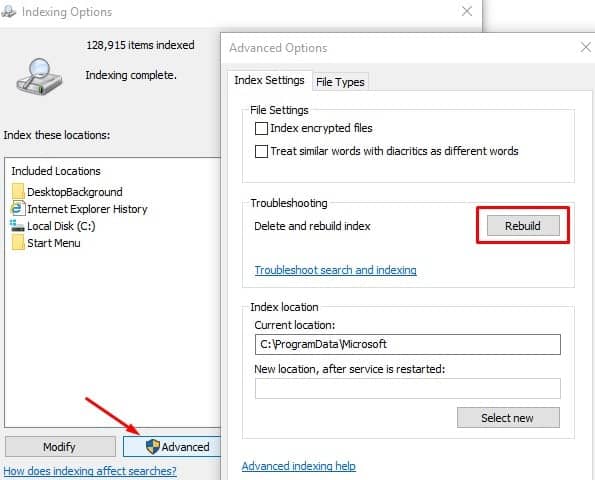 This is another effective solution recommended by users on Microsoft forum, Reddit. Re-register the Start menu and the Cortana search engine helps them to get back to windows search working state. To do this open Powershell As administrator ( Right click on start menu select Powershell ( admin) option ). Or you can navigate to C:\Windows\System32\WindowsPowerShell\v1.0 ( Right-click on PowerShell and select run as administrator. Then perform the command below:
Get-AppXPackage -AllUsers | Foreach {Add-AppxPackage -DisableDevelopmentMode -Register "$($_.InstallLocation)\AppXManifest.xml"}
After executing the command Close PowerShell and restart windows. On the next login check and search, something on start menu search check its working…
Did these solutions help to fix "Windows 10 Start Menu Search Not showing search results"? Let us know which option worked for you, Also comment below if you have any query or a suggestion about this post. Also, Read