There is no doubt that Windows 10 is the Best and fastest operating system by Microsoft compared to the previous one's windows 8.1 and 7. Microsoft's new OS Windows 10  is pretty fast and has no performance issues. With the number of features, Windows 10 is designed to keep your Computer ready to use Windows Native Apps and services like Skype, Maps, Calendar, Email and others.
In addition to the Native Windows Apps and Services, other Apps that you download to your PC may also have the same default behavior of keeping themselves running and active in the background on your PC. But the issue is that these apps are always running in the background, even if you didn't open them, and that will drain battery, bandwidth, and system resources. Which makes make windows 10 running slow. Here we have some tips to Stop Apps Running from Background and optimize windows 10 performance.
How To Stop Apps Running From Background
In case your Windows 10 Computer is running slow, there may be a chance too many Apps running in the background on your computer. And you can Stop These unnecessary apps running from the background to optimize windows performance and save system resources. Also, stop these background Apps may secure your Windows 10 computer also.
To Stop Background Apps
You can easily Disable these Background apps by following steps below. To disable or stop Windows 10 background Apps, First, navigate to the Windows Start menu and click on Settings. Here On the Settings screen, click on the Privacy option.
Next On the Privacy screen, click on the Background Apps option in the left side-bar menu. Once you click on Background Apps, you will see all the Apps that are running in the background on your computer.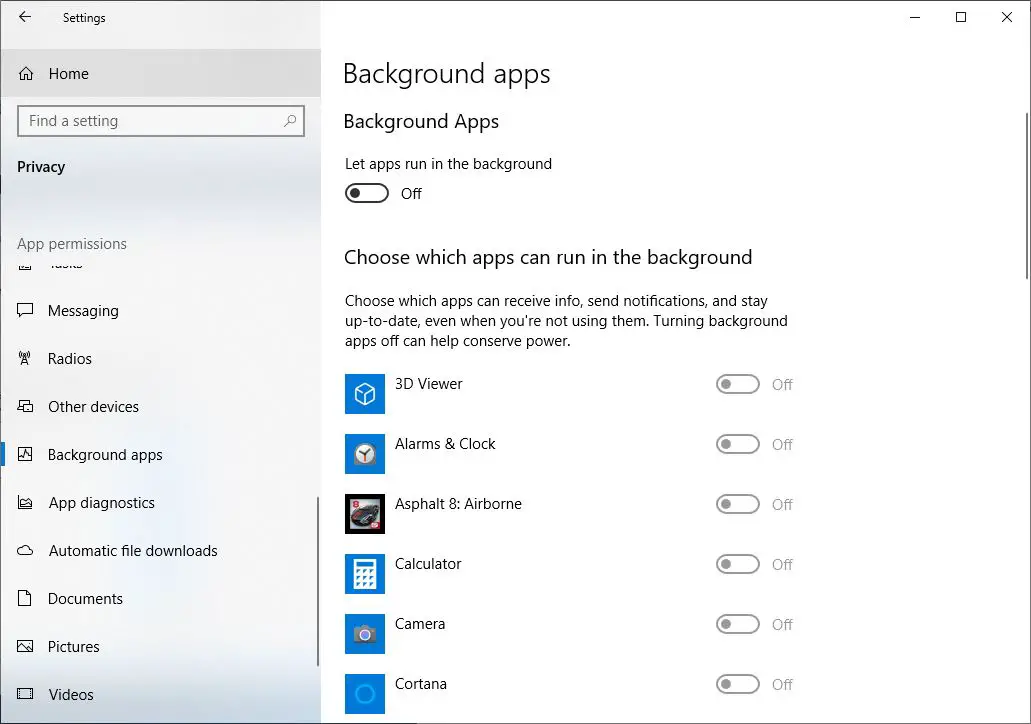 You can stop any app from running in the background on your computer by moving the toggle next to the App to OFF position.
Which Background Running App to Stop
Now you have a question on your mind which apps to stop from running on the background. My personal Answer go ahead and Turn off the Toggle below let apps run in the background on the top. Or You should simply disable those Apps from running in the background that are not at all relevant to the purpose for which you use your Computer. For example, you can disable the Maps App, Money App, News App and any other App that you currently do not use and have no intention of using.
In general, feel free to Stop any Background Running App that you believe is not useful for you. In case something goes wrong, you can always come back to the Background Running Apps screen and Turn ON the necessary Apps once again.
Stop apps running background by Task Manager
Also, you can stop background running Apps from the Windows task manager. To do this Right-click on any blank area of the taskbar (or press Ctrl + Alt + Delete keyboard shortcuts) and select Task Manager to open Task Manager.  Move to the Processes tab. It will display some apps and the memory they take up on your PC. Some of the apps are running in the background. If you want to stop them, just right-click on the app and select End task.
Again move to the Startup tab. There it displays some apps keeping running once you start your PC. Also, it tells how much impact each app have on your Windows 10 PC's startup – Medium, Low or High. Select the app and click Disabled in the lower right corner so that you can stop it from starting and running in the background once you start your PC. Disabling unnecessary apps that have a high impact on PC's startup can greatly help make your Windows 10 boot faster.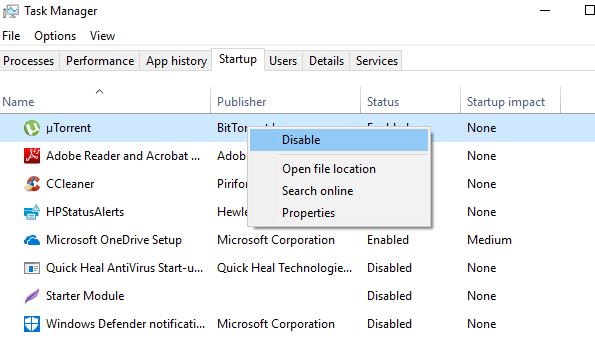 Stop Background apps using Battery Saver
Also if you are a windows 10 Laptop user, Then you can turn on battery saver mode, Which blocks apps running from background. This feature activates automatically when the battery charge drops below 20 percent, but it's also possible to enable the mode manually if the device isn't plugged into a power source.
To enable Windows 10 Battery Saver mode on windows 10 follow below steps:
Open Settings.
Click on System.
Click on Battery.
Under "Battery saver," turn on the Battery saver status until the next charge toggle switch.
Also, you can Activate Battery mode by click the battery icon in the notification area and click on the battery saver option.
Note:  these settings only apply to apps you installed using the Windows Store, and traditional (Win32) apps cannot be controlled with these settings.
I hope after read this post you will understand windows 10 Background Apps, And How to Disable Windows 10 back Ground running Apps to optimize windows 10 performance and save system resources. Still have any query, suggestion about this post feel free to comment below.
Also read: