The latest Windows 11 comes with an improved user interface, security, design, usability, performance and new features which make it favorite over previous Windows 10. Also, Microsoft collects telemetry data (Windows 11 usage statistics through its built-in telemetry system) to help improve Windows and make it better. However, concerns have been raised about Windows 11 harvesting more of your personal information than ever before, And almost it's impossible to turn it off completely. It even publicly declares this in its Microsoft Privacy Statement why and how it collects data.
Microsoft claims to collect user data to better understand how their customers use their products and improve the overall user experience.
But there are several steps you can take to minimize tracking and data leakage in Windows 11. If you are concerned about privacy and don't want to share your data and activity with Microsoft here is how to disable telemetry and stop Windows 11 from spaying you.
How Microsoft or Windows 11 Track Your Data?
Whenever we accept to use any tech service or product for free in most cases you automatically sign away your acknowledgment for the collection of your data. Microsoft uses location services, cookies, diagnostic feedback, and browser activity in Microsoft Edge to collect your data. This data Microsoft uses to enhance security and improve overall user experience. Well, sharing data with Microsoft for Windows 11 improvement sounds good but it leaves the door open to sharing the anonymized data with third parties to make advertisements more relevant and personalized.
How to Disable Windows 11 Tracking Features
Well, if you are concerned about your data or activity patterns being used by third parties for advertisement, you can disable relevant settings to stop telemetry data collection and stop Windows 11 tracking or spying you.

Disable Advertising Data Tracking
Microsoft collects data about you in an anonymized format, it's not just the apps you use but also what you browse on the internet. Lets turn off the personalized ads, your language list access, App launch tracking, etc as this feature your data and behavior tracked.
Press Windows key + X and select settings
From the left side panel select privacy & security then and then under Windows permissions, select the General tab.
Toggle off the Let apps show me personalized ads by using by advertising ID switch option.
We recommend Turn off all of the general preferences by using the toggle option.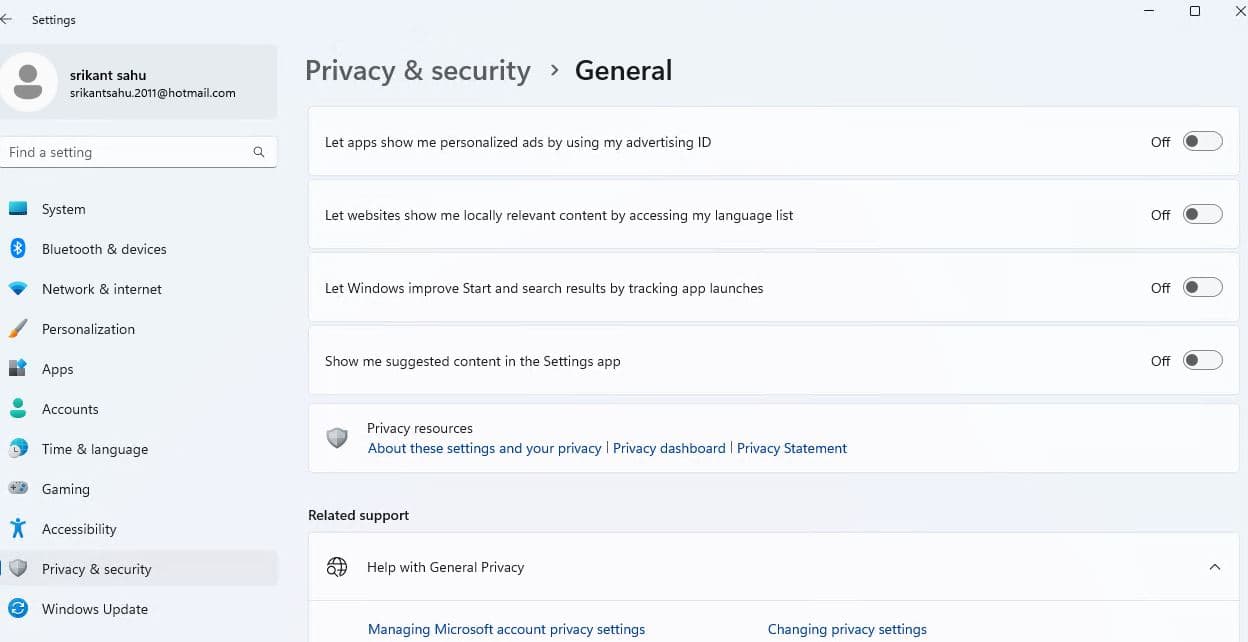 Disable Activity Tracking
The Activity Tracking feature keeps track of things like how you use Windows 11 devices. This includes what apps, services, websites, and files users have used or accessed recently. Later this data send to Microsoft and used to personalize your Windows experience and provide relevant suggestions.
Activity History records everything you do on your Windows.
To disable Activity history tracking on Windows 11:
Press Windows key + X and select settings
Go to privacy & security then Under Windows permissions, select Activity history
Click the Activity History tab and toggle off the Store my activity history on this Device option
In addition, click on the clear history option next to the Clear activity history for this account option.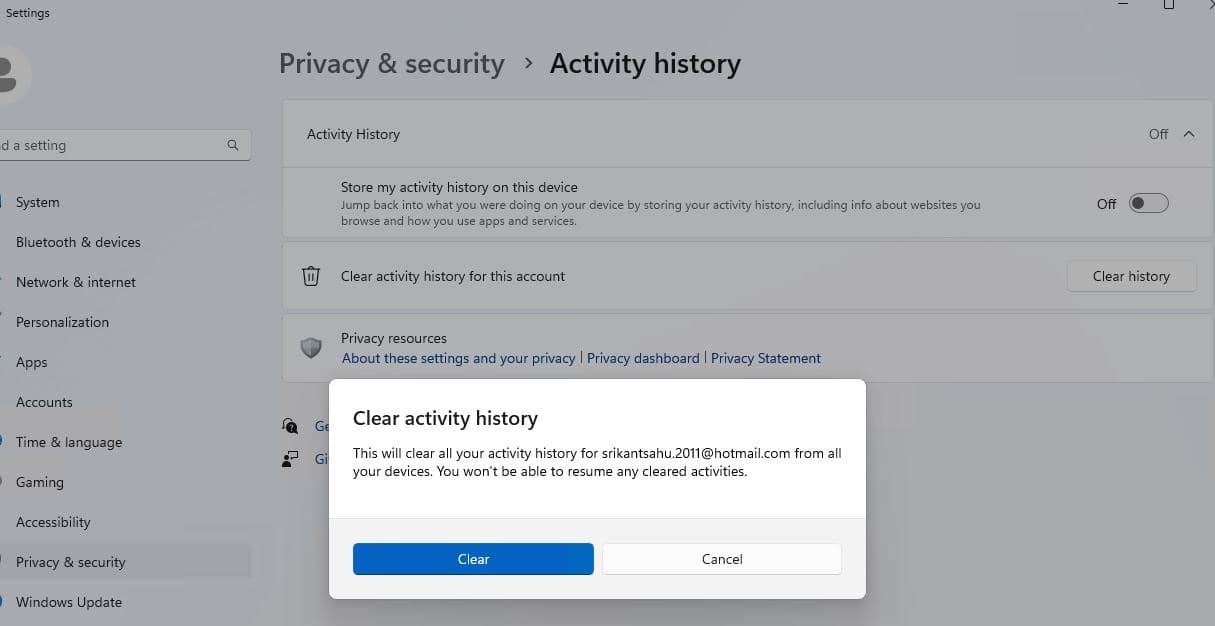 Next, navigate to Settings > Privacy & Security> Diagnostics & Feedback.
Here also Disable the Tailored Experiences option to stop Microsoft from using your diagnostic data for ads, personalized tips, and recommendations.
Toggle off the send optional diagnostic data and click on Delete next to delete diagnostic data.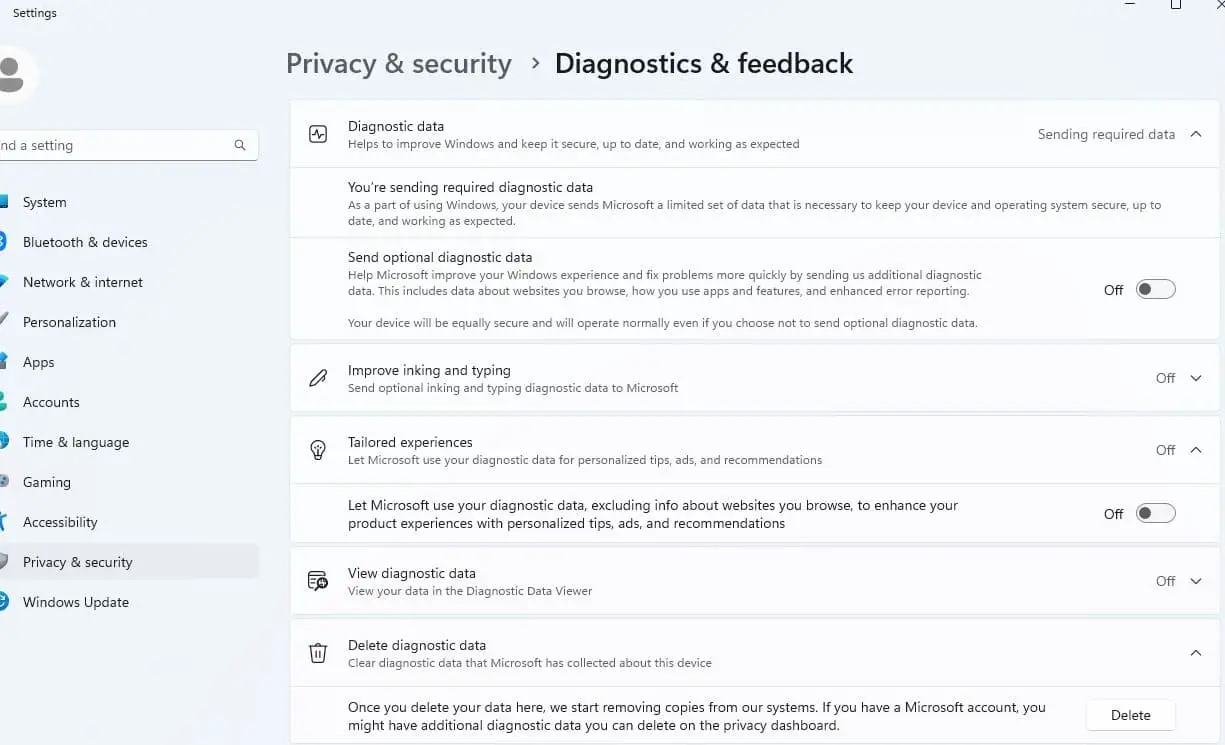 Stop Microsoft Edge Data Collection
Microsoft Edge also collects data, but there is an option to disable tracking within Microsoft Edge.
Open the Microsoft Edge browser, click the 3 dots menu and select settings from the dropdown menu
Select Privacy, search and Services from the side menu.
Enable Tracking prevention, and choose the tracking level you want to allow during your browsing sessions.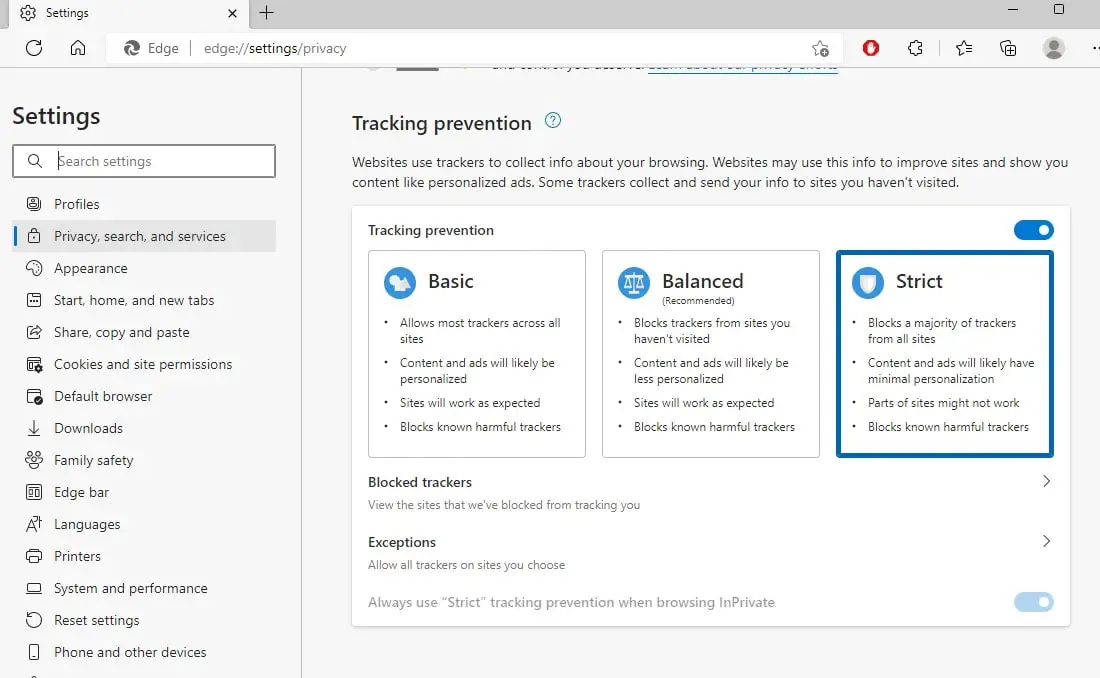 Delete Activity Tracking Data from Microsoft Account
The privacy dashboard is one of the places where you can see all the data Microsoft has about you. Following the steps below you can view and delete the data they've tracked down about you.
First, log in to your Microsoft account and complete any two-factor authentication required by the site.
From your dashboard, select Privacy and then Privacy Dashboard.
Under the Manage your activity data, you should see several groups such as Location activity, Browsing history, Search history, and App and service activity.
Navigate to each one of them and clear the data that are already tracked about you.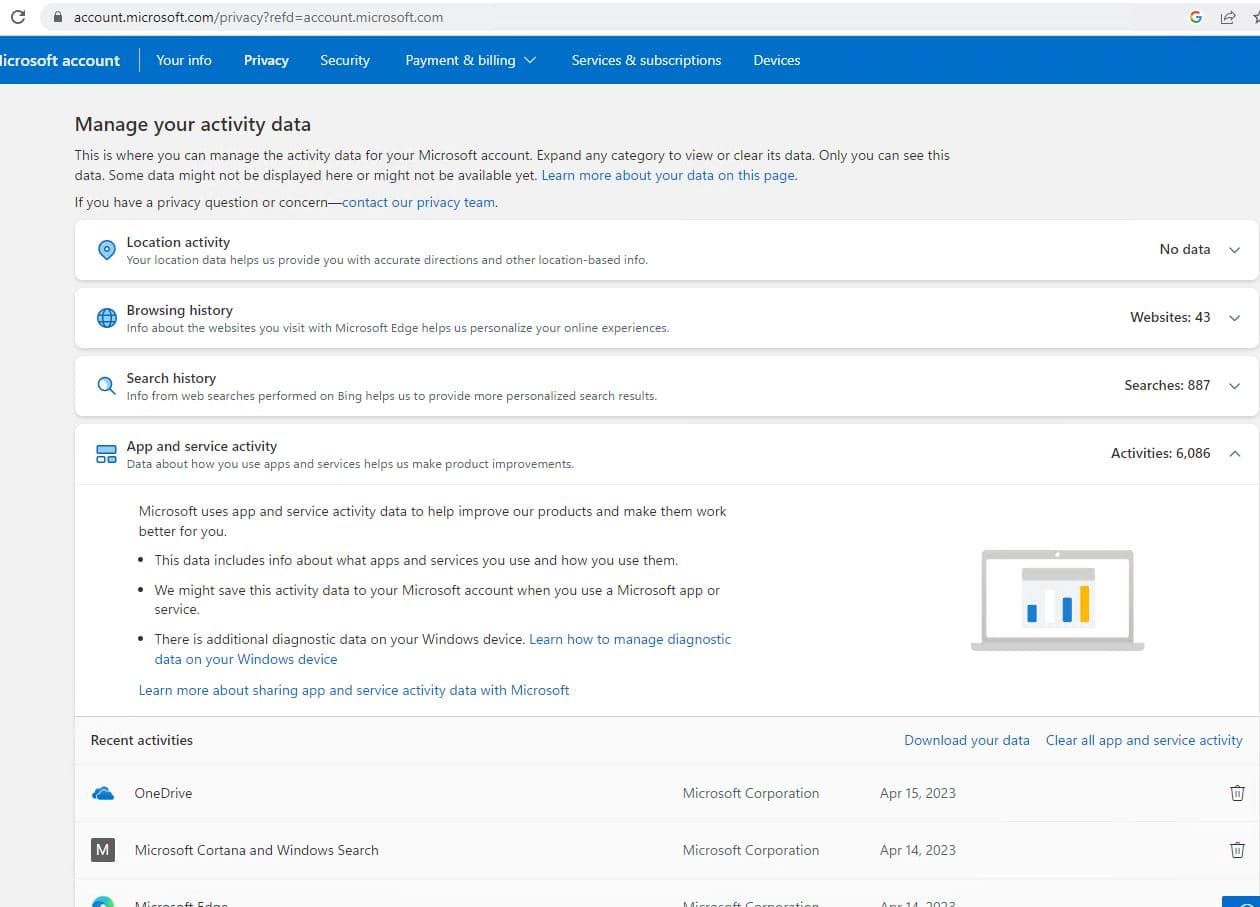 Disable Other Diagnostic Data on Windows 11
Open Settings and click on Privacy & Security. Here under the Windows permissions section, click on Speech and toggle off Online Speech recognition.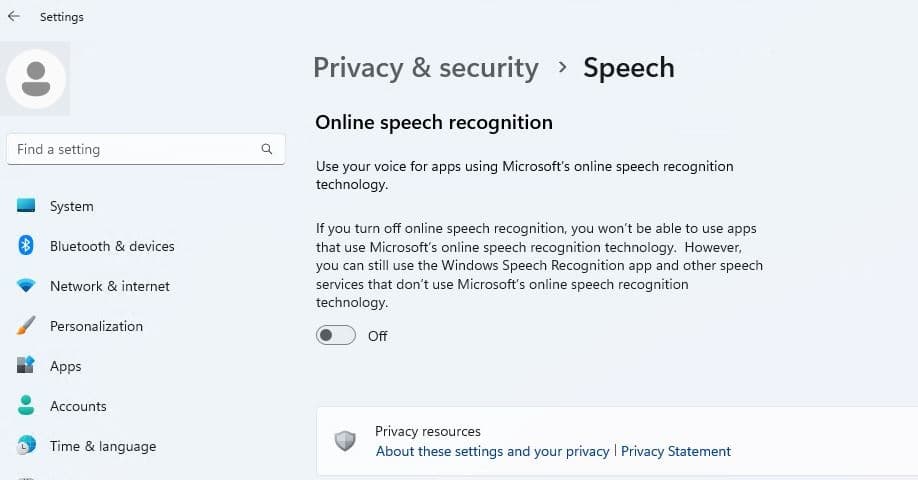 Next, in the Privacy & Security section, click Inking & typing personalization and toggle it off to disable data collection from your writing.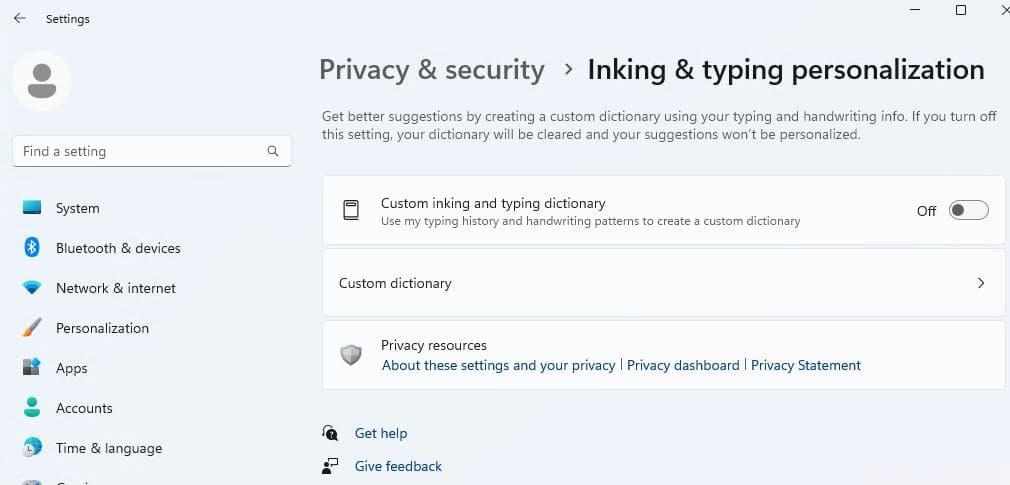 Disable app permissions
Another thing that concerns your privacy is your app permissions. For example, location tracking help to find your lost device, but sometimes Windows 11 uses location tracking to deliver relevant information to you like the local weather or nearby restaurants. In addition, disable camera access which hackers use to record and extort users with compromising videos.
Go to  Settings > Privacy & Security.
Scroll down and come to the 'App permissions' section.
Click on each of the services (like Camera, Location, etc.) and turn them off.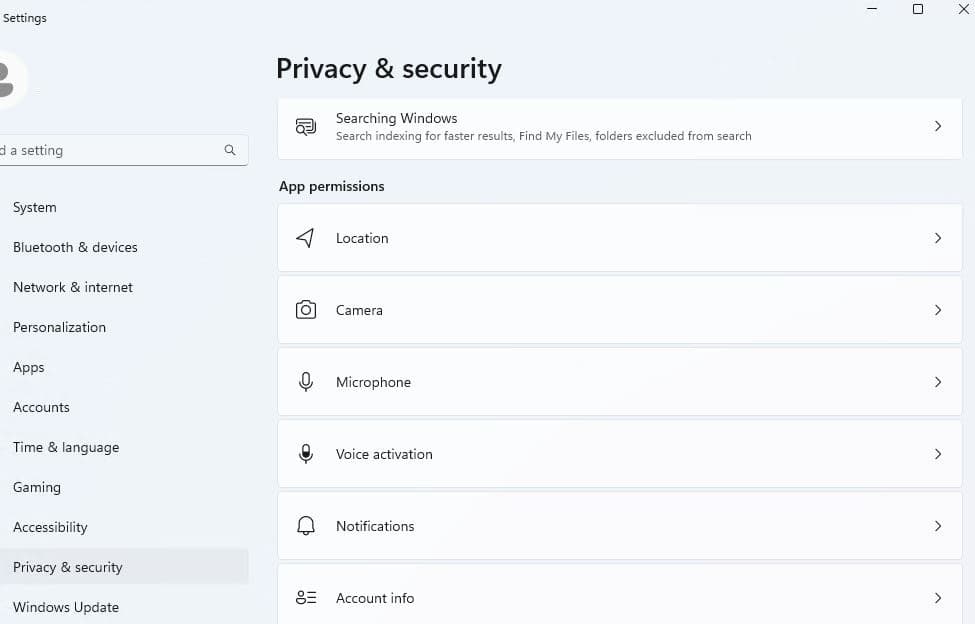 In addition, Go to Settings > Privacy & Security>Find my device and turn off the toggle next to the Find my device option.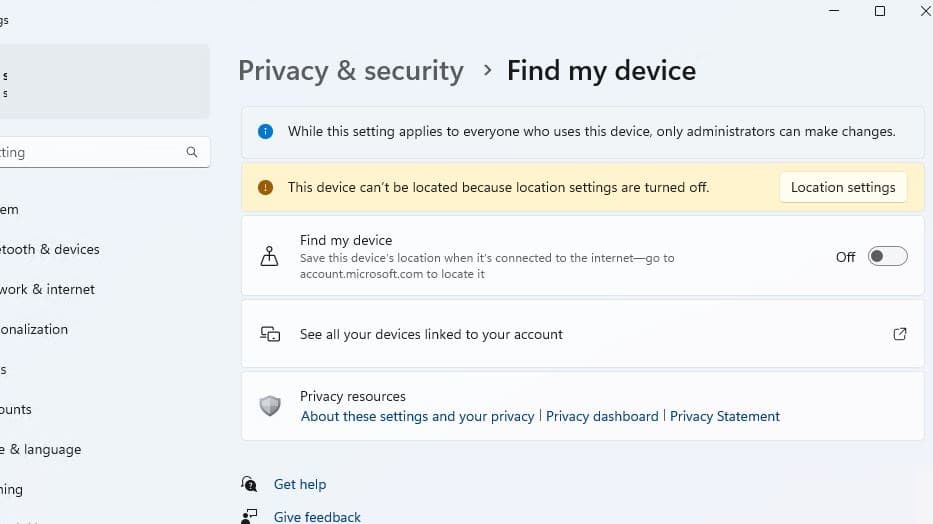 Set up a Local Account
Setting up a local account means that all your data will be stored locally on your computer and won't be shared with Microsoft. But the downside is you lose access to various Microsoft services including Onedrive.
To set up a local account Go to Settings > Accounts > Your info and then click Sign in with a local account instead. Enter your credentials and sign in.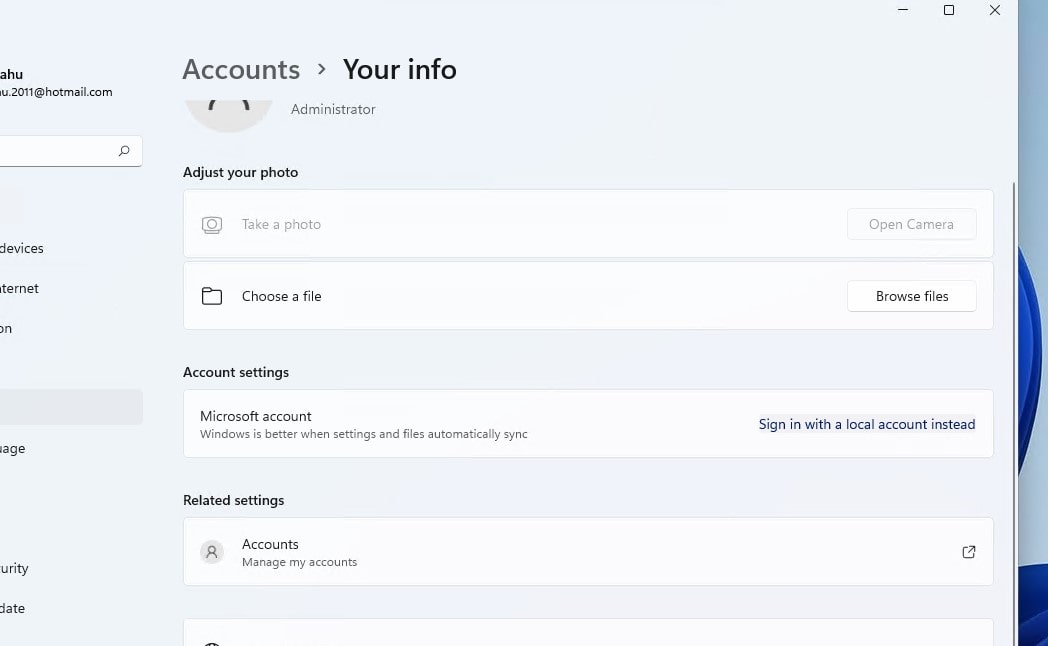 Tweak the Windows Security
In addition, turn off the related cloud protection and automatic sample submission to prevent sharing data with Microsoft
Navigate to Settings > Privacy & Security> Windows security.
Select Virus and threat protection then click on the link that says Manage settings.
Now turn off the toggle for Cloud-delivered protection and Automatic sample submission.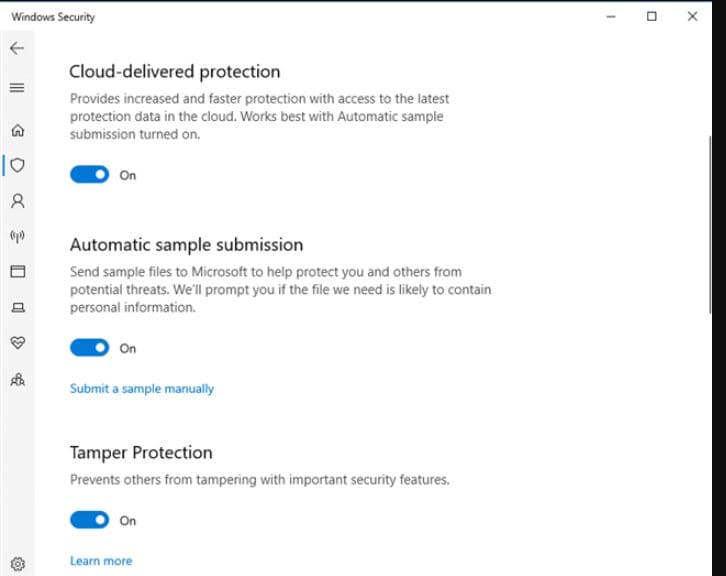 In addition, you can use VPN to encrypt your internet traffic and disguise your online identity. Also you can use the Brave browser for browsing the internet privately. There are third-party privacy tools such as O&O ShutUp10++ Free antispy tool that you can use to ensure your privacy.
Also read: