Windows 10 BSOD SYSTEM_SERVICE_EXCEPTION, bug check 0x0000003B mostly occurs due to outdated or malfunctioned drivers. Also sometimes Corrupted system files, bad memory module or incorrect Registry configuration results system service exception boot loop on windows 10.
Your PC ran into a problem and needs to restart. We are just collecting some error info, and then you can restart'. If you'd like to know more, you can search online later for this error: System Service Exception.
If you are also struggling with this SYSTEM_SERVICE_EXCEPTION BSOD error, here some effective solutions you may apply.
System Service Exception BSOD
If new device drivers or system services have been added recently, try removing or updating them. If you recently added new hardware to the system, remove it and restart windows, check the problem resolved.
Note: If Windows 10 frequently restart with this blue screen at startup, unable to start windows normally to perform troubleshooting steps. Then perform startup repair from advanced options.
Startup repair Diagnose and fix problems prevent windows start normally. The Startup repair check and fix missing corrupt system files, boot configuration settings, incompatible drivers, Problematic update installation etc. Now check windows started normally, there is no more BSOD error at startup.
If still, windows failed to start normally, then boot windows into safe mode and perform troubleshooting steps below.
Check for faulty Device driver
Open Device Manager and check if you see any devices are marked with the yellow exclamation mark. Also would suggest you uninstall and reinstall display driver and check. Please follow these steps:
Press Windows + X keys together and click the device manager.
Click to expand display adapters.
Right-click the adapter and click uninstall.
You may need to restart the computer afterward.
Now, you may reinstall the latest display driver from the computer manufacturer's website.
Also, check with the manufacturer and see if any updates are available for the firmware.
Disable fast startup and Hibranete
Most of the time windows 10 New hybrid shutdown feature (fast startup) can cause BSOD error while getting up from sleep mode. If you are getting the blue screen while wake up from sleep mode we recommend to disable hibernation and fast startup option.
Open control panel, then search for and open "Power options"
Click "Choose what the power buttons do" on the left side of the window.
Click "Change settings that are currently unavailable."
Under "Shutdown settings" uncheck "Turn on fast startup" and Hibernate.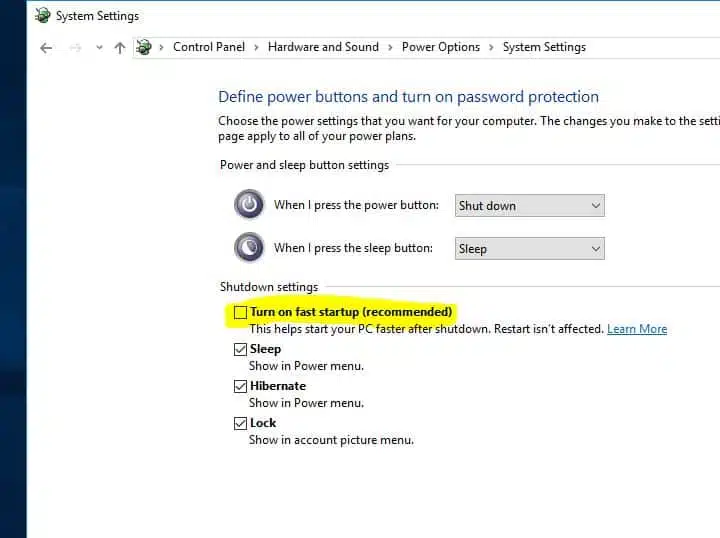 Disable Google Update Services
Press Windows + R, Type msocnfig and hit the enter key.
Here on system configurations window move to the services tab.
Scroll down and look for google update service.
Uncheck both options (shown below image) click apply and OK.
This will as Restart windows to take effect the changes you have made.
Restart windows and check work for you
Run an SFC utility to repair corrupted files
Windows system files are an important part of OS to run smoothly. And if any system file get corrupted, damaged or missing then the windows start mis-behaving like show errors, startup problems, and may this System Service Exception Windows 10 BSOD error is one of them. You can check and repair corrupted system files using windows SFC utility.
Type cmd on start menu search,
Right click command prompt, select run as administrator,
First Run DISM command : DISM /online /cleanup-image /restorehealth
After that type command sfc /scannow and press enter key.
This will start scanning for missing corrupted system files.
If this System File Checker finds out the protected files are overwritten by incorrect files, it will extract the correct system file from the system file backup (namely dllcache) and replace the incorrect file.
Wait until 100% complete the scanning process,
After that restart windows to take effect the changes.
Run CHKDSK
Type command prompt in your Start menu search bar, then right-click the best match and select Run as administrator.
Next, type chkdsk /r and press Enter.
The command will scan your system for errors and fix any issues along the way.
Check Bed Memory modules
Most of the blue screen errors occur due to corrupt system files and bed memory modules. Malfunctioning or incorrectly setup RAM can lead to anything from BSODs to systems being completely unable to boot. You must check the hardware, see if all sticks are functioning properly, and if everything is okay, check the timings and frequencies, as certain motherboards and processors, especially from AMD, can be very tricky with this.
The hardware check is very easy. First of all, turn off your computer. You could also unplug it from the power source as a safety precaution. Open the lid, and locate the RAM sticks. What you should do is remove all of them, and try to power on the computer with every stick, one by one. If one of them is faulty, your system won't turn on and you will know that you should replace it with a new one.
Run memory diagnostic tool
Also, you can use windows inbuilt memory diagnostic tool which help to find out memory errors. To run this tool Type memory in the Windows search bar and select Windows Memory Diagnostic. Next select option Restart now and check for problems. This will restart Windows and start memory diagnostic. It will take some time to complete wait until 100% complete. After that this will show you results if any error found. Or you can manually check memory diagnostic tool results.
Did these solutions help to fix SYSTEM_SERVICE_EXCEPTION error in Windows 10? Let us know on comments below, also read: