The original name of the mouse acceleration feature is Point Precision. This feature remains embedded in the Control Panel of the Windows 10 OS. When this feature is enabled, your mouse cursor will accelerate and move faster than the speed you move your mouse at. The mouse acceleration feature remains in the Windows OS ever since Windows XP was launched. It was incorporated to allow people to get more control over the cursor, but, it could be a little bit of a problem for avid gamers. Many gaming experts often recommend gamers turn off the mouse acceleration feature in Windows 10 at least while playing games.
If you were looking for a way to turn the mouse acceleration off, this article will guide you through it. Other than that, you will also find details about pointer precision, how it can help you, and its disadvantages.
What Is Mouse Acceleration?
Mouse acceleration is a feature brought forward to focus more on the distance traveled based on speed and not the physical distance covered by your mouse. So, if you move your mouse faster, the distance traveled by the cursor will be more if the mouse acceleration feature is enabled. This is made possible by the integrated sensor of the mouse pointer and works wonders if you have limited space for mouse movement. If you disable the mouse acceleration feature, the mouse pointer will move as much as the mouse is moved. If your mouse is stuttering, then that's a different problem.
Why Should You Turn Off Mouse Acceleration?
Playing games requires precise mouse movements and regular gamers know that. If you're playing as a First Person Shooter, it is quite important to make sure that your aim doesn't get disturbed. With precise mouse movements, you will be able to score more hits on your opponents and also, perform better in the game.
Windows 10's mouse acceleration will make your cursor move as per the speed and not the distance you move the mouse by. If you disable the mouse acceleration feature, you will be able to move the cursor by a fixed distance based on how much you move your mouse. This gives you better control over the mouse pointer which in turn improves your aim while playing. Also, moving the mouse pointer will feel easier and you'll witness an immediate improvement in your gameplay.
Benefits Of Turning Off Your Mouse Acceleration
Most video games require you to make use of your hand-eye coordination to do good in gameplay. With respect to that, mouse acceleration can bring up some key problems in the following popular games:
Call Of Duty: This is an FPS game and cannot be enjoyed well if you do not have complete control over your mouse pointer. You may even lose a mission if you fail to move your mouse fast enough or maybe, you moved it way too fast. This can be very frustrating while playing.
Overwatch: Overwatch involves fast-paced gameplay and requires you to be on top of your gameplay. While playing Overwatch, every mouse movement will affect your gaming. If you waste time adjusting the mouse pointer to get a proper game, that might cause you to lose a match.
Fortnite Battle Royale: Fortnite consists of fast-paced building elements and requires good aiming skills. It is a third-person game but still requires you to constantly use your mouse pointer. If the mouse acceleration is turned on, your attention might get diverted from your enemies.
Why Should You Keep The Mouse Acceleration Turned On
In the previous section, we described various scenarios describing the drawbacks of mouse acceleration. However, in certain situations, keeping the mouse acceleration turned on might be a better choice. For example, if you have a small space for your computer table and there's no room for a mouse pad, then, keeping your mouse acceleration enabled makes sense. In this case, you do need to cover more distance by moving your mouse faster.
The new adjustment will surely need some time for you to get the hang of but it will be helpful for you if you have physical space limitations.
How To Turn Off Mouse Acceleration In Windows 10?
If you want to get rid of the mouse acceleration for good, go through the following guide to disable it properly. The methods have easy-to-follow steps and will allow you to get rid of the mouse acceleration feature in no time.
Disable Mouse Acceleration Via Control Panel
Disable Mouse Acceleration Via Registry Editor
Disable Mouse Acceleration Via Control Panel
The Point Precision feature remains turned on by default in the Windows system. However, you can easily turn it off. Follow the steps given below to do so:
Press the Windows + X keys on your keyboard and that will open the Quick Access
Click on Control Panel.
In the Control Panel window, select the Hardware and Sound option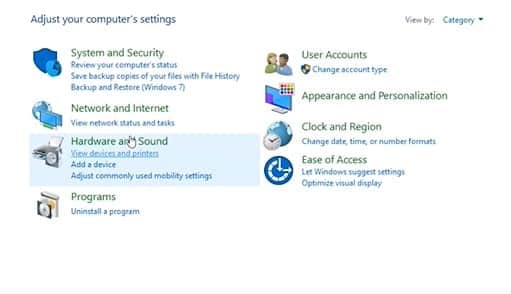 From the Devices and Printers section, select your mouse.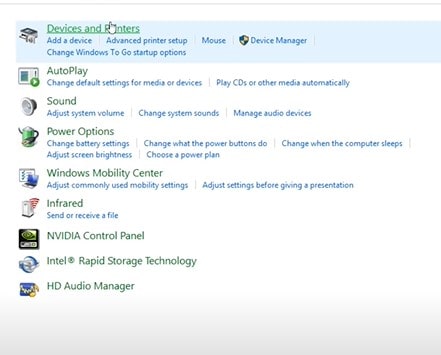 Select the Pointer Options tab from the Mouse Properties window
Now, in the Motion section, unmark the checkbox next to Enhance pointer precision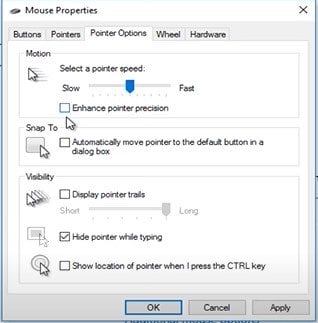 Click on Apply and then on OK. This will successfully disable the Pointer Precision aka Mouse Acceleration feature on your Windows 10 computer.
Disable Mouse Acceleration Via Registry Editor
If the mouse precision still seems to be accelerated, you might want to fully disable the mouse acceleration feature. This will help you play your games without any interference from the mouse acceleration curve. Follow the steps given below to do so:
Navigate to the Windows search bar and type in Registry editor. From the search results, right-click on the first one and click on Run as administrator.
In the Registry Editor window, expand the HKEY_CURRENT_USER option and then expand the Control Panel and choose Mouse
Double click on MouseSpeed, MouseThreshold1, and MouseThreshold2 options one by one. You will find these located on the right side. Set their values to 0 and then, click on OK.
Given below are the details about what the different values of MouseThreshold indicate:
MouseSpeed string value
1 = ON (Default), 0 = OFF
MouseThreshold1 string value
6 = ON (Default), 0 = OFF
MouseThreshold2 string value
10 = ON (Default), 0 = OFF
This will turn the MouseThresholds off. Else, you can also download preset registry keys to control the mouse acceleration and have better control over your mouse cursor.
How To Turn Off Mouse Acceleration In Windows 7 And 8?
If you want to know how to disable mouse acceleration on Windows 7/8, follow the steps given below:
Type in "Mouse" in the search bar of the computer.
The mouse option will show up in the list with a 3D mouse icon. Click on the icon to open the mouse settings.
Click on the Pointer Options tab
Unmark the checkbox next to Enhance pointer precision and then, click on
How To Turn On Mouse Acceleration In Windows 10?
In case you had earlier disabled the mouse acceleration feature or had it disabled by default but now need it turned on, follow the steps given below to do so:
Press the Windows + I keys to open the Settings app.
Next, go to Devices
Now, select the Mouse tab from the left panel.
Select the Additional mouse options to link either from the bottom of the page or from the right side.
Navigate to the Pointer Options tab
Mark the Enhance pointer precision checkbox and click on Apply to allow the changes to take effect.
Bonus: How To Turn Off Mouse Acceleration in Mac OS?
Mac users have also complained about similar mouse aiming problems. Disabling the mouse acceleration on Mac is pretty easy as well. There are two ways to disable mouse acceleration in Mac OS:
Via System Preference
Using Terminal Command
Via System Preference
Click the Apple icon and select System Preference.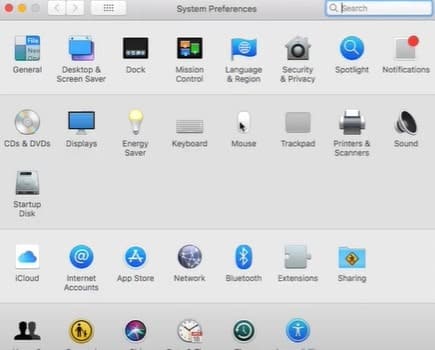 Click on the Mouse option from the mouse setting and click on Point & Click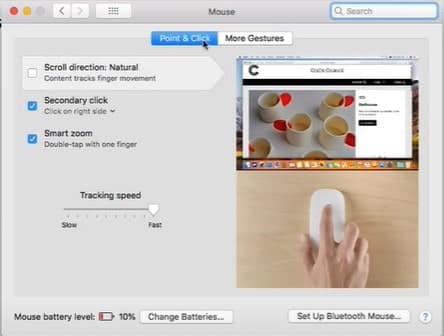 You can also check out other mouse settings such as Tracking speed, Secondary speed, and Scroll direction
To control the speed of the mouse cursor, adjust the slider of tracking speed to move the mouse. This will not completely disable mouse acceleration but still, the feature can be adjusted as per your need.
Via Mac Terminal
Open the "Utilities folder" from the Applications and click on Open the Terminal. Else, you can press the cmd + Spacebar keys to open the Spotlight Search bar and then, type Terminal in the search bar to open it.
To check the mouse acceleration, type in the command "defaults read.GlobalPreferences com.apple.mouse.scaling" in the
If you want to disable Mouse acceleration, type in the command given below in the Terminal "defaults write.GlobalPreferences com.apple.mouse.scaling -1"
Log out of your Mac system and log in again to save the changes.
What Happens After You Deactivate Mouse Acceleration On Your System?
Turning off the mouse acceleration will have an immediate effect and you will recognize that your mouse cursor moves differently now. The new movement will feel very slow at first. Keep in mind that the mouse movement is perfectly scaled with the cursor movement now and does not get affected by the displacement speed.
At first, you will find it hard to adjust to the mouse but gradually, you will get used to it. If the mouse movement seems way too slow for you, just increase the cursor speed from the mouse settings. Also, if you want better accuracy and precision in games, you should play at lower sensitivity. This will allow you to have higher movement accuracy and increase your shots by removing unnecessary mouse movements.
Final Words
This article aims to give you a better insight into mouse acceleration and information about how to disable it. Whether to keep your mouse acceleration enabled or disabled depends entirely on you. And based on that, you can choose to enable or disable the mouse acceleration feature. Moreover, you can alternate between the two as well to explore how each setting feels and choose whichever suits you better.
FAQs
Should I turn mouse acceleration on or off?
If you turn off your mouse acceleration, that will allow your mouse to move at a 1:1 ratio with the cursor and will have no relation to speed. This setting allows you to have better muscle memory and perform better at video games. On the other hand, you can consider turning your mouse acceleration on if you have physical space limitations.
Is mouse acceleration really that bad?
The mouse acceleration can be quite bad if it does not have limitations and can also destroy your aiming skills while playing video games. When it has limitations, the mouse acceleration is good for training your muscle memory.
How do I turn off mouse acceleration in Windows 10 2021?
Go to Control Panel, then go to the Hardware and Sound option. Click on Mouse > Pointer options. Uncheck Enhance pointer precision option and click on Apply > OK.
Also read