Invalid IP and DNS address configurations, problem with Wi-Fi or Ethernet cards or its driver or incompatibility with third-party tools (VPN, Firewall, etc.) are common reasons behind this problem. Here is how to fix it
Connecting to the WI-FI network on your Windows 11 laptop is seamless. However, you may notice the Internet not working after the Windows 11 update, and "unidentified network error" appears on the WI-FI network. This error usually means your PC or laptop is attempting to connect to the internet but fails to establish a connection. Unidentified network no internet access on Windows 11 could be caused by a problem with your PC, the network configuration, outdated network or wifi driver or the internet connection. Well if you are having trouble establishing Internet connection due to this unidentified network error, here we have effective solutions apply to fix the problem ad restore the Internet connection on your PC or Laptop.
Unidentified Network Error on Windows 11
Before moving forward, ensure your device (laptop) is closer to the WI-FI router.
Connect your phone to the same wifi network and check the internet working, if not you might need to restart your router or contact ISP customer support if there is an outage.
Restsrt wifi router
Most of the time this error unidentified network No internet access on Windows 11 cause because of temporary glitch. Restarting your device and wifi router will probably resolve this issue. However, if the problem continues to persist check out the following steps that you can do with Windows itself.
In addition Make sure to disconnect VPN, if configured on your computer.
Disable windows firewall
A misconfigured firewall can also cause a connection issue, turning off the Windows firewall is a straightforward to fix such issues. If you are using a third-party security suite, turn its firewall off first.
Press Windows key + S type Windows security and choose the top result,
Select Firewall & network protection from the left sidebar and click the network type – Public or Private.
Under the Microsoft Defender Firewall section, toggle the switch to turn it off
After turning off the Firewall, see if you can connect to the network. If you can, great, but it's not a good idea to keep it off.
Reset Network configuration
A problem with the IP address and DNS cache might be the reason why Windows fail to establish a connection and results unidentified network error. And resetting the TCP/IP stack not only fix internet connection problems but also can free up memory and CPU usage, improving system performance.
Press Windows key + S and type cmd, right-click on the command prompt select run as administrator,
Run the following commands in order, hitting Enter after each one:
netsh int ip reset
ipconfig /release
ipconfig /renew
ipconfig /flushdns
ipconfig /registerdns
The above command Restart the TCP/IP stack, Renew Your IP Address and Flush DNS Cache
After running the above commands reboot your PC and, see if Unidentified Network error is resolved, and you can connect to the network and internet.
Update Your Network Card Driver
An outdated network driver could be another reason why you are getting unidentified network errors on Windows 11. If the problem still exists, you should consider update the network card driver (wifi adapter driver).
 Malfunctioned or outdated drivers can hamper the exchange of data packets on a network
Press the Windows key + X and select Device Manager,
This will display all devices connected to Windows 11
Locate and expand network adapters, right-click on your adapter then click update driver from the menu,
Select Search automatically for the driver option and follow on-screen instructions.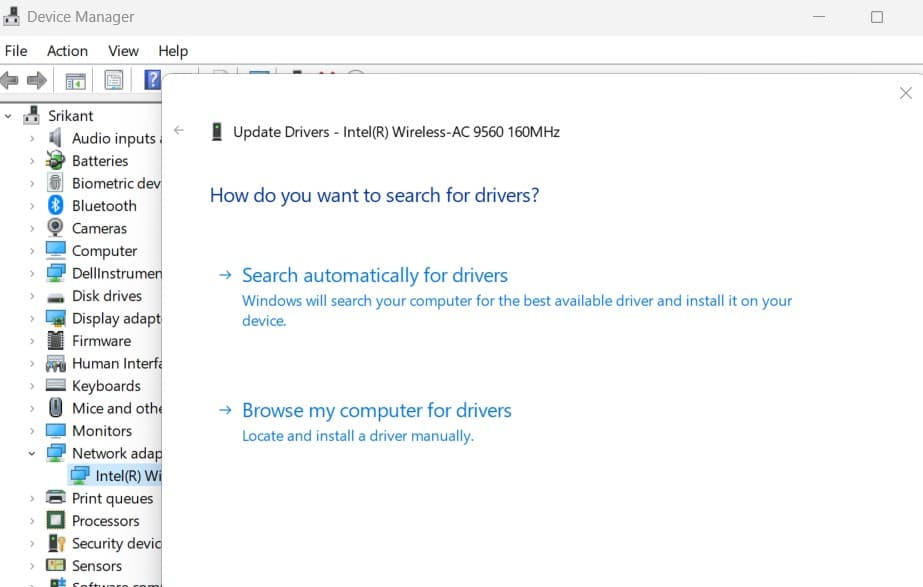 You should also select browse my computer for the driver if you have an updated driver from the manufacturer to install device drivers manually.
Once the driver installs, restart your PC again, and it should be working.
In addition, you can also check your PC manufacturer's software update program for the latest driver update.
Reconfigure DNS Server on Your PC
Still, the internet not working on Windows 11. sometimes misconfigured DNS server can prevent your Pc from connecting to the internet. Let's switch to Google DNS and set it to obtain IP address automatically that probably helps fix such problem.
Press Windows key + R, type ncpa.cpl and click ok,
Right-click on your active network adapter select properties,
Select Internet Protocol Version 4 (TCP/IPv4) and click Properties.
Here select Obtain an IP address automatically and Click Use the following DNS server addresses option.
Set preferred DNS server 8.8.8.8 and alternate DNS server 8.8.4.4 and click ok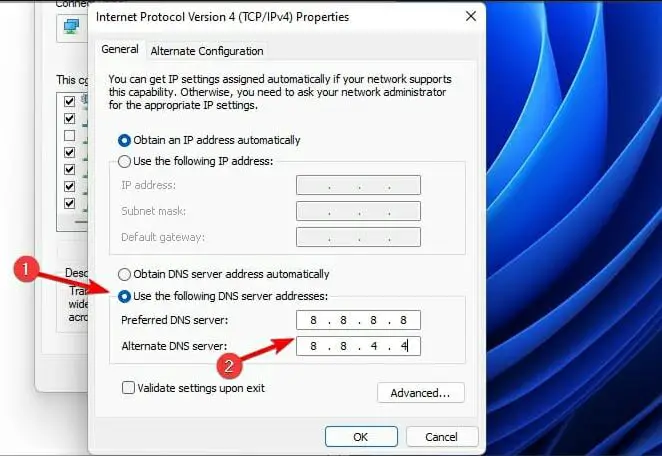 In addition, press Windows key + R, type msdt.exe -id NetworkDiagnosticsNetworkAdapter and click ok to run the Windows network diagnostics tool that may help identify the problem and suggest some solutions.
Press the Windows key + R, type services.msc and click ok. Here locate the Network Connections service, right-click on it select restart. If the service not started, double-click on it to open properties, here change the startup type automatic. Repeat the same for the following services:
DHCP Client
DNS Client
Remote Procedure Call (RPC)
Server
TCP/IP NetBIOS helper
Wired Autoconfig
WLAN AutoConfig
Also, refer to the following video explains how to fix the Unidentified Network error and restore the internet connection on your computer.
Also read: