If you upgraded to Windows 11 22H2, it's possible to uninstall it to revert to version 21H2 or windows 10 without losing your files in case the new release is causing problems
If you have upgraded your PC to the latest windows 11 version 22H2 and then decide you don't like it, You can uninstall windows 11 2022 update and return your PC to its previous operating system. How you remove or uninstall windows 11 version 22H2 update depends on how much time it has elapsed since your switch or upgrade to windows 11. If you decide to downgrade windows 11 within 10 days then a Go Back option makes it easy to Rollback Windows 11 version 21H2 or even Windows 10. But if it's been longer than that or if you perform a clean installation (Not upgrade) then Uninstall windows 11 version 22H2 will be a little more complicated.
The Recovery settings in Windows 11 provide an option to uninstall the latest update and go to the earlier build
Uninstall windows 11 2022 update
So if you experience certain problems with the new windows 11 version 22H2 or won't like the operating system, looking for a way back to older Windows 11 or Windows 10 then you can uninstall the windows 11 2022 update following the steps below.
Add a header to begin generating the table of contents
Before moving forward, we recommend backup your important data and files to an external drive or cloud storage.
Also, Microsoft regularly releases windows 11 updates to fix different bugs with the operating system. Check and Install the latest windows update that may have a bug fix for your problem that force you to revert back.
Before start make a Note:-
Currently, windows 11 2022 update version 22H2 (OS build 22621) is the latest release from Microsoft for the windows 11 Operating system.
If you have upgraded your windows 11 21H2 PC to the latest version 22H2 and are not happy with it then using Go back option on settings you can revert it to windows 11 version 21H2 only (Not windows 10)
But If you have upgraded your PC running Windows 10 to windows 11 version 22H2 Then you can use the Go back option under the recovery option in settings to revert back to Windows 10 only not windows 11 version 21H2.
If you have used your Windows 11 computer for over 10 days after the upgrade, you cannot uninstall Windows 11, and it is not possible to roll back to your Windows 10.
Using the Go Back option under recovery
To Uninstall Windows 11 22H2 and roll back to 21H2 or Windows 10 (Depending on your upgrade) follow the steps below.
Press Windows key + X and select Setting on windows 11 22H2
Click on System then select the Recovery option on the right side.
Under the "Recovery options" section, click the Go back button.
If you don't see the Go Back option under Recovery section on settings, it may be because the upgrade took place more than 10 days ago, the older files were erased during a Disk Cleanup session, or you performed a clean installation instead of an upgrade. A clean installation erases all of the data on the hard drive, so there's nothing to revert back to.
A Go back to earlier build window open with set options Why are you going back, select an appropriate reason and click Next.
On the next screen, Microsoft advises checking for and install the most recent windows updates that may resolve any issues you are having with Windows 11.
Select No thanks button to proceed to uninstall the windows 11 2022 update.
The next window, recommend you to keep your PC plugged into a power source and back up your important data from your desktop, documents or other location before proceeding with the rollback. Click next to continue.
The next window inform you need the same password to login to your computer that used previously. Click next to continue.
And finally, you will get a screen that says Thanks for trying this build with the option to Go back to the earlier build button, click on it.
Now your PC restart and the rollback process begins, You should see a black screen with message "Restoring your previous version of Windows". And you need to wait more than 15 minutes, once the rollback is complete, and you should see a Windows 11 version 21H2 or windows 10 login screen.
After uninstalling Windows 11 2022 Update, you may need to reinstall some apps and lose the settings you may have configured while using the newer release
Uninstall Windows 11 And Roll Back To Windows 10 After 10 Days
If the Go back option grayed out for you, there is nothing to revert because it's more than 10 days since upgrade or you have clean install windows 11 from scratch. In such case rollback windows 11 to 10 is only possible through a media creation tool or you need to install windows 10 from scratch. Here follow the steps below to Uninstall Windows 11 21H2 And Roll Back To Windows 10 After 10 Days.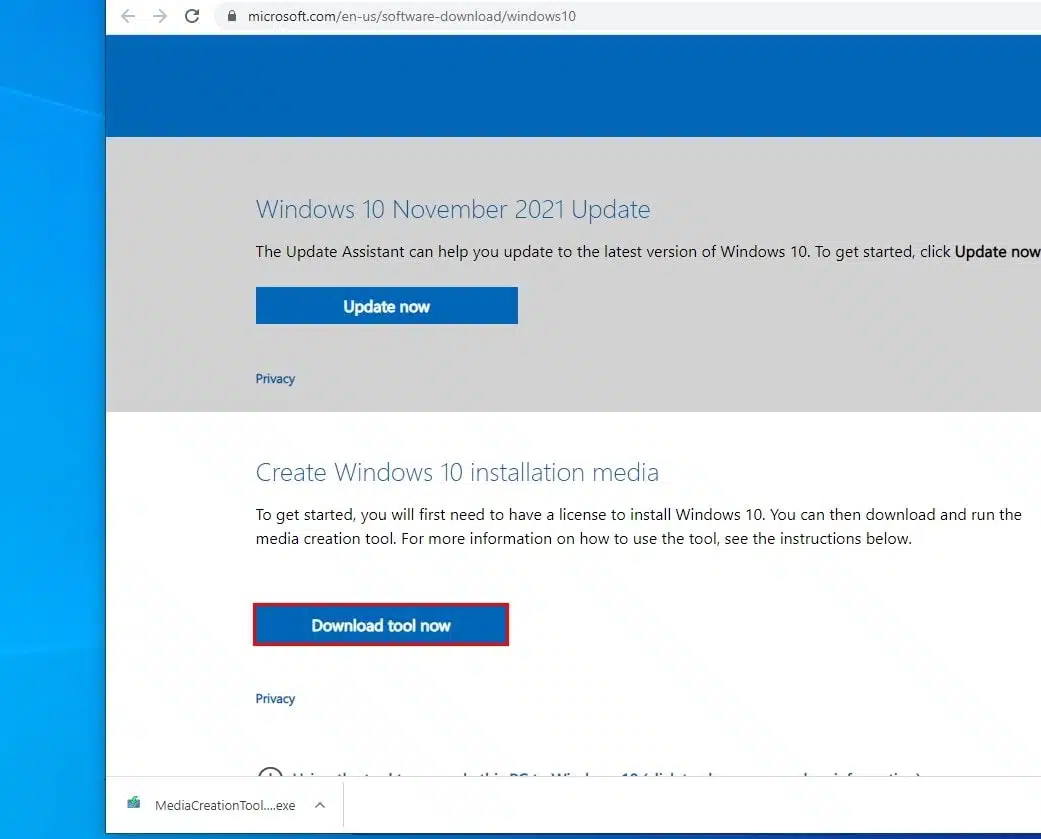 Open the Media Creation Tool, Accept the license agreement and select Upgrade This PC Now,
The Windows 10 Setup wizard will start downloading Windows 10 update files from the Microsoft server, Wait for the download to complete.
This may take a little bit depending on your internet speed.
Once done it will start creating Windows 10 media. Wait for this step to complete. The setup will go through a number of steps.
When it displays another license agreement screen, Accept it to proceed to the next step.
On the Choose what to keep page, only the "Nothing" option will be available. Read the details of this option and if you're happy to proceed, on the bottom right, click Next.
Since this option will delete all your apps and reset your settings, you will be required to confirm that you want to proceed.
And finally to uninstall Windows 11 and reinstall Windows 10, Read to install page, and review your selected options then click the Install button.
And wait a few moments, it will ask to reboot your PC 2/3 times to install the windows 10 operating system on your device. Once done,  reinstall your required applications.
Also you can refer following video how to install windows 10 using media creation tool.
Quick Guide: Uninstall Windows 11
Navigate to Settings > System > Recovery .
Click the Go Back button next to recovery option.
Select " Other reason " in the query and click on " Next ".
When asked " Check for updates? ' you click on ' No, thanks '.
In the "What you should know window, confirm with " Next ".
Confirm again with " Next ".
Finally, click on "Revert to a Previous Build ". Windows will restart and set up Windows 10 again.
Uninstall Windows 11 by reinstalling
If the above method doesn't work for you, you can uninstall Windows 11 by reinstalling Windows 10. This will overwrite Windows 11. However, we recommend backing up your private data beforehand, as these will be lost during installation.
Creates a USB stick with the Windows 10 media creation tool.
Plug the USB stick into the PC and restart it.
If the Windows 10 installation does not open, change the boot order in the BIOS so that the USB stick is booted first.
Click through the Windows 10 installation and select that the hard drive or partition should be used with Windows 11, which will overwrite it.
After a few restarts, the well-known Windows 10 will greet you.
FAQ
Is Windows 10 Better Than Windows 11?
From my experience using both Windows, I believe that Windows 11 is better than Windows 10.
Will Windows 11 Be Forced?
No, Windows 11 installation will not be forced, its available as optional feature update. And When Windows 11 21H2 is available for your PC, you have the option to install it or not.
Can I Install Windows 11 Now
Yes, if your device meet windows 11 minimum system requirements, open windows update and check if the windows 11 update notification is there. Or you can use the installation assistant to install windows 11 right now on your PC.
Also read: