Microsoft regularly releases Windows Updates that are necessary to have the updated fixes and features of Windows 10. Sometimes you may experience Your PC Struggling to Boot after installing a windows update or a Botched update ruin everything, from the start menu to the desktop and the complete operating system. If you are looking to remove windows update files here is How to Uninstall Windows 10 Update Manually that have known issues or causing problems on your computer.
How to Uninstall Windows 10 Update
Here in this guide, you learn, how to uninstall windows 10 update from the command prompt, via settings and control panel. In addition, you will learn how to uninstall the Windows 10 feature updates as well.
Uninstall Windows 10 update with Settings and Control Panel
Here is how to uninstall a specific Windows update from the settings and control panel.
Press Windows key + X and select settings,
In Settings, head into Update & security.
Click on "Windows Update" on the left and then on "View update history".
On the next screen, click on the "Uninstall updates" link at the top,
This will open the control panel\installed updates window,
Here select the problematic select the update you want to uninstall and click uninstall.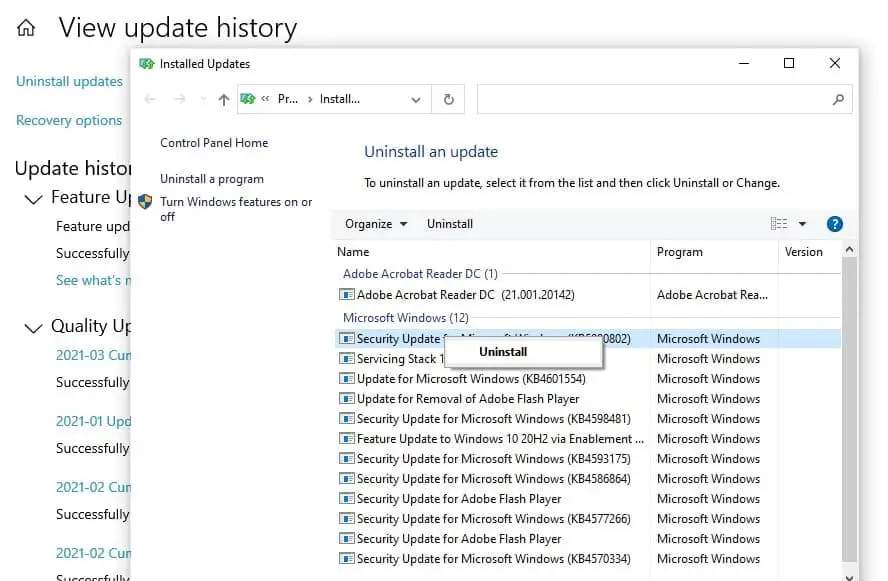 Click 'Yes' on the confirmation box to uninstall the update, once done reboot your system to finish the process.
Uninstall Windows 10 updates from command Prompt
Also, you can use command-line program (windows command prompt) to uninstall windows updates.
First of all note down the KB number of the Windows update that you want to uninstall. For example, the latest KB number for windows 10 version 22H2 is KB5013942.
Open the command prompt as administrator,
Type command wusa /uninstall /KB: KB5013942 (Note: replace KB ID with the one that you wish to uninstall)
If you want to uninstall the update and prompt to restart the computer then use the command wusa /uninstall /kb: KB5013942 /quiet /promptrestart
And restart your PC to complete the process.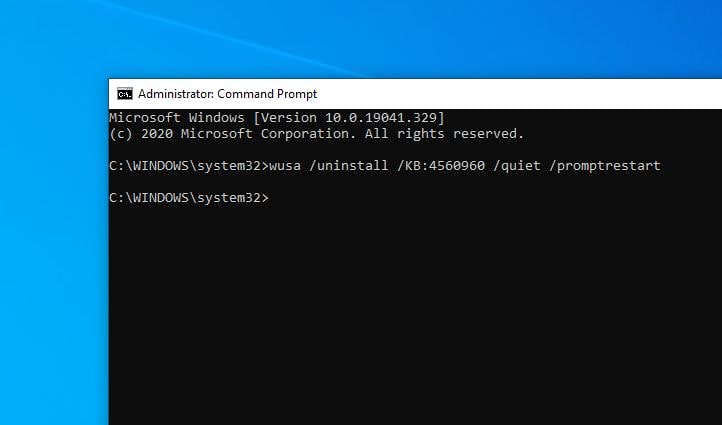 Uninstall Windows Update at Boot with Advanced Options
Also, you can boot into the advanced option to remove a windows update.
Open Settings then Navigate to Update & Security > Recovery.
Click on Advanced Startup then Troubleshoot.
Click on Advanced Options -> Uninstall Updates.
here click on Uninstall latest quality update or Uninstall latest feature update. and follow on-screen instructions to remove the updates.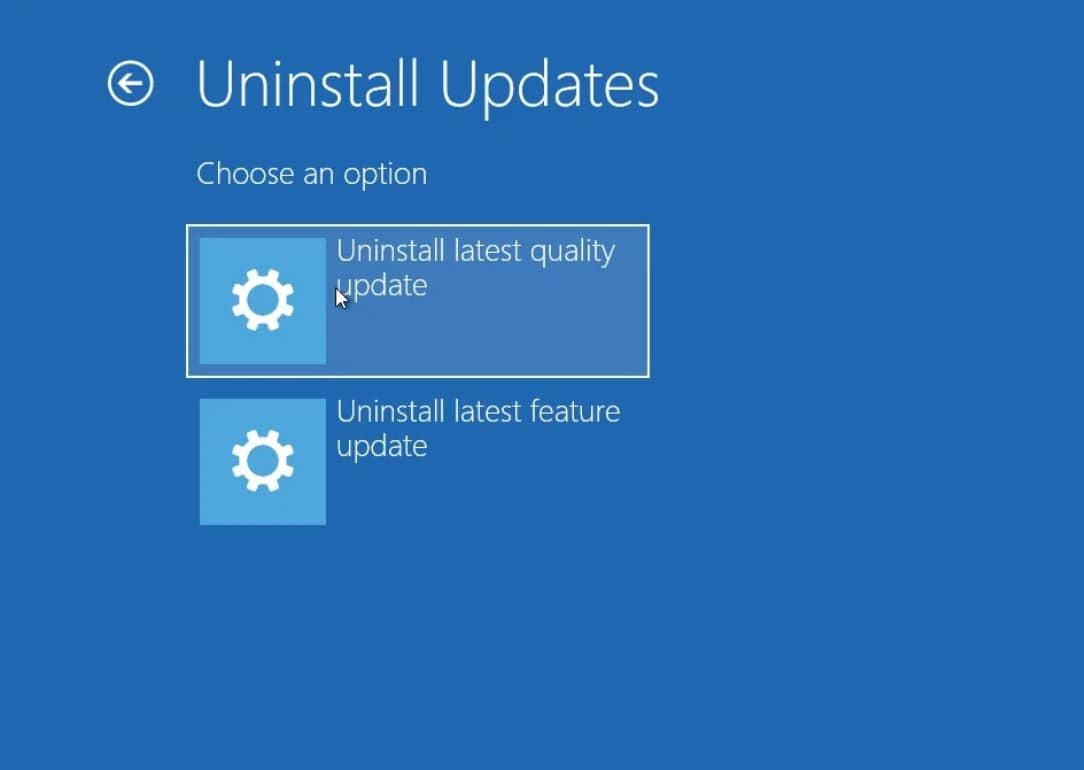 Uninstall Windows 10 feature update
If you experience a problem after installing windows 10 feature update version 22H2, and looking to revert back to windows 10 version 22H2 then within 10 days of installation you can uninstall windows 10 feature update 22H2 by following the steps below.
Open settings, then click Update and security -> Recovery
Next click on the Get started button under Go back to an earlier build section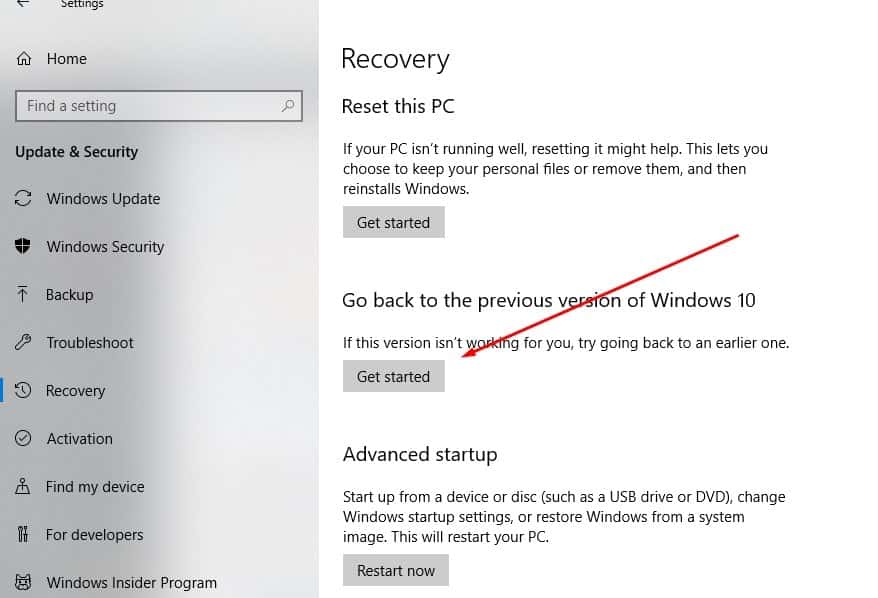 This will ask why you are going back to the previous build of Windows 10.
Select the checkbox, click Next to move on. Note If you wish, you have a chance to Cancel now.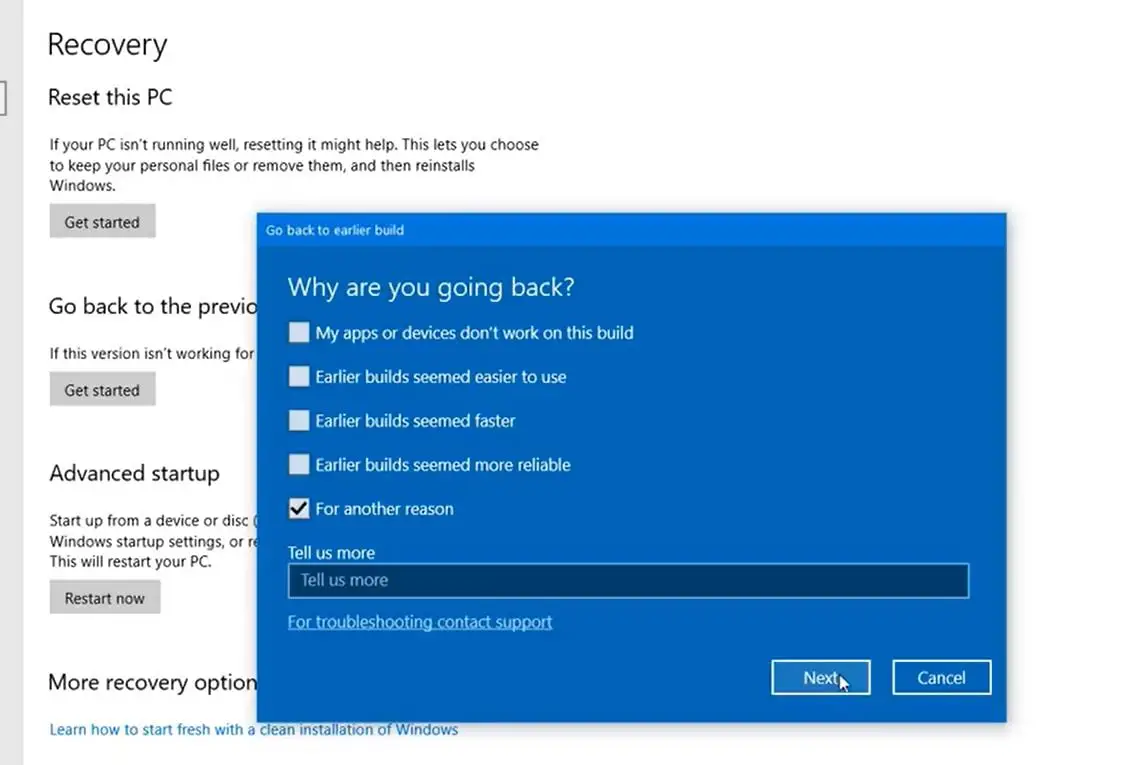 Next Windows 10 will offer to check for updates, Maybe some new fixes have been released and installing that update may fix your problem. If you have decided to go back and uninstall the feature update then click no thanks to the proceeding.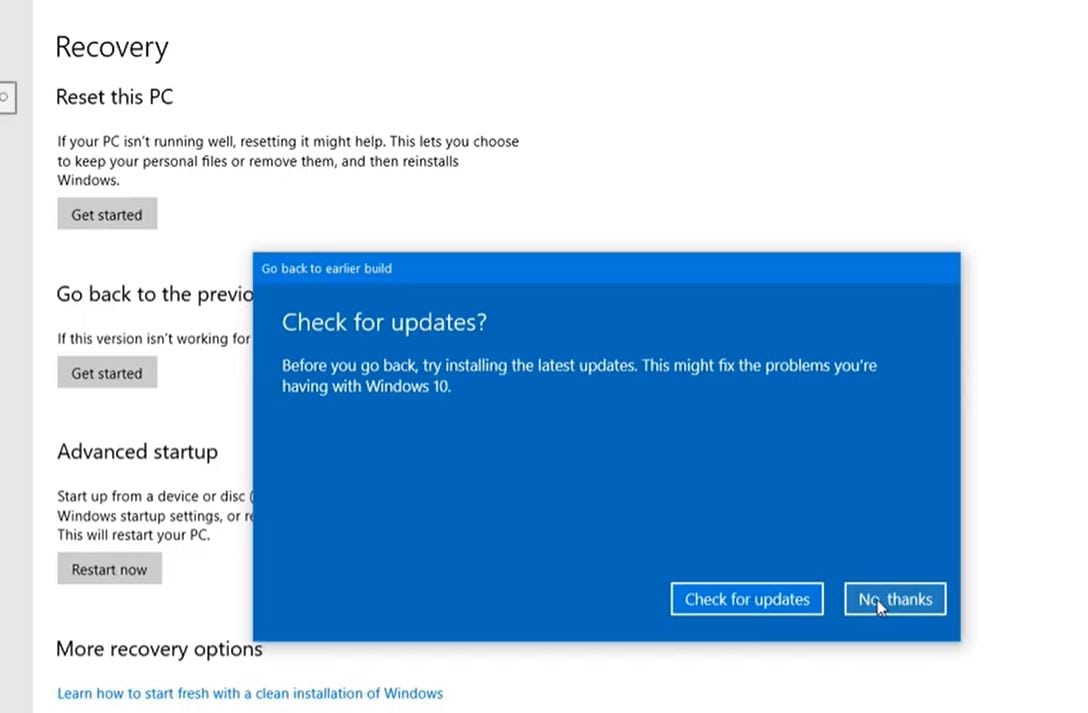 Next, it will prompt, that you will lose the settings changes or the apps you may have installed after you upgraded to the current build. Read it carefully before proceed and click next.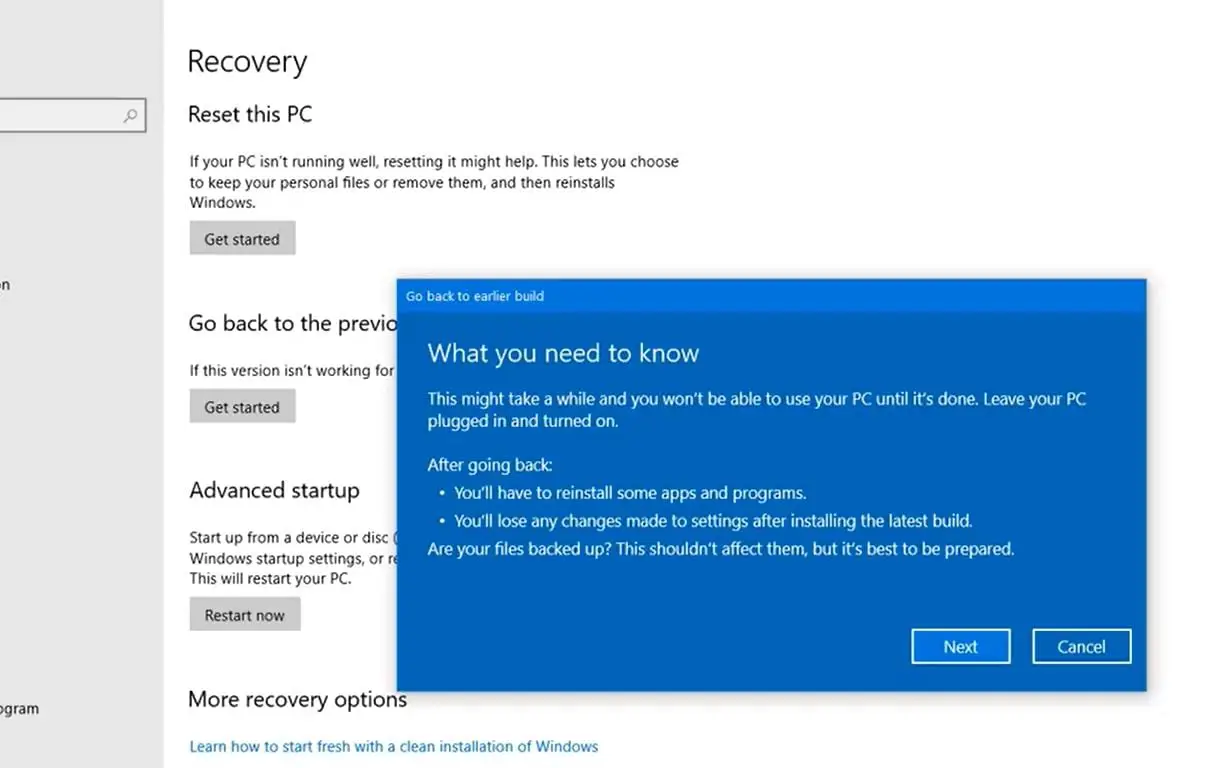 Read the next screen text carefully that says if you have changed your password after upgrade a new build, after go back to the previous build you need the old user name password to login to your PC click next.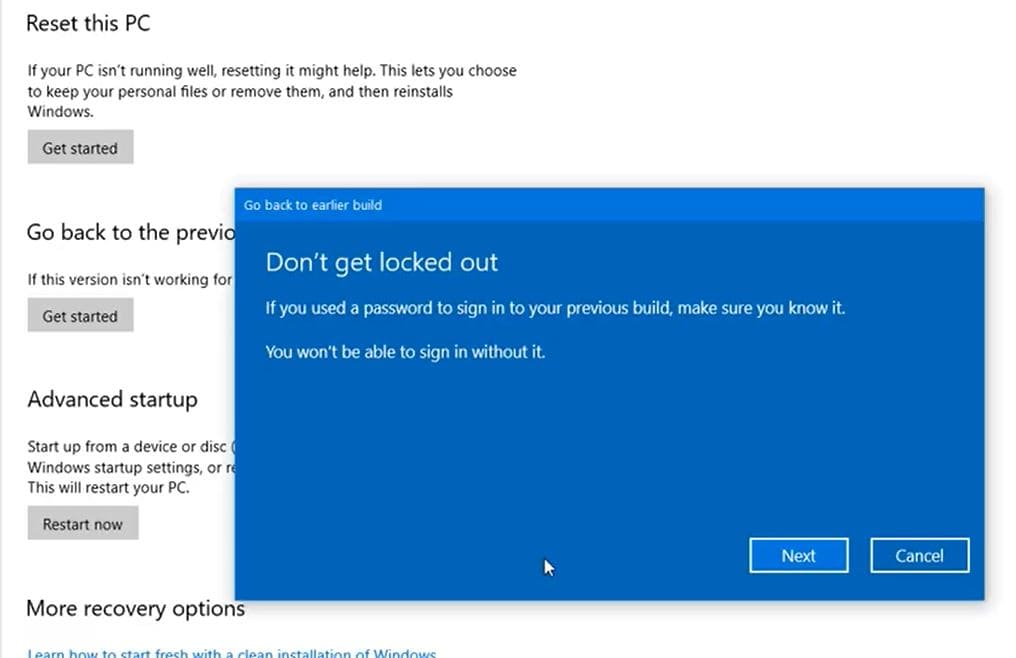 And the final step will prompt Thank you for trying out this build click next to proceed to uninstall the Windows 10 feature update and revert back to the previous version.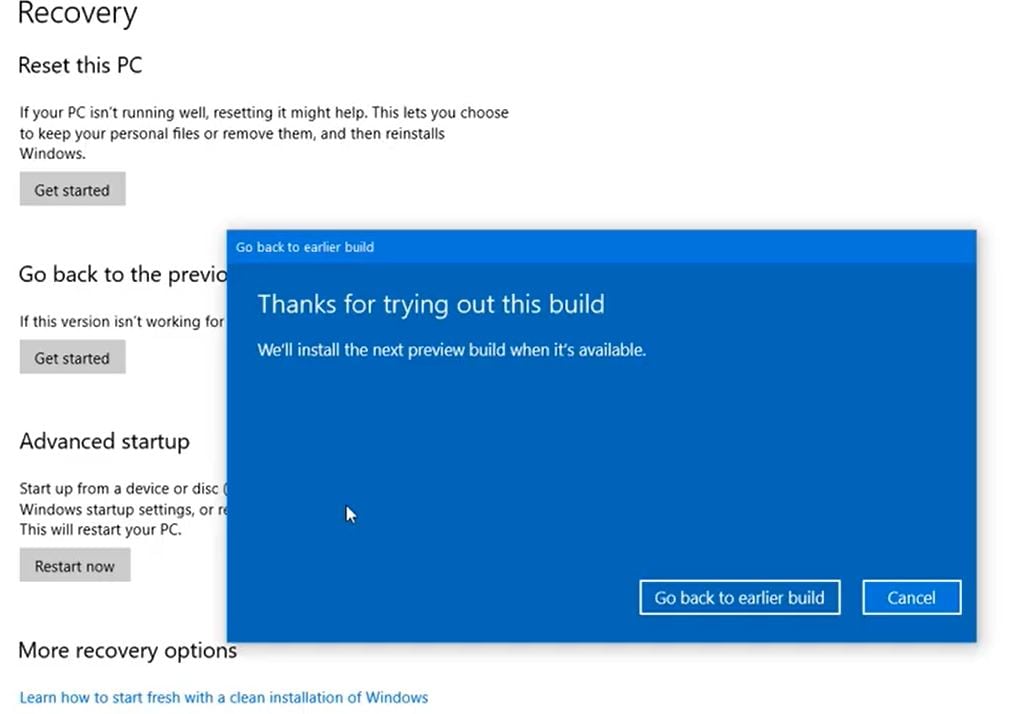 This will restart your PC and will take some time to revert back to windows 10 to the previous build.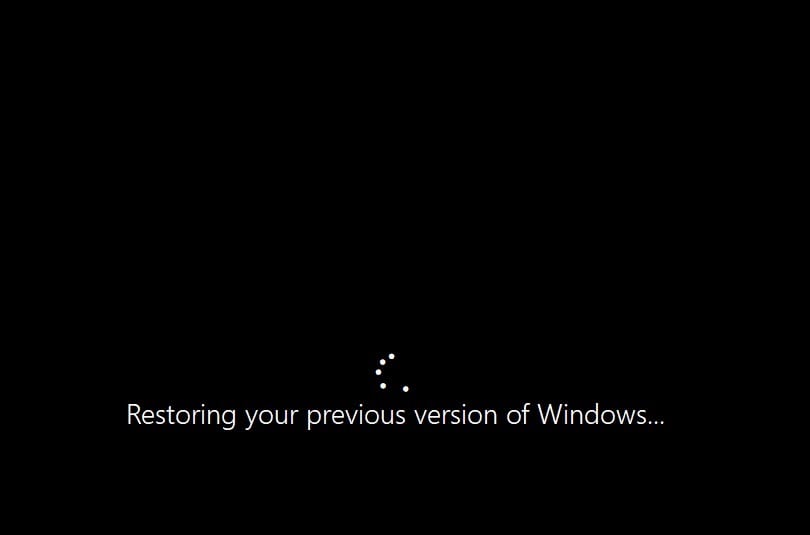 Here is a video that shows how to uninstall the windows 10 feature update, Step by step guide.
Also read: