Windows 10 Blue screen error 0x00000119, also shown as VIDEO_TDR_FAILURE or VIDEO_SCHEDULER_INTERNAL_ERROR, is likely due to a problem with the display driver for your Graphics card stops responding or malfunctioning. Here Video refers to the Display (Graphics) driver, TDR stands for Timeout, Detection, and Recovery components in Windows. A problem with the graphics card driver or your graphics card stops responding results Video TDR Failure on Windows 10/11.
"Your PC ran into a problem and needs to restart. We're just collecting some error info, and then we'll restart for you. (0% complete) 

If you'd like to know more, you search online later for this error:  VIDEO_TDR_FAILURE (nvlddmkm.sys) "
Windows 10 VIDEO_TDR_FAILURE BSOD
This error usually occurs when the graphics driver takes too long to respond. The Windows operating system has a mechanism in place to detect when a graphics card or driver is not responding in a timely manner. If it takes longer than a certain threshold, Windows assumes there's a problem and triggers a BSOD with the "Video TDR Failure" message.
The most common reason for this issue is that incompatible graphics card drivers or graphics devices are being overloaded beyond their capabilities.
Outdated or Corrupt Graphics Drivers: This is one of the most common causes. If the graphics driver is outdated, incompatible, or corrupt, it can lead to this error.
Overheating of Graphics Card: Overheating can cause the graphics card to slow down or become unresponsive, triggering the TDR mechanism.
Hardware Issues: Problems with the PCIe slot, connectors, or power supply to the graphics card can also trigger this error.
Software Conflicts: Conflicts with other software, especially graphics-intensive applications or conflicting drivers, can lead to this error.
If you are also struggling form this Windows 10 BSOD error Video_TDR_Failure here are some effective solutions you may apply.
Note: If due to this VIDEO_TDR_FAILURE BSOD System frequently restarts, Boot into safe mode. That starts Windows with minimum system requirements and allows perform troubleshooting steps below.
Disconnect All external devices, including the printer, scanner, external HDD, etc. Restart Windows if there is no more BSOD problem then the problem is with one of the external devices. You have to find out the problematic device.
Loose connections or hardware problems with the PCIe slot, power connectors, or other components can cause the "Video TDR Failure" error.
Ensure all connections to the graphics card are secure. This includes PCIe slot connections, power connectors, and any additional power cables connected to the card.
If possible, try the graphics card in a different PCIe slot to see if the error persists.
Update/reinstall display (Graphics) driver
Outdated or incompatible graphics drivers are a common cause of the "Video TDR Failure" error. Updating drivers ensures compatibility with the latest software and can resolve known issues.
Update Display Driver
Try updating the Graphics card drivers from the device manager and check if it helps:
Press the Windows key + R type devmgmt.msc and hit Enter.
This will open the device manager, display all installed device driver list
Spot and expand the "Display adapters".
Right, click on the Graphics card driver and select "Update Driver Software".
When it prompts you to choose the option How do you want to search driver, then go with Search automatically for updated driver software.
If you have a driver available on your PC, then select Browse My Computer for driver software, then select the appropriate location, where the driver is located on your PC for updating it. (Also Ensure that PC is connected to the Internet while performing this step)
Once this is done, restart the computer to check the problem is fixed.
If it doesn't fix the issue, then Rightclick on the same driver and select "Uninstall" then restart the system and let the system install the driver automatically on Start. Check and see if it resolves the issue.
Reinstall Graphics driver
Download and install the latest Windows 10 graphics card drivers for your device from the manufacturer's website instead of from the NVIDIA website and check if it helps. Most probably it will fix the issue
Visit the website of your graphics card manufacturer to download and install the most recent drivers.
If no updated drivers are available on the manufacturer's website for Windows 10, then try installing drivers in compatibility mode. Compatibility mode runs the program using settings from a previous version of Windows.
Follow these steps to install the drivers in compatibility mode and check if that helps.
Download the latest available driver from the manufacturer's website.
Uninstall the existing graphics card drivers from your PC through the Control Panel.
Right-click on the driver setup file and click on 'Properties'.
Click on the 'Compatibility' tab and check the box 'Run this program in compatibility mode for' and select Windows 8/8.1 or 7 operating system from the drop-down menu and proceed with the installation.
Once this is done, restart the computer and check if the issue persists.
Check for Overheating
Overheating of the graphics card can cause it to become unresponsive, triggering the TDR mechanism. Monitoring temperatures and ensuring proper cooling can help prevent this.
Download and install a temperature monitoring tool like MSI Afterburner or HWMonitor.
Monitor the temperature of your graphics card while running demanding applications or games.
If temperatures exceed safe limits (usually around 85-90°C), clean dust from fans and heatsinks, and consider improving airflow within your computer case.
 Clean out any dust from your computer and ensure adequate cooling.
If possible, swap out your current graphics card with a known working one. Test the system to see if the error still occurs.
Modify PCI Express Power Management Settings
Sometimes, Low power in the CPU and graphics card can cause any type of problems. Especially for laptop users, Recommended to "Leave your power settings to high performance".  You can set high-performance power settings from the control panel, and search for power options. When the power options window opens click on show additional Plans and select the Radio button High performance.
If you don't want to leave power settings to high performance but want to disable power saving for PCI Express, You can follow these instructions.
Open the Control panel, Search, and open power options
Here click on Change plan settings next to the power plan you are currently
Now, Find PCI Express and expand it.
Then expand Link state power management.
Change the settings to off for plugged-in and on battery option.
Click on Apply and OK. then Restart your PC.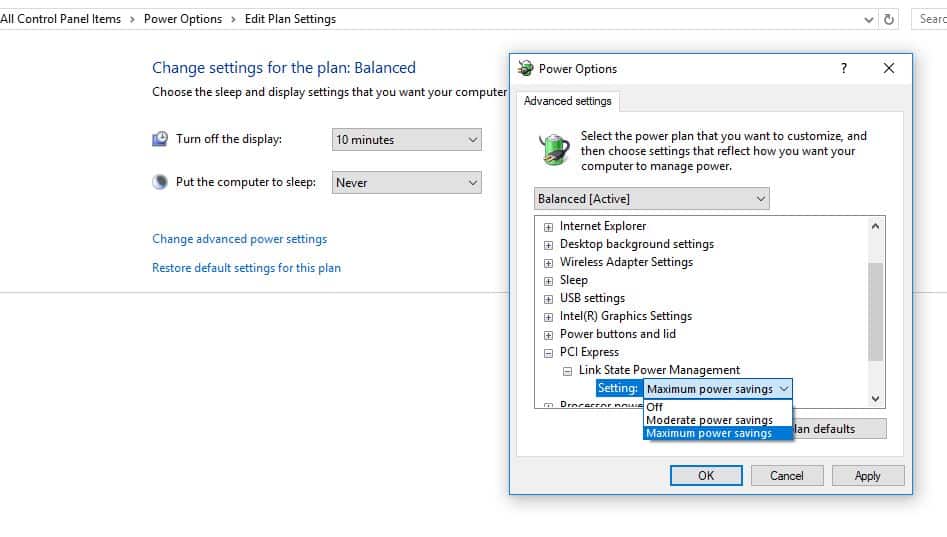 Make sure Windows has the latest updates installed
It's very important that your operating system is up-to-date, as these updates are created specifically to fix issues like this. Check for updates of Windows and its drivers. Updating can work greatly. It fixes many bugs. So, You will have a good chance to get rid of VIDEO_TDR_FAILURE.
Sometimes, Microsoft releases updates that address compatibility issues with certain hardware.
To check and install available Windows updates open Settings.
Now Click Update & security.
Click the Check for updates button and then install all updates found.
Replace ATIKMPAG.SYS File
This is exclusively for AMD Radeon users. In this solution, we will replace the file in atikmpag.sys with a fresh one here follow the steps to do this.
Press Windows + R, type C:\Windows\System32 click ok
Here find the file named atikmpag.sys and rename it to atikmpag.sys.bak.
Now open the C drive and Look for a folder called ATI.
In ATI, there will be a file named atikmpag.sy_ there copy it to the desktop.
Now open Command Prompt (Admin).
Type chdir desktop and enter to change the directory to Desktop
Then, Type the following commands and hit enter for each.
expand.exe atikmdag.sy_ atikmdag.sys
expand -r atikmdag.sy_ atikmdag.sys
Now, You should see a new atikmdag.sys file in the desktop.
Just copy it to C > System32. Restart your PC. It should fix VIDEO_TDR_FAILURE.
If you have installed Nvidia Graphic Driver on your system Do the same for nvlddmkm.sys
Go to C:\Windows\System32\Drivers and rename "nvlddmkm.sys" to "nvlddmkm.sys.old".
Go to the Nvidia directory (usually in C: Nvidia or C:drvvganVidia) and find the file nvlddmkm.sy_.
Copy the file to your Desktop directory.
Open command prompt as administrator
Change the directory to Desktop by typing "chdir Desktop".
Then, type "EXPAND.EXE nvlddmkm.sy_ nvlddmkm.sys". Or, "expand -r nvlddmkm.sy_ nvlddmkm.sys".
When the expansion is complete, copy the new nvlddmkm.sys from your Desktop to C:\Windows\System32\Drivers and Restart the windows.
Check this helps to fix the problem
Scan and Fix Damaged System Files
It is possible to be due to the corrupted system files or missing system files you will getting this video tdr failure nvlddmkm.sys Windows 10 Blue Screen Error. In this case, you can use SFC /Scannow command to check the file system. If this System File Checker finds out the protected files are overwritten by incorrect files, it will extract the correct system file from the system file backup (namely dllcache) and replace the incorrect file.
Monitor Software Conflicts
Conflicts with recently installed software or updates, especially graphics-intensive applications or conflicting drivers, can lead to the "Video TDR Failure" error.
Uninstall any recently added applications or drivers.
If the error started after a particular update or installation, consider rolling back to a previous system restore point.
Did these solutions help to fix "video TDR failure igdkmd32.sys windows 10"? Let us know on the comments below,
What does the "VIDEO_TDR_FAILURE" error mean?
"VIDEO_TDR_FAILURE" is a Blue Screen of Death (BSoD) error in Windows that indicates a problem with the display driver.
What causes the "VIDEO_TDR_FAILURE" error?
This error can be caused by issues with graphics card drivers, overheating of the GPU, hardware problems, or conflicts with installed software.
How can I fix the "VIDEO_TDR_FAILURE" error?
Some common steps to fix this error include updating graphics drivers, checking for hardware issues, ensuring proper system cooling, and checking for conflicting software.
Can outdated graphics drivers cause the "VIDEO_TDR_FAILURE" error?
Yes, outdated or incompatible graphics drivers are a common cause of this error. Updating to the latest compatible driver can often resolve the issue.
How can I update my graphics drivers?
You can update your graphics drivers through the device manager in Windows or by downloading the latest drivers from the manufacturer's website.
Could overheating be a factor in the "VIDEO_TDR_FAILURE" error?
Yes, overheating of the GPU can lead to this error. Ensure that your system is adequately cooled and that fans and heat sinks are working properly.
What role does conflicting software play in this error?
Conflicting software, especially other graphics-related programs, can interfere with the proper functioning of graphics drivers and lead to this error.
Is it necessary to check for hardware issues if I encounter this error?
Yes, hardware problems, such as faulty graphics cards, loose connections, or issues with the PCIe slot, can be a contributing factor. Checking the hardware is an important step in troubleshooting.
Should I perform a system restore to fix the "VIDEO_TDR_FAILURE" error?
System restore can be a viable solution if the error started occurring after a recent software change. It allows you to revert the system to a previous working state.
When should I seek professional help for this error?
If you're unsure about performing advanced troubleshooting steps or if the error persists despite trying common fixes, seeking help from a professional technician is advisable.
Also read: