Sometimes you might experience, windows 11 very slow and unresponsive after installing the latest Windows update. Or the Computer Is Freezing, not responding and the Speed Is Slowing Down. Here this post explains the most 6 common Reasons Why computers are Running Slow, followed by how to fix those problems and increase Windows 11 speed.
Why is my computer so slow windows 11
There are multiple reasons why Windows 11 is very slow and unresponsive. Not enough free hard drive space, system infected with a Virus or Malware, Too many background programs running and Windows or other software is out of date are some common reasons why Windows 11 is running slow.
Not Enough Free Disk Space
Your Hard drive / SSD drive is the place where the Operating System is installed and all your photos, documents, music and downloadable resources are stored. When your hard disk gets full, it will start being to slow down, you will notice apps won't open, the system isn't responding at the startup or 100% Disk usage problem. What experts say, If your hard drive's capacity is headed into the 90% range, your computer could be performing 50% slower than its original speed.
Solution: free up some space
If your hard drive is at or above 90% capacity, it's time to free up some disk space.
Open the programs and features window using appwiz.cpl and uninstall some apps or programs that you never use or less usable.
Delete pictures you no longer want, the music you no longer listen to, and files you no longer need.
Run the Disk Cleanup utility that helps you clean out useless files.
Store your files, photos, and other documents on an external USB hard drive.
Your Computer is Low on Memory
Computer memory also known as RAM, stands for Random Access Memory is where data is stored before being processed. Computer memory or RAM is responsible for keeping your Windows 10 running smoothly by loading data for every task you're doing. If you are editing high-capacity photos on photo-editing software or playing a downloadable video game, Whichever the case maybe you could be out running your RAM capabilities.
Solution: free up some Memory
To free up some RAM space, here are some tips to get you started:
Use a USB Flash Drive as RAM: Yes, you can use the USB stick to increase the computer's RAM in Windows 10, Here is a step-by-step guide on how to use a USB Flash Drive as RAM.
Increase your Virtual Memory: Virtual memory, a memory management technique used in Windows computers that uses hardware and software to allow a computer to compensate for physical memory shortages, by temporarily transferring data from random access memory (RAM) to disk storage.
Review your RAM Usage: Press Ctrl + Shift + Esc key simultaneously to open the task manager,  Look for the "processes" tab. Here you'll be able to see which programs take up the highest percentage of your CPU, memory, and disk.
Disable or remove unused software: In addition, open programs and features then uninstall some unused software or Games.
Too Many Programs Running at Once
There are chances, you may have too many programs running at once. Again you are one who likes to keep 20 tabs open on your web browser?  If so, this could be one reason your computer is running slowly. Agina having too many add-ons can bog down your computer.
To fix this issue:
Restart your computer to reset programs and clean up apps running in the background.
Get a web browser extension that consolidates the number of tabs you have opened.
Use lighter apps that take up less space to free up memory.
Shut down or quit any programs you aren't actively using, and Use fewer tabs in your browser.
Google Chrome: Right-click on your unwanted extension button then click the "remove from Chrome" button.
Firefox: Click the menu button, select add-ons/ extensions, then simply delete the add-ons you no longer need from the list.
Internet Explorer: Click on tools, go over to manage add-ons, click on show all add-ons, and then remove the ones you don't want anymore.
Windows infected with virus or malware
Yes, virus or malware infection may also eat up system resources and cause Windows 11 very slow and unresponsive. These Viruses, malware, and other harmful security breaches can spread like wildfire if not taken care of. Malware can cause many problems, such as stealing your personal information, redirecting you to phishing sites, and pushing advertisements onto your screen.
How to Fix This: If you suspect your computer may have a virus,  
Download and install Anti-Virus or anti-malware software that can detect fraudulent sites.
Perform a full system scan with the latest updated antivirus software.
Bring your computer/laptop to a professional computer service.
Reboot your computer and go into Safe Mode
Corrupted Windows System Files
Again your computer slows down, crashes frequently or displays different blue screen errors because of corrupted Windows files or system files. Run DISM restore health command and sfc utility that helps scan and repair system image, and replace corrupted system files with correct ones.
To fix this issue Run DISM and SFC commands:
Open the command prompt as administrator,
First, run DISM command DISM /Online /Cleanup-Image /restorehealth (let the scanning process complete 100%)
Next, run the system file checker command sfc /scannow (Again let the scanning process complete 100%)
Once done restart your computer.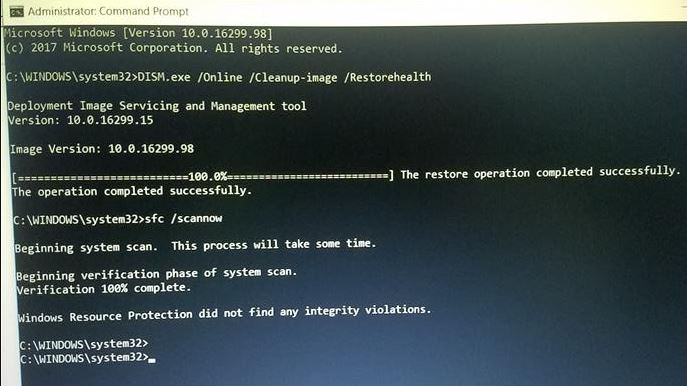 Windows or other software is out of date
Microsoft regularly releases Windows updates with security fixes and performance improvements. And the company always recommends installing the latest Windows update for smooth performance. If you have blocked Windows updates or device not installed the latest Windows updates installed you might experience Windows 11 slow performance issues. Again drivers play an important role on system performance, Installing the latest driver update optimizes the system performance.
Install the latest window updates
Press the Windows key + I to open the Settings app,
Click on Windows Update then hit the check for updates button,
This will start to download and install the latest available Windows updates
Once done you need to restart your computer to apply them.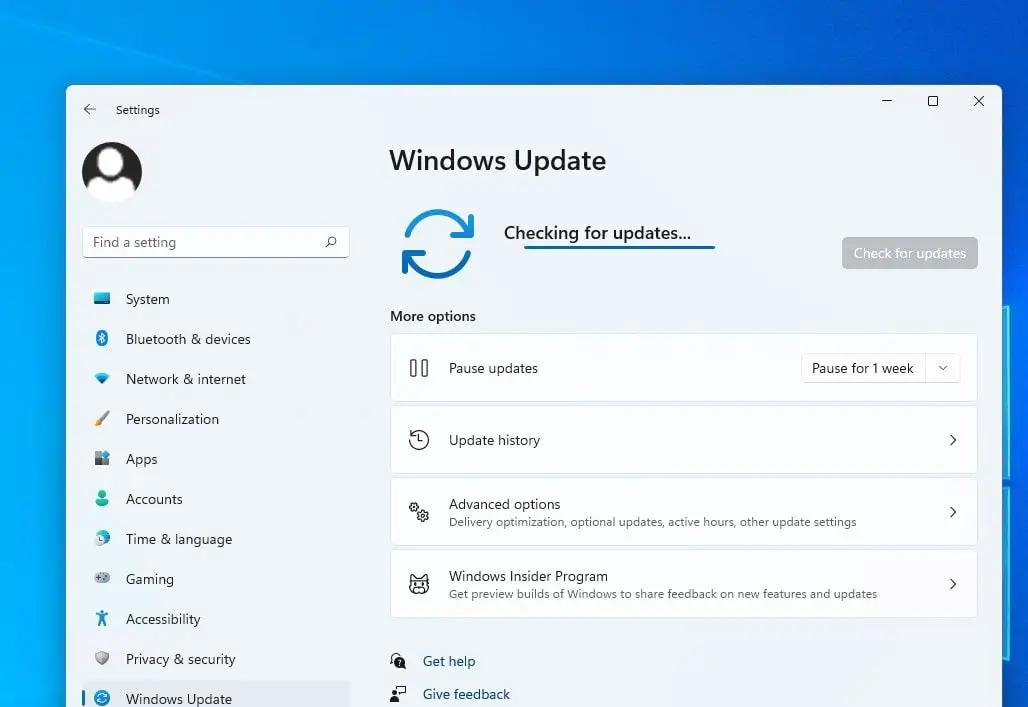 Note: Installing the latest Windows updates brings driver updates as well. Or you can manually update the device driver from the device manager following this guide.
Bonus tips to speed up Windows 11
In addition, apply the following tips that help optimize and speed up Windows 11 computers.
Open settings then click personalization, click colors and toggle off Transparency effects,
Open the Windows service console using services.msc and disable Windows Moduler Installer and background intelligent transfer service.
Keep only one antivirus on your computer, If you have more than one antivirus installed on your computer this may hit computer performance.
If you have a budget, we recommend upgrade the system to a faster SSD. Experts suggest, If you have an older PC that isn't equipped with a solid-state drive (SSD), then no single thing will improve your computer's performance more than upgrading to an SSD.
Also read: