WiFi or wireless technology, most of us relay on it to establish a connection and access the Internet on a Laptop. But what if Wifi is not working after Windows 11 22H2 Update? A few users report, WiFi Option not Showing or Windows 11 update killed my WiFi adapter. This issue Wi-Fi option is missing after the windows 11 update is most likely caused by a missing or outdated wifi driver or Issues with the Wi-Fi adapter. Some other factors responsible for this issue are Misconfigured settings, problems with the WiFi router, Your device is out of range, Windows system files are corrupted, and more.  Here in this article, we have listed 5 potential fixes for this problem and restore wifi or internet connection on windows 11.
Windows 11 WiFi Not Working
Most of the time this issue is caused by missing or corrupt drivers and to fix the problem you need to update or reinstall the wifi driver on windows 11. In addition, checking the related services (WLAN autoconfig service) and wireless adapter components can help you with this problem. Also, you can run the network adapter troubleshooter to fix wifi not working problem on windows 11.
Let's first try restarting your router and your computer, this will close all the apps and processes running in the background, and clear minor glitches that might interfere with windows 11 operations.
In addition, Inspect your laptop closely to see if your device has a WiFi hardware switch, if yes make sure to toggle the switch on.
Make sure Airplane mode is OFF on your computer, Also open the network connection and check the wifi adapter is enabled on your computer.
Run the Network Adapter troubleshooter
Windows 11 comes with built-in troubleshooters to fix common problems with computer peripherals and network devices. If Wi-Fi is Missing after Windows 11 update run the troubleshooter for the Network adapter to diagnose common problems and fix them automatically.
Press Windows key + I to open windows 11 settings
Navigate the system tab, scroll down to select troubleshoot then click on other troubleshooters,
Locate the Network adapter and click RUN next to it,
Select the wifi option then click next and follow on screen instructions.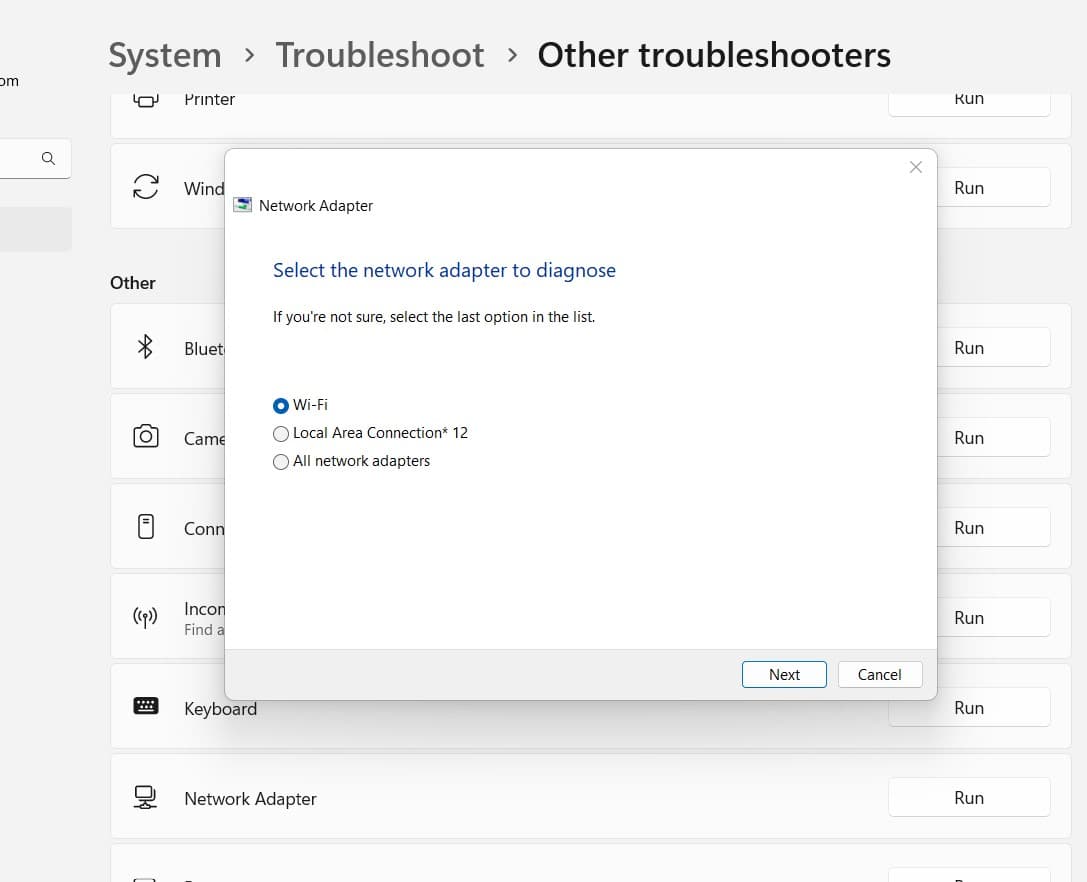 Next click on RUN next to Internet connections, select the first option and follow on-screen instructions to fix problems related to the internet connection or the internet not working on windows 11.
The troubleshooter will then run and detect your Internet connection. Wait for it to complete to see if it finds anything.
Enable the Wi-Fi Adapter
If due to some reason the Wi-Fi adapter is disabled Windows 11 will not display the Wi-Fi option on your laptop. Let's check if this is the issue, why No WiFi after Windows 11 update?
Press Windows key + R, type ncpa.cpl and click ok to open the network connections window,
Right-click on the wifi Adapter and select Enabled
If the option is already enabled then disable and re-enable it
In addition, right-click on the Wi-Fi adapter and select Diagnose.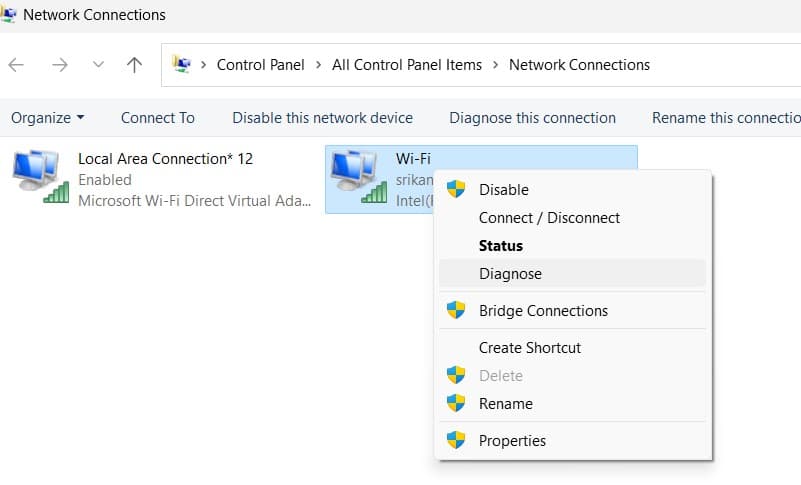 Windows will scan the device for issues and recommend a potential fix.
Click on Apply this fix to resolve the problem
Reinstall Network Adapter Drivers
Missing, outdated, incompatible or corrupted wireless network drivers is the primary reason for this problem windows 11 wifi adapter missing. Removing the old driver and reinstalling the latest WiFi driver on your computer is probably the best solution to restore wifi option on windows 11.
Before proceeding with the steps, we recommend you create a restore point in case of any bad luck.
Press Windows key + R, type devmgmt.msc and click ok to open the device manager
Expand Network adapters, Right-click the WiFi driver and select Uninstall device.
Click Uninstall in the confirmation pop-up Window.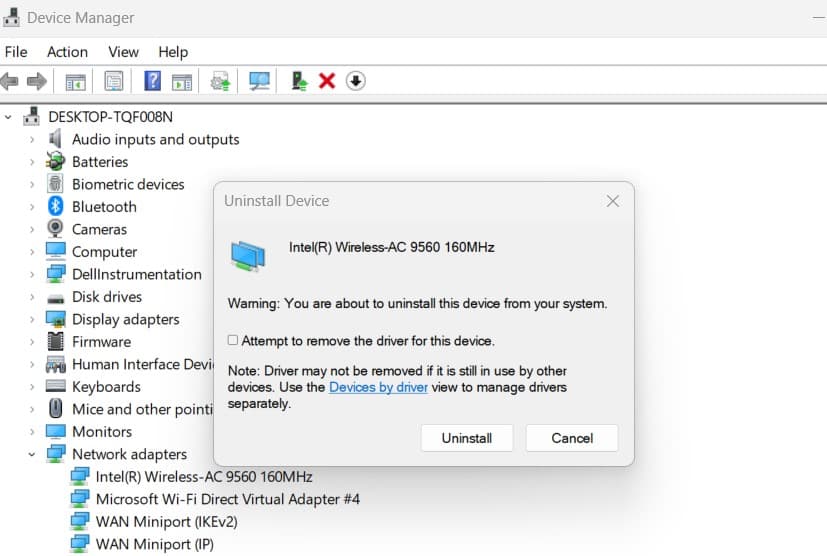 Restart your computer this will automatically look for and install the basic wifi driver on your system.
Note – If wifi adapter missing on the device manager, don't worry we install the latest wifi driver on the next step.
If wifi option is missing on the device manager then click on view and select show hidden devices,
Next select the network adapter option, then click on Action and select scan for hardware changes.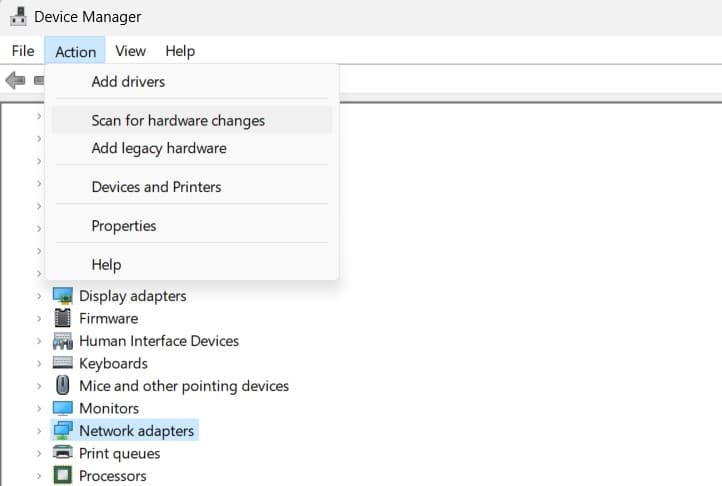 In addition, you can visit the device manufacturer site to download the latest wifi driver for windows 11. Run the setup to install the latest driver on your computer. Also, you can prefer a third-party driver updater tool that automatically detects and install the latest wifi driver on windows 11.
Perform Network reset on windows 11
If all the above solutions fail to restore the wifi option on windows 11 or still the wifi option missing or not working on Windows 11 then you should perform Network reset. This action removes and reinstalls the network adapters, and networking components will reset to their default settings to fix problems triggered due to incorrect network configuration.
Press the Windows key + X and select settings from the context menu,
Select Network and internet then click on Advanced network settings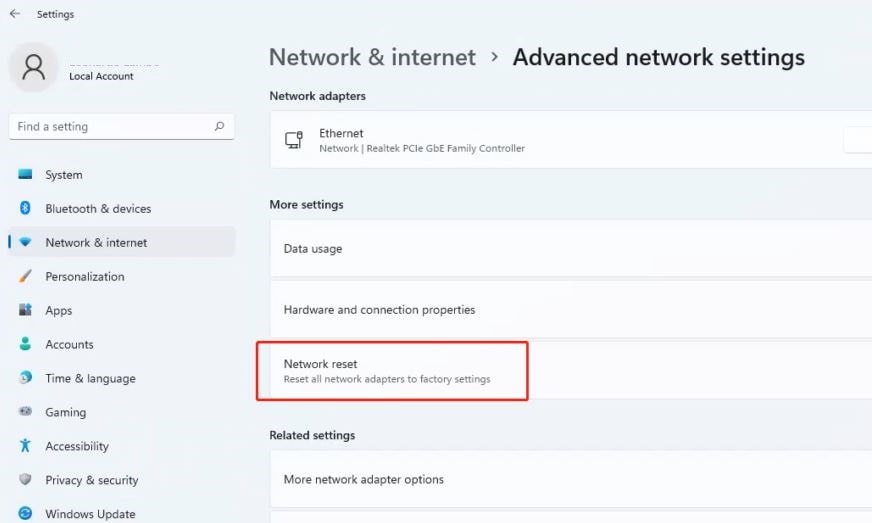 Select the network reset option and click Reset now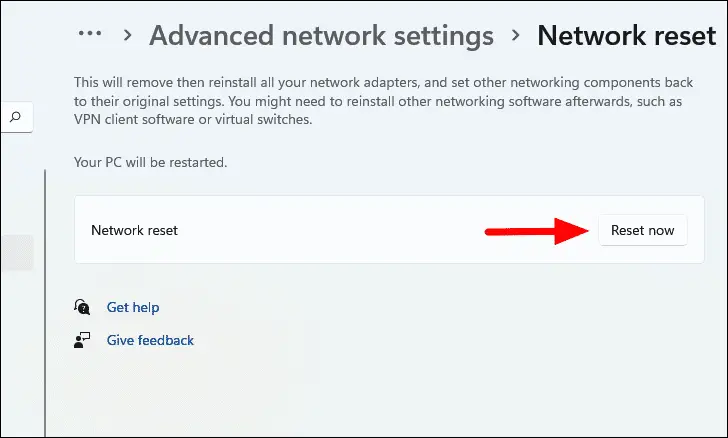 Click yes to confirm the action, Once the reset is complete Pc restart automatically.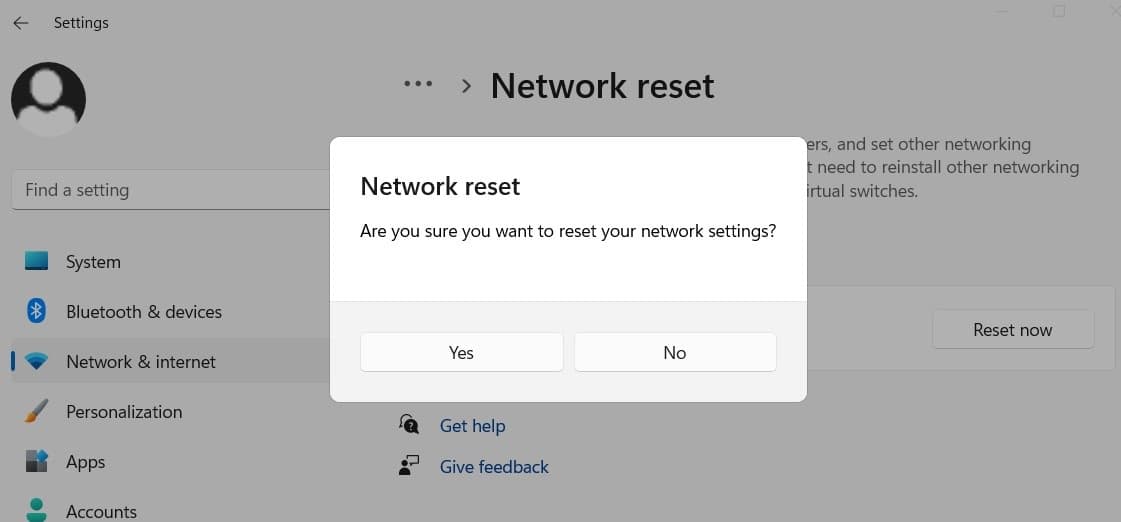 Now check if you should have the Wi-Fi connection restored.
Reset network configuration using the command prompt
If you are having a problem with internet access or wifi not working on windows 11. Open the command prompt as administrator and run the following command to reset TCP/IP, restore advanced firewall settings, and Winsock reset.
netsh int ip reset
netsh advfirewall reset
netsh winsock reset
ipconfig /flushdns
ipconfig /release
ipconfig /renew
Once all the commands are executed, restart your computer. Now check if the Wi-Fi or internet connection is restored.
In addition, open windows services using services.msc and look for WLAN autoconfig service. Right-click on it and select restart, or if the service not started open its properties, change its startup type automatic, and start the service next to service status.
Did the above solutions help fix windows 11 wifi not working or the Wi-Fi option missing after update? Let us know in the comments below.
Also read: