Did your computer disk seem unusually busy, and Task Manager shows 100 disk usage? Here is how to Lower Disk Usage in Windows 10 from 100% to normal.
Sometimes you may experience, Windows 10 computer Acting slow, freezes or not responding at the start, and checking task manager the disk usage is very high. A few users report since the windows update the Disk usage spikes to 100% every time the computer is started and it takes at least 15-20 minutes for it to get normal. There are plenty of reasons that may cause high disk usage on windows 10, Background app activities to Faulty hard disk, virus malware infection or Issues with OS installation are common. Here this article helps you fix this abnormal 100 percent disk usage problem on windows 10.
What causes high disk usage?
Windows 10 high disk usage or 100 percent disk usage means your computer disk seems unusually busy it won't have any spare capacity to perform other tasks, even routine operating system tasks. And that slows everything down and can make your computer totally unresponsive.
There may be lots of startup apps running on the background and eatup system resources. A process or an app in Microsoft Windows forces the system to utilize the hard drive to its full capacity. Your system may be infected with virus or malware that continues running on the background and cause high system resource usage. Problems with the disk drive or bad sectors in hard disk or incorrect virtual memory configuration are also some common reasons behind windows 10 High disk usage problems.
How to Fix 100% Disk Usage on Windows 10
Performing a clean boot to disable third-party apps has proven effective in fixing windows 10 high disk usage problem. Another excellent solution is to run the CHKDSK command and repair disk drive errors. In addition scan for virus malware infection, Reset Virtual Memory or updating outdated drivers helps fix the 100 disk usage problem on windows 10.
Again sometimes Security software running on the background causes high System resource usage. Temporarily disable Antivirus software and check if this reduces Disk usage.
In addition, Run Windows system optimizer tool like Ccleaner to clean up junk cache, temp files, and memory dump files, and repair broken registry entries that helps to optimize system performance and help to fix 100% disk usage problem.
Restart windows 10
Let's first reboot your computer that flushes out the random and unimportant data slowing down your computer and stops background tasks from happening. It also refreshes the operating system and clears minor bugs that may present there and run at startup.
Click the Windows key on the keyboard to open the start menu,
select the power option In the context menu of the power option, select restart
Install pending Windows Updates
Microsoft regularly drops windows updates with security enhancements and different bug fixes. May recent windows have bug fix for windows 10 high disk usage problem. Again if windows updates are pending installation or its stuck download May also consume system resources that result high disk or CPU usage on windows 10. Overall updating windows to the latest version on the device can fix different problems include 100 disk usage on windows 10.
Install windows updates improve the overall performance of your system including that of your hard drive.
Press the Windows key + X and select settings from the context menu,
Go to Update & security then windows update and hit the check for updates button,
If new or pending updates there, allow them to download and install on your computer,
Once done reboot your computer to apply the updates
Now check if the disk usage comes down or it's still High!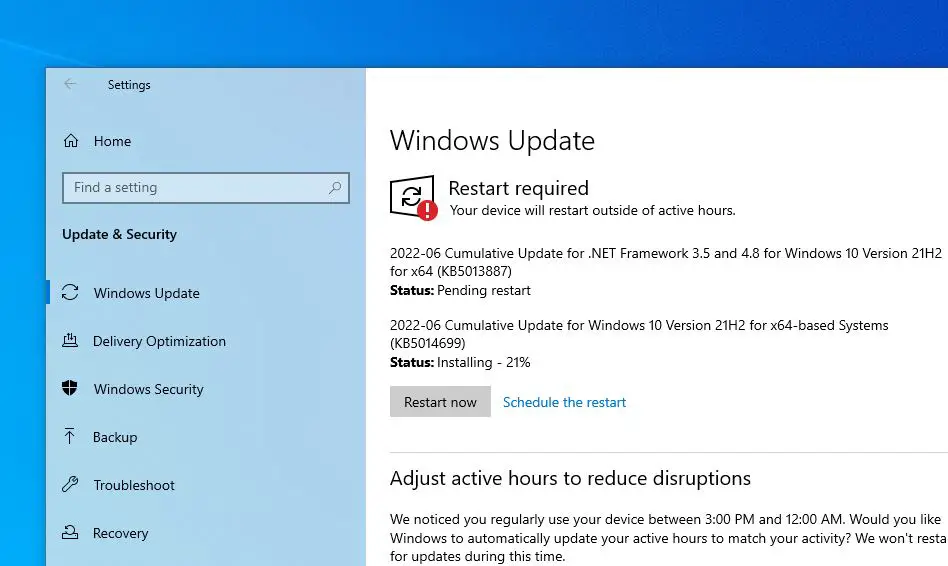 Clean boot windows 10
Perform windows Clean boot, which helps to identify if any third-party service, or app causing a High Disk usage problem on Windows 10.
If something isn't working correctly on your PC, an excellent place to start troubleshooting is to clean boot Windows.
Press the Windows key + R, type msconfig, and click ok to open the system configuration window,
Click the Services tab at the top, Check the Hide all Microsoft services box and click the Disable all button.
Now move to the Startup tab at the top, then click the Open Task Manager link.
This will display list of startup apps with its startup impact, Right-click each item that's enabled and select Disable from the menu.
Exit Task Manager, then click Apply and OK on the System Configuration window.
Reboot your computer, this will clean boot windows now and check if the issue is no longer there.
Temporarily Disable Windows Services
Let's disable the Windows Search function temporarily to check if the disk usage problem arises from a search loop in Windows 10. Sometimes SysMain service, that windows uses this feature to improve system performance over time is the reason behind the high disk usage problem.
Open the command prompt as administrator and type net.exe stop "Windows search" and press enter key to execute the command. Now check if the disk usage comes down.
If it does, you can permanently disable by following the steps below.
Note: Disabling this service will stop the indexing of all files. But you will still have access to search, which will take a longer time.
Press Windows + R, type services.msc and ok
Scroll down and look for Service named, Windows search, Right click on it select properties,
Here Windows search properties, Change the startup type disable.
Then check the service status if its running click on Stop.
Click ok And apply to make the changes.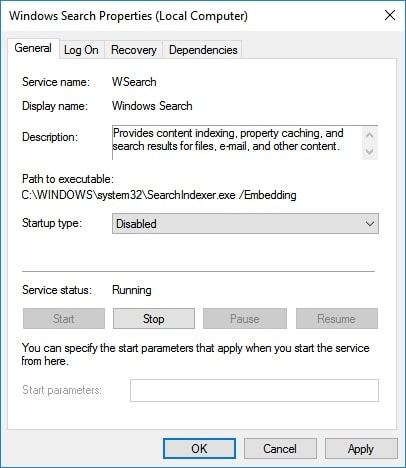 Disable Background Running Apps
In Windows 10, some apps are always running in the background. Microsoft designed Windows 10 to run apps constantly to provide notifications to users and keep those apps updated with content that they fetch from the internet. There are plenty of users who never use the Store apps, but they still run in the background and consume system resources. Let's Disable Them And free system resources usage include Hard disk.
To disable Background Apps on Windows 10
open Settings and Click on Privacy,
Scroll down and select Background Apps on the left side.
Here you have two options either you can turn off apps running in the background app (this will turn off all apps)
Or you can manually turn off apps one by one using turn off button as shown below image.
Repair hard disk issues With CHKDSK command
Problems with the disk drive or bad sectors in hard disk, also be responsible for 100% disk usage in Windows 10. Let's Run Disk Check utility and let windows to check and fix Hard Disk Errors.
Windows can resolve hard drive errors quite quickly with CHKDSK (check disk).
Press Windows key + S and type cmd, right-click on command prompt select run as administrator,
And type chkdsk.exe /f /r and press Enter key to execute the command.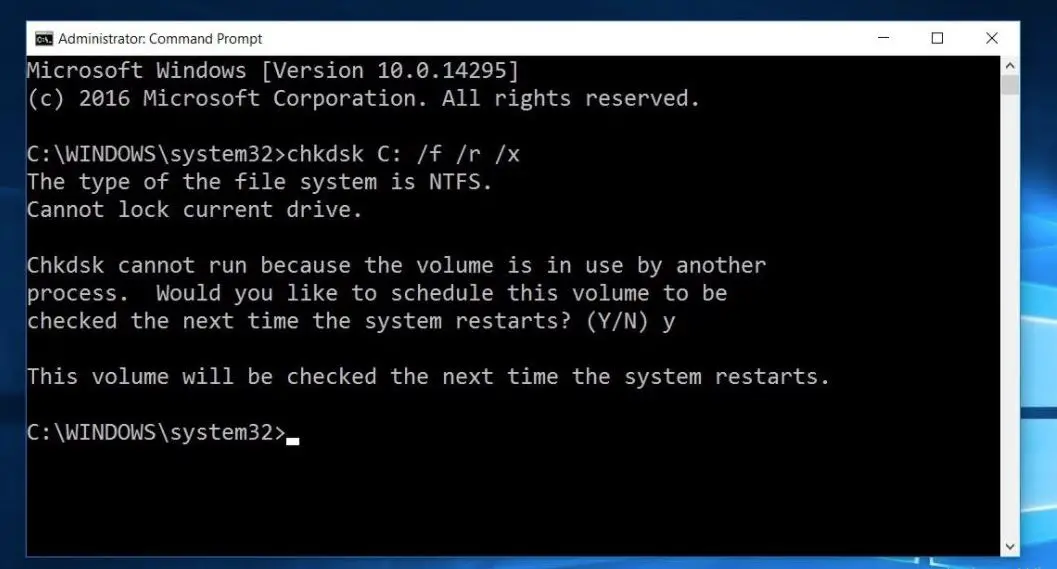 Note: /F Parameter Fixes errors on the disk whereas /R Locates bad sectors and recovers readable information And /X Forces the volume to dismount first if necessary.
Press Y when asking for Schedule to run the Check disk utility on the next start.
Close any program if running and restart windows.
This will check and fix disk drive errors automatically,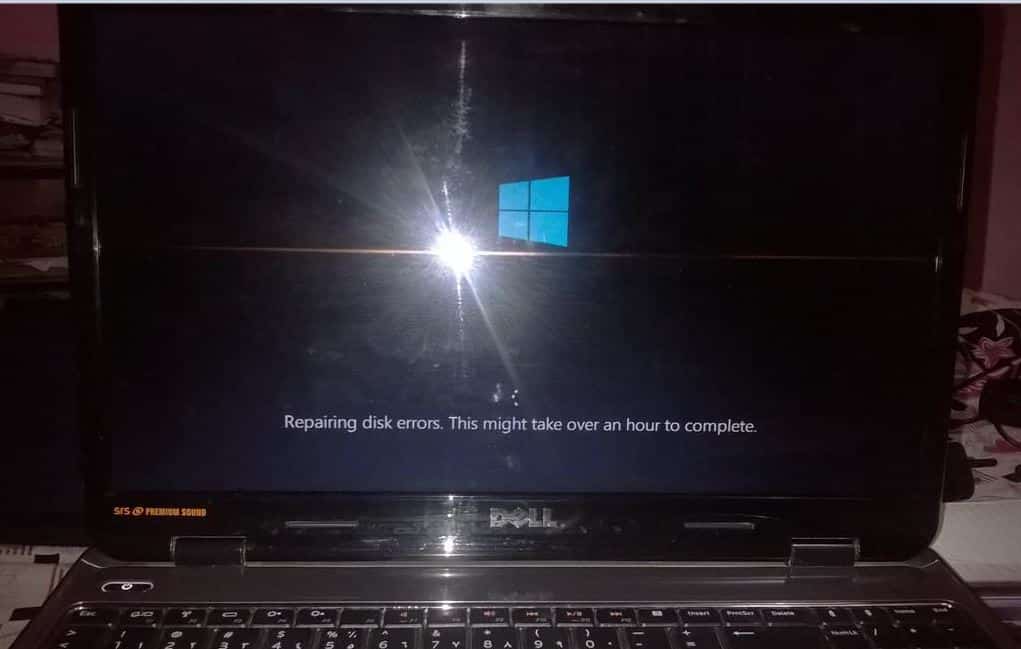 Reset Virtual Memory in Windows 10
Virtual memory on windows 10 uses a "page file" on hard disk to expand its memory, store files temporarily, and will swap those files back when required. However, if something goes wrong with the pagefile.sys, or page file became defective can cause unexpected slowdowns and high disk usage in windows 10
Right-click on this PC and choose Properties.
In the System window, look at the left sidebar and click on "Advanced system settings".
From the Performance section, click Settings.
Then select the Advanced tab, and click on the "Change" button.
Make sure the box named "Automatically manage paging file size for all drives" is checked.
Tip: To verify whether the virtual memory is the cause of the Windows 10 100% disk usage problem or not, you can uncheck the box (mentioned above), choose "No paging file" and press OK. After that, reboot your computer to see the result.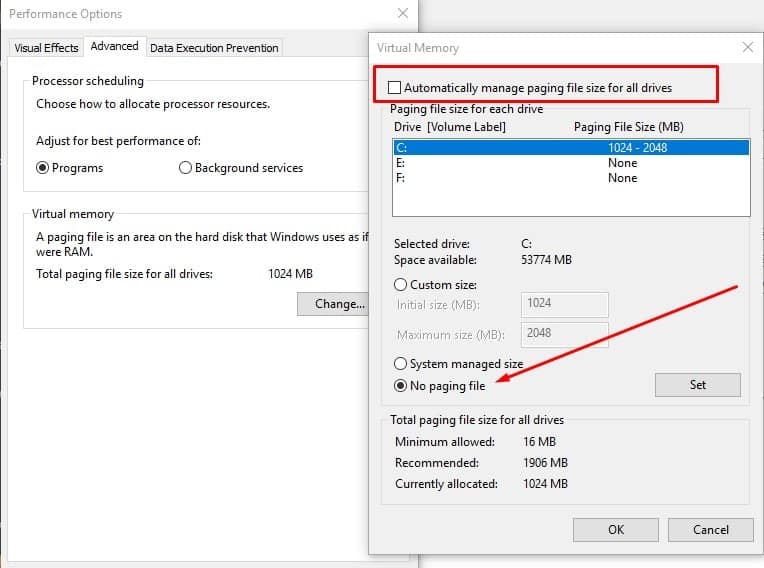 Disable Prefetch
Windows 10 creates Prefetch files every time you run applications on your computer. The purpose of Prefetch files is to record information about the files loaded by the applications, so as improve the loading times of applications by making use of the recorded information. Again, this feature has been linked to 100% Disk Usage Error in Windows 10 and you may want to disable this service by following these steps.
Press Windows + R, type regedit and ok to open the registry editor.
Backup Registry database, then navigate to the following path.
HKEY_LOCAL_MACHINE\SYSTEM\CurrentControlSet\Control\Session Manager\Memory Management\PrefetchParameters
Double-click on EnablePrefetcher. You will see this to the right of your screen.
Change its value 0 to completely disable Prefetcher Service on your Computer
Note: You may also try to use the value "1" – This will disable the Prefetcher service for only the Boot Files (instead of all files).
Fix your StorAHCI.sys driver
Another cause for your hard drive 100% utilization is a firmware bug in the Microsoft AHCI driver called StorAHCI.sys
Due to a firmware bug, the Solid-state drive (SSD) does not properly complete input/output when Message Signaled Interrupt (MSI) mode is enabled. As a result, the Windows storage stack attempts to reset the device after waiting on unresponsive reads or writes for a period of time.
 Identify if you are running the inbox AHCI driver (StorAHCI.sys):
Open a command prompt with administrator privileges. Then type the following command in the command prompt window and hit Enter: devmgmt.msc
 Under IDE ATA/ATAPI Controllers right-click on the AHCI controller node and select Properties. This node is usually called "Standard SATA AHCI Controller."
Navigate to the driver tab and click Driver Details.
If you see "StorAHCI.sys" in the list, you are running the inbox driver.
 Disable MSI for the controller in the registry:
In the same properties window opened in step 1.2, navigate to the Details tab and select Device instance path from the Property drop-down menu. Note this path.
Open the registry editor by typing regedit in the previously opened command prompt.
Navigate to: HKEY_LOCAL_MACHINE\System\CurrentControlSet\Enum\PCI\ <AHCI Controller>\Device Parameters\Interrupt Management\MessageSignaledInterruptProperties, where <AHCI Controller> refers to the device instance path you noted in step 2.1.
 Change the value of the MSISupported key from "1" to "0".
If you don't know which controller your boot device is attached to, repeat steps 2.1 through 2.4 for all AHCI controllers found under 1.2.
 Reboot the machine.
Disable Disk Defrag
Besides, the high disk usage problem could be related to the defrag tool in Windows 10. Sometimes, your computer is trying to defrag the drive. However, it's actually a solid-state drive instead of a hard disk drive.
You can press Windows + Q, type "Task Scheduler" without the quotes and disable the scheduled disk defrag task, if available.
Check Google Chrome causing 100 Disk usage
Did you notice Google chrome causing high disk usage, this could be due to running several tabs at once, having multiple extensions installed, or misconfigured browser settings. Hardware Acceleration and Prefetching of pages can also cause this issue.
Open the chrome extension using chrome://extensions/ and find the problematic extension, click on the Remove button to uninstall it from Chrome.
Open Chrome browser and navigate chrome://settings/cookies. Here Locate and disable the Preload pages for faster browsing and searching option
In addition open chrome://settings/reset, and click on the Restore settings to their original defaults option. And finally, click on the Reset settings button to reset the chrme browser and fix misconfigured settings or other trivial issues leading high disk usage on windows 10.
Did these solutions help to fix Windows 10 high disk usage problem? Let us know on comments below, Also read