Today 20/10/2020, Microsoft made the latest Windows 10 version 20H2, October 2020 update available to everyone. The latest October 2020 update comes with a lot of improvements that should improve the overall user experience. Well the October 2020 Update won't show up on all PCs at the same time, though, as this is a gradual rollout. The automatic rollout takes place in stages, with Microsoft collecting data and resolving compatibility issues during the process, some PCs may have to wait longer than others to be able to install the Windows 10 version 20H2.
That means the update will only show up on devices that are part of the first waves but you can manually check for updates, use Media Creation Tool to download and install Windows 10 October 2020 Update now.
How To Install Windows 10 version 20H2 Now!
According to the company, beginning 20/10/2020, the new version is available as a manual download using the Media Creation Tool, Update Assistant or by clicking the Check for Updates button in the Windows Update settings. So make sure the latest updates installed on your system and wait for Windows 10 version 20H2 to arrive. And when your device is compatible, you'll soon get a desktop notification confirming that the update is ready.
Also read: 7 Tips to well prepare your PC for Successful Windows 10 version 22H2 Upgrade
Here Official video explains how to get the windows 10 October 2020 update
Check for Windows updates from Settings
However, You can check Windows 10 October 2020 Update is available or not on your device.
Start menu and tap on the Settings icon.
Navigate to the Update & Security page.
Click 'Windows Update' and tap on the check for updates button.
Windows check for updates and download it in the background.
If you see option feature update to Windows 10 version 20H2, this is the October 2020 update,
Click on Download and install now
After the PC finishes the download process, click Restart now to install and apply the update.
After completing the process this will advance your Windows build number to 19042.330 press windows + R, type winver and ok.
Get October 2020 update Using Windows 10 Media Creation Tool
Microsoft released the Media Creation Tool to help you download and install Windows 10 updates manually. You can also use it to clean install feature updates.
Download the Media Creation Tool from the Microsoft support website.
Double-click the file to start the process.
Follow on-screen instructions.
Select Upgrade this PC now option.
And follow on screen instructions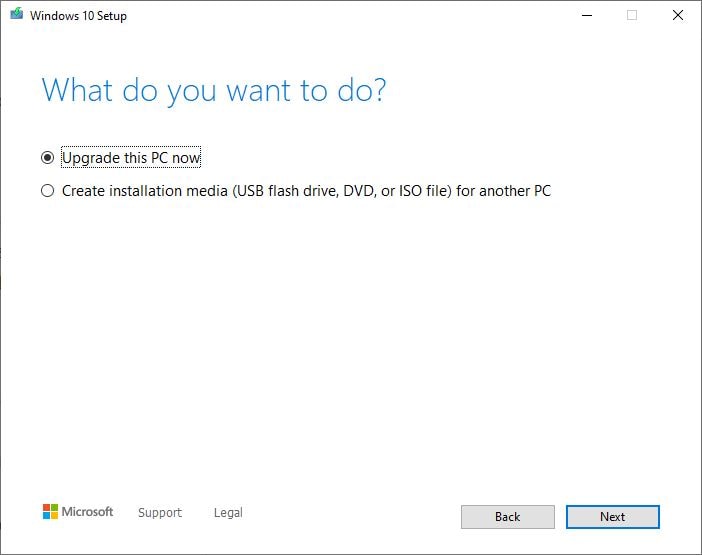 Get October 2020 update Using Windows 10 Update Assistant
If you do not want to wait for the update to become available, you can use the Windows 10 Update Assistant to get it now!
Once downloaded, you can run it to begin the installation of the October 2020 version 20H2 update.
Windows 10 October 2020 Update ISO Direct Download Link
Here Bellow I have shared Two Links ( For Windows 64bit and 32 bit ) To Download Windows 10 October 2020 Update ISO Directly From Microsoft Server.
Windows 10 20H2 ISO 64 bit
Windows 10 20H2 ISO 32 bit
Windows 10 October 2020 Update Features
The latest, Windows 10 version 20H2, aka October 2020 update comes with Redesigned Start Menu, a new touch-friendly taskbar, new option to adjust a computer's refresh rate, Settings and Notification Improvements and more.
With the latest Windows 10 version 2009, the start menu will show single-colored, theme-aware tiles that adjust their color scheme according to the user's chosen theme.
There is a new, more touch-friendly taskbar that moves the icons on the bottom left of the screen
the Alt+Tab functionality to switch between apps is also getting a new layout
Windows 10 20H2 update also brings the ability to adjust the refresh rate for a display, which can also be accessed in the Settings.
And finally, the Chromium-based Edge browser (It replaces the classic UWP Edge) will come pre-installed on all devices that will ship with the October update or newer.
Also read: