Here is how to Troubleshoot and fix black screen problems on Windows 10
Did your PC or laptop stuck with a black screen and just a cursor, the computer still functioning, but it's frozen and incapable of accepting inputs, or it just be off? Users report, windows 10 black screen after update nothing at all appears on the screen. Other times, you may have a mouse and keyboard but no desktop environment. Don't know What to do when your computer screen goes black, Here in this article identify the reason behind this and how to fix the black screen problem on windows 10.
Problem:  Trying to login to Windows computer but every time enter the password a black screen with only a cursor appears. hence unable to access anything on my computer besides task manager.
Windows 10 Black screen after update
Black screen on your PC or laptop can appear at any time during use, immediately after booting, after or during an update or any other time. A common reason behind this problem is due to your graphics driver, or compatibility issues with an update or related hardware. Again the fast startup feature on Windows 10, faulty programs or Broken startup applications, or Connection problems also cause this problem.
Restart windows explorer and update the display driver with the latest version is very effective to fix such problems on windows computers.
Disable the Fast startup feature, which optimizes the windows startup time another effective solution to fix the problem.
Perform windows 10 clean boot and run the power troubleshooter to identify and fix if incorrect power configuration or third party service or startup programs causing the issue.
Also, Ensure the latest windows updates are installed on your PC that bring the latest bug fixes include resolution for this black screen problem.
Disconnect external Devices
Its One or more of your external devices connected to your PC might be causing the black screen issue. Let's first disconnect all peripherals from your computer and reboot your PC to see if it resolves the issue.
If the issue is resolved, connect each peripheral one by one until you find the one that's causing the problem to reappear.
In addition, there could be an issue with the connection between your device and the display and result black screen error. look at the physical connection between your device and the display (check the HDMI, VGA, or DisplayPort cables).
Sometimes, disconnecting and reconnecting the cables can fix the issue.
Again If your video card has more than one output, (using Dual monitors) try using a different port to connect your display. It could be that one of the ports has an issue. If you're using an external monitor, switch to a different HDMI cable.
If you are using a laptop, unplug your Power and take out the battery. Then hold the power button on and wait for a little while. Put the battery back in the Laptop, And Turn on.
Restart windows explorer
Let's Hold the Windows key + P, or CTRL + Alt + Del to wake the screen. If you keep having an unresponsive screen, then press either the Windows + P or the Ctrl + Alt + Del keys at the same time. This will wake an unresponsive Windows system.
Microsoft suggests when you notice windows 10 stuck at black screen, Press the Windows + Ctrl + Shift + B keys simultaneously. The key combination is designed specifically to wake the system from a black screen after login.
Windows Explorer is the program that's responsible for loading your desktop. If it doesn't load correctly, you may see a black screen with a floating cursor.
Press CTRL + Alt + Del at the same time, then select Task Manager.
Click File, then Run new task, and type explorer.exe in the box.
Click OK. If Windows Explorer was the issue, your desktop should now reappear.
Windows 10 safe mode
If the problem continues, then start Windows in Safe Mode, to perform feature troubleshooting steps.
To get into Safe Mode,
Turn your computer on and off three times. While booting, make sure you turn off the computer when you see the Windows logo.
After the third time, Windows 10 will boot into diagnostics mode. Click Advanced options when the recovery screen appears.

Click on Troubleshoot then Advanced options
Select Startup Settings then restart, and press F4 to start Windows 10 in Safe Mode.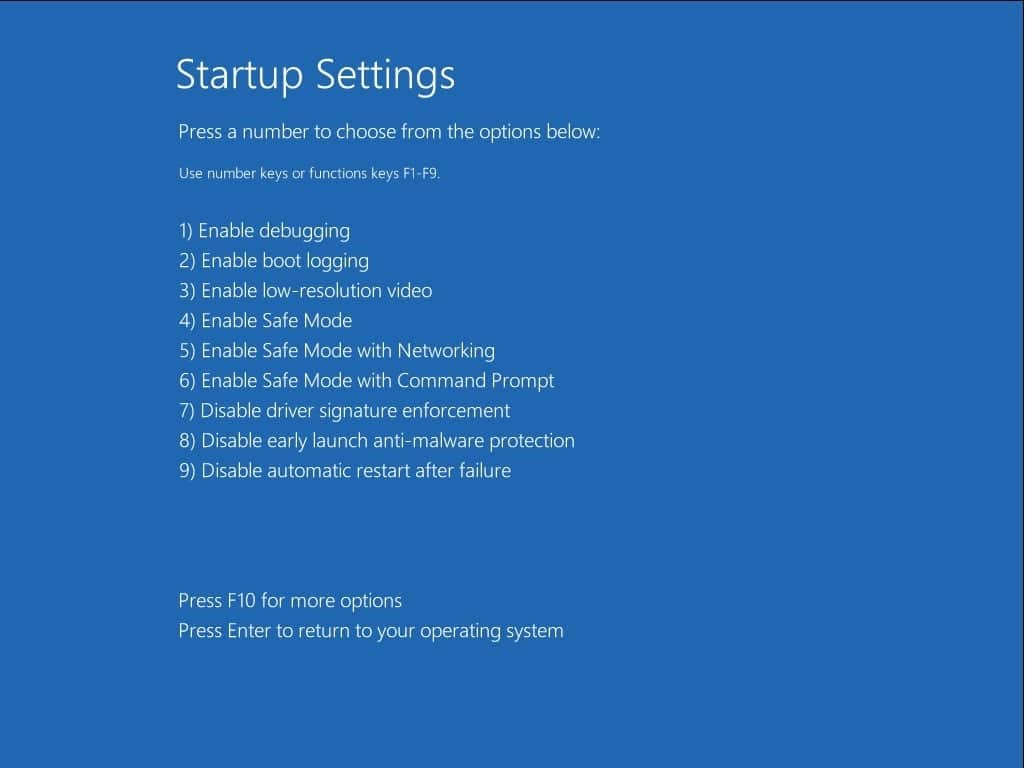 As discussed before display drivers probably cause the Black screen problem. Once your PC is in Safe Mode, follow the steps below to update or reinstall the display (graphics) driver first.
Update display driver
Press Windows + R, type devmgmt.msc and ok
this will open the Device manager, and display all installed driver list,
Select the arrow to expand Display adapters.
Right-click on the installed driver and select update driver software.
Select Search Automatically for updated driver software and follow on-screen instructions to let windows download and install if a new driver update is available there.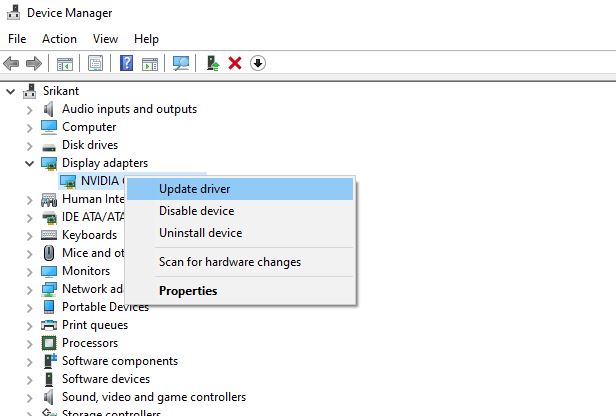 Reinstall Display driver
If no new driver update is available then you can try to reinstall the current display (graphics) driver by following the steps below.
Again open the device manager, and Expend display driver
Now right-click on the installed display driver and select uninstall driver,
Click ok when ask for confirmation and restart windows,
On the next start windows automatically install the built-in display driver and probably fix the Black screen problem.
Disable Fast Startup
Open the Control panel,
Search for and select Power Options,
Click on "Choose what the power button does" (located in the left pane).
Next Click on "Change settings that are currently unavailable".
Here Uncheck the checkbox "Turn on fast startup".
Click on save to make save changes.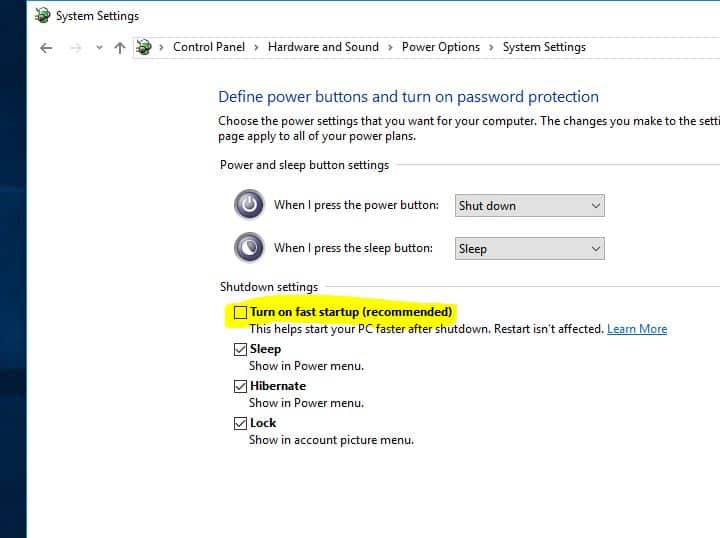 Uninstall Windows updates
If the problem started after recent windows update, and the above solutions didn't fix the problem. It might be update bug causing black screen problem on windows 10.
Reaccess the Recovery Environment, and select Uninstall Updates.
Select uninstall latest feature update, sign in if prompted, and click the uninstall feature upgrade button.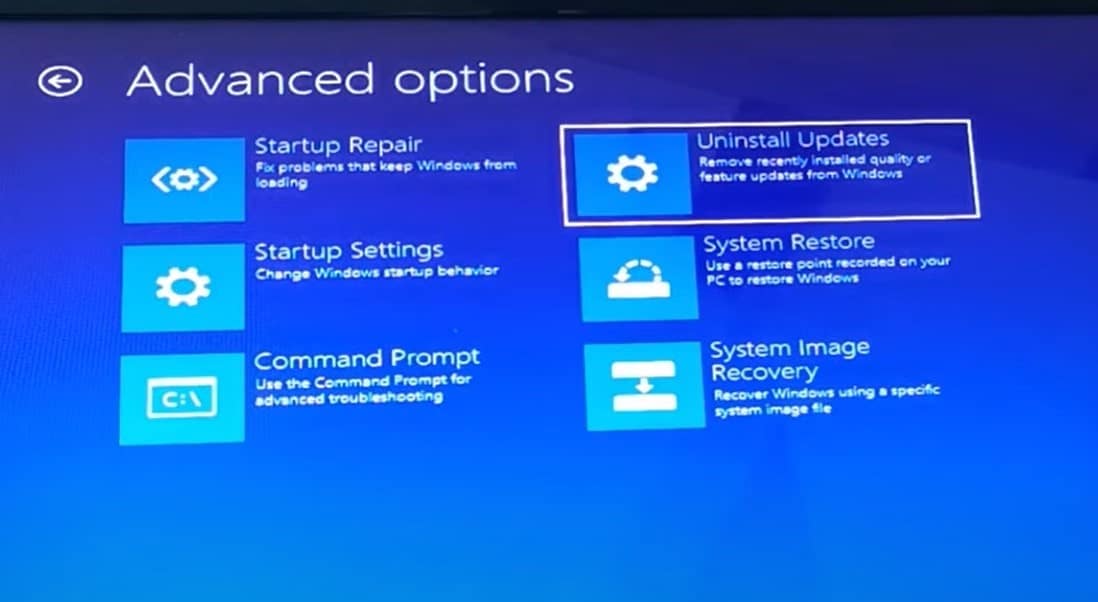 Perform a System Restore
Performing a system restore is one of the most effective way to fix different problems with windows PC including the black screen issue. This will revert windows settings and user data to a previous working state. Therefore, before you proceed, make sure you already have a Restore Point maintained.
Afterward, just go to your computer's Settings >
Navigate System Settings then  System Properties and visit the "System Protection" tab.
Now, click on the "System Restore" button and follow a simple click-through process to restore your computer's settings.
Did these solutions help to fix black screen problem on Windows 10 computers? Let us know on the comments below.
Also read: