Connecting an Android phone to Windows 10 computer is simple, the drivers install automatically as soon as you connect the device via USB cable and that's all. Normally Windows 10 recognize Android phone as an MTP (Media Transfer Protocol) device and quietly mount it. But what if Windows 10 computer doesn't recognize Android Phone even after connecting it with a USB cable? Several users report, the phone not connecting to pc only charging or the Android device not showing in the Windows device manager.
There are different reasons why Android Phone not showing up on pc, malfunctioning ports, the USB cable is damaged, incorrect connection mode, or a lack of proper drivers and more. Here in this article we explorer we have different workarounds that help fix if the problem with the Android phone's connection to the PC.
Windows 10 doesn't recognize Android phone
If you are also struggling with similar problem, Android Phone not connecting to pc only charging or not showing in the device manager follow the instructions listed below.
Make sure you have the original or OEM USB cable and check there No damage to the cable.
If the USB port or cable that you're using is defective or damaged, will prevent your computer from recognizing your device. Most computers have multiple USB ports, try a different USB port to see if your phone connects.
You should also try connecting using a different USB cable and check if that makes your computer recognize the Android phone.
Reboot your Android device and Windows 10 as well that fix if temporary glitches do create some trouble while connecting them.
Here the solution works for most users: 
Open the device manager and look for "Unknown Device" under "Other Devices" or "Portable Devices".
Try right-clicking and then selecting "Uninstall".
Once the device is removed, disconnect your phone and restart Windows by going to "Start" > "Restart".
Let's reconnect the Android phone again, check this time your computer recognized the device.
Change USB configuration Settings on the Android
In order to transfer files between your computer and phone, you need to connect your Android phone as a media device (MTP). check and Configure USB Connection Settings following the steps below.
Open

Settings on your Android phone then find Storage

in the list below.

Click on more icon in the top right corner and select USB computer connection
Now, select the Media Device (MTP) under USB configuration and tap on it.
That's all, Plug in your Android device to your computer, and check if this time device recognized without any problem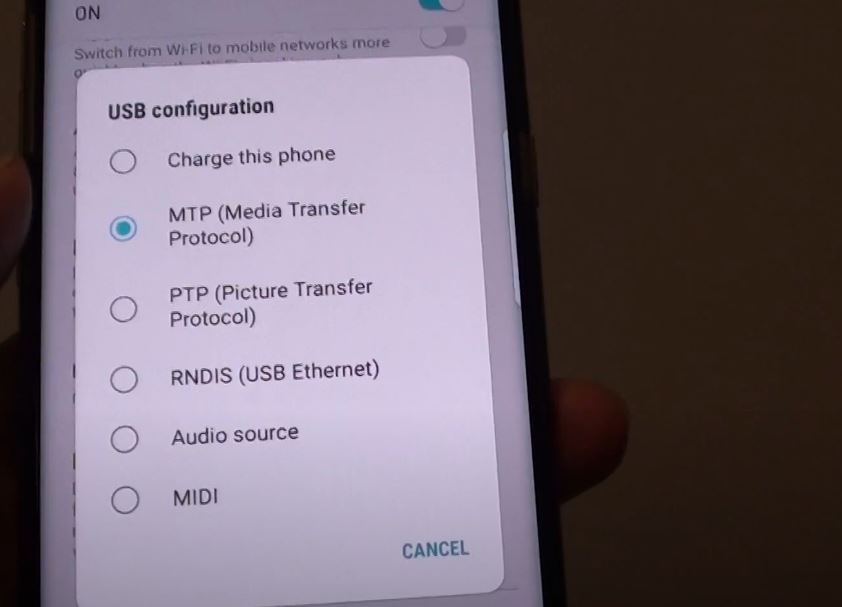 Reinstall Android drivers
Windows 10 doesn't recognize Android phones because you might not have the recent drivers, or your drivers might not be properly installed. If installed drivers are corrupted then re-installation will probably fix the issue.
Uninstall current Android drivers:
Press the Windows key + R, type devmgmt.msc and click ok, to open the device manager.
Navigate to your Android device, You will find it under Other Devices or Portable Devices.
Simply right-click on the device's name and select Uninstall.
Once uninstalling is done, disconnect your smartphone and reboot your PC.
Reinstall Android drivers:
Now try reconnecting the Android device, and wait for Windows 10 to install the drivers again automatically.
Check Android Phone is Recognized or not On Windows 10.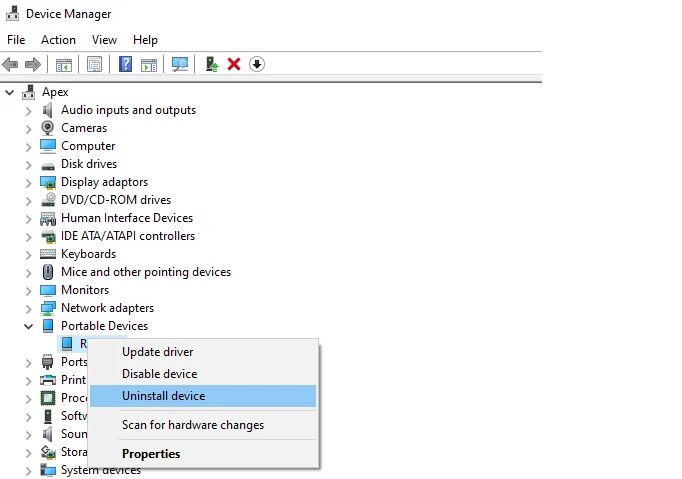 Install MTP USB Device Driver
The most common reason your Android phone isn't recognized because of driver issues. Let's try to update your drivers, which most probably fixes the problem as recommended by most users.
Press Windows Key + X and select Device Manager from the menu
This will display all installed device driver lists, scroll down and Expand portable devices
Right-click on your Android device and select Update Driver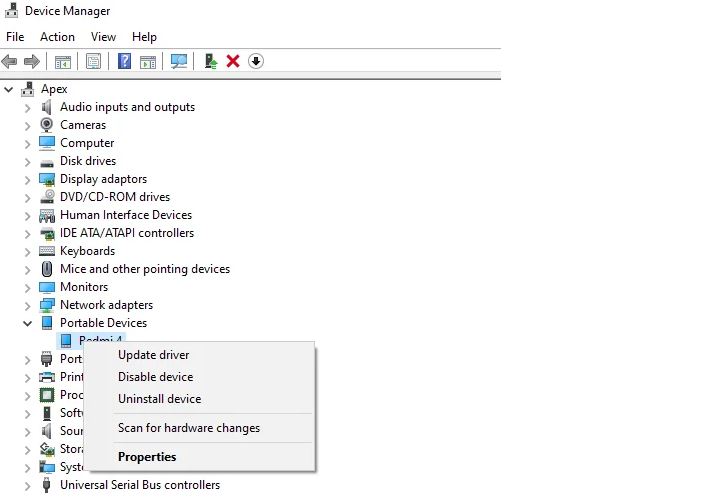 Tap on Browse my computer for driver software then Click on "let me pick from a list of available drivers from my computer"
Here From the following list, select MTP USB Device and click Next.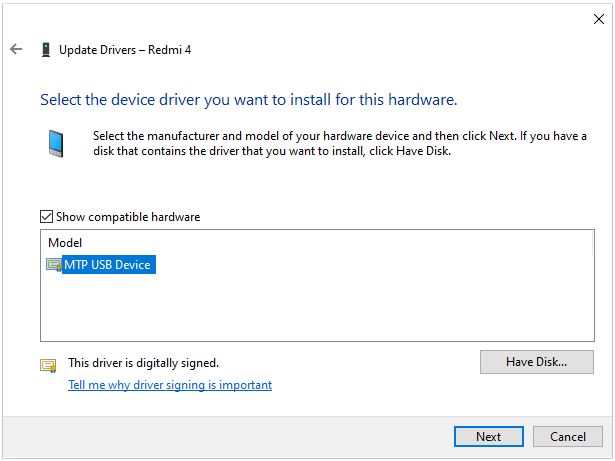 Once the installation of the driver is complete, reboot your PC and check this time the Android device should now be recognized by the PC.
Android device not showing in Windows device manager
If the Android Device not showing in the device manager Ensure that your Android device is unlocked and not sleeping while connected via USB.
Try using a different USB cable, or try connecting your Android device to a different computer using the same USB cable.
Open device manager using devmgmt.msc
Click on the action (at the top) then Scan for Hardware Changes It should detect your device
Enable USB Debugging
Several users reported, allowing USB debugging helps with this issue. To allow USB debugging on your Android phone, do the following:
Open Settings > About phone > Developer options" and enable Developer Options and Enable USB Debugging
If the Developer option is not available then Navigate to Apps > Settings > System > About phone.
Tap upon the Build number seven times consecutively. This will auto-enable the Developer options on your Android device.
Restart your Android device, now attempt to connect your phone to Windows 10 PC via USB cable.
Still, need help? try turning on the Airplane mode, your Android phone will be recognized by Windows 10 and you'll be able to transfer files without any problems.
Also delete cache and data for External Storage and Media Storage app, from Phone settings -> Apps ->choose Show system apps. Select the External Storage and Media Storage app and delete its cache and data.
Did these solutions help fix the Android phone not showing up on pc or Windows 10 doesn't recognize the Android phone? Let us know in the comments below.
Also read: