Experience computer or laptop slow performance after the windows 10 2022 update? Or Did your Windows 10 laptop freeze, not respond and Task Manager shows 100% disk usage. The Disk Drive is continually working at or near 100%, it will not have any spare capacity to carry out different tasks. So question in mind what has been done wrong, that causing High disk usage? Well probably the answer is, nothing, this problem can occur all by itself. Even people using HDD or SSD effect high Disk usage problems. Well if you are also struggling with similar problems "consistently see a very high disk usage" here apply solutions to fix windows 10 high disk usage on startup.
High Disk Usage Windows 10
Well, there is various reason, that may cause high disk usage. Such as if the problem started recently after the windows 10 22H1 update, there is a chance of driver incompatibility causing the problem. Again corrupted system files, incorrect paging file configuration and more. Basically, people suggest on the internet to disable BITS, Windows search or Superfetch (sysmain) but don't do this It's required by Windows for your PC to be updated.
Make Sure Virus malware infection not causing the Issue.
Perform a clean boot, which helps to determine if the startup service conflict causing High Disk usage.
Install the Latest Windows Update
You'd be surprised but 100% disk usage should be fixed by installing the latest updates.
Press Windows + I to open the settings app,
Select Update & security then Windows update,
And hit the Check for updates button,
This will check and install the latest windows updates if available,
Restart Windows to apply the changes,
And now check if there is no more 100 disk usage problem.
Run System file checker
Run the System File Checker utility, which probably helps with restore missing corrupt system files with the correct ones.
Open the command prompt as administrator,
Type the command sfc /scannow and press the enter key,
This will start scanning for missing corrupted files,
If found the SFC utility restores them with the correct one from a compressed folder located on %WinDir%\System32\dllcache.
Restart Windows after 100% complete the process and check if this helps.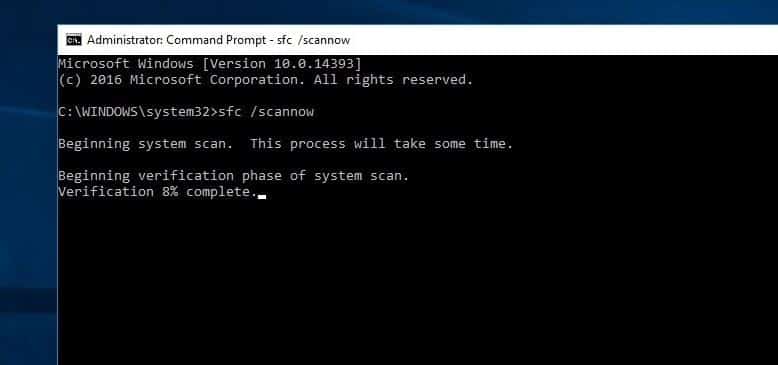 Again If SFC Utility End with Error windows resource found corrupt files but was unable to fix some of them then Run The DISM Tool which scans And repairs the System image and allows the SFC utility to do its job.
Check Disk Drive for Errors
As discussed before Faulty, HDD, Disk Drive Errors, and Bad Sectors also Cause 100 percent Disk Usage, File, and Folders not opening etc. So Make Sure Hard Disk Errors not Causing this 100% Disk usage problem by Running Windows CHKDKS Utility.
Again open the command prompt as administrator,
Type the command chkdsk C: /f /r  /x and press enter key.
On the next prompt type: Y, hit enter and Restart the computer.
This will check the state of the hard drive and correct any errors it finds, if possible.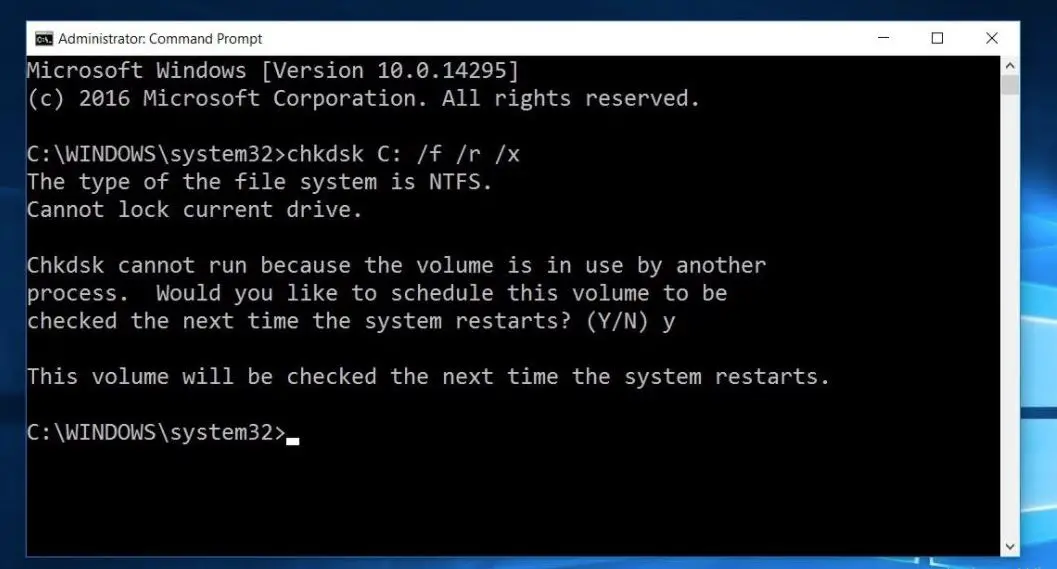 Reset Virtual Memory
Windows Automatically usage Disk Drive Space As Virtual Memory ( A combination of the disk drive and RAM ). If you Recently Customize Virtual memory For windows performance optimization Reset it To Default. Because Sometimes the wrong customization also Causes Disk Drive not Responding or 100 percent Disk Usage.
To Reset Virtual memory To the default state:
Click on Start menu Search type System and hit enter.
Then click on Advanced System Settings on the left panel,
Under system properties click on the Advanced tab, then click Settings.
This will open Performance options move to the Advanced tab again,
And choose Change under the Virtual memory section.
Then checkmark on Automatically manage paging file size for all drives.
Click Apply ok and Restart windows to take effect the Changes.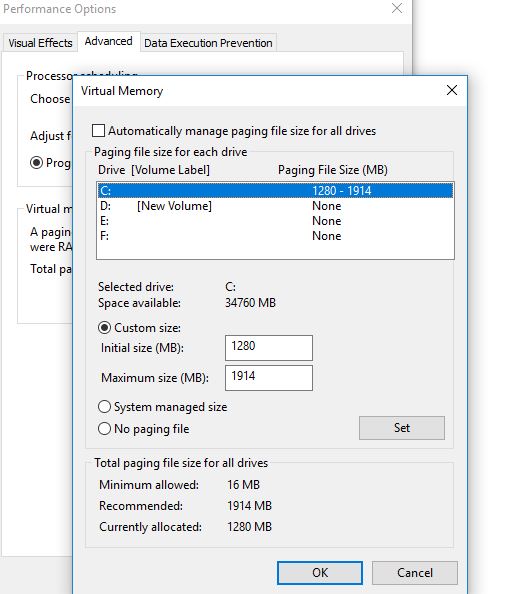 Use High Performance Power Plan
With some computers, hard drives are smart and will try to power down or change RPM to save power. One example is the green/blue Western Digital hard drives. It sounds like a great feature, but I don't think it really works all that well in practice.
To avoid this problem:
Open control panel,
Search for and select Power Options
And here select the High-Performance power plan.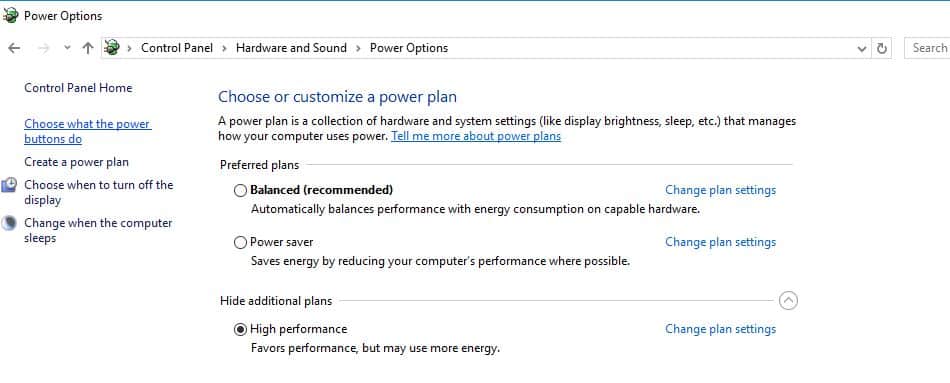 In addition, click on Change plan settings
Then expand Turn off the hard disk after and set the minutes to 0.
This will ensure that the hard disk does not power down or go into a low power state, which can cause disk usage problems.
Disable Windows Notifications
This is another recommended solution, that helps users to fix the high disk usage problem.
Go to Settings,
Click on System, and then Notifications and Actions.
Simply turn off the Get tips, tricks, and suggestions as you use Windows.
Update SSD firmware
If you have an SSD installed on your machine and are having a disk usage problem, it's most likely a problem with the firmware. SSDs are fast and unless you have some program that is accessing the disk all the time, it really should never be at 100% for more than a few seconds. Here are a couple of links to the SSD firmware updates for some of the major brands: Crucial, Samsung, Kingston, Intel, OWC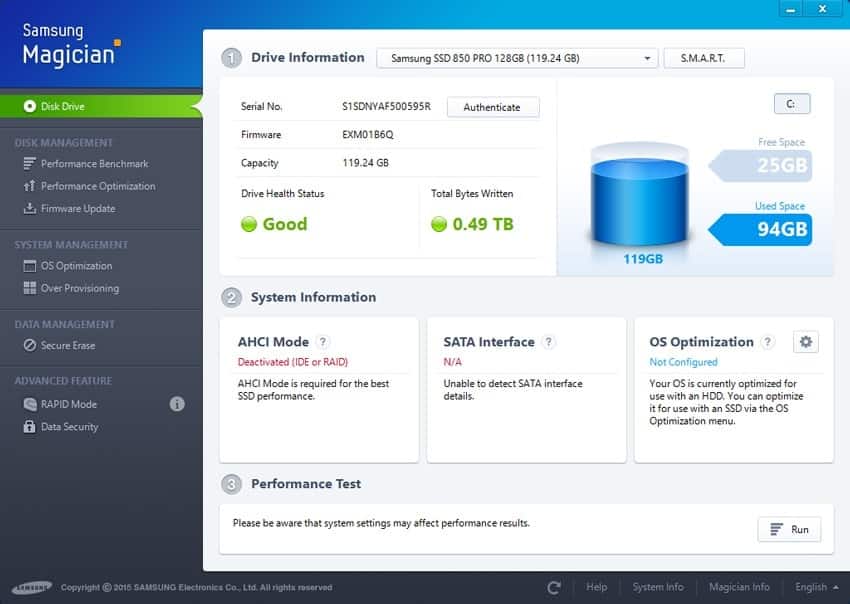 Fix StorAHCI.sys driver
Also, Some Users Report Disable MSI Mode for specific devices via the registry Help Them To Resolve the Issue. Even  Microsoft has specifically stated that this is an issue in Windows 10. Some drivers don't run quite as they should in Windows 10. One that has been discovered to be causing 100% HDD use is the StorAHCI.sys driver, which has a firmware bug. StorAHCI.sys is intended for storage devices connected to the PC or laptop motherboard via Advanced Host Controller Interface PCI-Express.
First identify, if your computer is running the inbox AHCI driver (StorAHCL.sys).
Open Device Manager by press Win + R, Typing Devmgmt.msc and hit the enter key.
Then Expand the IDE ATA/ATAPI Controllers category, and double-click the AHCI controller.
Under the Driver tab and click Driver Details.
If you can see storahci.sys stored in a path of the system 32 folder, then you are running the inbox AHCI driver.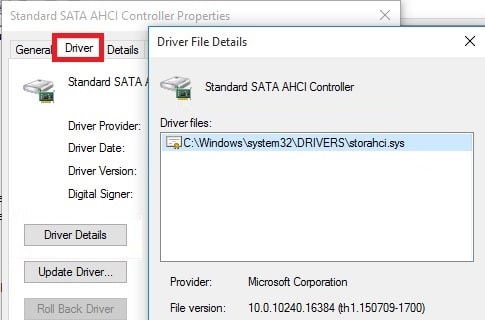 Close the Driver Details window and go to the Details tab.
From the drop-down menu, select Device Instance Path.
Make note of the path, starting from VEN_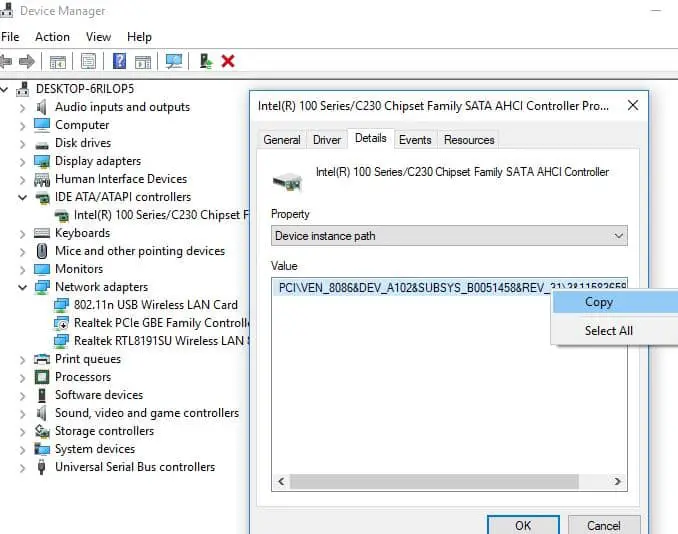 Note: If you find multiple AHCI controllers in IDE ATA/ATAPI controllers, copy the AHCI Device Instance path for every one of them and do the following steps for each controller one by one.
Now We Are going to Tweak on Windows Registry To disable Disable MSI Mode.
Press Windows + R type regedit and ok to open the registry editor,
Backup registry database, and  Navigate to following
HKEY_LOCAL_MACHINE\SYSTEM\CurrentControlSet\Enum\PCI\<AHCI Controller Value>\Device Parameters\Interrupt Management\MessageSignaledInterruptProperties
Note: Replace AHCI controller Value that you previously noted.
On the right pane of MessageSignaledInterruptProperties key,
look for the registry DWORD(REG_DWORD) named MSISupported which should be corresponding to Value 1 as its Data.
Double-click on the DWORD to modify its value and Set 0 As shown below image.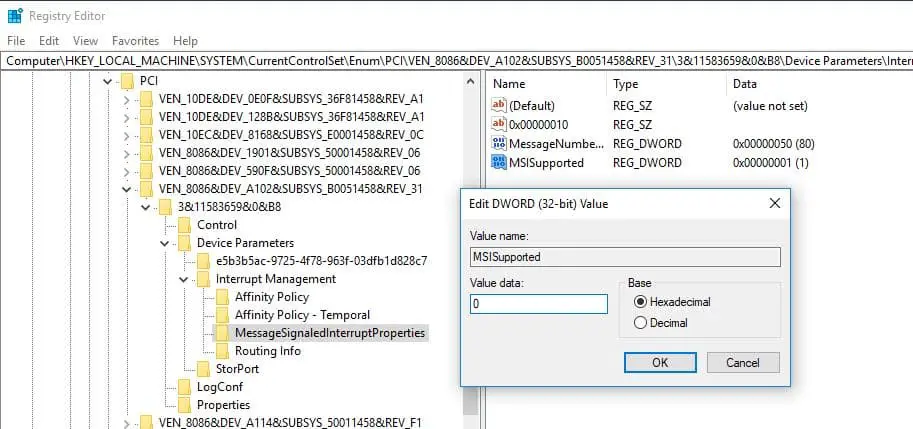 Close the Registry Editor and Restart windows to Take Effect the Changes.
After restarting your machine, the 100% disk usage problem should disappear.
Google Chrome & Skype High Disk usage
Sometimes you may notice Chrome High Disk Usage in Windows 10, this is because the web page pre-load feature is at fault. And disabling the web page pre-load feature probably help fix 100 disk usage.
Chrome's High Disk usage
Open Chrome browser,
Click the three-dot icon at the top right corner and choose Settings.
Or you can directly type chrome://settings/ on the address bar and press the enter key.
Now scroll down, select Advanced Settings
Here toggle off Prefetch resources to load pages more quickly and Use a prediction service to load pages more quickly under the Privacy and Security section.
Now check if this helps
Skype high disk
Make sure that your Skype is not running.
Press Windows + E to open windows explorer,
Navigate to the following path C:\Program Files (x86)\Skype\Phone\.
Right-click Skype.exe and select Properties.
Under the Security tab, select ALL APPLICATION PACKAGES and click Edit.
On the next box that appears, select ALL APPLICATION PACKAGES, and tick Allow checkbox for Write permissions.
Click OK to save and continue. Click OK again.
Did these solutions help to fix Windows 10 high Disk usage problem? Let us know in the comments below, also read: