Today, a number of great gaming laptops are available in the market that let gamers play their favorite video games anytime and anywhere. Moreover, with Windows 10 operating system laptops, users can now play the game in high definition along with multiple other gaming features. But, unfortunately, some users have reported the problem of Windows 10 laptops overheating while playing the game. Few other experiences reduced performance because an overheating CPU cuts back its clock speed to escape heat pressure.
The laptops overheating are a very serious problem and you should not take it casually if it is happing frequently, especially while playing long sessions of games. Overheating problems can lead to multiple other problems such as laptop crashing, shutting off automatically, heating while charging, quick battery drainage and much more.
Laptop overheating while playing games
The main reason for your laptop overheating is that not enough heat is being exhausted by the cooling fans. Or your laptop is producing excessive heat than a normal laptop should produce its because Laptop is old, dusty, can't handle newer versions of software and apps, running a lot of applications simultaneously, have installed some faulty software and more.
Well, if you love to play long sessions of video games on your laptop, but hate it when laptop overheats easily, then you can try few different tricks to reduce the heating problem of your laptop.
Start with basics check and make sure your laptop's fan is working properly. If it isn't, you need to get it fixed ASAP.
Again perform a full system scan with the latest updated antivirus to make sure your system is completely free of malware. Viruses, trojans, spyware, adware and unwanted toolbars can make even the fastest computer run sluggish and overheat.
Close all resource-demanding applications such as web browsers, email clients, office suites, etc when you're playing a game that allows more system resources to play games smoothly.
Always keep a running laptop on a flat, hard surface and Refrain from using your laptop while it's resting on a bed, pillow or other loose cloth material.
Connect Your Laptop to Charger
 A number of Windows 10 users have reported that long gaming sessions have turned their laptops into heating furnaces. This happens usually because the games are intensive and they consume a lot more power of hardware devices, especially if your laptop doesn't have enough power. When your laptop has a low battery, then games suck out even more power of the hardware.
This problem has a simple solution, you just need to plug in your laptop while playing games so that your laptop won't suffer from the insufficient power supply. It is a temporary solution that can reduce some of the load from your laptop's hardware system until you find a permanent solution to solve the overheating problem.
Get Cooling Pad
If your laptop overheats frequently, then maybe a problem is insufficient cooling. But, you can easily cool your laptop down by getting a cooling pad from the market. They typically have fans that blow on the bottom of your laptop to keep its temperature within a safe range. Cooling pads are very useful and they will offer extra cooling to your temperamental laptop. However, if you can't invest in cooling pads instantly, then you can try to use your laptop on a clean and flat surface. You should never put your laptop on your bed because your laptop's fan can get filled with dust and that will increase the temperature of your laptop.
Change your Laptop's Charger
Sometimes, it has been recorded that overheating issue while playing games occurs due to the culprit charger. Many users have reported that their charger is faulty and after replacing their laptop's charger – their laptop has been performing perfectly fine. When you are going to replace your laptop's charger make sure to buy the charger of the same manufacturer because the wrong company's charger can increase problems for you. It might be a little expensive to get a branded charger, but it is going to be worth it.
Limited Use of FPS
All gaming users want to achieve high FPS, as higher FPS means a smoother gaming experience. But, sometimes it can lead to overheating your system. So, when your laptop is overheating while playing games, then perhaps it is time to tone down your performance level as it creating an overheating issue. Such as if you getting 100 frames per second, then this means that your game is using too much hardware and thus it is increasing the temperature of your laptop.
You can try to lower down your FPS limit up to 60 or even lower. By doing this, less strain will be put on your graphics card and produces less heat as a result.
Run the Power Troubleshooter
Run the build-in power troubleshooter that automatically checks for power supply issues and attempts to resolve them. This is especially useful if incorrect power configuration causing the issue or doing battery drainage.
Open settings app using Windows + I keyboard shortcut,
Click on Update and Security and then click Troubleshoot.
On the right-hand side of the window, click on Power displayed under 'Find and Fix other Problems.'
Now click the Run the troubleshooter button.
Wait for the scan to complete. It will fix any issues that are detected.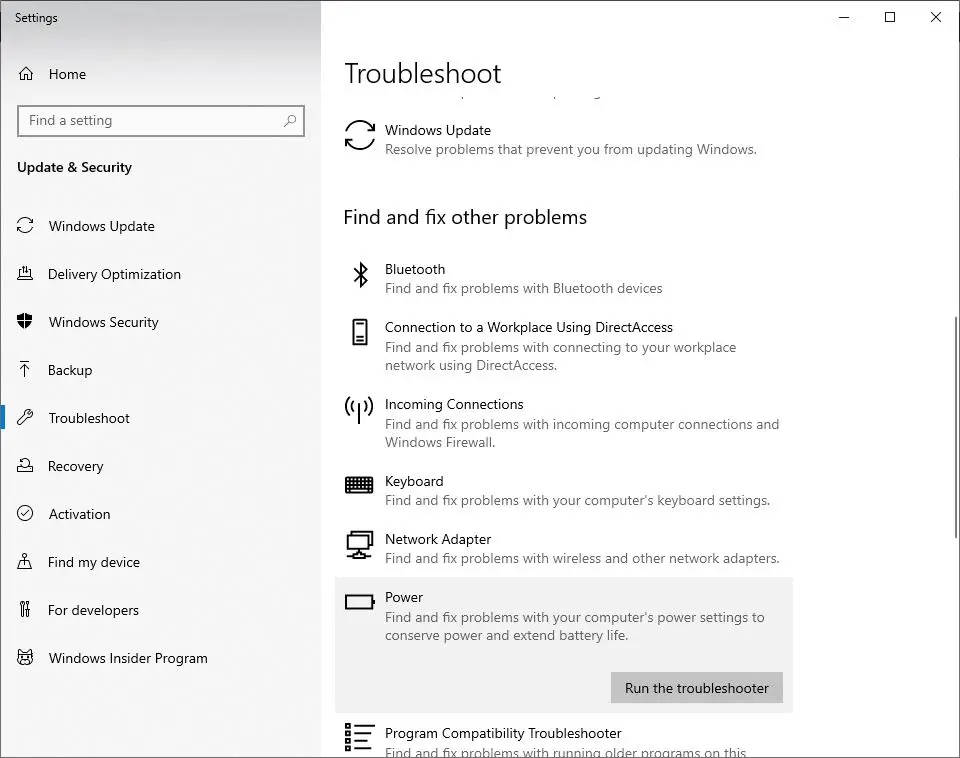 Modify Your Power Settings
Your current power settings could be the reason why your laptop overheats when you are playing a game. You can try modifying them and see if that helps.
Open control panel,
Search for and select power options,
In the Power Options window that opens, click Change plan settings displayed just beside your preferred power plan.
Now, click the Change advanced power settings option.
Go to the Processor power management section and set a lower value for 'Maximum processor state' (for instance, you can set it to 95 if it's 100) and 'Minimum processor state' (some users suggest that setting the value to 5 did the trick for them).
Click Apply > OK to save the changes.
Note: Take note of the current values so that you can change them back if you need to.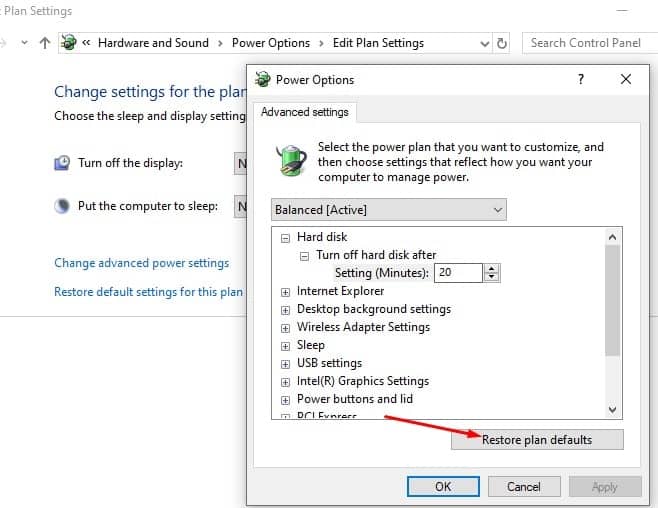 Update Your Device Drivers
Again device drivers play an important role in device performance. Especially if you are running heavy graphics games, you need to make sure your drivers (especially the graphics card drivers) are compatible and up to date.
Use the keyboard shortcut Windows + x and select Device Manager,
This will display all installed device driver lists,
Look here if any devices have a yellow triangle with an exclamation mark at the center. The sign means there's a problem with the driver.
Right-click on each one and select 'Update driver software…' from the context menu and then select the option that says 'Search automatically for updated driver software.'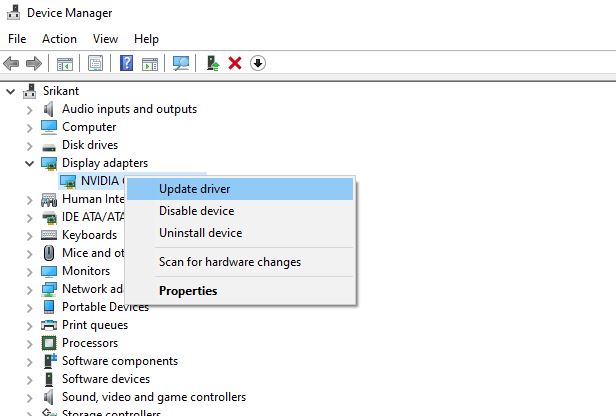 Use Integrated Graphics
Windows 10 laptops and other gaming devices have dedicated and integrated graphics in them. So, if your laptop is overheating while playing games, then it is a major possibility that dedicated graphics is the problem here. Dedicated graphics consumes more power as compared to integrated graphics, thus it creates more heat. So, if you are playing hardcore intensive games, then this might cause your laptop to overheat.
To solve this problem, you should use integrated graphics as a temporary workaround. That's because integrated graphics won't consume the same amount of power as dedicated graphics so they will eventually produce less heat. But, we can't rule out the fact that integrated graphics don't offer the same level of performance as the dedicated graphics processor. So, to use these graphics, you have to compromise with the graphics of your game.
Under-lock Graphics Card
A number of users overlock their graphics cards to get higher performance. But, they forget that overlooking puts an extra burden on the hardware which eventually results in more heat.  If your hardware is overclocked, that might be the cause for overheating, so be sure to disable all overclock settings and revert to the default values. However, if the problem still appears after using the default settings, then you should try to underclocking your hardware as well.
If you are tired of your Windows 10 laptop overheating while playing the game, then you can try the above discusses easy tricks and reduce the temperature of your laptop. But, this problem is constant, then you not avoid it and immediately consult some hardware expert before heat damages your entire laptop.
Also read: