With Windows 10 Update, Microsoft removed the HomeGroup feature and introduced a new feature called Nearby Sharing. As per Microsoft "Nearby Sharing feature, allows users to transfer files over Wi-Fi (does not use your internet bandwidth) or Bluetooth (when devices are not connected to the same Wi-Fi network). That means you can quickly share files between two Windows 10 devices without connecting them with an Ethernet cable. Overall We have a good experience with this feature but few users reported:
Windows 10 Nearby sharing feature Notworking

Bluetooth it Turned on and working properly, But cannot get this new " nearby sharing" feature to work at all. And Some users report The Device is discovered but They cant share files & folders to it, again some others report The files are send slowly while transfer using nearby sharing feature, Windows didnt displaying nearby sharing notifications etc
If you are also facing any of these problems While using Windows 10 nearby sharing features or Can not connect nearby devices here are some solutions you may try to fix the issue.
Make sure you are using the latest Windows 10
As we discussed before nearby feature was introduced on the Windows 10 update so check and make sure your both (the PC you're sharing from and the one you're sharing too) devices are using Windows 10. To check the Windows 10 version,
Turned on nearby Feature
Also check and, make sure you have turned on nearby Feature from Settings > System > Shared Experiences on both (the PC you're sharing from and the one you're sharing too) devices.
Check share or receive content is set to Everyone nearby
Make sure that both devices are set up for nearby sharing.
On each device, select the Start button open Settings
Click on System then Shared experiences,
Here make sure that I can share or receive content from is set to Everyone nearby.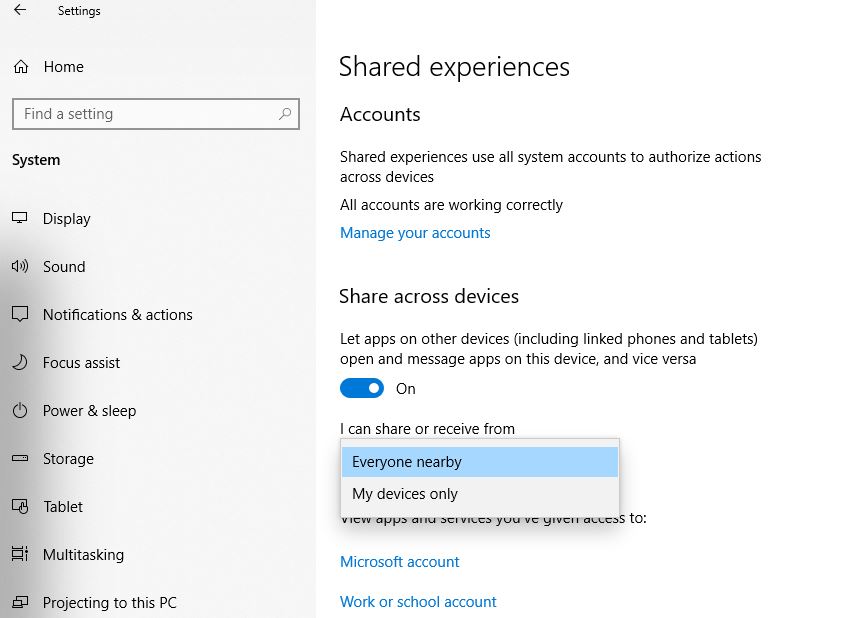 Check PC has Bluetooth version 4.0 and supports Low Energy
According to Microsoft, Nearby Sharing feature requires Bluetooth 4.0 (or later) with Low Energy (LE) support.
To check your Bluetooth version
open Device Manager and expand Bluetooth.
Right-click on your Bluetooth adapter's entry and then click Properties.
Now move to the Advanced tab,
Here, you should see the LMP version As the image below.
The LMP versions correspond to Bluetooth versions as follows:

LMP 3.x – Bluetooth 2.0 + EDR
LMP 4.x – Bluetooth 2.1 + EDR
LMP 5.x – Bluetooth 3.0 + HS
LMP 6.x – Bluetooth 4.0
LMP 7.x – Bluetooth 4.1
LMP 8.x – Bluetooth 4.2
LMP 9.x – Bluetooth 5.0
To find out if Bluetooth LE is supported, on each PC, type device manager in the search box, expand Bluetooth and then select the name of your Bluetooth radio adapter. Right-click it, select Properties, select Details, and then select Bluetooth radio supports Low Energy Central Role under Property. Make sure the value is listed as True.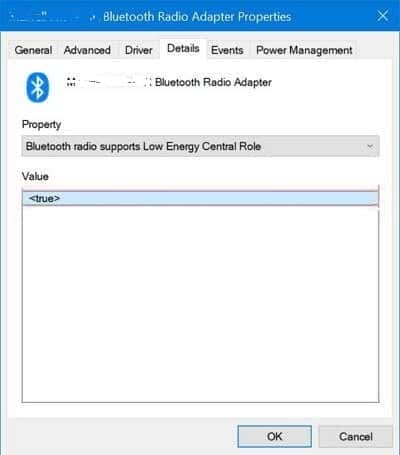 The device is discovered, but I can't share to it
If you found the situation where The nearby device is discovered, but I can't share files, documents to it. that cause Move the devices closer together and try sharing again. because If the devices are too far apart, nearby sharing won't work.
Nearby Sharing slow data transfer
Again if you Devices are not on the same WiFi network and nearby sharing using Bluetooth to send and receive files this will cause Slow Transfer rate because as we know Bluetooth is generally slower than Wi-Fi. So we recommend Connect both Devices on the same WiFi network while using nearby sharing feature.
Also, Microsoft Recommend while using nearby sharing features make sure The network connection profile is set to Private on both devices. To check the network connection profile,
Open Windows 10 Settings app
Click Network & Internet then Status,
then select Change connection properties and look at the setting under the Network profile.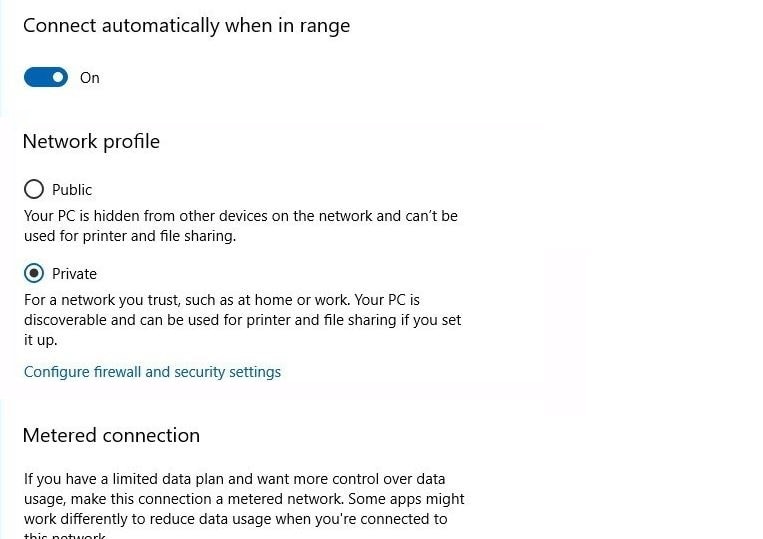 Windows didn't display nearby sharing notifications
Again if you Didn't see any nearby sharing notifications while sending or receiving files. First of all Try to resend the File again and check it works if it doesn't "on the device you're sharing to, select action center on the right side of the taskbar and check for the notifications there. As some cases, notifications appear in the action center, but not on your screen. For example, this can happen if focus assist is turned on.
Did these solutions help to resolve the "Nearby Sharing feature Not Working In Windows 10 version 1903? Let us know which option worked for you Also Read
Windows 10 Version 1903 Failed to install? Here how to get it the right way