Windows 10 System Restore Point is, windows feature that creates snapshots of certain files and information before critical operations such as updates or software installations take place. And performing System Restore allows windows users to go back to a previous working state, where windows working smoothly without affecting any documents. This is a great first step when you're trying to fix a major problem in Windows. Here in this post, we have steps to create and perform a system restore on windows 10, 8.1 and 7.
What System restore in windows 10
This feature is like a backup, but not exactly, as going back in time with this feature won't affect your documents or settings prior to the creation of a particular restore point. However, it will remove apps, drivers, system updates, and registry changes after the restore point was made. It's just like a time machine.
In Simple words, System Restore tracks and create snapshots for certain changes like software installations, windows update installations, driver changes, and software updates, and allows a windows user to revert their PC to a previous state if after performing certain activity windows causes a problem.
Why the System restore point is Important?
On Windows 10 Microsoft pushing day to day Windows Update to deliver security patches, bug fixes, and new features to users. And most users were strongly urged to accept the updates as they become available. But a measurable number of Windows users failed to update in a timely manner, and there was nothing Microsoft could do to force these users to upgrade. In this case system Restore will be a good fix.
How To Create Windows 10 System Restore point
Now you may need to turn on the Windows 10 System Restore utility. It's usually turned off by default on a computer with Windows pre-installed; in that case, the vendor used its own version of backup software. When This Feature is enabled and configured correctly. Windows generates restore points when you install a new app, device driver or Windows update. And you can use it later to fix windows problems. But you must first Enable this Feature on your Windows system.
Here Follow below steps to Enable System Restore Feature on Windows 10.
From start, menu search for and select create a restore point,
Under system properties move to system protection tab,
Here you have to select the Windows installed Drive and click on configure.
This will open the system protection for local Dick C:
Select the radio button Turn on system Protection bellow to Restore settings.
Click apply and ok to make save changes,
And now onwards windows create restore points regularly.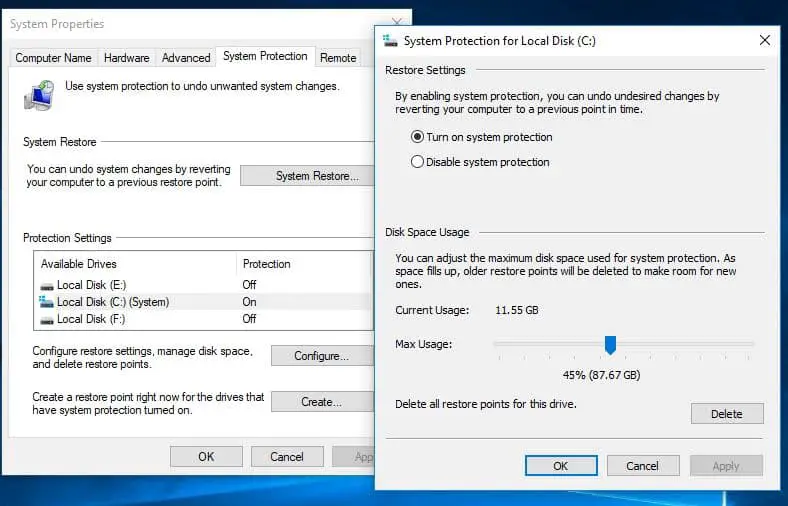 How to Configure System Restore on Windows 10
Now After Enable the system protection you have to adjust the disk space to manage and store the System Restore points. System Restore is useless without drive space in which to store its restore points For this you have to allow disk space, Under "Disk Space Usage," you can adjust the maximum storage space dedicated to storing restore points.
By default, Windows only uses a small percentage of the total available storage of a particular drive, and as the reserved space fills up, older restore points will get deleted to make room for future ones. you can manually allow the disk space usage.
You will also notice the Delete button that will erase all the current saved restore points. You may want to use this option when you need to create a manual restore point, and you can't allocate more space.
With your changes made, click Apply and then OK to save your new configuration and close the window. System Restore will now be enabled for your selected drive, and you can let it operate automatically in the background or manually create restore points as desired.
Create System Restore Point Manually
Now you have enabled Restore Point in your system, the operating system will create a restore point automatically every time a significant change happens. However, sometimes you might want to create a system restore point manually before modifying anything that you might think could cause a problem.
To configure a restore point manually here fallow below.
On System Properties simply click the Create button,
Type a description to help you identify the restore point (e.g., System Restore Point before installing antivirus).
Then click the Create button to complete the process. (Restore points creation are fast, it shouldn't take longer than a minute.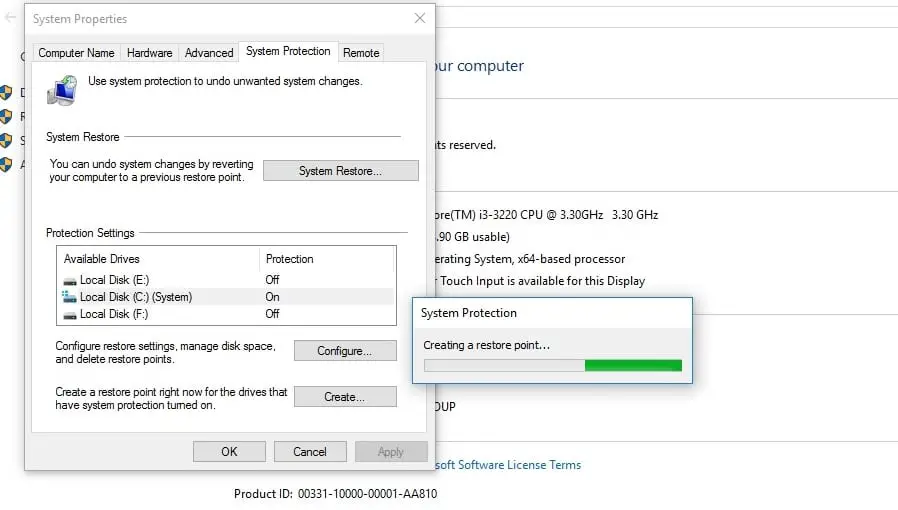 If you ever encounter an issue and need to perform a System Restore. Just head back to this same window and click System Restore to launch the restore interface.
How to do a system restore on windows 10?
If at any point in time, you run into issues before using a backup or the "Reset this PC" feature in Windows 10. You can use a system restore point, which will be quicker and easier way to fix with Revert back system to a previous working state.
Here Fallow bellow to Perform System Restore on Windows systems.
Open Control panel
All control panel items select Recovery.
Now Click on Open System Restore.
This will open the Restore system files and settings windows.
Now click next to process to the system restore.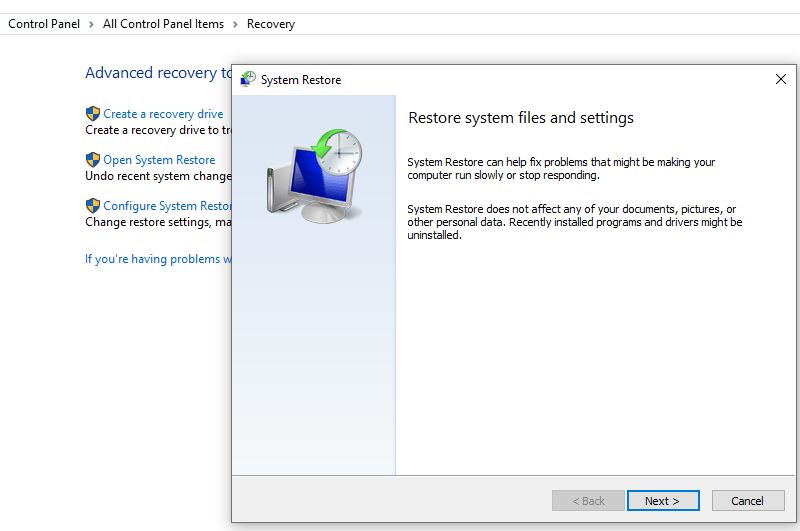 You will be shown all the available restore points available with date, description and more importantly, you'll also see the type Which specifies if it was created manually or by the system.
As you select a restore point, you can click the "Scan for affected programs" to view the applications installed.
Since the last restore point, which will be deleted during the restore process.
Then click Cancel to go back to the wizard.
Now click Next you will see confirm your Restore point.
Check the same and then Finish to begin the restore process.
When you click on the finish you will prompt:
Once started System Restore cannot be interrupted. Do you want to continue?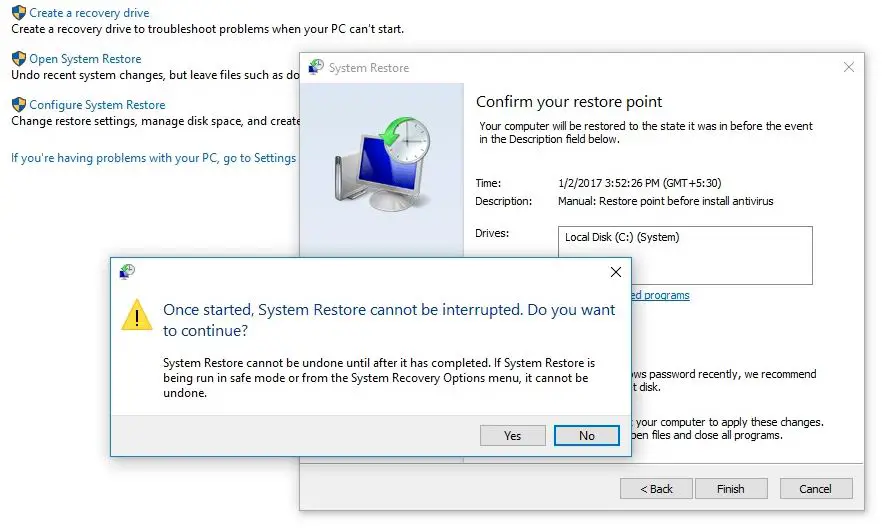 click yes to start the system restore process.
During the restore process, you will notice, please wait while your windows files and settings are being restored. System Restore initializing, finishing etc. This will take some time to complete the process.
During this, your system will be restart and will re-apply all the settings that are necessary for your system. When your system restore is completed, you will get a popup message, "window System Restore completed successfully".
Once the process complete, you will back to that point in time your system was working correctly.
How to do Windows System Restore from boot
Also, you can system restore windows 10 from boot following the steps below.
For this, we have to access advanced options,
Boot from installation media, skip the first screen,
Next, click Repair Your Computer -> Troubleshoot then you'll need to click Advanced options.
Here you will get the system restore option, Click on it and follow on-screen instructions to system restore windows 10 from boot.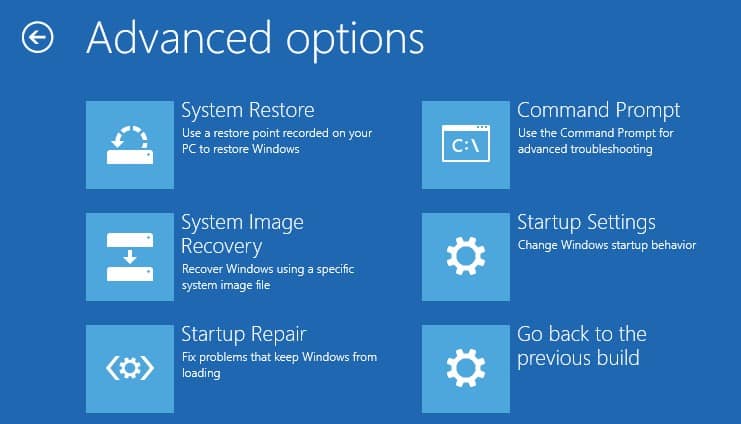 System restore not working windows 10
IF system restore fails or not working on windows 10, the first thing we recommend to uninstall third-party antivirus if installed on your computer.
Boot into safe mode and perform system restore that helps complete windows 10 system restore without any error.
In addition, before perform system restore we recommend open the command prompt as administrator run command sfc /scannow. Let the scanning process complete 100% once done reboot your computer and again perform system restore.
Open windows service console using services.msc and check below services are running state.
Volume Shadow Copy
Task Scheduler
Microsoft Software Shadow Copy Provider Service
System Restore Service
Did this post help to enable and perform system restore on windows 10? Let us know on comments below, also read: