Experiencing System_service_exception BSOD error after recent windows 10 upgrade or install the latest windows updates? SYSTEM_SERVICE_EXCEPTION bug check "0x0000003B" usually received in cases of excessive paged pool usage and can occur due to user-mode graphics drivers crossing over and passing bad data to the kernel code. This can be caused by graphic user interface errors, corrupted system files, and issues with outdated or corrupt drivers amongst others.
Your PC ran into a problem and needs to restart. We are just collecting some error info, and then you can restart'. If you'd like to know more, you can search online later for this error: SYSTEM_SERVICE_EXCEPTION'.
Fix System_service_exception windows 10
First of all disconnect external USB devices and start windows normally to check and ensure the device driver confliction is not causing the issue.
If this  SYSTEM SERVICE EXCEPTION BSOD windows frequently restarts at startup, Didn't allow to perform any troubleshooting steps? Then boot into safe mode where windows start with minimum system requirements and apply solutions below.
Undo Recent Changes
If this problem occurred just right after you installed a program or you added hardware recently, then there are good chances that this software or hardware triggered the issue at the first place. You've to remove the software or hardware you recently added and then check for the issue to see if it persists.
You can uninstall recently installed third-party applications from programs & Features.
Navigate to Control Panel and Programs.
Select 'Uninstall a program.'
Right-click on the recently installed application and select uninstall.
Also, Highlight your antivirus, malware or other security software and click Uninstall.
Reboot and retest.
Check there is no more system service exception BSOD error in your windows 10 system.
Check Disk Drive Errors
Again faulty disk drive errors also cause different BSOD errors at startup, Run the chkdsk command with an extra parameter to force check disk drive errors and fix them. To do this
Open Command Prompt as administrator.
Type command chkdsk C: /f /r and ok.
Tips: CHKDSK is short of Check Disk, C: is the drive letter you want to check, /F means fix disk errors and /R stands for recover information from bad sectors.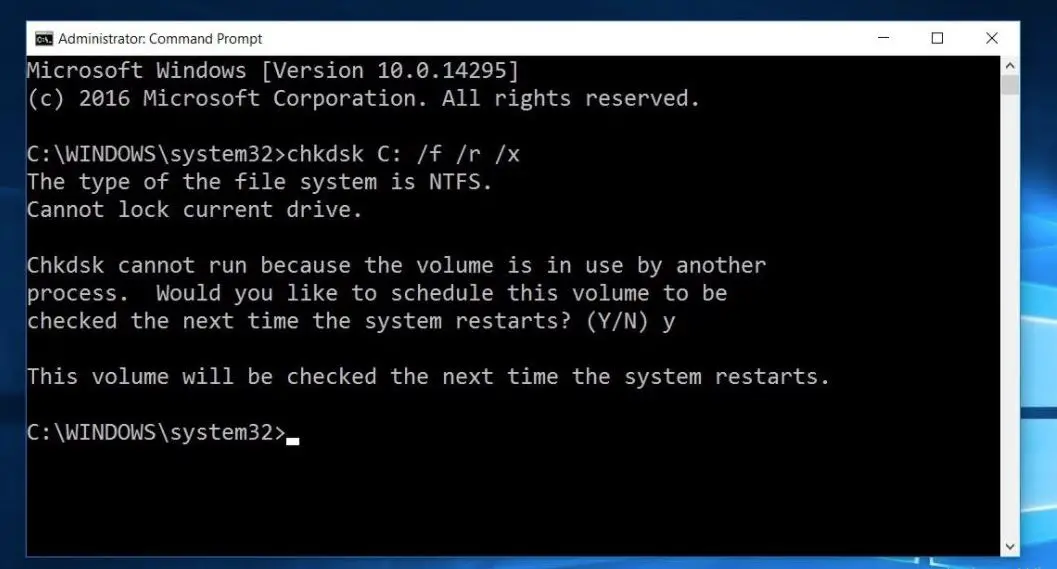 When it prompt, "Would you like to schedule this volume to be checked the next time the system restarts? Type Y and restart windows, This will check the disk drive for errors, bad sectors if found any the utility will try to fix and recover them. Wait until 100% complete the scanning and repairing process after that windows automatically restarts and normally start for you.
Repair Corrupted or Missing System Files
If the problem started after a recent windows 10 upgrade there is a chance that system files are missing or corrupted while the upgrade process may encounter this BSOD. In this case, Run DISM command with sfc utility to repair system image and restore corrupted, missing system files. To do it
Open Command Prompt as admin. To do it, type cmd on the start menu, search right click on the command prompt and select run as administrator.
First, run DISM restore health command to repair system image.
Type command "dism /online /cleanup-image /restorehealth"
Wait until 100% complete the scanning process.
Now, Type sfc /scannow and press Enter.
It will automatically scan for missing corrupted system files.
If found any the SFC utility automatically restores them from a special folder located on  %WinDir%\System32\dllcache.
Wait until 100% complete the scanning process after that restart windows and check there is no more BSOD on your system.
Update Device driver
As discussed, corrupt, outdated or malfunctioned device drivers mostly cause Different BSOD on Windows 10. We recommend to check and install the latest driver on your system. To do this
Open device manager from the control panel. Just go to Control Panel > Hardware and Sound and open Device Manager.
In Device Manager, find any drivers' name with the yellow sign.
If you see any driver with the yellow sign from the list, just uninstall it and install it again with the latest driver software.
Or visit your Device manufacturer website ( if you are laptop users, visit HP, Dell, ASUS, Lenovo for Desktop user, visit motherboard manufacturer website).
Download and install the latest driver on your system.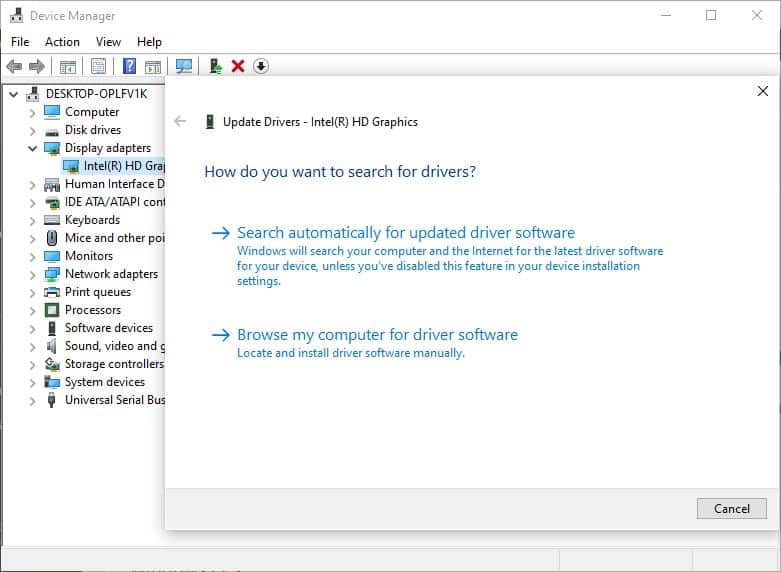 Reinstall Display Driver (Graphics driver)
If the System Service Exception error occurs when you are playing games or waking up the PC from sleep, it could be a video card driver issue. Especially graphics drivers like AMD or NVIDIA problem. Else, Some incompatible or problematic programs and updates may cause this BSOD. What you can do here is update your video card driver to the latest available one.
Update the drivers from the manufacturer's website
Press the Windows key + X key when you are on desktop.
Select Device Manager.
Expand the Display Adapter.
Right-click on the Display Adapter and click on Uninstall.
Restart the computer.
Do the same as the above steps, right-click on the Display Adapter and click on Update Driver Software.
Select option Search automatically for Driver software And let windows to download and install the latest driver software. Or
 Go to the Device manufacturer's website and search for the latest drivers available for your computer model and then download and install them.
Then restart your computer and check how it works.
Update Drivers and BIOS
You also may need to update your drivers and BIOS. A recent update of windows may create conflict with your older drivers. So, I always recommend you to update drivers. You will get instructions on your computer manufacturer website about the BIOS update. If you are running an Intel processor, You can download the intel driver utility and install it on your PC. It will help you to know which drivers should be updated. Many users have fix system service exception error in this way. I hope It will also help you.
Disable Fast startup
Some users also suggest that disabling the Fast startup feature helps them fix the Critical Process Died BSOD error. You can try this.
Open the control panel, from All Control Panel Items, click on Power Options.
On the left side of the window click on Choose what the power button does.
If needed, click on Change settings that are currently unavailable, under Define power buttons and turn on password protection.
From the enabled options under the Shutdown settings section, uncheck the Turn on fast startup (recommended) checkbox to disable Hybrid Shutdown.
Click the Save changes button to save the modified settings.
Close Power Options window when done.
Check for the issue.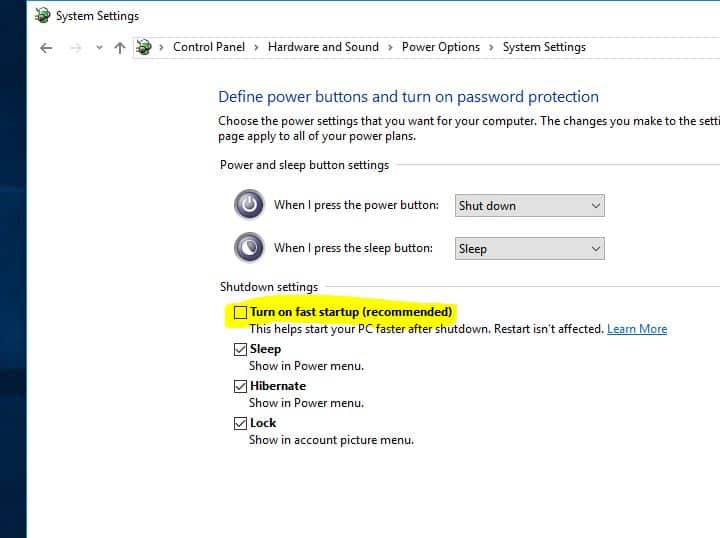 Perform System restore
If the problem started recently and you think it is caused by a program that you might have installed in the last few days or weeks then it's time to utilize the System Restore option. If the problem was caused by a program or a virus then the system restore to an earlier point should be able to solve the issue for you. Check how to perform System restore on windows 10, 8.1 and 7.
The problem started after the recent windows 10 20H2 update then, you can use the Rollback option to Go back to the previous windows version. Or the last option you can use the official media creation tool to refresh/reinstall windows 10.
Did these solutions help to fix the System_service_exception BSOD error? Let us know which option worked for you.
Also Read