Having trouble installing the latest Windows 10 update, which is supposed to fix security issues. but apparently failing to install or is stuck downloading here how to fix it.
With regular Windows updates, Microsoft includes feature enhancements and security updates to protect Windows 10 systems from malware and malicious attacks. Also, the latest Windows update includes bug fixes for recent problems reported by users. Overall installing the latest Windows update not only secures your computer but also brings new feature additions and optimizes the system performance as well. Security updates are very important for your computer and most of the time it downloads and installs automatically on your system. But sometimes you may experience Windows 10 update failed to install or it's stuck for download 100 hours.
2023-09 Cumulative Update for Windows 10 Version 21H2 for x64-based Systems (KB5030211) – Error 0x80070bc2 or 0x800f0984. 
Windows 10 Update Failed? Here's How to Fix That
There are multiple reasons that may cause Windows Update fail over and over. Slow internet or VPN configuration, Multiple updates queued download, Corrupt or missing system files or an issue with the Windows Update service are common.
Restart the Windows update and its related services, Reset Windows update components. Run Windows Update Troubleshooter Tool most probably fix Windows update failed to install or stuck download problem on Windows 10. And also, you can manually download the Windows 10 KB5030211 offline installer and install it on your system as well.
But Here is the quick solution that worked for Me!
Press Windows key + S and type cmd, Right click on the command prompt select run as administrator,
Type the command SC config trustedinstaller start=auto and press the enter key,
Once the command is executed close everything and reboot your PC.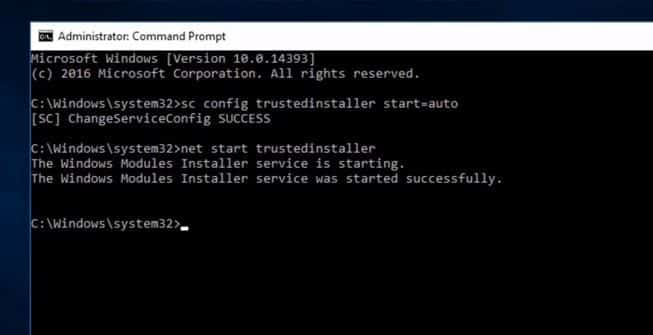 That's all, now open Windows settings followed by update and security, and hit the check for updates button.
Clear update Database cache
If Windows 10 KB5030211 stuck download at 0% or 99% or completely failed to install, it might be that something went wrong with the file itself. Clearing the folder where all of the update files are stored will force Windows Update to download fresh files.
To do this Type services.msc on the start menu search and hit the enter key.
Then look for Windows update service, right-click on it, and select stop.
Do the same with its related service BITS (Background Intelligent Transfer Service)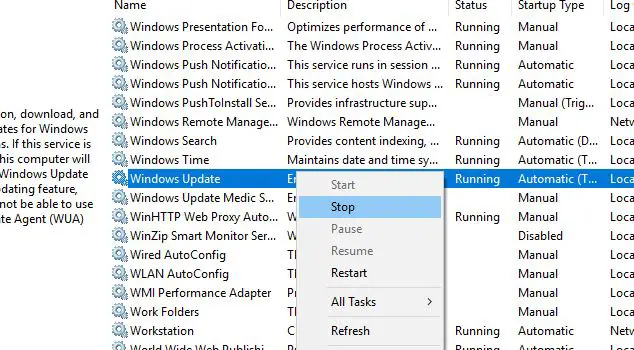 Now press the Windows key + E to open file explorer and navigate to C:\Windows\SoftwareDistribution\Download
Here delete everything inside the download folder, but do not delete the folder itself.
To do so, press CTRL + A to select everything and then press Delete to remove the files.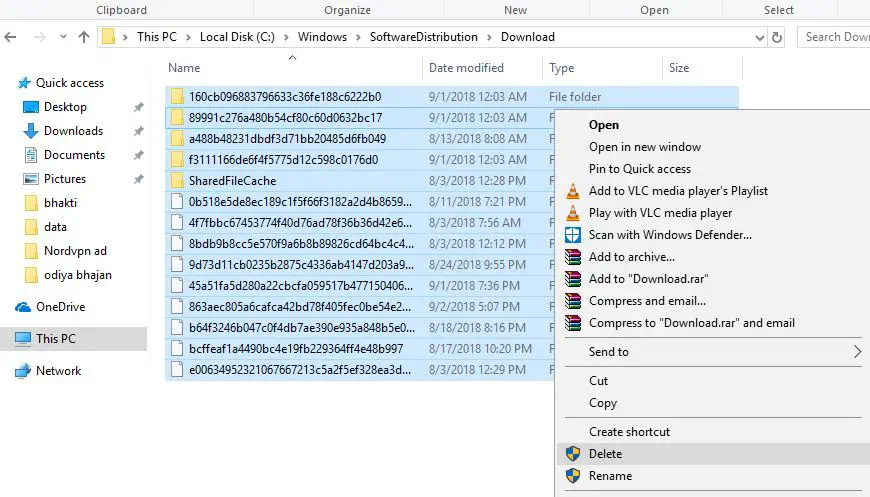 Now open the Windows service console and restart the services (windows update, BITS) which you previously stopped.
Run Windows Update Troubleshooter
After clearing old, buggy update files, Run the Windows update troubleshooter. This tool is specially designed to detect and fix problems that prevent Windows 10 updates to download and install on your device.
Press Windows + I to open the Settings app,
Click on Update & Security then Troubleshoot, now click the additional troubleshooters link to display all available troubleshooters list.
Select Windows Update and click Run the troubleshooter,
This will start to detect and diagnose the problems that prevent Windows updates from being installed.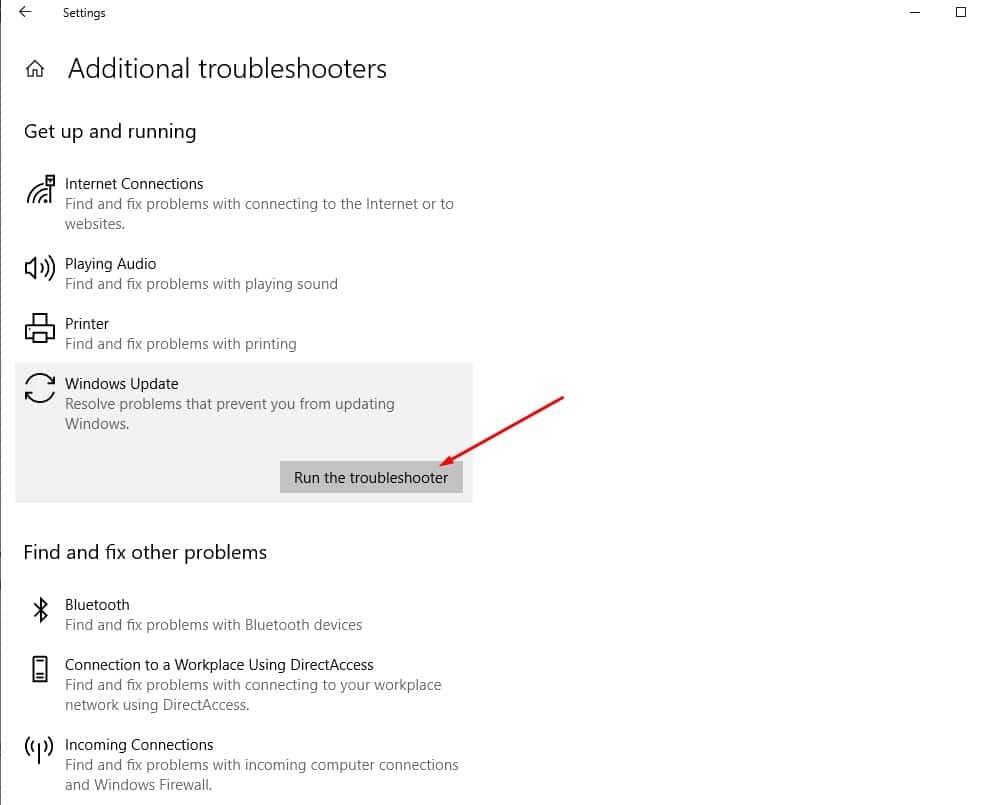 During the diagnosis process, this will check the update service and its services running, Check the Windows update database for any corruption.
Restart windows after completing the diagnostic process. And again check for Windows updates from settings, update & security,
Check if this helps to download and install Updates without any errors.
Disable Security Software & perform a clean boot
Temporarily Disable your Firewall and Anti-virus software and check for updates, install the available updates and then turn on your antivirus protection.
Clean booting your computer may also help. If any third-party software causes conflict to download & install Windows updates. Here's how to do this:
Go to the search box > type msconfig
Select System Configuration > go to the Services tab
Select Hide all Microsoft services > Disable all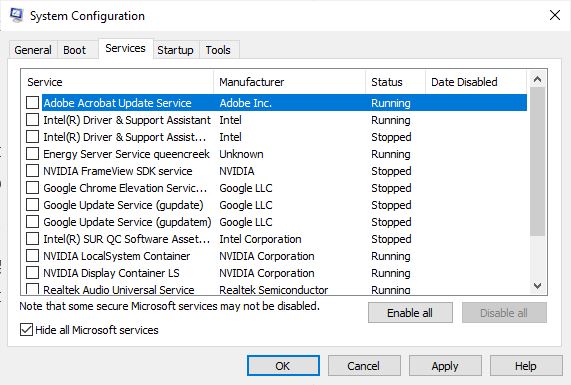 Hide all Microsoft services Go to the Startup tab > Open Task Manager > Disable all the unnecessary services running there. Restart your computer and check for updates, hope this time Windows updates download and install without any error.
Check Internet connection
Make sure you have a stable internet connection to download the Windows 10 KB5030211 update from the Microsoft server. You can check your internet speed at fast.com or speedtest.net.
Press Windows key + R, type ping google.com -t and click ok, check continuously getting ping replay from the Google server. If it breaks then you need to troubleshoot the internet connection before downloading Windows updates.
If your device is connected to a VPN network, we recommend disconnecting it and checking for updates again.
Free up some disk space
One of the most common causes of failed Windows 10 updates is a lack of drive space. You need to check and make sure the system drive (usually C) has enough free space to download and apply Windows updates. To free up some space on your system drive:
You can move some large files to external devices, or delete unused files or folders.
Remove or uninstall unwanted or unused Games or apps that consume lots of space on your system drive.
Run Disk cleanup or Read how to clear temp files automatically on Windows 11.
Switch to Google DNS
It's very useful for a few users Especially if the Windows update is stuck download hours or Windows Update fails over and over.
Press the Windows key + R, type ncpa.cpl and click ok to open network connections,
Locate and right-click on the active network adapter and select properties,
Select Internet protocol version 4 (TCP/IPv4) and click on properties,
Now select the radio button, use the following DNS server addresses and set preferred DNS 8.8.8.8 and alternate DNS 8.8.4.4.
Click ok to save changes and reboot your PC, Now try to install the Windows updates.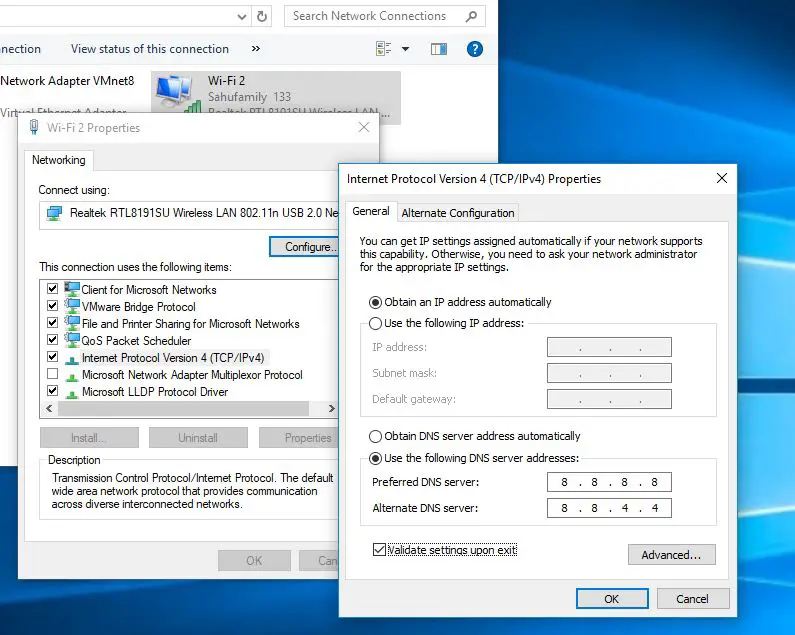 Install Windows Update manually
If all the above solutions fail to fix the problem, still Windows updates are stuck downloading or fail to install then let's install Windows updates manually.
Visit the Windows 10 update history webpage where you can notice the logs of all the previous Windows updates that have been released.
For the most recently released update, note down the KB number.
Now use the Windows Update Catalog Website to search for the update specified by the KB number you noted down.
Download the update depending on if your machine is 32-bit = x86 or 64-bit = x64.
(As of today – KB5030211 is the latest patch for Windows 10 version 22H2. And KB5029247 is the latest patch for Windows 10 version 1809.
Open the downloaded file in order to install the update.
That's all after installing the updates simply restart the computer to apply the changes.
Also If you are getting Windows Update stuck while the upgrade process simply use the official media creation tool to upgrade to Windows 10 version 21H2 without any error or problem.
Run the System File Checker (SFC) Scan
There my be chances system files are corrupted and prevent apply new updates on your system. And that results Windows update stuck download or fail to install with different errors. In this case, Microsoft suggests you run the DISM (Deployment Image & Servicing Management) tool to help you fix some Windows corruption errors.
Open the command prompt as administrator, and run the command DISM.exe /Online /Cleanup-Image /RestoreHealth 
DISM will replace potentially corrupted or missing system files with good ones.
In addition, run the sfc /scannow command that scans your system deeply for corruption, and try to replace them with the correct ones. it's one of the fastest methods to fix corrupted system files and other problems on Windows 10.
Did any of these solutions help you fix the problem? Let us know in the comments below. Also, Read