Having problem download and install windows 10 22H2 updates? Here we have some effective solutions to fix windows 10 update problems and install windows update smoothly without any errors.
Microsoft Released Windows 10 22H2 with a few New Features, system Improvements and bug fixes. And the company regularly releases cumulative updates to fix bugs and improve system performance. But sometimes users report various issues like Windows updates stuck downloading for hours or fails to install with different errors. For some others "feature update to Windows 10 version 22H2 stuck at preparing to install" If you are also struggling with windows 10 update installation problems, Here are some effective solutions you must apply to fix Windows 10 Update Problems.
Windows 10 update failed to install
Make sure you have enough free disk space on your hard drive To download and install updates.
Check and verify that the Time zone, Date and time are correct on your computer. A past or future date both prevent Windows Update and the Genuine Windows Validation tool from working properly.
Temporary disable Antivirus software and Disconnect VPN (if configured) and try to install updates
Run The windows SFC utility, If any corrupt system file prevents windows to install Updates. system file checker tool (SFC utility) will Automatically check and fix them.
Check Hard Disk for Errors, (If the Hard disk has errors or Bed sectors this may prevent to download and install updates.)  To do this open command prompt as administrator and type chkdsk /f /r /x hit enter key. press Y. Close the command prompt and restart windows, Wait until 100% complete the scanning process.
Run Windows Update troubleshooter
Run the build in windows update troubleshooter, that identify if any problems exist which prevent your computer from downloading and installing Windows Updates.
To run the windows update troubleshooter
Press Windows + I to open Windows Settings.
Click Update & Security, then Troubleshoot.
Now on the right-hand side select Windows update then Run the troubleshooter.
The update troubleshooter clears the Windows Update related temporary files, clear the contents of the SoftwareDistribution folder, check the status of Windows Update-related Services, repair and reset Windows Update components, check for pending updates and more.
Restart windows after completing the troubleshooting process, and check for updates again.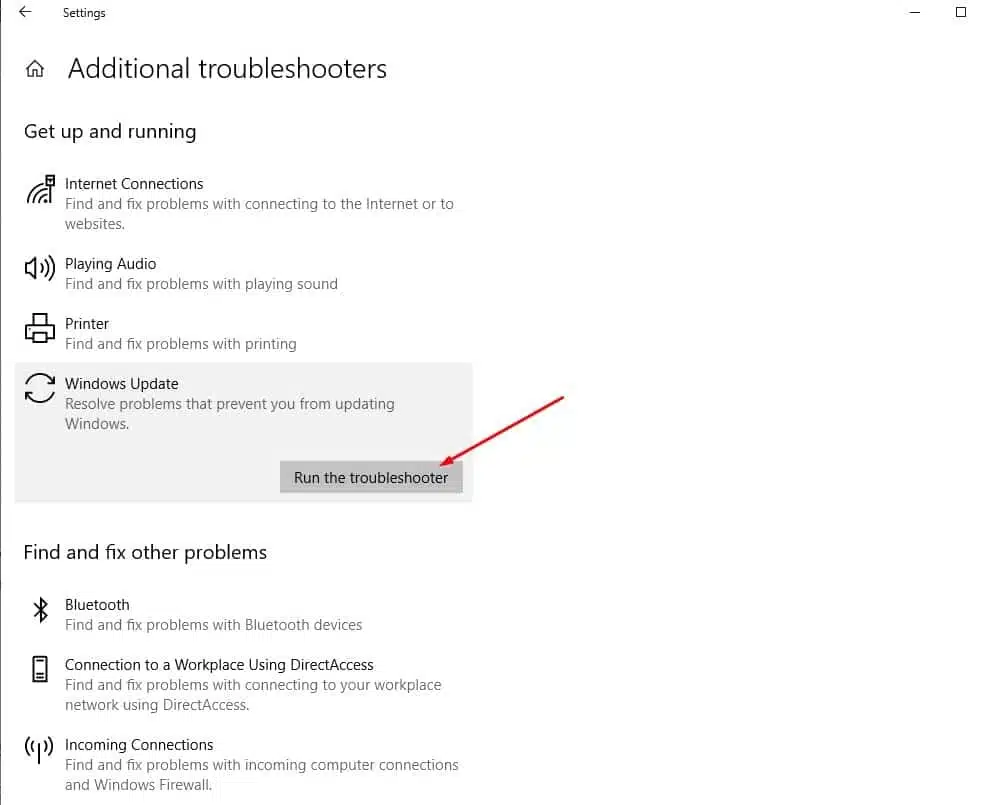 Reset Windows update components
If nothing seems to solve the problem, you can try to reset the Windows Update components which most probably resolve the issue.
Stop windows update and its related services
Search for Command Prompt, right-click the top result, and select Run as administrator.
Stop the Background Intelligent Transfer Service (BITS), Windows Update service, and Cryptographic service. Type the following commands and make sure to press Enter on each line:
net stop bits
net stop wuauserv
net stop appidsvc
net stop cryptsvc
To clear the cache, do the following:
Press "Windows + R," enter the below path and press the Enter button.
C:\Windows\SoftwareDistribution\
This folder has all the files related to Windows updates.
Open the "Download" folder, select all the files and delete all the files.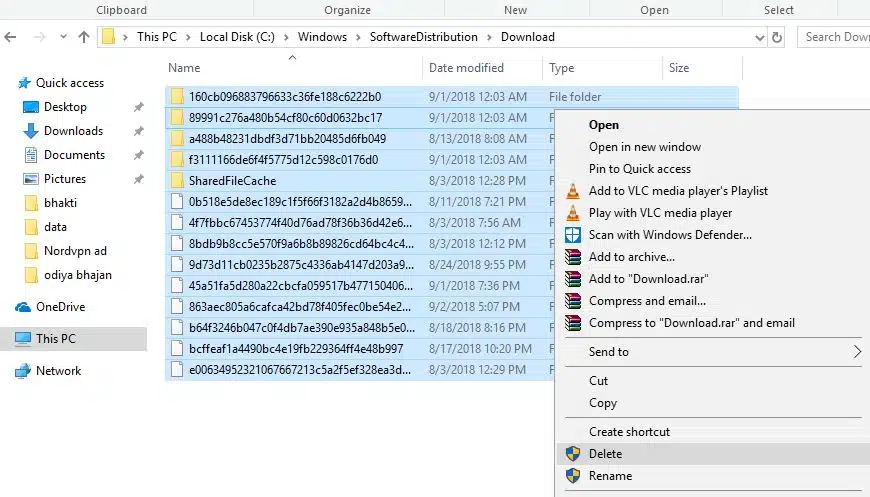 Restart the windows services
Restart the BITS, Windows Update, and Cryptographic services using the following commands and make sure to press Enter on each line:

net start bits
net start wuauserv
net start appidsvc
net start cryptsvc

Restart your computer.
Now check for updates, I am sure this time you get succeed.
Install updates manually
If still having problem installing windows 10 cumulative updates, then you can resolve the problem manually by installing the latest Windows 10 updates.
Visit the Windows 10 update history webpage where you can notice the logs of all the previous Windows updates that have been released.
For the most recently released update, note down the KB number.
Now use Windows Update Catalog Website to search for the update specified by the KB number you noted down. Download the update depending on if your machine is 32-bit = x86 or 64-bit=x64.
Open the downloaded file in order to install the update.
The last step is to restart the computer after the update has been installed. This normally will fix any problems with the windows update component and you can now cross-check by using the Check for updates button on the update section of the settings page.
Use Windows Media Creation Tool
If Windows update stuck installing or checking for updates while Upgrade to windows 10 22H2 then use the official media creation tool. That helps you easily upgrade to windows 10 2022 update without any problem or error.
Upgrade Windows 10 using the media creation tool
Download the media creation tool from Microsoft and run as an administrator.
Click the Accept button to agree to the Microsoft terms.
Select the Upgrade this PC now option.
Click the Accept button one more time to agree to the notice and license terms.
This will download update files, wait a few moments then after.
Confirm that the Keep personal files and apps option is selected.
And follow on screen instructions to upgrade to windows 10 22H2.
Windows update failed error 0x80070522
If you are getting error 0x80070522 while installing windows update or upgrading windows 22H2, it means that you're trying to install the Update using a standard account.
To install the new version of Windows 10, make sure to run the setup using an account that has administrator privileges.
Check how to enable administrator account on windows 10
If you're at work, you'll need to contact your system administrator for assistance.
Did these solutions help to fix Windows 10 22H2 Update Installation Problems? Let us know on the comments below, Also read: