The eight most important new features of Windows 11 2022 Update, the great update of the year.
After a year of Beta testing finally today Microsoft has released the Windows 11 2022 Update for compatible devices only. That means Windows 11 version 22H2 available as an optional feature update for older windows 11, and compatible devices running windows 10 version 2004 or later. This is the first feature update for Windows 11, which brings some important innovations and improvements. Here in this article, we highlight the seven most important new features of Windows 11 2022 Update.
Windows 11 2022 Update How to get it?
The official way to get windows 11 22H2 installed on your device is check for windows updates and wait for the notification. If you have a device with windows 11 installed or it's running windows 10 version 2004 or later and meets minimum system requirements then you will get the notification Windows 11 version 22H2 is available with the download & install button.
Press Windows key + X and select settings,
Go to windows update and hit the check for updates button,
If you see Windows 11 version 22H2 is available notification, allow it to download and install on your computer.
Also refer to this video: How to get the windows 11 2022 update.
Add a header to begin generating the table of contents
If you experience problem installing or upgrade the windows 11 2022 update we recommend refer this article Windows 11 version 22H2 failed to install. Let's fix it
Still, Windows 11 22H2 is not installing or showing up on your device. you can force upgrade using Windows 11 Installation Assistant.
Windows 11 version 22H2 new features
The latest feature update for windows 11 mainly focuses on four key areas, Accessibility, security, productivity, and connectivity. Of course, bring some new features and improve the existing ones that include a More versatile start menu, a New look of Task Manager, improved snap layouts, a built-in video editor, and much more. Let's take at the new features of windows 11 version 22H2 Update.
Start menu improvements
With the latest windows 11 version 22H2 Microsoft introduces elements to customize the start menu more exhaustively. Added the ability to create folders for apps or adjust the size of the area of ​​pinned applications in favor of the area dedicated to recommended ones.
If you drag one application over another, Windows 11 automatically creates small folders for it, which can also be named with a right-click.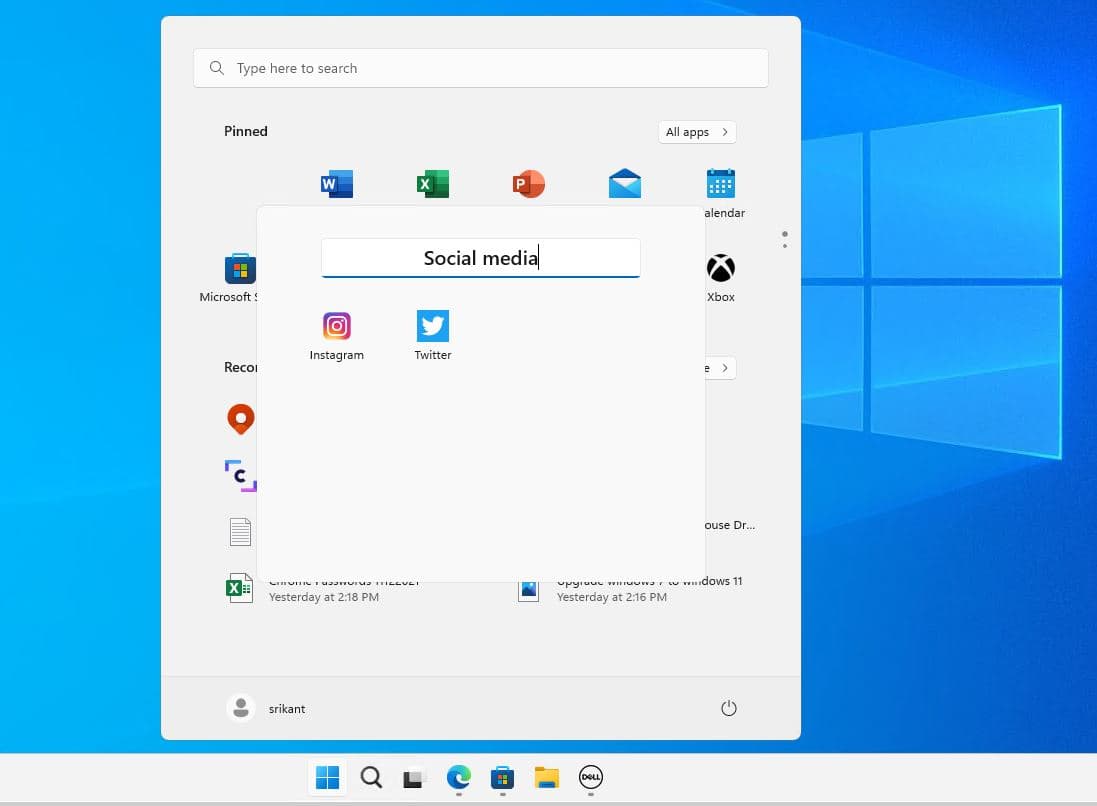 In the settings under Personalization > Start, Windows 11 will in future offer three options for the start menu layout. You can choose between the standard layout, "More Pins" and "More Recommendations". And depending on the configuration the start menu shows either more pinned programs or more recommendations. However, the recommendations cannot be completely removed from Microsoft's new start menu for Windows 11.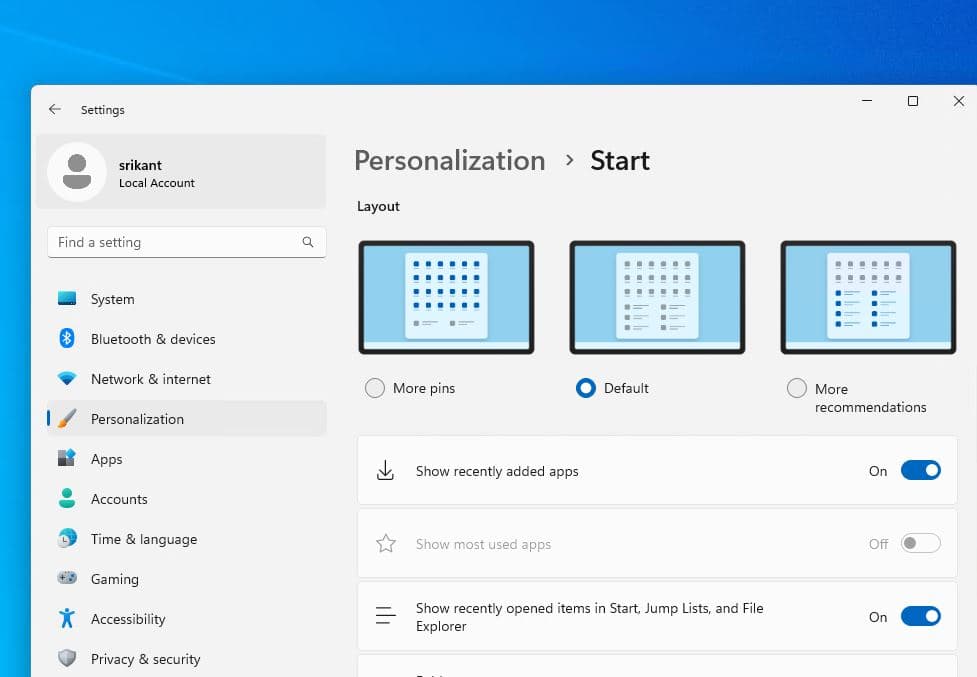 Then there's new gesture support for touchscreen users. You can swipe up from the bottom border to bring up the Start Menu and swipe down to hide it again.
Redesigned task manager
With the windows 11 2022 update, the task manager presents itself as fresh as a daisy and has adopted the Fluent UI style. The menu structure has changed on the task manager, Instead of old-fashioned tabs the task manager offers a sidebar that is reminiscent of the Windows 11 settings in terms of its appearance. Of course, the new Task Manager on Windows 11 22H2 supports both light and dark modes.
The Task Manager on Windows 11 now follows the new Fluent design language and is built on WinUI3 and XAML Islands.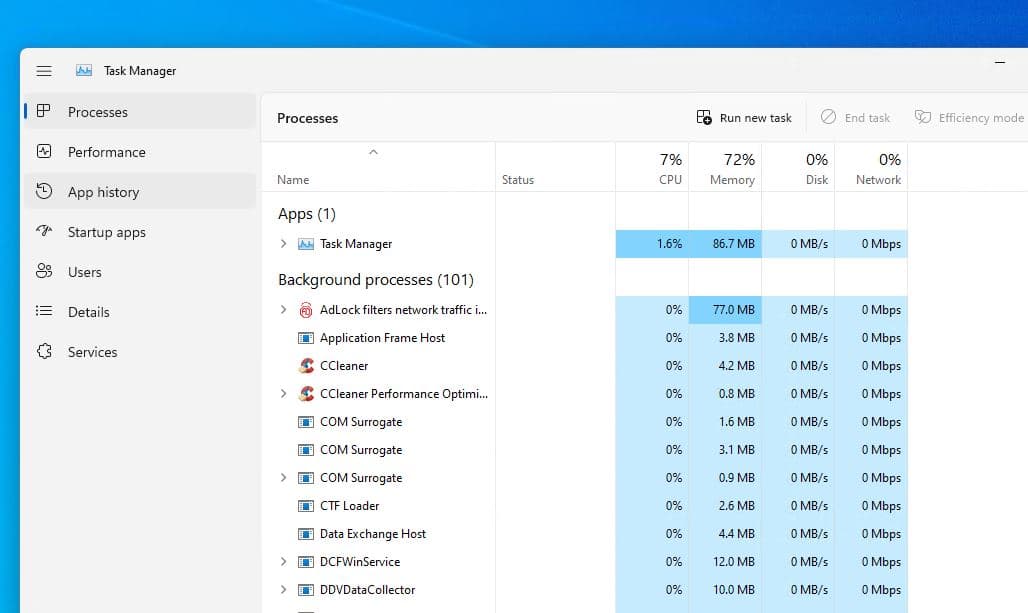 Also, Microsoft added Efficiency Mode in Task Manager to reduce stress on the CPU, lower fan noise, improve thermal performance, and offer better battery life on Windows 11. You can right-click on any app and choose 'Efficiency mode' to have it consume less power.
Snap Layouts are more intuitive
The windows 11 Snap Layouts feature was introduced to quickly manage multiple program windows across the screen in Windows 11. With the 22H2 version, Microsoft has made it more clear and easier to use the snap layout feature. When moving a window on the screen, a bar is displayed with different predefined template settings that are very easy to use.
When you drag a window, the Snap Assist bar is now displayed at the top of the screen, which suggests how windows can be docked
Also with the latest feature update, You can arrange windows automatically using the keyboard shortcut Windows key + Z, and a numbered layout suggestion appears. Tap each number button to select one or you can also select them by tapping on the respective number key.

The arrival of the Clipchamp video editor
You may remember last year Microsoft acquired the Clipchamp video editor, And now with the windows 11 2022 update, Clipchamp comes Preinstalled on your device to replace the other editor: Movie Maker. With this program, different fully customizable video templates are integrated so that you can be inspired when creating your video fragments.
The editor is obviously not close to those used by editing professionals, but it can be enough for most home projects. In this case, you can mix and match video and sound files, as well as join a whole community of creators to learn from other users.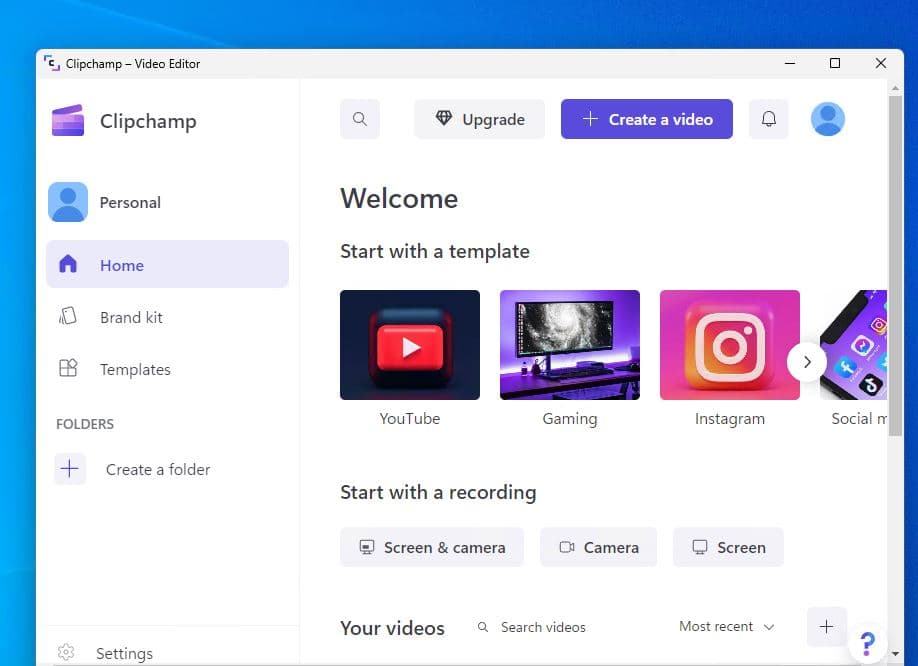 Windows Studio Effects
Among with all the above features of the windows 11 22H2 update, Windows Studio Effects is one of the best aimed at improving the experience during video and audio calls. It emphasizes your voice with the help of AI, while background noise is automatically suppressed, just like Microsoft Teams has done before.
Also, the new eye contact feature along with automatic framing artificially allows you to connect with the participants in a better way, even when you are not looking directly at the camera.
Taskbar drag and drop again
The Taskbar also gets many small but useful improvements with the latest windows 11 2022 update. When windows 11 was first released it did not allow us to put files via the application icon on the Taskbar. But with the latest windows 11 22H2 update taskbar drag and drop function is back and Now you can drag files from one application to another application icon on the Taskbar to move and open it.
Again if you have opened a number of programs on your PC and the Taskbar is overflowing with too many apps and programs, it will offer an overflow menu from where you can access other apps.
Similar to Wi-Fi, you can now choose your Bluetooth device from the Quick Settings itself. That means No need to open the Settings page to connect to a paired device.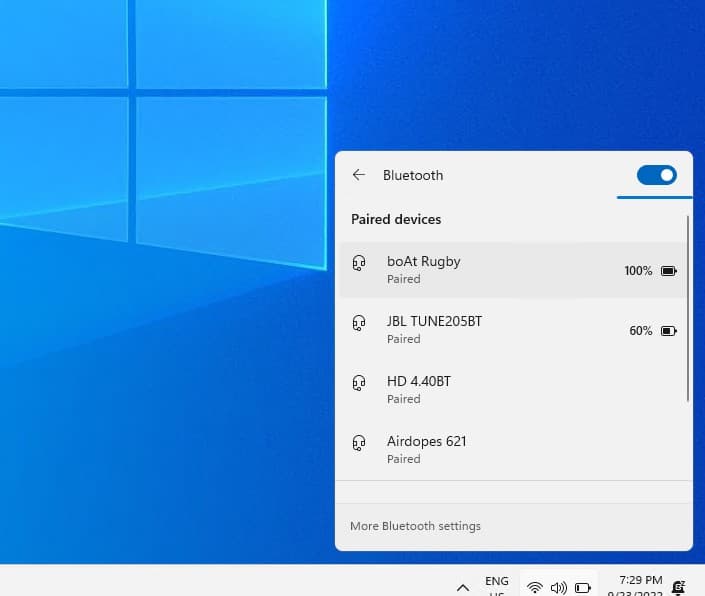 Also with Windows 2022 update, Microsoft added 'Share this window' feature that allows sharing any app window in Microsoft Teams from the Taskbar itself.
In the taskbar, hover your cursor over the app whose contents you want to share in a meeting. You will see a "Share this window" option with the Teams logo, which upon clicking will share the window in the video conferencing app right away.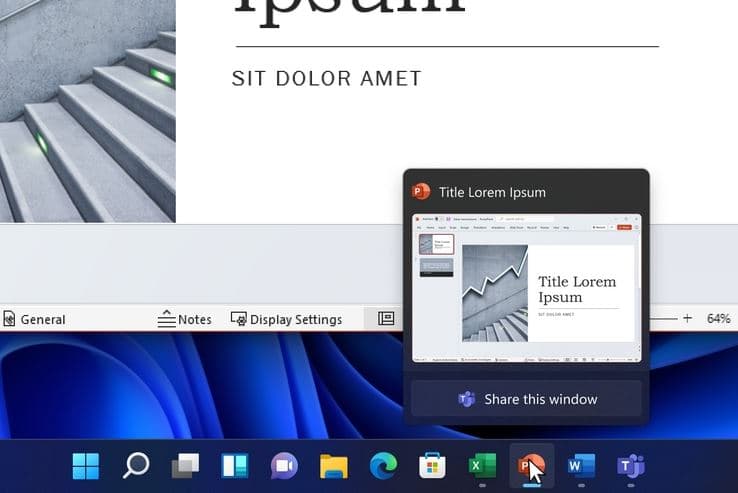 You can also mute/ unmute the microphone from the Taskbar and check the apps that use the microphone with a history of mic usage.
Windows Explorer innovations
Windows Explorer is a central point of the Windows 11 22H2 update and it gets the most prominent interface change. Quick Access has been revamped on the Windows 11 2022 update, and now it's called Home and present in the left sidebar.
Also In the File Explorer Home view, you can now pin files for quick access. To do so, Right click on the frequently used file and choose "Add to Favorites" from the context menu.
Microsoft has finally introduced Tabs in File Explorer with the Windows 11 2022 update, but this feature is not available yet. The company says it will push an update in October 2022 with the option to enable Tabs along with the new homepage (more on this below) in File Explorer.
Note- Insider preview build users installed Windows 11 Dev build 25136 and later can see the Tabs in File Explorer option on their desktop.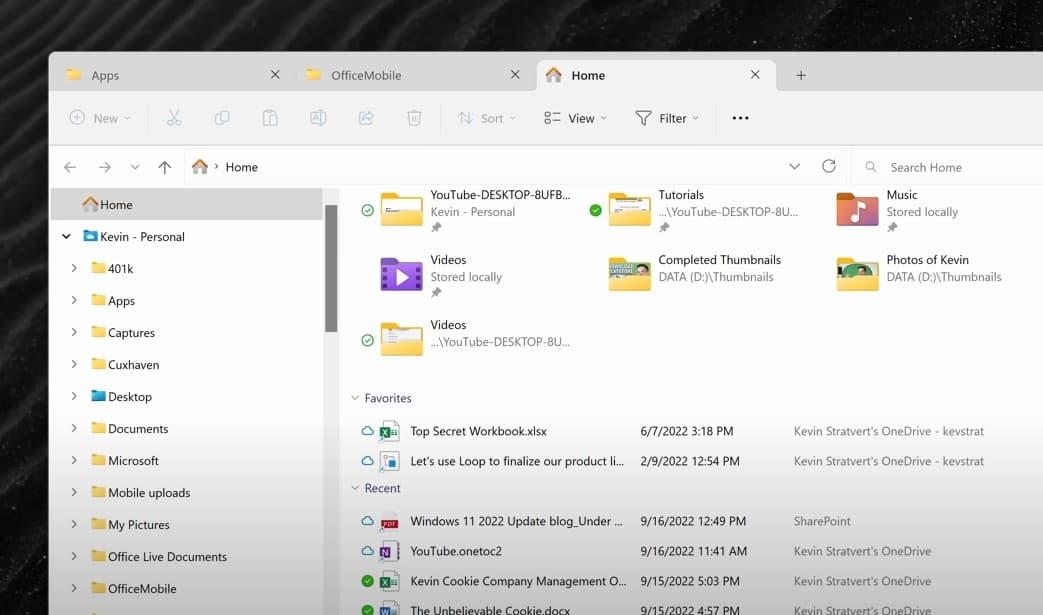 This PC view has been reduced and only shows the local hard drives and network drives. The library folders have been removed there.
Updated photos app
Also, Microsoft has promised, is bringing a major update to the Photos app with new features and improvements. The new updated photos app comes with a fresh photo management UI along with a gallery view, improvements to photo browsing, and OneDrive integration to back up your photos to the cloud. But the new Photos app is not live right now. The update will arrive in October 2022 as part of the new feature drop.
And there has also been a design change that was highly requested by everyone, related to the volume indicator. When scrolling up and down with the keyboard shortcut a new bar will appear at the bottom of the screen and not in one of the corners.
Microsoft is also optimizing Auto HDR for Games, And there is an HDR calibration application (HDR Calibration) to measure the monitor's capabilities and adjust the HDR display accordingly. That way, the game display is more consistent.
These are some of the best new features on the windows 11 2022 update. which one you found helpful, Let us know in the comments below.
Also read: