Sleep mode is a Power saving feature that stops all actions, any open documents and applications move to the system memory and the PC goes to low power state. You can open the Laptop lid or use the keyboard or mouse to wake up your PC and instantly back to where you left off. But sometimes you may experience Windows 11 Stuck in Sleep Mode or Laptop refuses to wake up from sleep. Few users report Windows 11 won't wake up from sleep after update, and force a restart is the only option left.
This issue can occur because of multiple reasons, incorrect power configuration, older Windows version, or outdated Graphics drivers are common. Sometimes the keyboard and Mouse drivers are outdated and the windows do not respond to them. Whatever the reason, Here is what to do if Windows 11 fails to Wake Up from Sleep mode.
Windows 11 Stuck in Sleep Mode
Windows 11 PC or laptop is stuck on sleep mode even after move the mouse, or press keyboard keys, and does not allow to resume the activity?
Running related (power) troubleshooter helps fix such issues on Windows 11.
The fast startup feature is another common reason for such problem, and you should consider disabling the fast startup feature to fix the problem.
If you have a wireless keyboard and mouse replacing the battery could be helpful.
Changing power plan settings, update the display driver and installing the latest Windows 11 update help fix if Windows 11 Won't Wake From Sleep.
Hence Windows 11 won't wake up from sleep with a mouse or keyboard, use the power button to force shutdown and turn on the display. Once Windows 11 PC starts normally apply the solutions listed below.
Update windows 11
Microsoft regularly updates Windows 11 with the latest bug fixes and improvements. Windows Updates are essential to your computer's functioning. Whenever you experience a problem with your Windows PC the first thing you need to make sure the latest Windows updates are installed.
Press the Windows key + X and select settings
Navigate Windows Update then hit the check for updates button
If pending updates there, allow them to download and install
In addition, click on advanced options then optional updates
If any optional updates or driver updates available check them and install
Once done reboot your PC to apply the changes.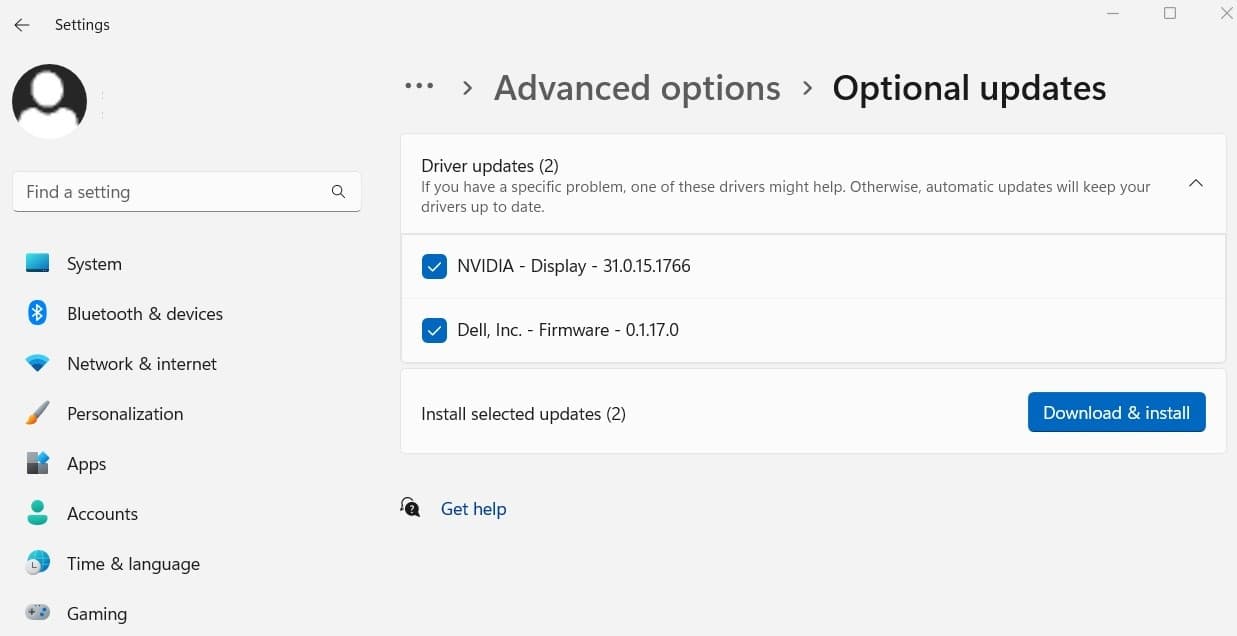 Run power Troubleshooter
Windows 11 includes a built-in troubleshooter to fix minor problems automatically. Hence Windows sleep mode is related to power settings Let's run the power troubleshooter that automatically detects and fixes Windows 11 not waking up from sleep.
Press the Windows key + X and select settings
Navigate to the system then Troubleshooter and click on Other troubleshooters,
Here locate the power troubleshooter and click Run next to it,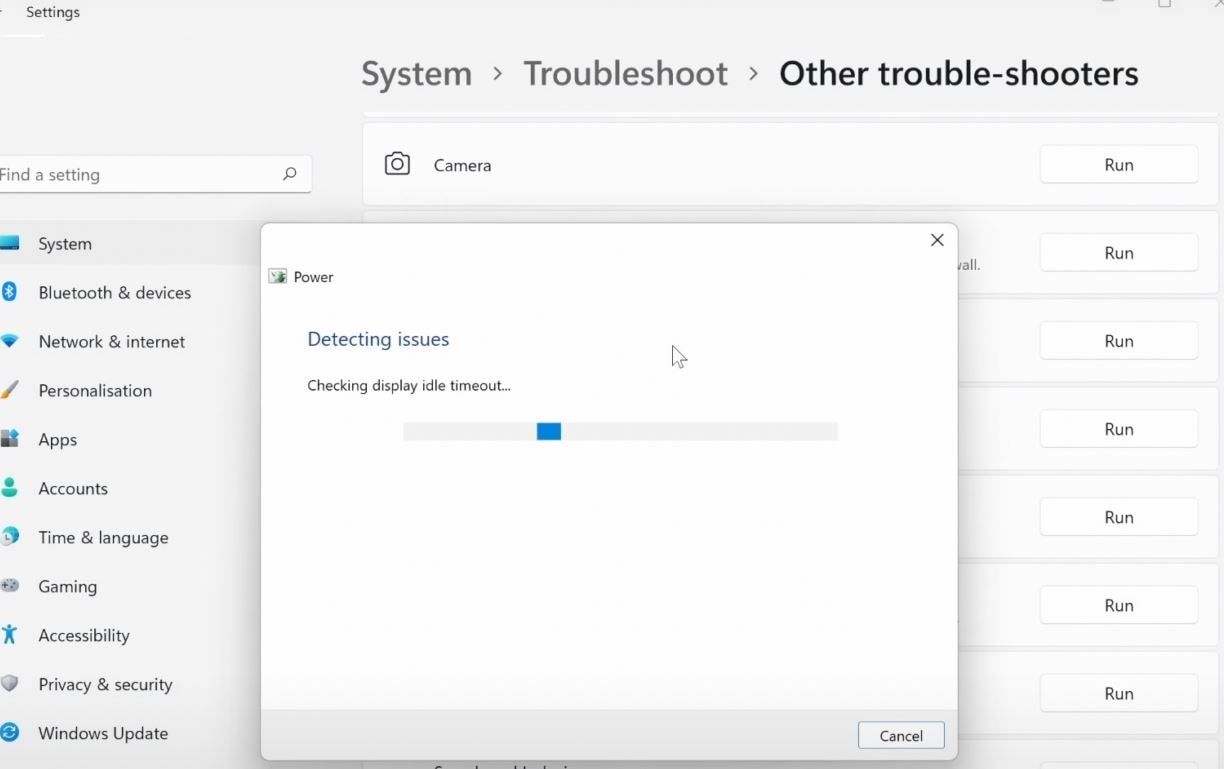 Once troubleshooting is complete restart your PC and from now onward Your PC should wake up from sleep as usual.
Turn off Fast Startup
Windows 11 Fast startup feature enables quickly turn on the computer from sleep. But sometimes it interferes with sleep function which results Windows 11 Laptop won't wake up from sleep. A number of users mention, disable the Fast startup feature helps them fix the Windows 11 sleep mode problem where the computer won't wake up after even click on the keyboard or mouse.
Press Windows key + R type powercfg.cpl and click ok to open power options,
Click Choose what the power buttons do, then change settings that are currently unavailable
And finally, Uncheck Turn on the fast startup option and save changes.

Allow the keyboard and mouse to wake the computer
Let's Change the Settings to Wake Up the Computer with the Mouse and Keyboard
Press Windows key + X and select device manager,
Expand the keyboard, right-click on your connected keyboard select properties,
Move to the Power Management tab and check on Allow this device to wake the computer option.
Next, Expand the Mice and Other pointing Devices menu and right-click on your mouse to select properties,
Now move to power Management then Checkmark beside Allow this device to wake the computer.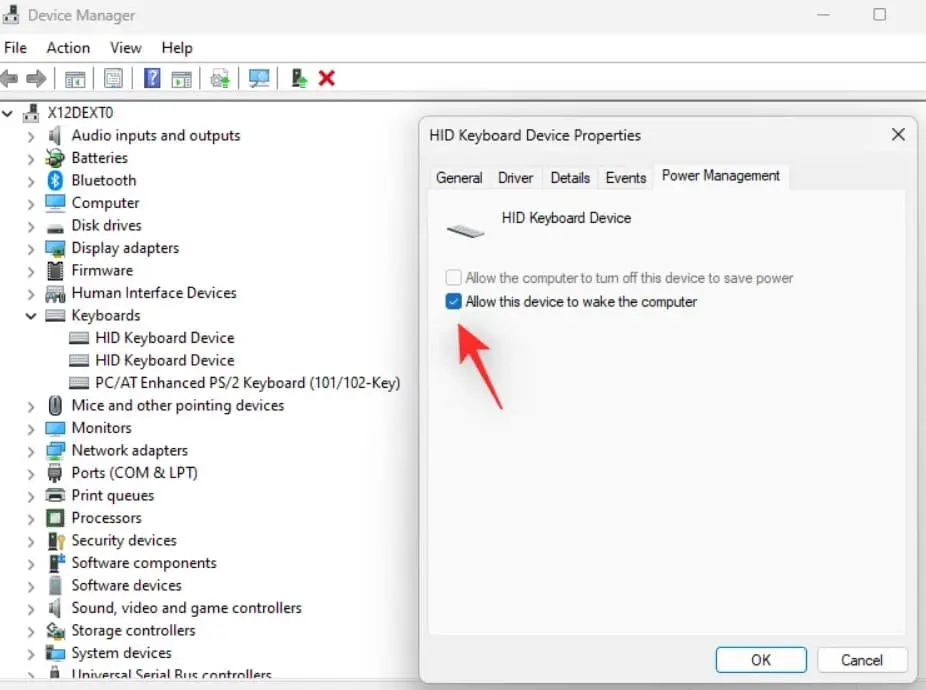 Reinstall Display Drivers
An outdated or corrupt display driver may affect Windows 11 PC sleep function and is another common reason why Windows 11 won't wake up from sleep mode. If the above solutions didn't fix the problem, you need to reinstall display drivers from the Device Manager which probably fixes the problem.
Press Windows key + X and select Device manager
This will display all devices and peripherals connected to your PC
Here locate and expand the display adapter, right-click on Graphics driver select Uninstall device
Click Uninstall again to confirm the action and restart your PC
The system will reinstall the required drivers during the reboot process.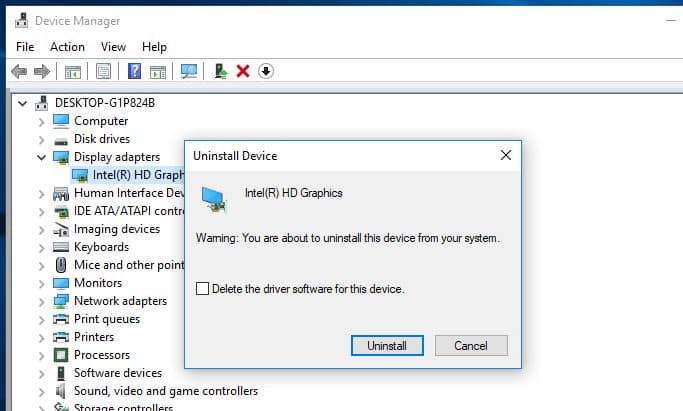 Or you can visit the device manufacturer's site to download and install the latest Graphics driver on your PC.
In addition, outdated drivers of the mouse and keyboard do not respond to some features of Windows. Try to update the keyboard and mouse drivers as well.
Reset System Hibernation
Hibernation may be the major factor behind messing up sleep settings on your computer. Let's reset system hibernation using Command Prompt.
Press Windows key + S and type cmd, right-click on the command prompt select run as administrator. Now run the following commands to disable and enable the hibernation function on your PC.
powercfg.exe /hibernate off
powercfg.exe /hibernate on
Moving forward, your Windows computer should wake up from sleep.
Turn Off USB Selective Suspend
Search for Edit Power Plan and press Enter.
Select Change Advanced power settings.
Expand USB settings and select the USB selective suspend setting, Disable the option
Now Expand the Sleep option, then Turn Off Allow Hybrid Sleep and Enable Allow wake timers.
Click Apply and OK.
Outdated BIOS can lead to issues like Windows 11 not waking up from sleep. Most manufacturers bundle BIOS builds with system updates.
If the above solutions don't fix the problem, disable the sleep mode on Windows 11 from Settings > System > Power & battery > Screen and sleep.
Also read: