Windows 11 and Windows 10, which is easier to use and smoother? Windows 11 is a computer system launched by Microsoft in October 2021. Compared with the Windows 10 system, which one is easier to use and which can give full play to the performance of computer hardware more smoothly? What about running software and games better? Now let's compare the differences between Windows 10 and Windows 11.
Windows 10 vs. Windows 11 system requirement
Windows 10
Processor: 1 gigahertz (GHz) or faster processor or SoC
RAM: 1 gigabyte (GB) for 32-bit or 2 GB for 64-bit
Hard disk space: 16 GB for 32-bit OS or 20 GB for 64-bit OS
Graphics card: DirectX 9 or later with WDDM 1.0 driver
Display: 800 x 600
Windows 11
Processor: 1 gigahertz (GHz) or faster with 2 or more cores on a compatible 64-bit processor or System on a Chip (SoC).
RAM: 4 gigabyte (GB).
Storage: 64 GB or larger storage device Note: See below under "More information on storage space to keep Windows 11 up-to-date" for more details.
System firmware: UEFI, Secure Boot capable. Check here for information on how your PC might be able to meet this requirement.
TPM: Trusted Platform Module (TPM) version 2.0. Check here for instructions on how your PC might be enabled to meet this requirement.
Graphics card: Compatible with DirectX 12 or later with WDDM 2.0 driver.
Display: High definition (720p) display that is greater than 9" diagonally, 8 bits per color channel.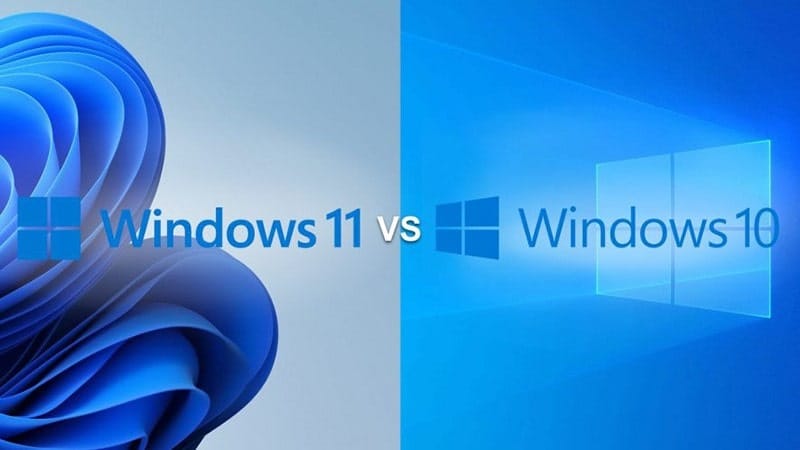 Fluency: According to the test of 3dmark running points, it can be seen that Windows 11 is smoother than Windows 10 in single-threaded, multi-threaded, rendering and 3DMark running. The performance is superior, but if the computer hardware performance is average, it will not make any significant difference.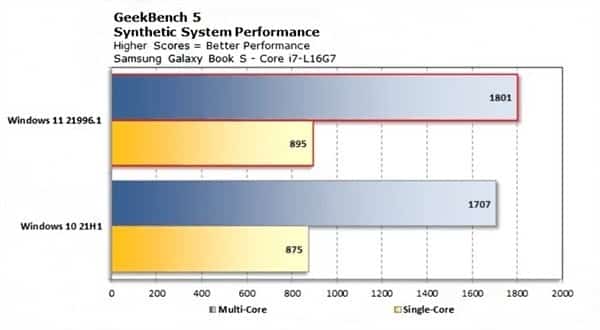 Game: Windows 11 consumes a lot of computer performance when running 3a masterpieces. For some computers with insufficient performance, the number of game frames is reduced. But with the current version number update, this problem has been gradually resolved. Overall, the number of game frames has been improved, but more depends on the hardware performance of the friends. Not much difference overall.
Operate: In fact, the biggest problem for most users is their operating habits. Compared with Windows 10, Windows 11 has many differences in interface and function settings, which makes many friends not used to it.
Performance: It's been six years since Microsoft officially released the first version of Windows 10, and hardware and software manufacturers have had a long time to optimize their products. The performance of Windows 10 has also gradually stabilized over time, and currently, Windows 10 is the most stable operating system version. The manufacturer's system driver software itself has also improved and fixed most of the small errors, so the graphics card, hard drive, screen, and sound on Windows 10 are all extremely smooth and close to perfect.
Windows 11 has been plagued by software and hardware compatibility issues since its release. Numerous reports have revealed that the Windows 11 operating system has issues with AMD Ryzen CPUs and a bug that slows down SSDs, causing drastic performance drops on Windows 11 laptops. For computers with weaker configurations, especially for study and office use, Windows 11 may cause performance degradation.
To sum up, although Windows 11 has been improved compared to Windows 10, the overall stability is not enough, so users with insufficient computer configuration can not consider upgrading to Windows 11 first, but can continue to use Windows 10, Windows 11 will continue to Ground repairs and improvements, so it will become more and more stable in the future. You can upgrade from Windows 10 to Windows 11 for free, but where can you buy genuine Windows 10 for cheap?
How to Get Genuine Windows 10 at Lowest Price?
Many users may download Windows operating systems from other websites to try them out, which may put your computer at risk. Because these downloads often contain malware that steals data such as your personal information and transaction passwords. Therefore, getting a safe, genuine Windows operating system is your first choice.
Don't worry, Keysfan has you covered. Keysfan knows the "history" of every license it sells, so end users can use them without any problems. You can get Windows 10 for a very low price! Not only can you buy Windows 10 at a low price, but Keysfan is rich in software resources. Windows 11, MS Office series and common computer software such as Ashampoo PDF Pro can fully meet your daily office needs! Finally, the licenses you buy from Keysfan are not subject to subscription restrictions, so Keysfan licenses are "lifetime" and you have unlimited access: the operating system will be updated and supported throughout its lifetime. If you have any questions, please feel free to contact the Keysfan customer service team, 24/7 technical support, and Keysfan provides lifetime after-sales service (contact email: Support@Keysfan.com).
Also read: