After 10 years of product support for Windows 7 when it was released on October 22, 2009. Finally, Microsoft decided discontinued Windows 7 support on January 14, 2020. That means Devices running windows 7 no longer receive software patches, security updates, and technical assistance from Microsoft. Well If you continue to use Windows 7 after support has ended, your PC will still work, but it will become more vulnerable to security risks and viruses because you will no longer receive software updates, including security updates from Microsoft.
What Microsoft says
The company made official announcements previously in 2019 will 'no longer provide security updates or support' for Windows 7 PCs" And recommend Windows 7 users migrate to the latest Windows 10.
Microsoft regularly pushes security updates to its latest Windows 10 OS to make sure that everything is functioning as it should. These updates are critical and one of the primary reasons why everyone should stop using pirated copies of any OS or app.
Those updates include new features, critical bugs, vulnerabilities, patches backdoors that were recently discovered, protect you from all kinds of viruses, trojans, ransomware, and other threats that you don't even know exist on the web. And that's why we always recommend using genuine products that update regularly.
Get an original Windows 10 Pro license cheaply
We all know The Windows operating system license is quite expensive. The price is in thousands of crowns and if you did not get the system together with your computer, you will have another investment. But did you know You can have a Windows 10 pro license at a normal price through g2deal.com? Yes, you can buy Windows 10 Pro today with a special discount code TRICK20 for just 13.8 USD.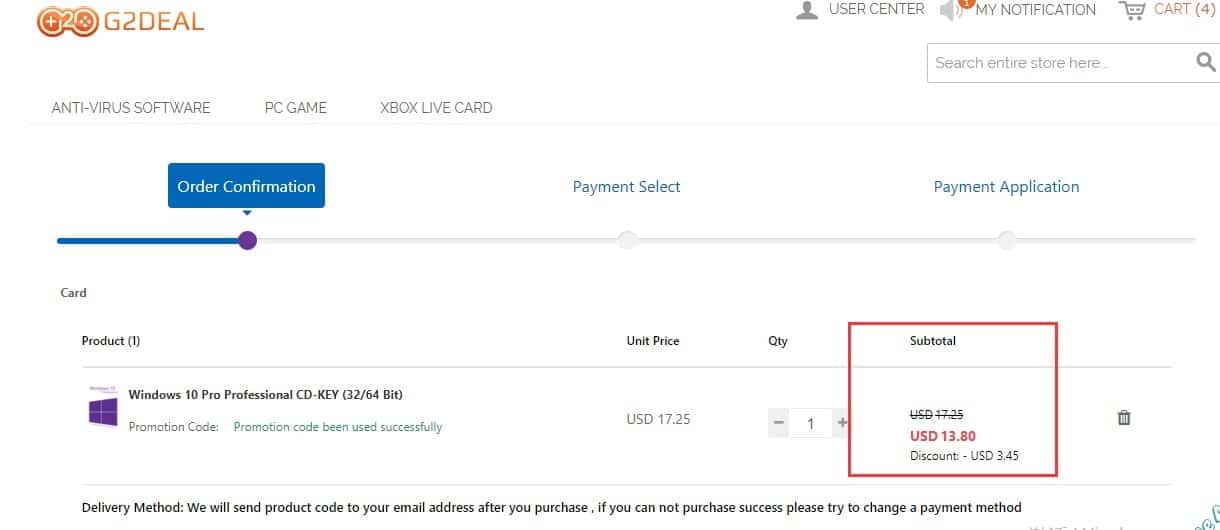 g2deal.com offers cheap software and games licenses. Most popular items include Windows operating system licenses, Office, and popular games. Currently, there are many attractive offers on the page you can check their official page here.
The current version of the Windows 10 Pro operating system will normally cost approximately $ 115.59. But When you buy a Windows 10 Pro OEM CD Key from g2deal.com use the special discount code  TRICK20 to get it for about 13 USD
Upgrade Windows 10
Microsoft wants you to upgrade to Windows 10, but the upgrade offer is not free anymore. You will have to buy a license (more on that later) to upgrade. You can still upgrade using the Windows 10 Media Creation tool and use Windows 10 without an active license But still, some functions need activation to unlock.
Also, you can download the latest Windows 10 ISO from the official site, and use it to upgrade or clean install any PC with the same ISO file, you just have to download it once.  You can also use the ISO file to create a bootable drive and do a clean install.
Upgrade to Windows 10 with the ISO file
Open the ISO file by double-clicking on it.
Double click setup.
Get important updates: Select Download and install updates and click Next.
You can also skip this by selecting Not right now and get the Cumulative Update later in step 10 below.
Checking your PC. This will take some time.
If it asks for Product Key in this step, that means your current Windows is not activated.
Applicable notices and license terms: Click Accept.
Making sure you're ready to install: This might take a bit longer. Just be patient and wait.
Choose what to keep: Select Keep personal files and apps and click Next. If it is already selected by default, just click Next.
Ready to install: Click Install.
Installing Windows 10. Your PC will restart several times. This might take a while.
After Windows 10 is installed, open Settings > Update & Security > Windows Update and click on Check for updates.
Install all the updates. This includes updates for Windows 10 and drivers.
How do I activate my license?
First, install Windows 10 Pro on your computer as usual and enter the key you purchased. If you have already installed Windows, open Control Panel> System and Security> System. Find the "Change Product Key" button in the window. After entering, the license is verified and everything is done.
Note promotional content: please contact https://www.g2deal.com/customer-service/ for any queries regarding license purchase and Windows 10 activation.
Also read: