Here how to fix if Windows Driver Frameworks uses too much CPU, slowing down Windows computer or draining windows 10 laptop battery insanely fast
Windows Driver Foundation (WUDFHost.exe) formally known as Windows Driver Framework is a set of Microsoft libraries and tools that help reduce the complexity of writing Windows drivers. It pushes the driver to user mode and it's important to system stability. But several users report, CPU usage reaches 99%-100% on task manager, "Windows Driver Foundation" sitting on top of the list. Well for you Windows Driver Foundation might be present with a different name in Task Manager such as wudfhost.exe or User-mode Driver Framework (UMDF).
If Windows Driver Foundation occupies a major part of the CPU, drains the laptop battery or causes windows 10 freezing sometimes, Here how to fix the windows driver foundation or WUDFHost.exe High CPU Usage problem on windows 10.
WUDFHost.exe High CPU Usage
Let's first disconnect unnecessary peripherals like USB devices or external HDD and check the status of the problem.
Start Windows 10 clean boot state that helps determine if third-party service causing WUDFHost.exe High CPU Usage problem.
Update windows 10
Microsoft regularly releases windows updates with security improvements and bug fixes. Installing the latest windows updates fix previous problems as well. that's why make sure your computer has the latest windows updates installed and it's up to date.
Press Windows key + I to open settings,
Click Update & Security, then check for updates
This will check for and download, install latest windows updates from Microsoft server,
Once done reboot your PC to apply them and check the status of wudfhost. exe windows driver foundation high cpu usage problem.
Run System Maintenance troubleshooter
Run the System Maintenance troubleshooter that diagnose and automatically fix Windows Driver Foundation using high CPU issue on your computer.
The easiest way to run System Maintenance troubleshooter is Press Windows key + R, type msdt.exe -id MaintenanceDiagnostic and click ok and follow on-screen instructions.
Also, you can run the System Maintenance troubleshooter from build-in troubleshooter list following below.
Open control panel, Set Control Panel view by Large icons and click Troubleshooting.
On the left-hand side, click the View all link, scroll down and locate System Maintenance.
Run the troubleshooter and follow the on-screen instructions to finish the process.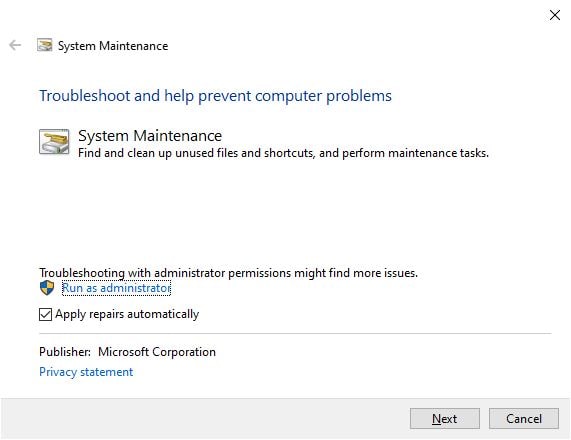 Run System File Checker Tool
When your computer's system files corrupted or missing you might experience Windows 10 High CPU usage problem or wudfhost.exe 100 CPU usage. Run the build-in system file checker utility that diagnoses and restore missing corrupted system files with the correct ones.
Open the command prompt as administrator,
First, run DISM restore health command DISM /Online /Cleanup-Image /RestoreHealth that help check windows 10 image status,
Then run command sfc /scannow this will scan for corrupted system files, if found any restore them with the correct one.
Once the scanning process completes 100% reboot your PC and check the status of this problem.
Disable Windows Driver Foundation service
Press Windows key and R together type services.msc and clcik ok,
This will open the windows service console,
Scroll down and locate Windows Driver Foundation – User-mode Driver Framework, Right-click on it and choose Properties
Here change the startup type into Disabled or Manual and click stop the service next to service status.
Click apply and ok, now check the status of the problem windows driver foundation high cpu usage.
Reinstall network adapter driver
Old outdated or corrupted drivers also cause windows 10 High CPU usage problem. According to several users uninstalling the network adapter driver and re-installing it help them resolve, windows driver foundation high cpu usage problem on windows 10.
Note: applicable for both Wireless or ethernet network adapter driver.
Press Windows key + R, type ncpa.cpl and click ok,
This will open the network connections window, here locate your active network adapter and note down its driver name (For me its  Realtek PCIe GbE family controller)

Now Press Windows key + X and select device manager,
This will display all installed device driver list,
locate and expand the "Network adapters" section
Right-click on the problematic adapter and then click on the "Uninstall device"
Click uninstall again when ask for confirmation and reboot your PC.
After your computer boots up, the network driver will be re-installed. If can't see the driver installed on your computer even after restarting your system then:
Open device manager using devmgmt.msc
click on "Action" then "Scan for hardware changes".
or visit the device manufacturer site to download and install the latest driver for the network adapter.
Create New user account
In addition, there is chances user profile corrupted and that causing 100 CPU usage on windows 10. Create a new user account, login with newly created user account and check the status of 100 CPU usage on windows 10.
Also read: