Windows Hello is a biometrics-based technology that allows users an alternate way to securely log into devices and applications using a fingerprint, iris scan, or facial recognition. Unfortunately, some users experiencing Windows Hello not working or Windows Hello Face Recognition stopped working after Windows 10 update. There are several causes that make Windows Hello stop working on Windows 10. Hardware issues, system corruption, software conflicts, improper settings, or faulty, outdated, or incompatible drivers are some common. Here in this post, we have working solutions apply to fix Windows Hello not working on Windows 10.
How to turn on Hello in Windows 10
In order to get the facial recognition system (Windows Hello) to work on your device, you have to complete the following steps:
Press Windows key + I to open settings, Go to accounts then sign-in options,
Under Ways to sign in, you'll see three choices to sign in with Windows Hello:
Select Facial Recognition (Windows Hello) to set up facial recognition sign-in with your PC's infrared camera or an external infrared camera.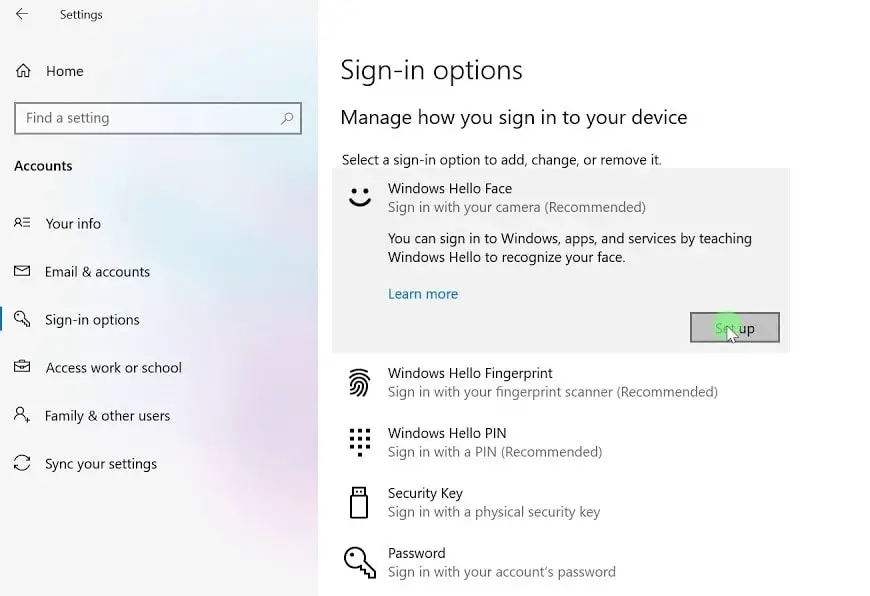 Windows Hello not working
If this is the first time you have noticed Windows Hello Face Recognition not working then we recommend restart your computer and check the status.
You might be required to use an administrator account to be able to perform all of the steps described below.
Install the latest windows update
Several users report, after installing the latest Windows update all existing windows hello errors disappeared. In addition, install the latest Windows update you will get security improvements and optimization.
Open the Settings app via the Start menu or the Windows + I key combination.
Go to Update and Security, On the Windows Update tab, click Check for updates.
If new updates are available, click Download and Install, Once done reboot your PC
Once your system successfully installs the latest Windows 10 update, you can use Windows Hello as intended.
Reset the Facial Recognition and Fingerprint Options
If you have already configured Windows Hello on your device but it stops working after update or for odd reason, then resetting the facial recognition and fingerprint options probably fix the problem.
Press the Windows key + I to open the Settings app.
Go to Accounts then Sign-in options,
Here select Windows Hello Face/Windows Hello Fingerprint in the right pane, and click the Remove button.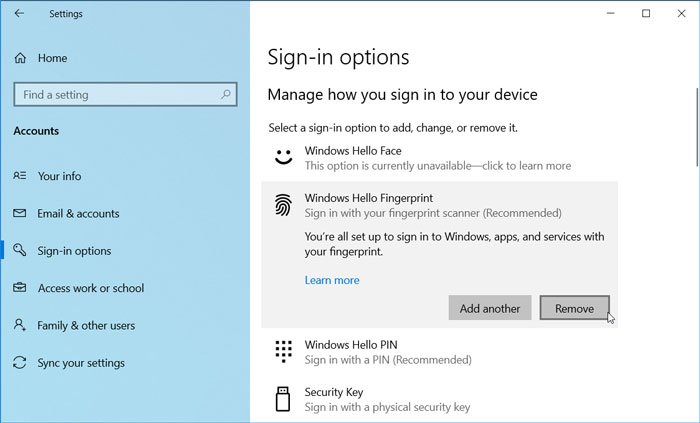 Next, click Get Started and follow the on-screen instructions to complete the resetting process.
Once it's done, restart your computer and check if Windows Hello not working issue has been resolved.
Set Up Trusted Platform Module
Trusted Platform Module (TPM) is designed to provide hardware-based security-related functions. TPM plays an important role on Windows Hello and if it's turned off because of an update, Windows reset, or some operations you've made this will result windows hello not working. In such case, we recommend check TPM on your device and make sure it has been set up.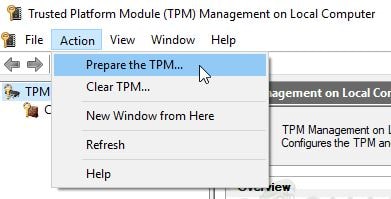 Press Windows key + R, type tpm.msc and click ok
This will open the Trusted Platform Module (TPM) Management on the Local Computer tool.
Click Action and choose the Prepare the TPM option from the drop-down menu. Follow the on-screen instructions to complete the startup process
Then, you need to restart your computer to check if you can use Windows Hello without problems.
Tweak Windows Registry
Sometimes you may experience windows hello face recognition not working because the procedure behind PIN login for a domain user was reset during the process. And the PIN logon needs to be re-enabled on Windows 10 to use Windows Hello. You can achieve that by modifying the Windows registry.
Press Windows key + R, type regedit and click ok to open the registry editor,
Navigate to Computer\HKEY_LOCAL_MACHINE\SOFTWARE\Policies\Microsoft\Windows\System
Here In the right panel, locate and double click on AllowDomainPINLogon and set the value data 1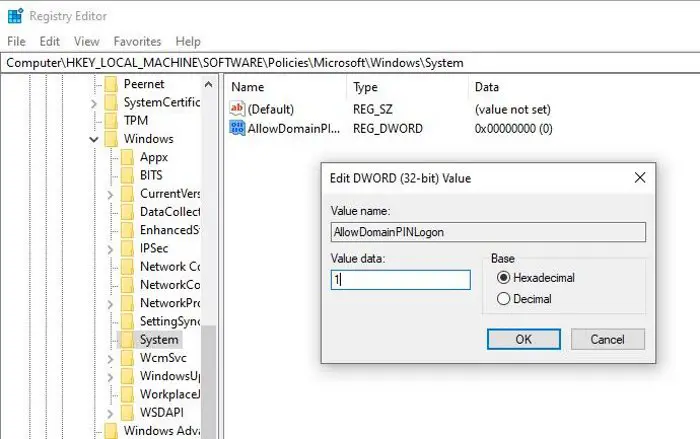 Note: If there's no such an entry, just right-click the blank space, choose New > DWORD (32-bit) Value, and name the newly created entry as AllowDomainPINLogon.
Once it's done, reboot your Windows device and check if Windows Hello not working has been fixed.
Update the Related Drivers
The proper function of Windows Hello relies on imaging devices and biometric devices like fingerprint sensors and iris scanners. And if required drivers for these devices are outdated or run into certain problems this will result Windows Hello not working. Therefore you need to update the corresponding drivers
Press the Windows key + X select device manager,
Expand the "Imaging Devices" and "Biometric Devices" sections by clicking on the arrow icon next to them.
Right-click on these drivers individually and select Remove the driver software, and wait for the removal to be finished.
Once done close everything and reboot your computer,
Again open Device Manager, and click Action -> Scan for hardware changes.
The system should automatically detect and reinstall the drivers.
Enable Biometrics in Group Policy Editor
There are chances, the Biometric feature is disabled on your computer that causing Windows Hello not working after update. In order to fix the problem open the Group Policy editor and enable the feature. Note: group policy editor is only available on Windows 10 pro and enterprise editions.
 Press Windows key + R, type gpedit.msc and pres ok to open Local group policy Editor,
Navigate to Administrative Templates > Windows Components > Biometrics and double-click Allow the use of biometrics in the right pane.
In the new window, choose Enabled and click Apply and OK.
After that, close the tool and restart your computer. Now, your Windows Hello should be able to work properly again.
Also read: