Microsoft announced Windows 10 annual feature update version 22H2 available for all eligible devices. This is a minor release that arrives from of enablement package It's similar to a cumulative update and the user must trigger the download and install button under the windows update setting to get the windows10 2022 update installed. overall it's similar to regular windows updates that download and install quickly and apply when you reboot your PC. But few users report Windows 11 22H2 update not installing due to error or its stuck download hours.
Here is What to Do When Windows 10 2022 Update (22H2) Keeps Failing or stuck download hours.
Windows 10 2022 Update Failed
There are multiple reasons why the Windows 10 2022 Update Failed, lack of storage space, problems with internet connectivity, windows file system corruption or security software are common. Again Windows Update database corruption can occur and prevent you from installing windows 10 22H2 updates.
Microsoft's Windows Update Troubleshooter is great for diagnosing such issues. Again you need to free up some disk space and fix the internet problem to download the windows 10 22H2 enablement package from the Microsoft server. It is also imperative to check your system for possible malware that can cause this issue
Ensure Your Internet Connection Is Not The Problem
You need a stable working internet connection to download windows 10 2022 update | version 22H2 files from the Microsoft server.mAnd if there is a problem with internet connectivity the update download may get stuck or fail with different errors.
First, check and make sure you have working internet, you can check your internet speed here at fast.com or speedtest.net.
In addition press the Windows key + R, type ping google.com -t and click ok to check continuously getting ping replay from the google server.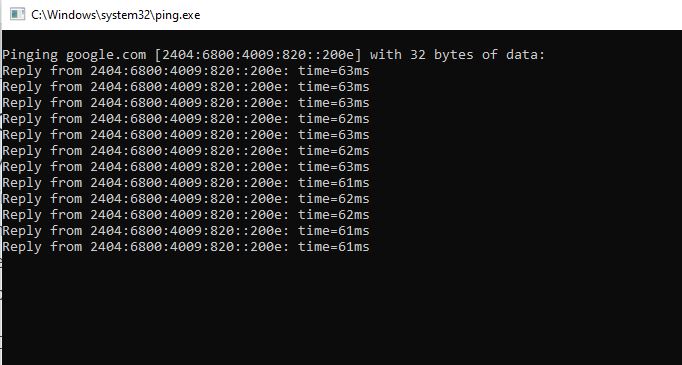 If your internet displays very poor download speeds or you frequently lose your connection, this is probably why the windows 10 2022 update can't be downloaded and installed on your device.
In such cause you need to troubleshoot your internet connection or connect ISP (Internet Service Provider) for help with the issue
Make Storage Space For The Updates
Windows 10 2022 update may be failing or stuck download because of insufficient storage space on your system disk drive (Usually its C). This is a very common reason, why Windows updates stuck downloading or failing.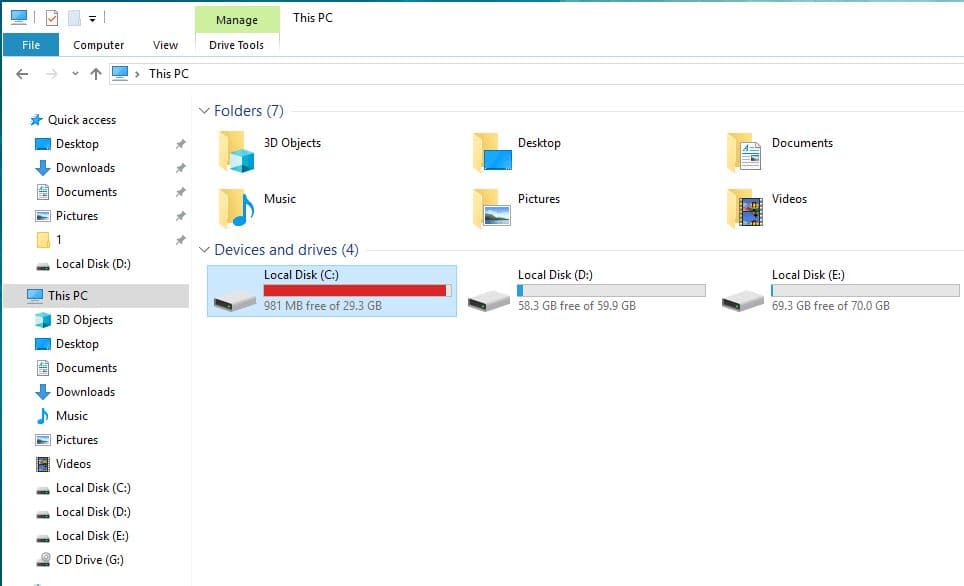 In such cause you need to free up some disk space by moving apps, images, and games to your other disk.
Uninstalling apps or game you don't need from your main partition also free up some valuable space on your PC.
In addition, move some important files from the desktop and download folder to an external HDD or permanently delete unused files or folders.
Again Running disk clean-up also helps clear temp files and free up some valuable space for you. Read how to automatically delete temp files using storage sense.
Check for device or driver conflict
Most of the time, rebooting your computer and rerunning the update will fix your problem. In addition, Unplug your peripherals to check if hardware or driver conflict causing the issue. Let's disconnect all external devices such as printer, scanner, USB flash or external HDD, exclude keyboard and mouse and try to install the windows 10 22H2 update now.
Some third-party antivirus may block downloading windows 10 2022 updates or make changes to your system. Let's temporarily disable or uninstall third-party security software, and most importantly disconnect VPN (if configured on your device)
Perform a clean boot and check for updates, Which may fix the problem if any third-party application or service causes the windows update stuck.
Check windows update service running
Also Check Windows update service and its related services are in running state.
Open windows services using services.msc
Scroll down and locate, windows update service,
Check and start these services (if not running).
Correct time and region settings
Also, incorrect regional settings cause Windows update Failure. Make sure your Regional and language settings are correct.
You Can Check And Correct them From Settings -> Time & Language -> Select Region & Language from options on left. Here Verify your Country/Region is correct from the drop-down list.
Use the Windows 10 troubleshooting tool
Run the build in windows update troubleshooter that automatically detect potencial issues and try to fix them for you.
Press the Windows key + X and select Settings from the context menu
Go to Update & security then troubleshoot, and click on additional troubleshooter link,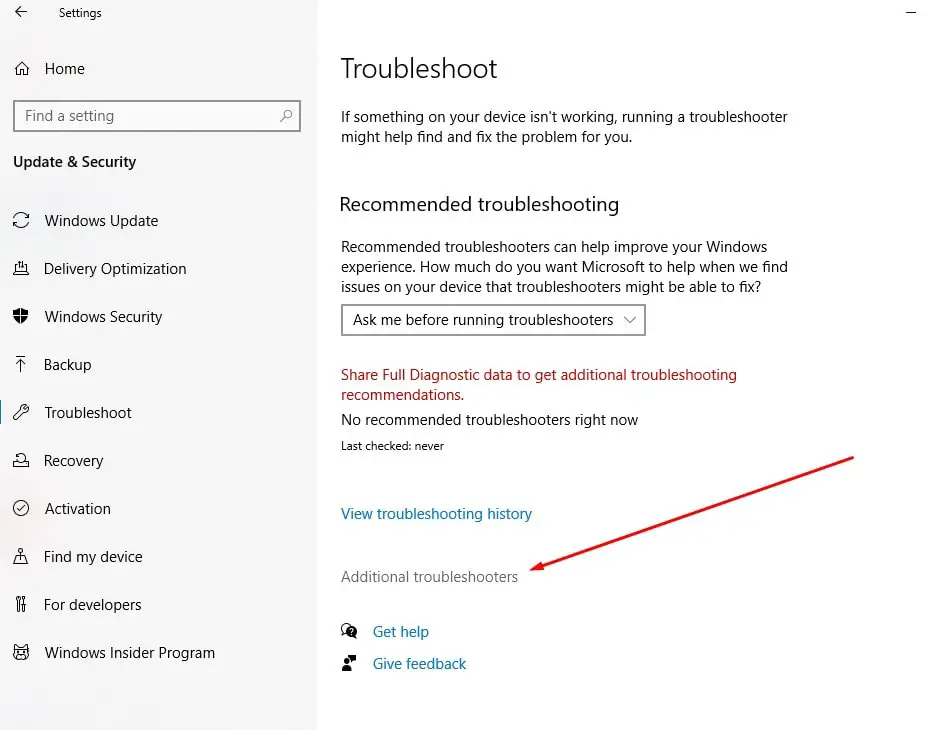 This will display all available troubleshooter list, locate windows update and click on Run The Troubleshooter.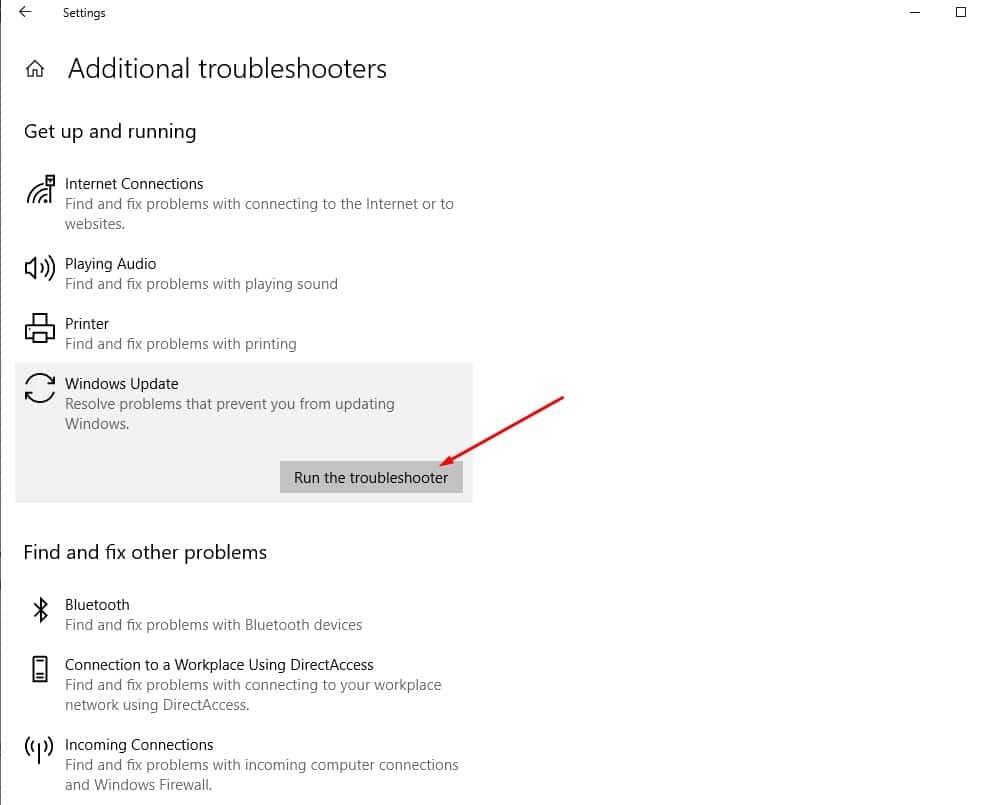 The process will automatically scan for and detect problems within your system, which can take a few minutes to complete.
Once done restart your PC and check again for updates, I hope this time windows 10 feature update download and install successfully.
Manually delete your Windows Update files
If running the windows update troubleshooter didn't fix the problem. Simply try to reset the windows update components that fix most of the windows update download and installation problems.
Press the Windows key + R, type services.msc and click ok to open the window services console.
Here scroll down  to loate windows update service, right click on it select stop, and Do the same for Background Intelligent Transfer Service.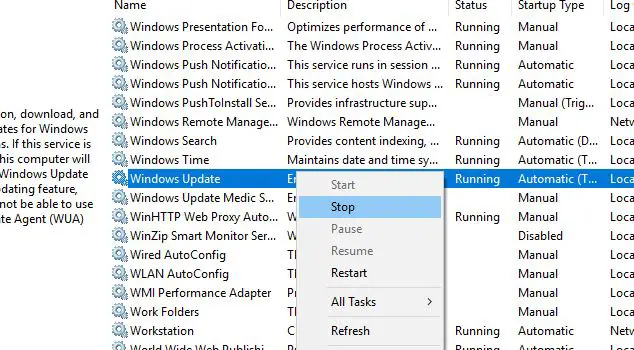 Now Open File Explorer using windows key + E, and Navigate to C:\Windows\SoftwareDistribution\download.
Here Delete all the files inside the folder, to do so press windows key + A to select all and hit Del key.
For better result: Start windows 10 in safe mode and delete all files or folders inside download folder.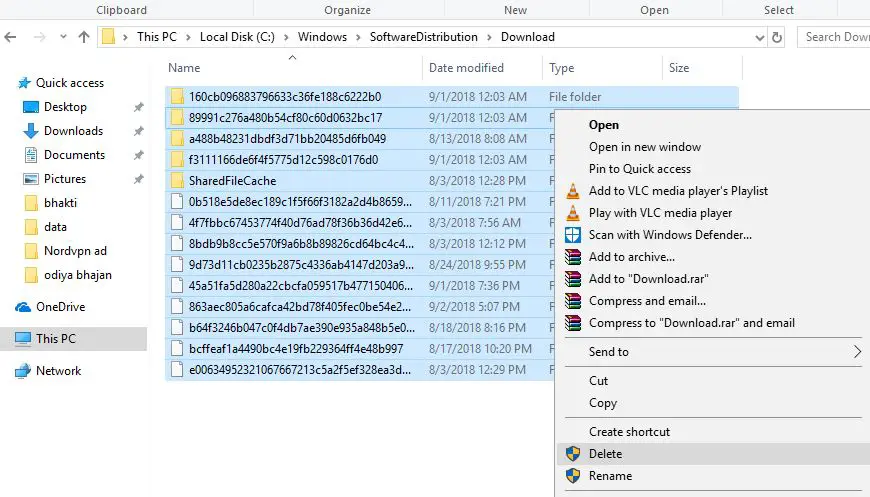 Once done you need to reboot your PC, and try check for updates again or install windows 2022 update again.
Use the System File Checker
There may likely be a problem with your Windows 10 installation or probem with systme file that prevent apply windows  upates. Run the System File Checker to check for, missing corrupted system files and hopefully repair, any issues.
Press windows key + S and type cmd, right click on command prompt select run as administrator,
First run DISM command dism /online /cleanup-image /restorehealth
DISM performs the task of replacing any corrupt or absent system files with proper ones.
Next run commnd sfc /scannow that helps you to get rid of system files that are corrupted
After it has finished, you can reboot your computer and attempt to update it.
Change your DNS address
Sometimes the default DNS might present specific issues such as the server not responding or others that prevent you from downloading Windows Update. Lets switch to google DNS following steps below and try windows 10 2022 update install again.
Press windows key + R, type ncpa.cpl and click ok to open network connections windows,
Right clck on you active network adapter, select properties,
Double click on Internet Protocol Version 4 (TCP/IPv4) to open properties,
Select Use the following DNS server addresses and enter 8.8.8.8 as a Preferred DNS server and 8.8.4.4 as Alternate DNS server. Click OK to save changes.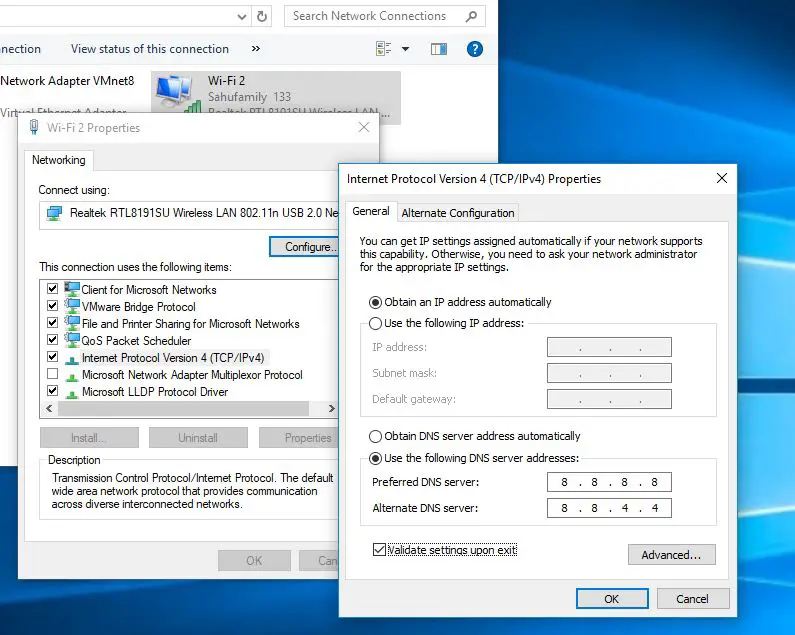 If all the above methods failed to fix the issue, and Windows 10 22H2 Update failed to install, stuck downloading the update, Then use the official media creation tool or Upgrade Assistant to upgrade to windows 10 2022 update Version 22H2 smoothly.
Or You Can Download Windows 10 ISO File to manually upgrade or Perform a Clean install of windows 10.