Feature update to Windows 10 version 20H2 download is stuck at a certain percentage such as 0% or 33%. It can be due to a simple overloaded physical memory. sometimes it's because of software conflict or a preexisting problem that wasn't visible until the Windows Updates initiated. Or may the update database get corrupted, which may be causing Windows Update stuck. Here some solutions you may apply to fix when Windows 10 October 2020 Update stuck at downloading.
Windows 10 version 20H2 stuck at downloading
Microsoft has started the Rollout process of Windows 10 version 20H2 to the general public with a number of new features and security improvements. and it can be Automatically available to Everyone via windows update. Windows 10 users can check to see if the new version is available for download by visiting the Windows Update section of the Settings app and clicking the "Check for updates" button. But sometimes you might experience feature update to Windows 10 version 20H2 download is stuck at a certain percentage. Users report even if they leave it for an hour or two, it may still show a constant figure such as 0% or 33% in some cases.
If the upgrade Process Stuck While Downloading or installing updates. Then First make sure you have enough disk space to download the updates (minimum 32 GB Free Disk Space ). Have a Good Stable Internet connection To Download the Update files from Microsoft Server.
Also Check Windows update service and its related services (BITS, Superfetch) are on running state.
Open windows services using services.msc
Scroll down and locate, windows update service,
Check and start these services (if not running).
Check Any Security Software not causing the issue, Or Completely uninstall the antivirus program or any other security program from your system. Again disconnect VPN if configured on your PC.
Also, incorrect regional settings cause Windows update Failure. Make sure your Regional and language settings are correct. You Can Check And Correct them From Settings -> Time & Language -> Select Region & Language from options on left. Here Verify your Country/Region is correct from the drop-down list.
Perform a clean boot and check for updates, Which may fix the problem if any third-party application, service causing the windows update stuck.
Run Windows Update troubleshooter
Microsoft Released Official update troubleshooting tool, Which helps to check and fix Windows update Related problems itself. Also, You can run build windows update Troubleshooter following steps below that help, detect and fix problems prevent windows update download and install.
Press Windows key + I to open the Settings app,
Go to Update & security then troubleshoot,
Then select windows update and Run The Troubleshooter and follow on-screen instructions.
The troubleshooter will run and attempt to identify if any problems exist which prevent your computer from downloading and installing Windows Updates or feature update windows 10 version 20H2.
Once done restart your PC and check again for updates, I hope this time windows 10 feature update download and install successfully.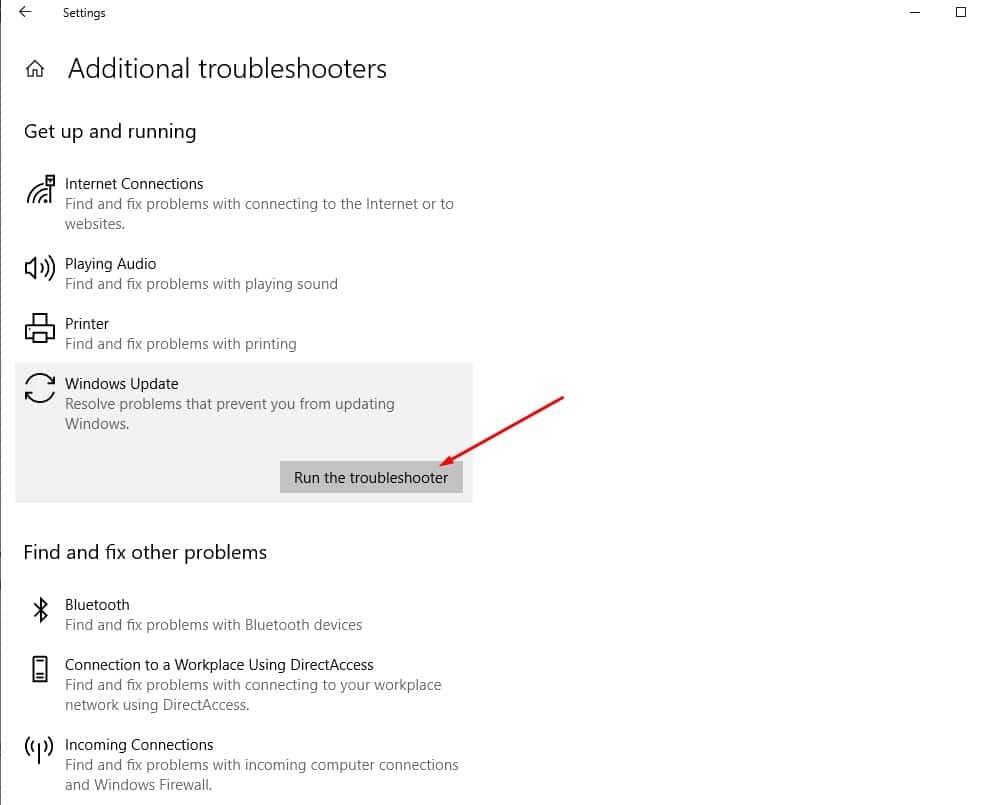 Reset windows update components
If running windows update troubleshooter didn't fix the problem. Simply try to reset the windows update components that fix most of the windows update download and installation problems.
Press Windows key + R, type services.msc and click ok to open window services console.
Here scroll down and stop following services (windows update, BITs).
Now Open File Explorer using windows key + E,
Navigate to C:\Windows\SoftwareDistribution.
Here Delete all the files in the folder, Or you can rename the folder as software distribution.bak (windows automatically create a new software distribution folder to store windows update files)
Again open windows services ( services.msc ) and restart the services (windows update, BITS, Superfetch )which you stopped previously. That's all Now close everything and check for updates from Settings -> update & security -> windows update -> check for update. I am sure this time you get succeed, Without any problem or update stuck.
Run DISM and SFC utility
Again sometimes corrupted system files cause windows 10 updates to stuck downloading. Run the system file checker which scans and restores missing corrupted system files. If found any the utility will restore them from a special folder located on %WinDir%\System32\dllcache. Wait until 100% complete the scanning process, Then After Restart windows and check for updates. If SFC Utility Scan Results found corrupted files but unable to fix then Run DISM Tool Which enables SFC Utility to Do its job.
If all the above methods failed to fix the issue, and Windows 10 Update 1803 failed to install, stuck downloading update, Then use the official media creation tool or Upgrade Assistant to upgrade to windows 10 October 2020 update Version 20H2 smoothly. Or You Can Download Windows 10 ISO File for manually upgrade or Perform Clean install windows 10 October 2020 update Version 20H2.