Getting Error Code 0xc000000e (Your PC needs to be repaired) while starting your windows PC. Sometimes after installing a new game or any third-party application or new hardware, you may experience Windows 10 fails to boot with Error code 0xc000000e Your PC/Device needs to be repaired. A few users report, After updating my computer with a new version of windows 10, getting error code 0xc0000225 Your PC/Device needs to be repaired. This error usually means, the boot configuration files has become corrupt and Windows does not know how to start. Agian if due to some reason file system itself may become corrupt or damaged, which will lead to "your PC needs to be repaired 0xc0000225" issue.
Windows 10 Boot Error Your PC/Device needs to be repaired
If you are getting such error while startup and windows 10 fails to start normally.
The first thing you need to Unplug all external devices including the secondary disk drive.
Next, unplug the power and remove the battery, press and hold the Power button down for 30 seconds, plug back in power cable and try starting again. Check if this helps to boot normally.
Note: As windows won't start normally to perform troubleshooting steps, we need boot Windows from installation media to access advanced options and perform startup repair and rebuild Boot configuration data. If you don't have check how to create Windows 10 installation media from here.
Perform the Automatic repair
When you are ready with Windows 10 installation media, or UBD put it to your PC. Now follow the steps below to access advanced options and perform startup repair that scans and fixes problems prevent windows to start normally.
Forcefully restart windows and wait for the manufacturer logo to check the option for boot menu, it will usually be F12.
Restart the computer, when the manufacturer's logo is displayed, keep pressing the Boot menu option key to enter the boot menu and change the boot option to CD\DVD ROM or removable disk (if you are bootable USB)
A black screen appears with the gray text "Press any key to boot from CD or DVD". Press any key.
Select the correct time and Keyboard type.
Click Repair your computer in the lower left corner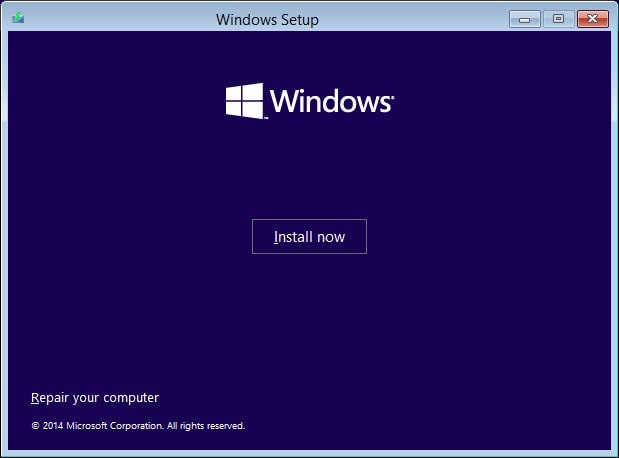 Click on Troubleshooting, advanced option and then click Automatic repair.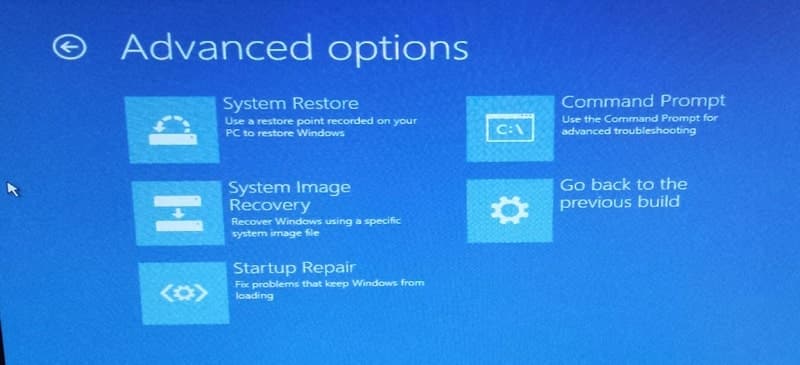 This will scan and detect problems prevent windows from starting normally.
During startup repair, this will diagnose your system corrupt files or botched configuration settings and try to fix them.
Wait until complete the scanning process, this will automatically restart windows and start computer normally.
Rebuild the Boot Configuration Data
If after startup repair still getting the same error then it's now time to look at the BCD (Boot Configuration Data). As discussed before the main reason behind this error 0xc000000e is the invalid or corrupted BCD (Boot Configuration Data) configuration. Let's follow the steps below to rebuild the Boot configuration file.
Again Access Advanced Startup options and select Command prompt.
If ask for password type the current user login password and click ok.
Windows restart and you will see a command prompt,
Here type the following commands one by one and press Enter after each
Bootrec /scanos
Bootrec /fixmbr
Bootrec /fixboot
Bootrec /rebuildbcd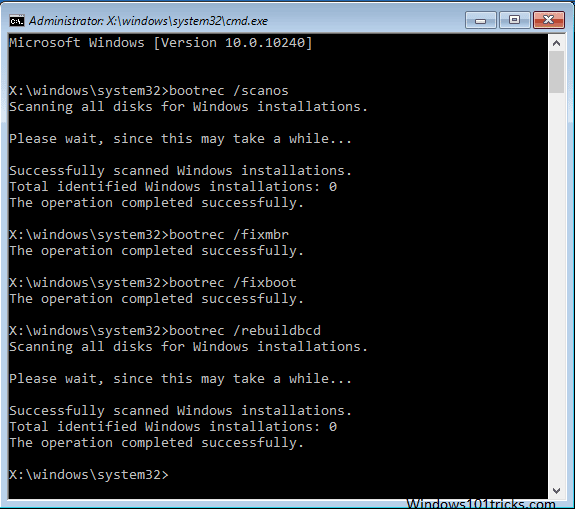 After that restart windows and check there is no more Boot Error 0xc000000e while starting Windows.
Boot Windows Into Safe mode
If the above solutions didn't fix the problem, then Start Windows in safe mode. This will start your PC with minimum system requirements, didn't load startup programs, add-ons etc. And allow performing troubleshooting steps to fix Boot Error 0xc000000e.
Again access Advanced options,
Click on Startup Settings then Restart.
you'll see a list of options. Select F4 to start your PC in Safe Mode.
Or if you'll need to use the Internet, select 5 or F5 for Safe Mode with Networking
When your PC starts in safe mode, perform the troubleshooting steps below.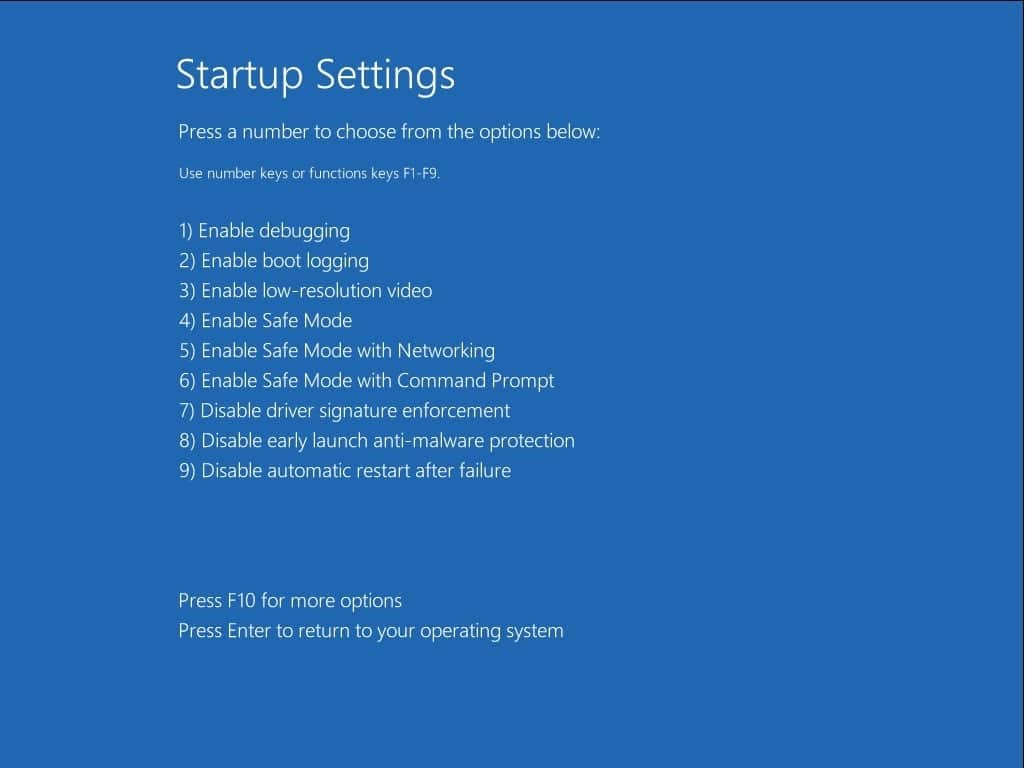 Repair Corrupted System Files
If windows system files are damaged or missing you may face boot failure Error 0xc000000e. Run the DISM command and System file checker utility that helps to detect and restore damaged files with correct ones.
Search for cmd on the start menu search, Right click on the command prompt and select run as administrator,
First Run the DISM RestoreHealth command: DISM /Online /Cleanup-Image /RestoreHealth
After that run the command sfc /scannow and press enter key.
Restart Windows after 100% complete the scanning process.
Check this time computer started normally without any error 0xc000000e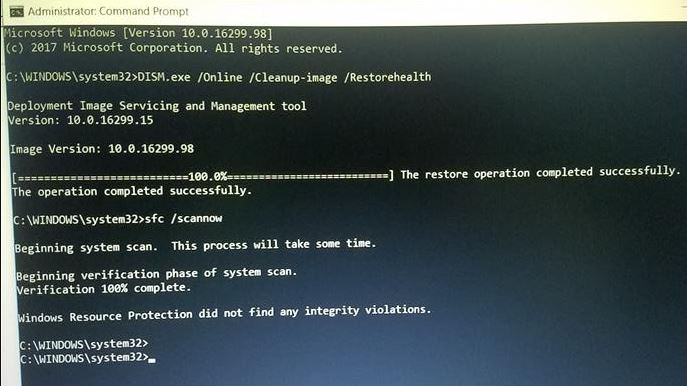 Disable Fast Startup feature
Also, Disable Windows 10 Fast startup feature and check if this may help to fix the problem.
Open Control Panel.
Search for and select Power Options.
Click on Choose what the power button does in the left menu.
Click on the Change settings that are currently unavailable link.
Under Shutdown settings, find Turn on fast startup (recommended) option.
Remove the tick near this entry and click Save changes.
Did these solutions help to fix Windows 10 Boot Error 0xc000000e Your PC needs to be repaired. Let us know in the comments below, Also read: