Did you notice windows 10 high memory usage, not responding, Freezes after install November 2021 Update? A number of Windows users report After Upgrade to Windows 10 21H2 update, System Not Responding, Freezes at startup. When checking On Task manager Huge Amount Of memory Usage by ntoskrnl.exe, Runtime Broker or other applications.
There are several reasons like low virtual memory, third-party software conflicts, Driver Incompatibility, Registry bug or virus threat on the computer etc cause 100% Memory usage on Windows 10. If you are also struggling form this problem, here 5 effective solutions to fix 100% memory usage on windows 10
Fix Memory leak Problem on Windows 10
First of all, perform a full system scan with the latest updated antivirus to check and make sure that your PC isn't affected by some malware.
Open Settings, Update & Security and check for updates to install if any Windows updates are pending there.
Disconnect any external devices if connected.
Perform Windows 10 clean boot, and check if the system running normally then there is any startup service causing High memory usage.
Open settings -> System -> Notifications & actions -> Look for Get tips, tricks, and suggestions as you use Windows, and Turn it off.
Adjust Windows for best performance
Right-click on the "Computer" icon and select "Properties."
Select "Advanced System settings."
Go to the "System properties."
Select "Settings"
Choose "Adjust for best performance" and "Apply."
Click "OK" and Restart your computer.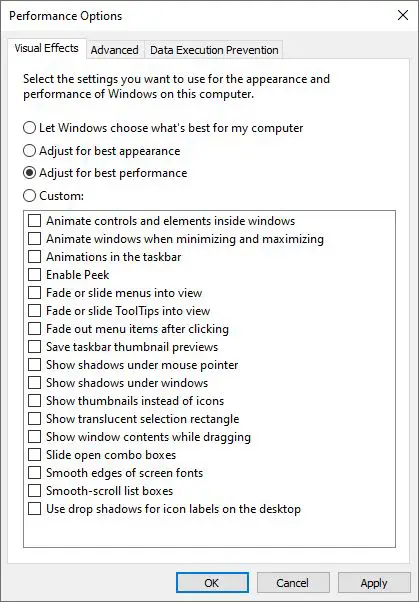 Disable Windows services
Press Windows + R, type services.msc and ok.
Scroll down and look for a service named sysadmin.
Double click on it to open the properties window.
Here change startup type disable and stop the service.
Do the same with Windows update service and BITs.
Now check There is no more high memory usage.
Registry Tweak To Fix Memory Leak issue
Press Windows + R, type regedit and ok to open the windows registry editor.
First Backup Registry Database then on left pane navigate to the following key
HKEY_LOCAL_MACHINE\SYSTEM\CurrentControlSet\Control\Session Manager\Memory Management.
Here on the middle pane double click on 'ClearPageFileAtShutDown' And change its value to 1 As shown below image.
Close Windows Registry Editor and Restart Windows To take Effect the changes.
Now next time login check there is no more memory leak, System running smoothly.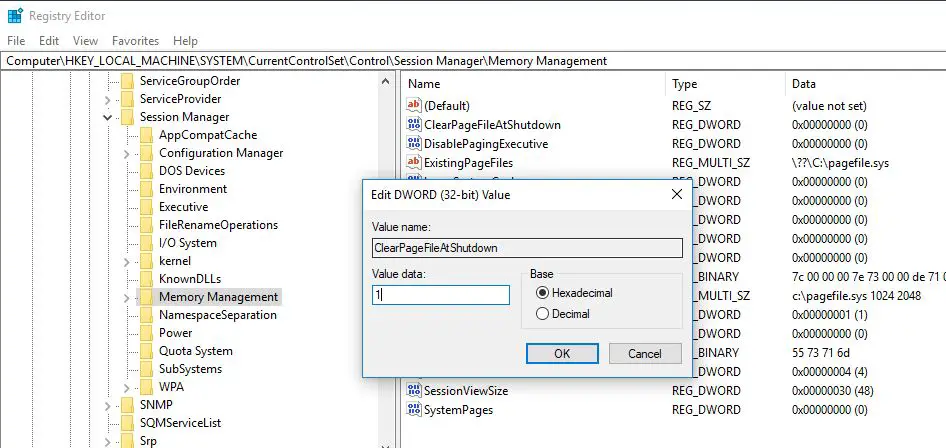 Remove recent applications
If you notice, High memory usage issue started After install a third party application or especially a Cracked game, pirated Software Then may the application is not compatible with the current windows version, or you installed a virus, malware with crack or pirated application. We recommend to uninstall the recently installed application From the control panel -> programs and Features -> Select the recently installed application and uninstall.
Check Corrupted System files
If while Windows 10 Upgrade Process any system file gets damaged or missing, This may also cause different Errors include 100% memory usage, High Disk or CPU usage problem on Windows computers. Windows have an SFC Utility ( system file checker Too ) which Helps to scan and restore missing, damaged system files. To run the System file checker tool
Open command prompt as administrator
Type sfc /scannow and hit the enter key to execute the command.
This will scan for missing corrupted system files
if found any SFC utility will restore them from a cache folder located on %WinDir%\System32\dllcache.
You only have to wait for 100% complete the scanning process
Then after restart windows and check found helpful?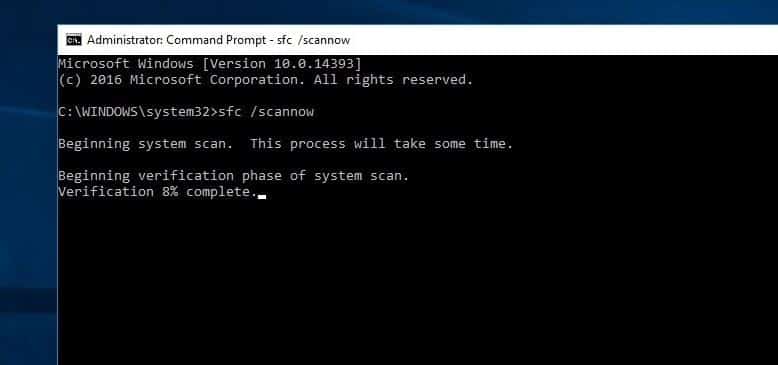 Check for driver updates
For several users, outdated or faulty drivers are the main reason behind this potential memory leak issue in Windows 10. While an outdated driver doesn't necessarily have to affect any program and therefore cause the memory leak, it itself can use more memory than it should. Although Microsoft has rolled out automatic driver updates for all known hardware installed on the PC, it may not be fully optimized for the best performance. The most basic drivers are sound, graphics, and network drivers, which are often the root cause of memory leaks as reported by several affected users, after upgrade to 21H1 update..
Press Windows + R, type devmgmt.msc and ok to open device manager,
This will display the All Installed Driver list,
here look for any device with a yellow tingle mark
if you find Simple right-click and select uninstall.
Restart Windows, again open Device manager windows will install the basic driver for that device
If not you can click action and search for new hardware.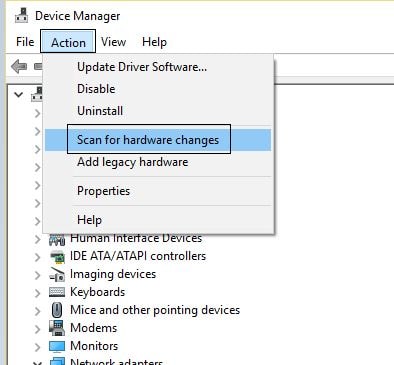 If you didn't find any yellow triangle mark driver then we recommend updating the driver, especially for the Display driver (Graphic Driver), Audio Driver and Network adapter driver. Then after Restart windows, Hope Next time windows work smoothly without any huge memory usage.
Did these solutions help to fix the High memory usage problem on windows 10? Let us know on comments below, Also read