Using a VPN (Virtual private network), hide Your IP address and encrypt online activity or data. We can say By extending your private network over your public internet connection, a VPN keeps your online data private, and devices secure, protects your data from hackers, and can unblock restricted websites as well.
Again if you are at public wifi, want to use torrents or looking to unblock US Netflix, using a trusted Virtual Private Network (VPN) provider is a good idea. Nobody can tell what you're looking at or downloading because your connection through the VPN is encrypted.
What even is a VPN?

VPN stands for 'virtual private network' and it acts like a private, encrypted tunnel between you and the internet

Benefits of using VPN

Protects your precious data from hackers while you're connected.
It conceals your physical location from snooping advertisers, governments, and all kinds of stalkers.
Unlock the geo-restriction in your country so you can access a wider range of content.
And it lends you some anonymity on the internet
How Does a VPN Work?
A virtual private network protects your connectivity and all data that passes through that connection in three layers:
Encryption. Before anything else, your VPN first encrypts your data (Which means it converts all the information into an unreadable code format that can't be unencrypted without a matching key). So even if an unauthorized person such as hackers manages to get ahold of your data, they still won't be able to understand it.
Tunneling Protocol. Your VPN then establishes a direct connection between your computer and a VPN server. This private "tunnel" secures your connection to the public internet.
Authentication. Only users with the right authentication keys can access the tunnel and the VPN server. This protocol also un-encrypts your data after it reaches its destination.
VPN encrypts all the data that users send or receive via an internet connection; It establishes a secure "tunnel" connection to a VPN server by using authentication keys. Once the connection is established, your computer then connects to the internet using that secure tunnel connection, and all your activities become private.
Types of VPN technologies
Different VPNs can use different encryption standards and technologies. Here's a quick list of some of the technologies that a VPN may use:
Point-to-Point Tunneling Protocol: PPTP has been around since the mid-1990s, and it's still frequently used. PPTP in and of itself doesn't do encryption. It tunnels data packets and then uses the GRE protocol for encapsulation. If you're considering a VPN service that uses PPTP, you should keep in mind that security experts such as Bruce Schneier have found the protocol, especially Microsoft's implementation of it, to be quite insecure.
IPSec: IPSec could be an excellent alternative to PPTP, is is a suite of different protocols and technologies. Packet encapsulation is done through the ESP protocol, and AES-GCM, AES-CBC, 3DES-CBC, or HMAC-SHA1/SHA2 may be used for encryption.
Layer 2 Tunneling Protocol: L2TP can be used for tunneling with IPSec for added security.
Secure Shell, otherwise known as SSH, can handle both the tunneling and encryption in a VPN network.
Qualifications for Best VPN Service
Keep an eye on the following points while Picking the best VPN for Windows 11.
Reliability ✅
A VPN is not good or reliable if it drops connection or if you can't connect to it. It mostly happens with a Free VPN service. On the more biggest issue with free VPN providers is they usually provide a limited number of servers or slower access and data transfer speed. And they reserve better systems for paying customers. Kind of a "try it out and upgrade later" system.
Security 🔒
People use a VPN provider to keep their browsing and download habits private. So the connection has to use current encryption algorithms to keep hackers and other undesirables out.
Speed 🚀
There's not much of a reason to connect to a VPN provider that makes you feel like you're using an old dial-up modem. A good VPN provider provides fast access, so you aren't spending all day waiting for something to happen.

Support OpenVPN protocol 
The OpenVPN protocol is open-source and audited. It's relatively fast and widely regarded as the most secure and trusted protocol available. It doesn't come built into Windows 11 like SSTP, L2TP, and PPTP, so these VPN providers must provide the user with an app that makes setting up OpenVPN easy.
DNS leak  protection
A DNS leak nullifies a user's anonymity by sending a web page request to their internet service provider instead of to a private DNS server through the VPN service. This allows your ISP and possibly Windows to track your web browsing.
Free VPN VS Paid VPN
Basically, we use a VPN for security, but using Free VPNs chances to compromises our privacy; a free May shows you ads or sell your data to third parties. With Free VPN, you may notice Connection drops, Data transfer limits, slower Speed, limited number of free servers or even Free VPN usually has no legal obligations to protect your identity and can be obliged to store logs.
At the same time, using a premium VPN provides more servers to achieve the best connection speeds for your needs. keeps a strict no-logs policy, protecting your personal data with military-grade encryption. There is no Data transfer limit or speed limit even they allow you to choose from thousands of servers worldwide.
Read A detailed article: Free VPN and Paid VPN, what is the real difference between them?
Which VPN should you get?
Well, it all depends on what you consider to be important. Do you value download speed or the strict "no data logs" policy? Or perhaps affordability is the top factor for you? Remember, most VPNs have free or trial versions, so you might as well try them out before you buy them.
Premium VPN for Windows 11
ExpressVPN – The best VPN for Windows PCs and laptops. This premium service offers mind-blowing privacy, great speeds & reliable support.
ExpressVPN Rank 1 premium VPN for Windows 11 devices, and it's very well known for its Speed. It provides lots of hind end features, including a kill switch, DNS leak protection, port selection, auto-connect, and obfuscated servers. Based on the British Virgin Islands, Express VPN is excellent for privacy because of its zero logs policy.
Read Express VPN review | Take express VPN 30 days free trial
NordVPN – One of the most secure Windows VPNs on our list. It keeps zero logs & is chocked full of privacy features for Windows.
Another trusted, easy to use, and reliable VPN for Windows 10. Based on Panama, NordVPN is well known for no logs VPN packed with features like a killswitch, OpenVPN encryption, DNS leak protection, double-hop encryption, split tunneling, VPN over Tor, and a whole host of advanced VPN features. This makes Nord VPN perfect for completely concealing your online habits from your ISP, the government, local network administrators, and wifi hotspot providers.
Read NordVPN review | NordVPN exclusive deal: Get NordVPN 65% Discounted price
Surfshark VPN – A super easy to use VPN for Windows we can say great choice for beginners thanks to clearly marked servers and an easy to navigate app.
If you are looking for a super easy to use and secured VPN for Windows 11, then Surfshark VPN could be an excellent choice for you. With 6,300+ servers around 100+ locations, the Romanian-based company is Excellent for unblocking and apply the best setting speed for streaming. It also offers 256-bit AES military-grade encryption on the OpenVPN protocol, zero-logs policy, DNS leak protection, and a kill switch. Speeds are excellent, and you can connect up to seven devices at the same time.
They very confident about their service and that's why they have a 45-day money-back guarantee. That means if you are not satisfied with their service, you can ask for your money back within 45 days.
Surfshark VPN is a fantastic VPN for every beginning VPN user, but is also suitable for the more experienced user who wants to have a wide array of possibilities at his or her disposal.
Surfshark VPN limited time offer 85% off + 2/mo free (30 day money back gurantee)
Free VPN for Windows 11
Hotspot Shield – One of the most popular free VPN for Windows 11 known for the fastest, most secure VPN.
With 2500 servers worldwide, Hotspot Shield is one of the most popular free VPNs for Windows 11 that includes both 128 and 256-bit AES encryption. Most of Free VPNs allow one connection at a time, while HotSpot Shield allows five different devices to connect through the same account.
The free VPN offer limited SD streaming, 500MB daily data limit with no browsing activity log, military-grade encryption, and more.
This is one of the best Windows 11 VPN clients for high speed connections, so if you want faster VPN for free then Hotspot Shield is a great option.
Read more about Hpspot Shield VPN and its features on its official site.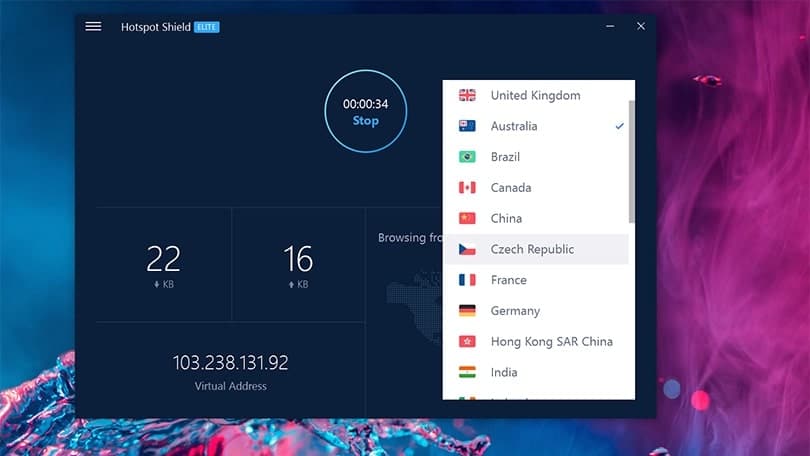 Atlas VPN
Atlas VPN is a commendable choice for a free VPN option on Windows 11. It ensures privacy by encrypting your internet connection, keeping your online activities secure on any network. With features like AES 256-bit encryption, a Kill Switch, and a commitment to no logging, Atlas VPN provides a reliable shield for your digital presence.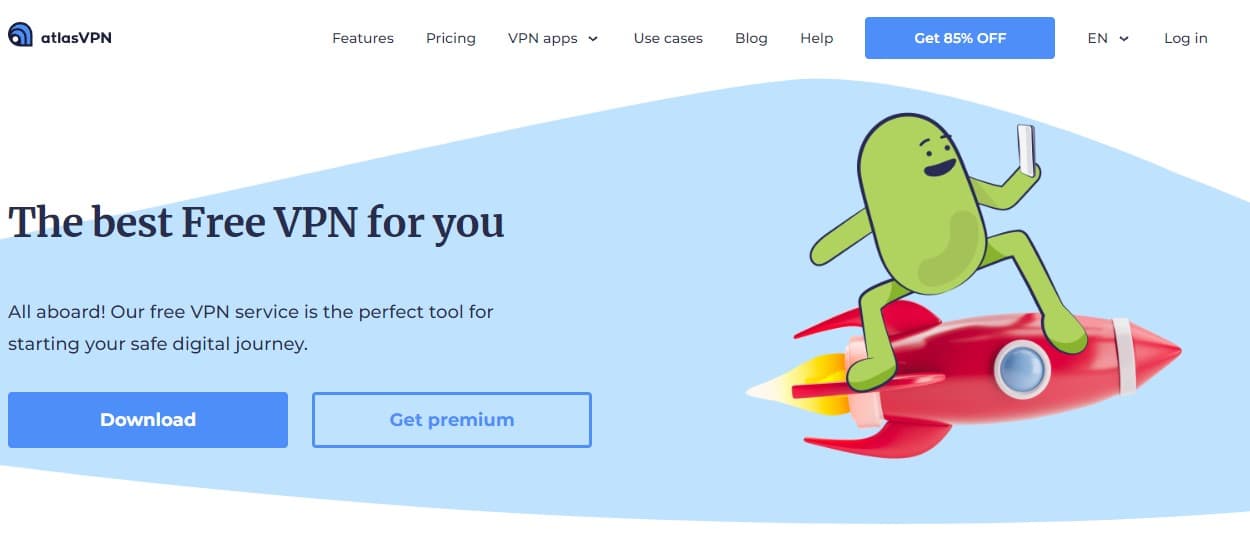 TunnelBear VPN
Another good free VPN option for Windows 11 is TunnelBear, which encrypts your internet connection to keep your online activity private on any network. It also features protections like AES 256-bit encryption, Kill Switch, Intuitive client, Decent speeds, and no logging. Get TunnelBear VPN for free on their official site here.
Hide me VPN
Hide me VPN is a standout choice for those seeking a secure and private online experience. With robust features like AES 256-bit encryption and a strict no-logs policy, it keeps your online activities confidential. The Kill Switch provides an extra layer of security, ensuring your connection remains protected. With hide.me, you can browse, stream, and work online with confidence, knowing your data is shielded from prying eyes.
Download Hide me Free vpn or upgrade Premium Plan $2.59 per month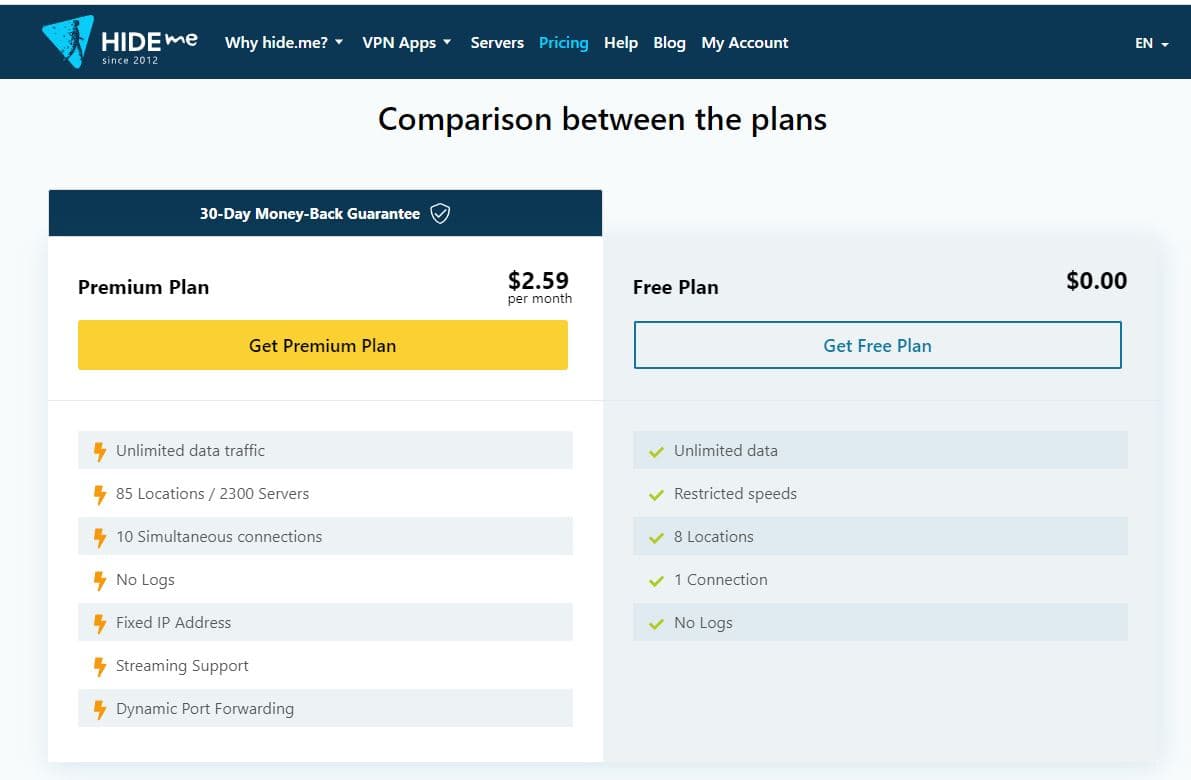 Windscribe VPN
Windscribe VPN, another free VPN for Windows 11, offers strong user privacy, Up to 10 GB of free data every month, a Built-in firewall & ad-blocker (called R.O.B.E.R.T.), and more. It doesn't store your browsing history, connection logs, or IP stamps, so you don't have to worry about your data being sold to the highest bidder. Get Windscribe VPN for free on their official site here.
Using a VPN online is legal?

VPN services are entirely legal and legitimate in most countries. It's completely legal to mask your IP address and encrypt your internet traffic.

How secure are VPN services?

The main reason we use VPN is online security, that data transfer inside a secure tunnel should be impossible for anybody else to intercept.

What is the difference between VPN and proxy?

VPNs protect all your traffic while proxies tend to be limited to specific types of data, such as peer to peer networking or web browsing. Read more details here

What about Free VPNs?

with free services you tend to get what you don't pay for in the form of advertising, lower priority connections, blocks on data-hungry apps such as peer to peer networking, session limits and in most cases, a lack of any guarantees about service availability or quality.

Is torrenting safe with a VPN?

If you're using torrenting sites to download music, videos and games with a premium VPN no problem, because VPN hides your IP address, you can browse the web anonymously and don't have to worry about third-parties following your every move online.
Also read: