Incorrect audio output device configuration, missing sound device drivers, and incorrect audio enhancement are some common reasons behind No Audio problem on windows 11. Here is how to fix it
Speakers aren't working or Sound has Suddenly gone away on your computer or there is no audio after Windows 11 update? You are not alone, a number of users report the laptop has no sound after Windows 11 update, tried to Update and reinstall the sound driver but still it's not working. So what causes No Audio in Windows 11? It could be speakers or headphones, problems with the sound card or its driver, your audio software or operating system and more. Again sometimes restarting audio services can feasibly resolve Windows 11's sound issues as well.
How to Fix No Audio in Windows 11
There are a couple of ways to fix no audio problem on windows 11, here in this post we have listed a few tested and most effective methods apply to fix the problem.
Let's first restart your laptop or computer that helps clear temporary glitches that might be causing no audio in windows 11.
In addition, if you are a laptop user you may sometimes mute your device accidentally, use the Fn key + Mute key to unmute your device.
Also, right-click the sound icon and go to Open Sound settings to ensure the specific output device you're using isn't muted.
Again if you are using an external audio device check and make sure the sound output device is correctly plugged into your PC its cable connection isn't loose.
Select the Right Audio Output Device
Windows 11 automatically use the system audio as output device, if you have multiple audio devices connected to your laptop ensure the right audio device is selected.
To change the default audio output device in windows 11
Open settings app using windows key + I
In the system tab click on sound, then under the output section select your default audio device.
Also, you can quickly change the default audio output device from the Action Center.
To do this click on the speaker icon on the taskbar, then click on manage audio devices besides the volume slider,
It will display all the audio equipment connected to your system, select the audio output device your want to set as default.
Restart the audio service
There are changes, the audio service not started or stuck running that led to the No sound problem on windows 11 PC. Let's try restarting the audio service to see if this helps.
Press Windows key + R, type services.msc and click ok to open windows service console,
scroll down to locate windows audio service, right-click on it select restart from the context menu,
In addition, double click on Audio service to open its properties and change its startup type automatic.
Repeat the above process to restart the windows audio endpoint builder and remote procedure call service as well.
Now reboot your computer and check the audio status of your laptop or PC.
Run the Windows Audio Troubleshooter
Let's run the built-in windows audio troubleshooter that is quite effective in finding and fixing common audio problems.
Press Windows key + I to open settings,
Click on troubleshoot than other troubleshooters,
Click on the Run button next to Playing audio and follow the on-screen instructions to finish troubleshooting.

This will run the audio troubleshooter, will detect any problem with the audio device or driver and fix it for you.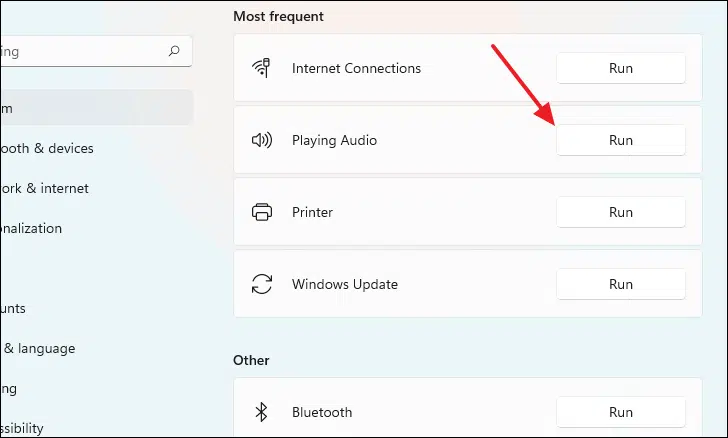 Disable Audio Enhancement
Windows 11 PC comes with a few audio enhancement packages that you can use to achieve the best sound output. Hence you are causing audio issues, we recommend turn them off entirely and check the audio status.
Open settings using windows key + I and go to sound,
Scroll down to the advanced section and click on all sound devices,
Select the output device that causing the issue, now under output settings toggle off the switch next to enhance audio.
Update windows 11
Windows 11 is still new, there might be a bug hitting windows audio. Microsoft regularly releases windows updates with security enhancements and various bug fixes. There are chances the company has already released an update that resolves the current sound issues you're facing. Let's check and install any pending updates for your Windows 11 PC.
Press Windows key + I to open settings,
Click on windows update then hit the check for updates button.
This will start download and install the latest windows updates on your device
Once done, reboot your PC to apply the changes.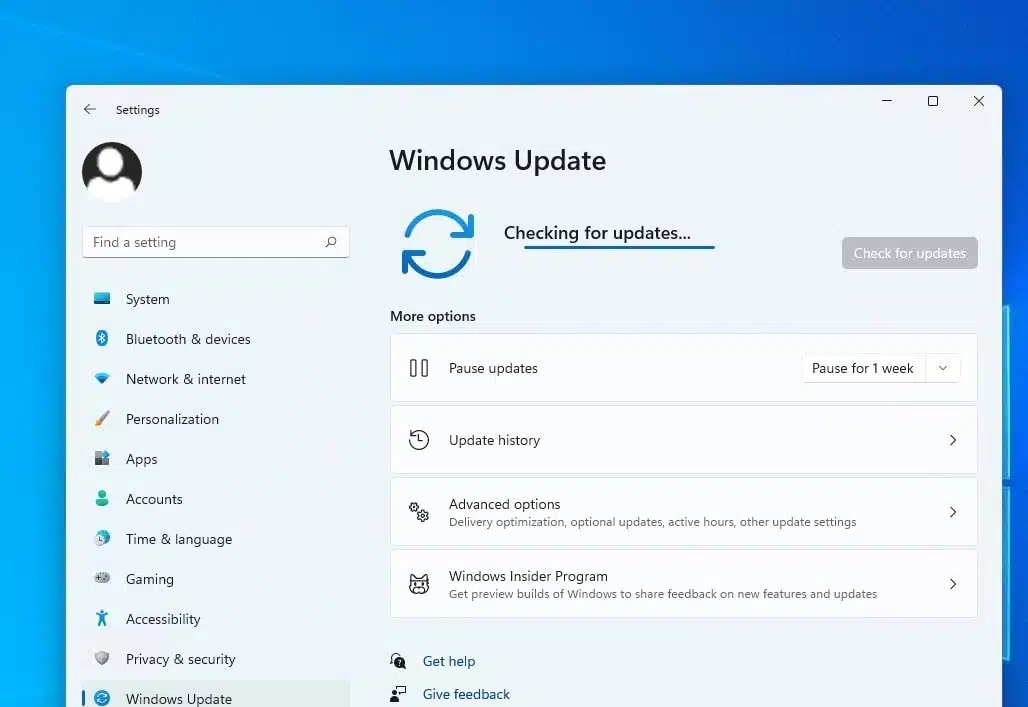 Update audio driver
There are chances the current windows 11 version no longer supports the existing audio driver and you need to install the latest one.
If you are using a generic driver, go to Windows Update > Advanced options > Optional Update and check if there is an update to the audio driver available.
If you are using any special audio hardware, then you need to look up the companies website. The devices are usually listed, and drivers are available through an installer.
To Reinstall the audio driver:
Press Windows key + R, type devmgmt.msc and click ok to open device manager,
 expand the Audio inputs and outputs section
Right-click on your audio device and select Update Driver.
Select Search automatically for drivers. Windows will download and install the latest available version (if available).
Once installed, restart your PC and check for any improvements.
Roll Back Audio Driver
There is also a chance that the latest version you have installed is unsupported by your PC. In this case, you can roll back the audio driver.
Go to Device Manager by right-clicking on the Start menu.
Expand the Sound, video, and game controllers option.
Right-click on the audio driver and select properties.
Go to the Driver tab and select Roll Back Driver.
And follow on-screen instructions to revert back to the previous driver version.
Reboot your computer and check if the problem is resolved.
Did the above solutions help fix no audio problem on windows 11? Let us know in the comments below.
Also read: