Microsoft regularly releases Windows 11 updates with the latest bug fixes, several new features, and security improvements. Windows updates are set to download and install automatically on Windows 11 to keep your system safe and stable. Hence Windows updates are critical and should be installed as soon as they become available. But sometimes you may notice Windows 11 Not Updating, Windows 11 KB5032190 update fail to install, or end up with Windows 11 KB5032190 stuck downloading. Let's find out what causes Windows 11 update installation problems or errors and how to fix them ASAP.
Why Windows 11 won't update?
There are multiple reasons why Windows 11 won't update, It may be antivirus, firewall software, and other third-party security programs interfering with the Windows update process.
Apart from that you might experience problems installing Windows updates if your system drive (usually its C drive) has very low storage space that is insufficient for Windows updates to download and install.
You need a stable internet connection to download Windows updates from the Microsoft server, it might be slow internet or network issues the reason why your Windows updates are not installed or stuck downloading.
Windows update could have been turned off somehow which is causing Windows 11 not to update on your PC or laptop. Again corrupt system files on your PC could be another reason for Windows updates to fail.
How to fix Windows 11 update installation problems
Running the Windows update troubleshooter is one of the most effective ways to fix Windows 11 KB5032190 update installation problems on your computer. Again you need to ensure free storage space on the C drive and the internet connection speed to download the update files from the Microsoft server.
Also, you need to ensure the Windows update service is running to install the latest Windows 11 updates on your PC.
In addition, run DISM restore health and System file checker scan to locate and repair system files that probably fix the problem if the Windows update fails due to corrupted files. Reset the Windows update cache is another effective way to fix most Windows 11 update download and installation problems.
Let's first restart your computer and check for updates again. When you reboot Windows 11, it will restart all running processes, refresh the operating system, clear temporary glitches and fix the most common problems.
To install Windows 11 updates manually:
Press the Windows key + I to open the settings app
Go to Windows Update then hit Check for updates
If Windows updates are pending allow them to download and install
Once done, reboot your PC to apply the changes.
Run Windows Update Troubleshooter
Windows update troubleshooter is a built-in diagnostic tool developed by Microsoft, and running this tool automatically detects and fixes Windows KB5032190 update problems on your computer. Whenever you experience Windows 11 is not updating or stuck update this should be your go to tool. Here is how to run the Windows update troubleshooter.
Press the Windows key + X and select settings
Select System on the left pane and then Troubleshoot on the right pane.
Navigate to Other troubleshooters, then Click the Run button next to Windows Update.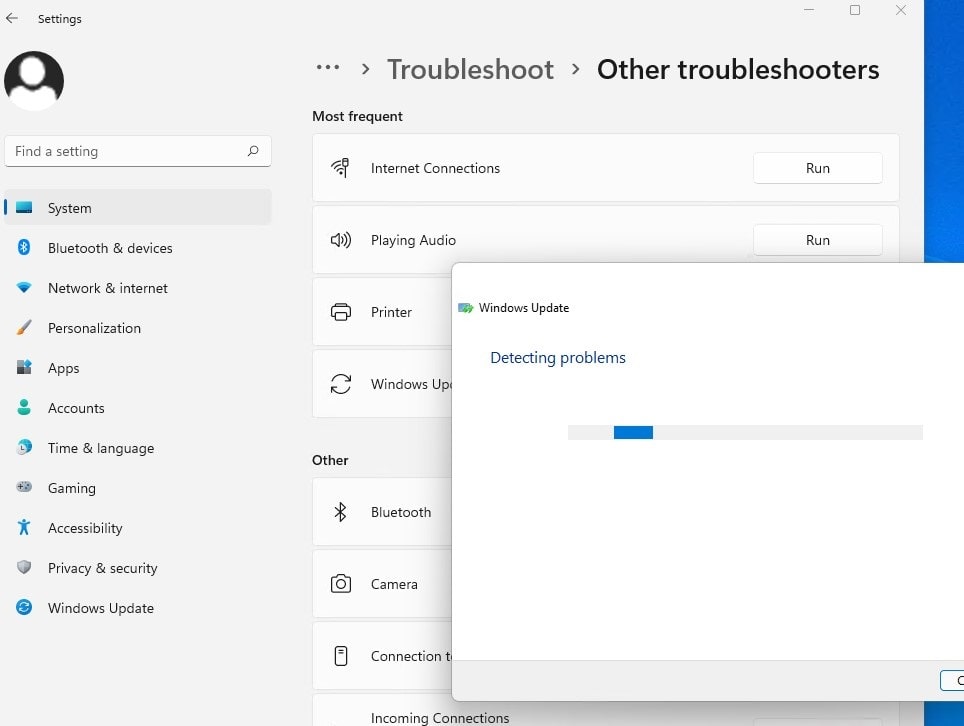 Check the Internet connection
The next thing you need to ensure the device has an active internet connection to download Windows update files from the Microsoft server.
Try to visit any webpage on your PC or play a YouTube video to check the internet connection is working. You can check your internet speed on fast.com or speedtest.net.
Press the Windows key + R, type ping google.com, and click ok. Now check continuously getting ping replay, if it breaks between you need to fix the internet connection problem.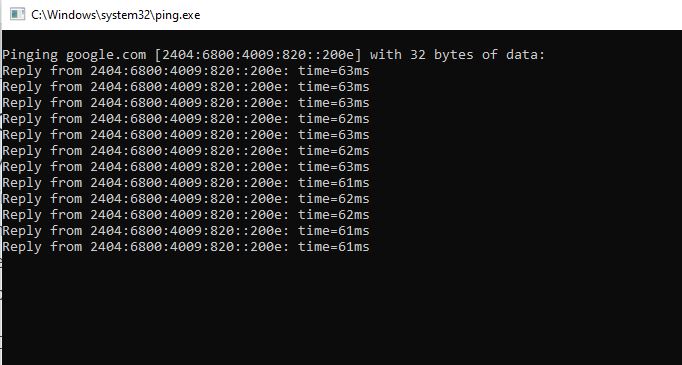 You can restart your wireless router to fix common network and internet connection problems. Check the Wi-Fi signal or move your laptop close to the WiFi router. Check the Ethernet cable is properly connected.
If you are connected to VPN we recommend disconnect it and try to install Windows updates again. Also temporarily uninstall third-party antivirus and check the date and time settings are correct.
In addition, You can reset the network adapters on Windows 11 by going to Settings > Network & Internet > Advanced network settings >  Network reset, clicking the Reset now button, and clicking the Yes button.
Free up Storage Space on Your Computer
Another common reason behind Windows update installation is stuck or failing is the lack of storage space. If the system drive doesn't have enough space you may encounter different errors while trying to update Windows 11. In such cases, you need to free up storage space to allow the system to process updates without problems.
Make sure there are at least a few gigabytes of space available on your PC's C: drive (or primary partition) for updates. 
To get more storage space, you can delete unnecessary programs and files from your computer,
Back up some of your data to the cloud or an external drive,
Use third-party PC cleaner tools or built-in storage sense to clear out junk files.
Open Windows 11 settings, select system then click on storage,
Select Storage Sense and make sure it's a toggle on.
Click the Temporary files then Check the items to delete to free up space.
Finally, Click the Remove Files button to reclaim storage space on the system drive.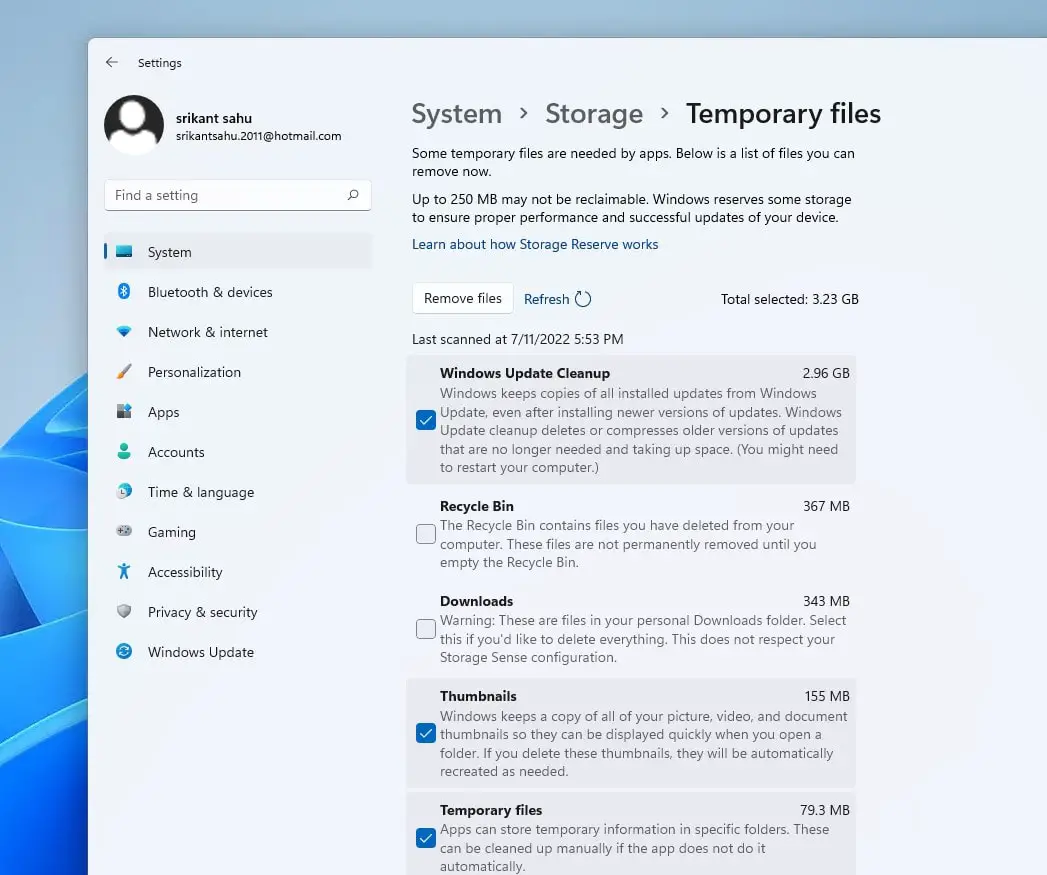 Restart Windows Update Service
You need to check and ensure, the Windows update and its related services must be running state to get the latest Windows 11 updates installed on your computer. If for any reason the update service is not started or is stuck running you may experience problems installing Windows updates.
Press the Windows key + R, type services.msc and click ok to open the Windows services console
locate Windows update service right click on it select restart,
If the service not started, double-click on Windows Update Service to open its properties,
Here Select Automatic in the Startup type option, then press Start
Press the Apply button to effect the changes, then click OK.
Also, check that other related services required by Windows Update are enabled and running.
Application Identity
Background Intelligent Transfer Service (BITS)
Cryptographic Services
Repair Windows 11 files
Corrupt Windows 11 system files on your computer are another common reason why Windows 11 not updating. You should run SFC and DISM commands to find and replace corrupt files on your PC.
System File Checker is one of the best tools included in Windows 11 for repairing system files.
Press the Windows key, type cmd in the search bar then click on Run as administrator,
First, run the DISM restore health command DISM /Online /Cleanup-Image /RestoreHealth
 let it complete 100% scanning Once the command has been executed, run the system file checker command sfc /scannow
The above command scans all protected system files and replaces corrupted files with a cached copy that is located in a compressed folder at %WinDir%\System32\dllcache.
Let the system file checker scan system files and repair or replace them with the correct ones.
Once done reboot your PC and try to install Windows 11 updates again.
Clean boot Windows 11
Still getting the Windows 11 Update error, you should proceed to do a clean boot and try to install Windows updates on your PC. When you boot Windows 11 in clean boot mode, it eliminates the possibility of startup software and services conflicting with the update process.
To perform a clean boot,
Press Windows key + R, type msconfig and click ok
Navigate to the Services tab in the System Configuration window
Check the box next to Hide all Microsoft services and click the Disable All button.
Now move to the startup tab then click on Task Manager,
In the Startup tab, click each entry and Disable them individually.
Exit Task Manager and go back to the Startup tab in the System Configuration window, then select OK.
Reset Windows Update Components
Another thing you can do to fix this issue is to reset Windows Update components on your computer. Here is how to go about that:
First, open the command prompt as administrator, and run the following commands.
net stop bits
net stop wuauserv
net stop appidsvc
net stop cryptsvc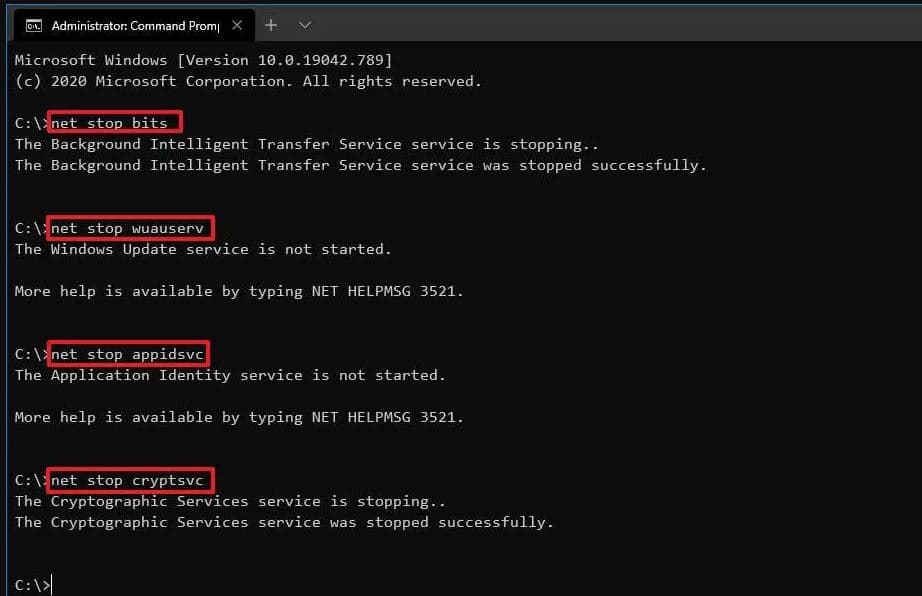 The above command stops Windows update and its related services.
Now press the windows key + E to open File Explorer and navigate: C:\Windows\SoftwareDistribution
Open the download folder and delete all files and folders inside the download folder.
To delete them press ctrl + A to select all then hit the Del key.
Don't worry about these files, these are update cache files, Next time when you check for updates or Windows updates download the fresh files from the Microsoft server.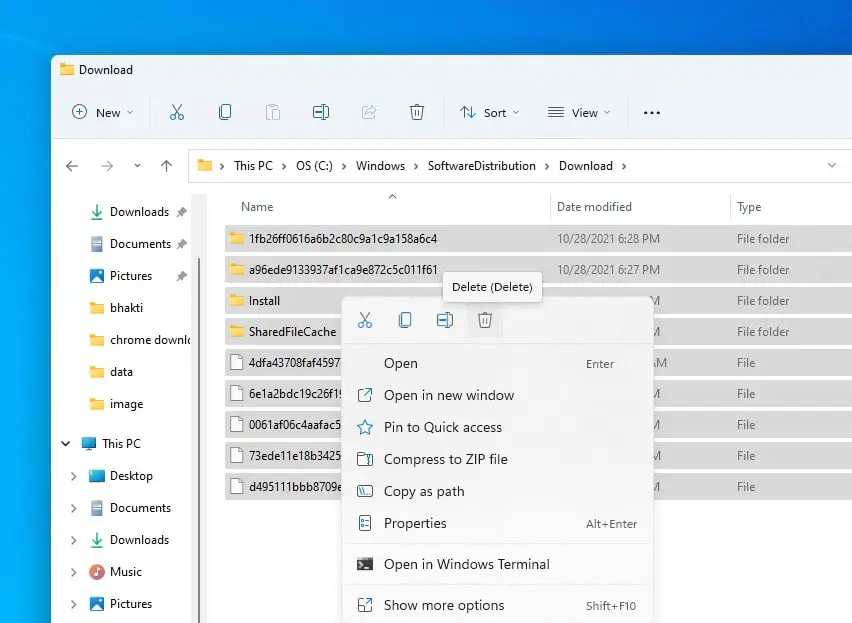 Now restart the Windows update and its related services by running the following commands.
net start bits
net start wuauserv
net start appidsvc
net start cryptsvc
That's all, Restart Windows 11 and try installing updates again.
Download and install Windows 11 updates manually
If you're still having trouble installing the update, try downloading and installing it manually. You can download the Windows update offline installer package from the Microsoft Update Catalog and install the update directly from there.
Press the Windows key + X and select settings
Go to Windows update then hit check for updates to know the Windows update that isn't installing, and then note the KB number of the update that is found.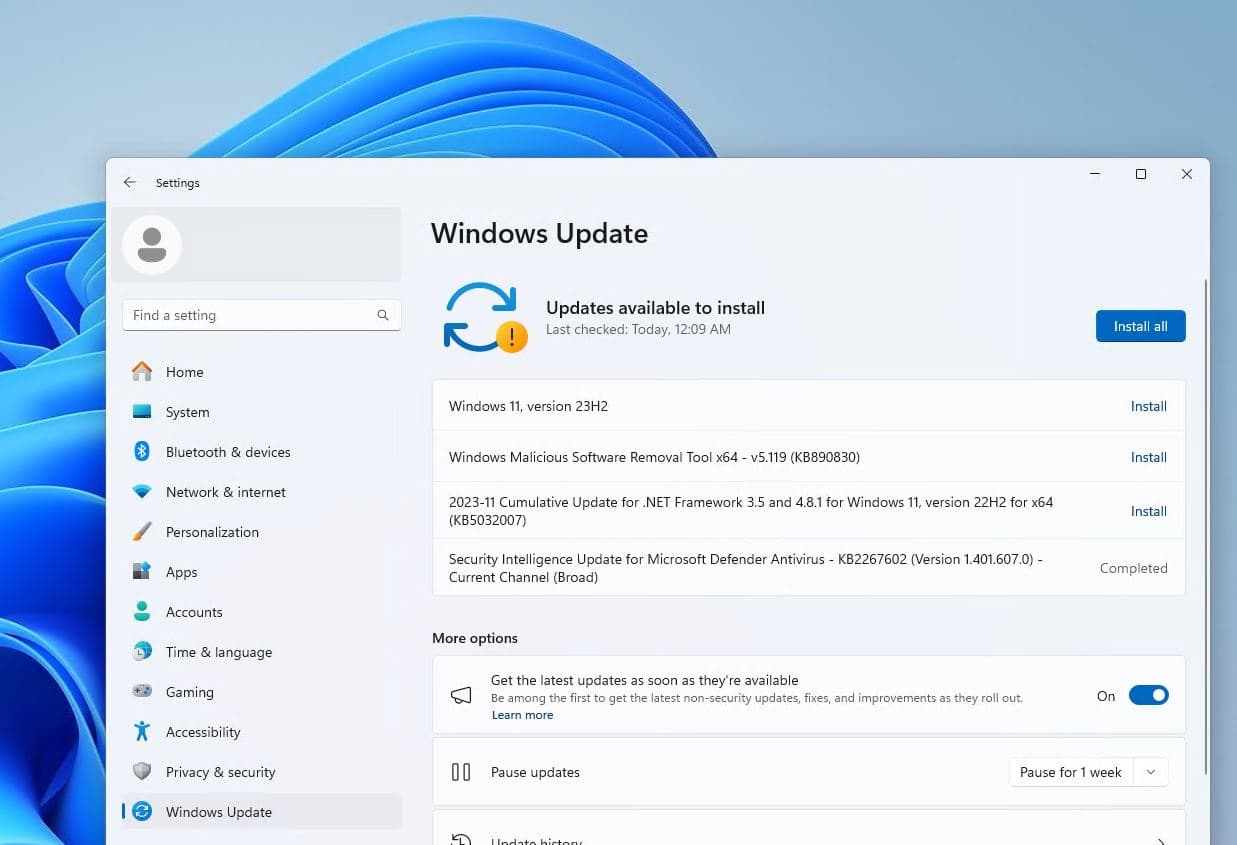 Now open your browser and navigate to the Microsoft Update Catalog.
Search for the specific security update that's bringing up an error and click on Download.
Locate the downloaded update file and run it as administrator.
In addition, third-party security software can sometimes conflict with your Windows 11 update and stop it from installing on your computer. Therefore, you should turn off or remove any third-party security programs, including firewall and antivirus apps, and see if that resolves the problem.
Also read: