Healthy system files on your windows 11 computer are important for ensuring the proper function of windows, office apps, games and more. If you notice windows 11 slow start or shutdown, the system crashes with different blue screen errors or PC freezes frequently or even your computer fails to apply the latest windows updates all these are Symptoms of system File Corruption. Here in this post, you will learn how to repair and fix the corrupted files on your computer and make windows 11 function optimally.
What does mean Corrupted System Files?
All system files on your computer have a particular structure and content, and as long all information is in the right place and arranged properly the file work normally. However if due to any reason wrong information is written into a system file or the right information is written in the wrong place this will affect the data on file and we call it a system file corrupted. Or in simple words, we can say Corrupted system files are computer files that are suddenly damaged, become inoperable or unusable, and does not perform properly.
There are multiple reasons why Windows files or system files become corrupted, sudden power outages, botched Windows updates or the hard disk has bad sectors are some common one. Again malware or viruses may introduce the bug that may also cause file corruption on windows 11. But thankfully you can repair corrupted system files using DISM (Deployment Image Servicing and Management) and the system file checker utility.
How to Fix Corrupt Files On Windows 11
With help of the built-in system file checker utility or DISM command, you can easily scan and repair corrupted files in Windows 11. In addition, install the latest windows updates, perform startup repairs or check and fix disk drive errors also help fix corrupt system files on windows 11.
Run the system file checker tool
The system file checker utility, also known as the SFC tool scan all protected system files. If any of them are corrupted or missing the SFC utility automatically repairs or replaces corrupted files with a cached copy that is located in a compressed folder at %WinDir%\System32\dllcache. And running this tool is the easiest and fastest way to assess the integrity of your computer, detect problems with installations or updates and repair them where possible.
Press Windows key + S and type cmd, From the search results right click on the command prompt and select run as administrator,
Next, type the command sfc /scannow and press the enter key to start the scanning process.
This might take several minutes between 20 to 30 to complete, please don't close the command prompt while the scan is processed.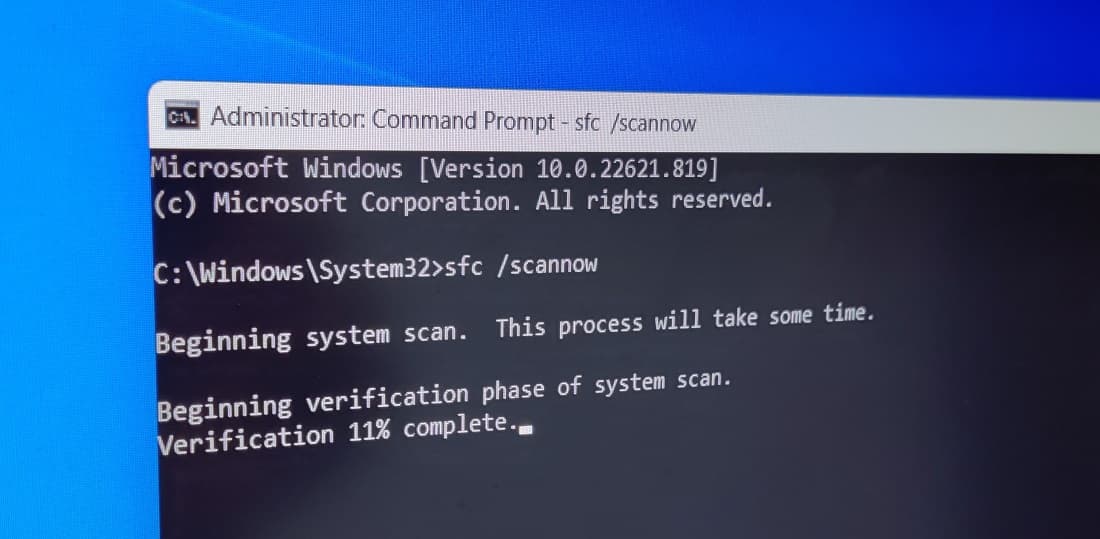 Once the scanning process completes, you will receive the scan results, whether Windows was able to fix your corrupt system files or not,
Windows Resource Protection did not find any integrity violations – indicating that the system does not have any corrupted or missing files.
Windows Resource Protection could not perform the requested operation – indicates a problem during the scan, and an offline scan is required.
Windows Resource Protection found corrupt files and successfully repaired them. Details are included in the CBS.Log %WinDir%\Logs\CBS\CBS.log – indicating that the tool detected problems and was able to fix them.
Windows Resource Protection found corrupt files but was unable to fix some of them. Details are included in the CBS.Log %WinDir%\Logs\CBS\CBS.log – which indicates you may need to repair the corrupted files manually.
If the system file checker could not repair corrupted files, then run the sfc /scannow command on windows 11 safe mode.
If the system file checker scan found corrupt files but was unable to fix some of them you need to run the DISM restore health command to repair them. DISM or Deployment Image Servicing and Management tool is the next step after the SFC, which performs an advanced scan to fix corrupted or damaged Windows operating system files and features directly from Windows online servers.
Again open the command prompt as administrator and perform the following command.
Dism /Online /Cleanup-Image /RestoreHealth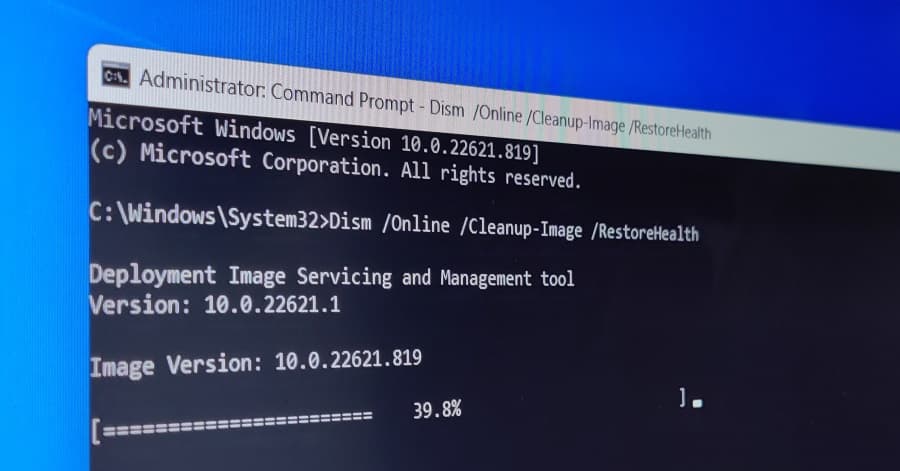 This will start scanning the Operating System for corrupt files and If DISM finds corrupt files, it attempts to repair them automatically
Once the scan is finished, restart your PC to see if the issue is fixed.
Update windows 11
Sometimes install the latest windows updates repair or replace the corrupted system files with the correct ones especially if they were caused by a previous Windows update.
Press the Windows key + X and select settings from the context menu,
Go to windows update and hit the check for updates button,
If new updates are pending there, allow them to download and install on your computer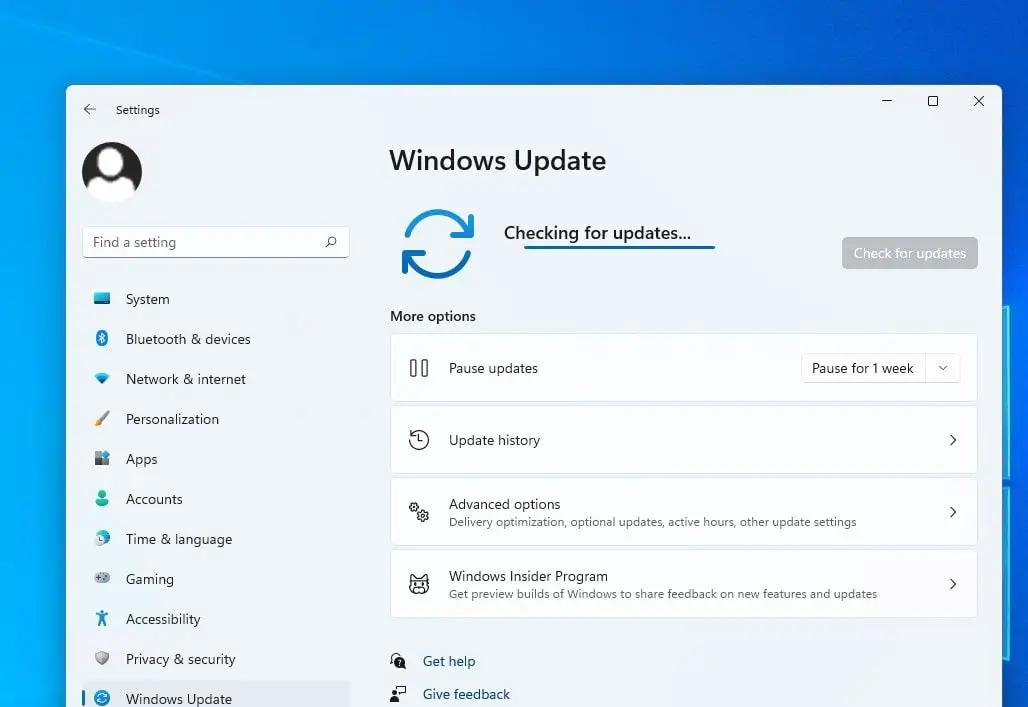 Once done you need to restart your computer to apply the changes.
Now check if there are improvements on system performance or not.
Run check disk command
As discussed before problems with storage drives or bad sectors also lead to corrupted system files on windows 11. Let's run the check disk command and force repair disk drive errors.
Open command prompt as administrator,
Type command chkdsk C: /f /r and press enter key
The command explained:  
chkdsk command check a hard drive or other disk drives for errors and repair them if possible
C: is the driver where you have to perform scan and repair
/F parameter will fix any errors found on the disk.
/R option tells chkdsk to locate bad sectors and recover any readable information from them.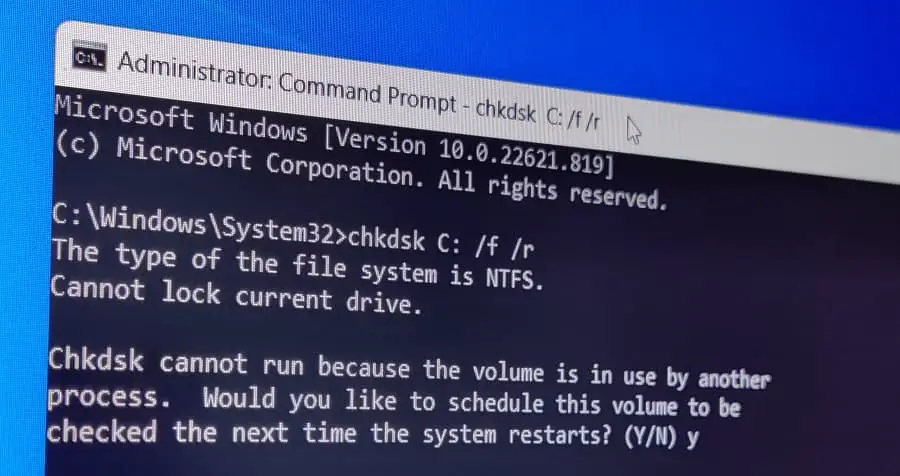 Press y if the tool ask to schedule run disk check on the next star and reboot your PC
This will scan and repair driver errors automatically, once the scan completes 100% it will reboot your PC and start your computer normally.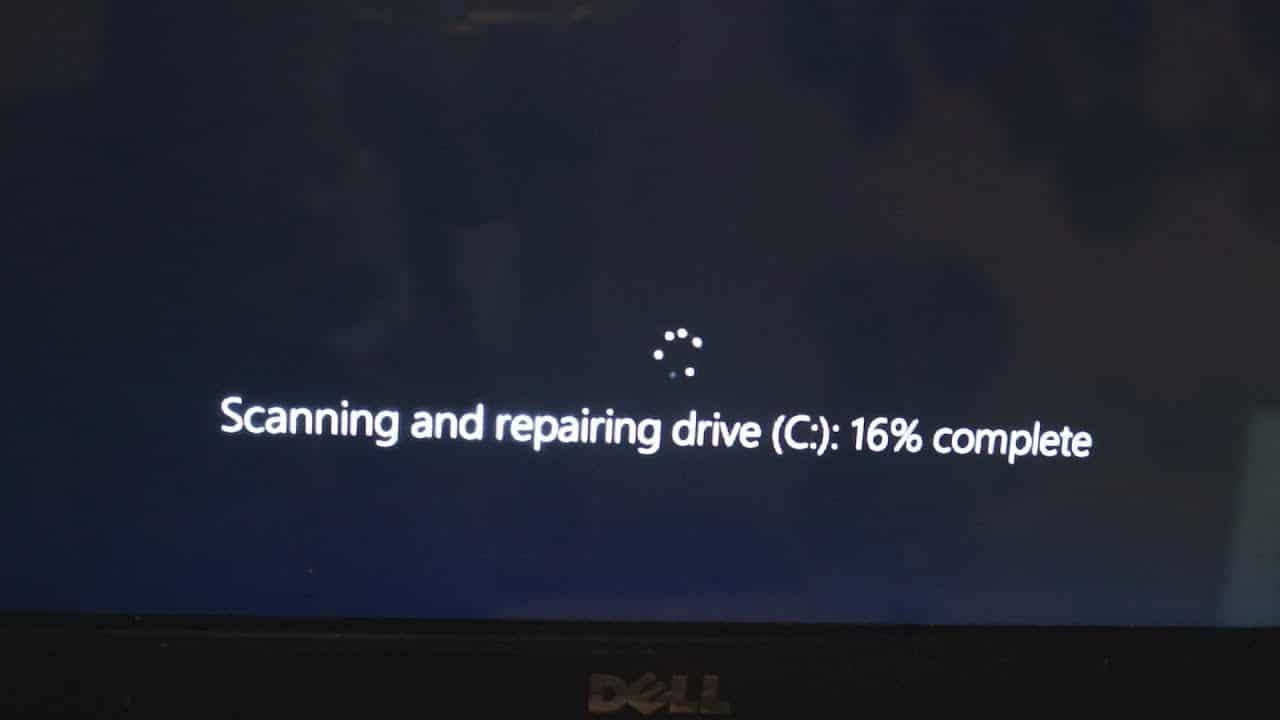 If all the above solutions fail to fix or repair corrupted system files on windows 11 the last thing you should try is reset windows 11 without losing data and apps.
FAQ
what are system files on windows PC