Windows 11 Update KB5023706 fails to install or is stuck downloading? Here this Windows Updates troubleshooting tutorial will help you identify and fix the problem.
Microsoft regularly releases Windows updates with various security improvements and bug fixes. Recently the company released a cumulative update KB5023706 for devices running the latest Windows 11 version 22H2. This is part of the March 2023 Patch update that brings security improvements and corrects previous bugs reported by users. Microsoft always recommends immediately install Windows updates to keep your Windows 11 PC up to date and healthy and it usually does. But unfortunately, several users complain, that Windows Update failed to install certain updates. Or Windows update KB5023706 download stuck at 0% or at 99%. 
2023- 02 Cumulative Update for Windows 11 Version 22H2 for x64-based Systems (KB5023706) – Error 0x800700d8
Windows 11 Update failed to install
Also, several users report Windows 11 Cumulative update KB5023706 was downloaded and installed successfully, and on the next reboot, it shows the last update failed to install with Error codes 0x800f0900 and 0x80070005.
There are multiple reasons that may cause this problem, from internet connection to corrupted system files, the problem with Windows update service, security software or VPN, and more.
No matter what issue prevents Windows updates download and install, If you encounter the issue Windows Update Won't Install or Updates are stuck downloading apply the solutions listed below.
Try to install the Windows update again
The first and most working solution to fix the Windows 11 update installation problem is to restart your computer and check for Windows updates again.
In addition, make sure you have a stable working internet connection to download Windows updates from the Microsoft server. If you are unable to access microsoft.com on your device you need to fix the Internet connection before downloading updates.
Check and correct your date & time zone on your computer, and importantly disconnect from VPN if configured on your computer.
Look at your system drive (Windows installed drive it's basically C: drive) has enough free space to download and install Windows updates on your computer.
Temporarily disable or uninstall third-party antivirus if installed on your computer to confirm antivirus protection does not interfere with Windows updates.
Open the Windows service console using services.msc.  Scroll down to locate the Windows update service, Right-click on it, and select restart.
And finally, check for updates again by following the steps below.
Press the Windows key + I to open the Settings app,
Go to windows update, then hit the check for updates button
This will start to download and install Windows update files from the Microsoft server
If still windows update stuck downloading or fails to install apply the solutions listed below.
Start windows into clean boot State
Clean boot your computer may also help If any third-party software causes conflict to download & install Windows updates. Here's how to do this:
Press the Windows key + S, type msconfig and select the first result,
This will open the system configuration window, go to the services tab,
Checkmark on Hide all Microsoft services then click on Disable all.
Next move to the Startup tab then click on Open Task Manager
Here Disable all the unnecessary services running there. Restart your computer and check for updates.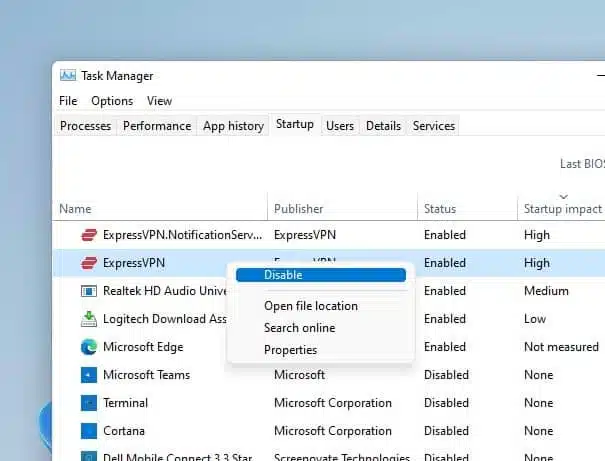 Clear Buggy update files
If disabling the Security application & perform a clean boot didn't fix the problem still windows update failed to install or stuck downloading. Then let's follow the steps below to clear the buggy updates files that may be causing the issue.
First of all, we need to stop the Windows update service,
To do this open the command prompt as administrator,
Type and execute the command net stop net stop wuauserv to stop the Windows update service.
Then type net stop bits to stop the background intelligent transfer service.
Then Go to the following location. C:\Windows\SoftwareDistribution\Download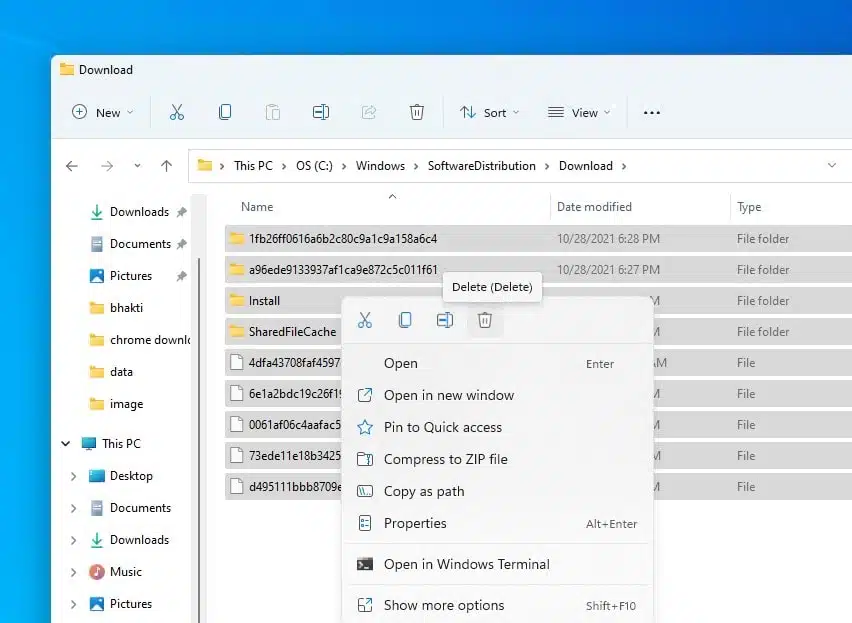 Delete everything in the folder, but do not delete the folder itself.
To do so, press CTRL + A to select everything and then press Delete to remove the files.
Again use net start wuauserv and net start bits to restart the services which you previously stopped.
Run Windows Update Troubleshooter
After clearing Buggy update files simply run the Windows update troubleshooter to check and fix if any other problem prevents the windows update to download and install.
Press Windows + I to open Windows 11 settings app
Scroll down in the right window and click Troubleshoot.
Next click on Other Troubleshooters to display a list of troubleshooter tools related to different hardware and devices.
Select Windows update from there then click Run the troubleshooter
The Windows Update Troubleshooter will run automatically to detect and fix problems that prevent you from updating Windows 11.
Wait a few minutes and let Windows update the troubleshooter Diagnose and fix the problems if there are any. After that Restart Windows and now check for updates from settings -> update & security -> Windows update and check for updates. I am sure this time Windows update install successfully without any error or update download stuck.
Run DISM and System file checker
If the system files get corrupted or missing you may face different errors including Windows update fails or stuck downloading. Run DISM restore health command and SFC utility that prepares the Windows image and restores missing system files with the correct one.
Open the command prompt as administrator,
Type DISM restore health command:  DISM /Online /Cleanup-Image /RestoreHealth
After completing the process run the command sfc /scannow
Let the system file checker utility detect and restore missing system files.
And restart windows after 100% complete the scanning process.
And after that again check for the Windows update, I hope there are no more errors.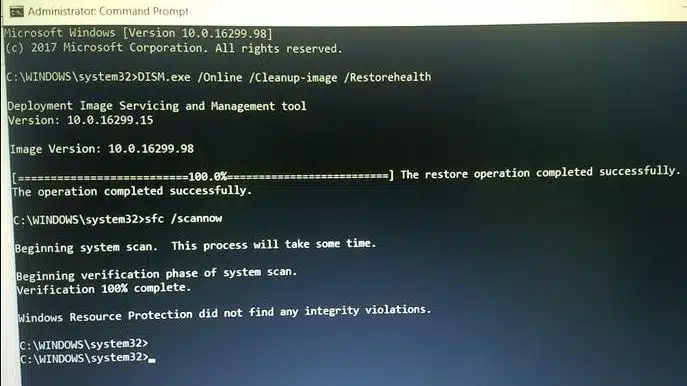 Switch to Google DNS
Here is another solution, that works for most users and fixes Windows update installation problems on Windows 11.
Press Windows key + R, type ncpa.cpl and click ok
This will open the network connections window,
locate your active network adapter, right-click select properties,
Double-click on the Internet Protocol Version 4 (TCP/IPv4) option to open its properties,
Select the Use the following DNS server addresses option, Type your "preferred" and "alternate" DNS addresses. 8.8.8.8 and 8.8.4.4
Click apply, ok to save changes and check whether it helps fix Windows update problems in Windows 11.
Cloudflare: 1.1.1.1 and 1.0.0.1
Google Public DNS: 8.8.8.8 and 8.8.4.4
OpenDNS: 208.67.222.222 and 208.67.220.220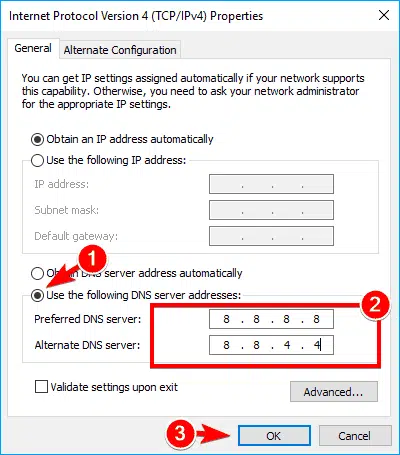 Install Windows Update manually
If all the above solutions fail to fix the problem, still windows updates stuck downloading or fail to install then let's install windows updates manually. Visit the Windows 11 update history webpage where you can notice the logs of all the previous Windows updates that have been released.
For the most recently released update, note down the KB number.
Now use the Windows Update Catalog Website to search for the update specified by the KB number you noted down. Download the update depending on your device 64-bit=x64.
As of Today – KB5023698 (OS Build 22000.1696) latest patch for Windows 11 version 21H2. And KB5023706 (OS Build 22621.1413) is the latest patch update for Windows 11 version 22H2.
You can get the direct download link for these updates here. Open the downloaded file in order to install the update.
That's all after installing the updates simply restart the computer to apply the changes. Also If you are getting Windows Update stuck while upgrading the Windows 11 21H2 process simply use the official media creation tool to upgrade to Windows 11 version 21H2 without any error or problem.
Did the above solution help to resolve the Windows update installation problem? Share your feedback on the comments below. Also, Read