Having issues with Wi-fi or Internet connection, It's slower than usual and also randomly displays "no internet, secured" and loses connection? Sometimes it can cause because of a technical glitch with your device or router, Your device is too far from the router. Again incorrect network configuration, problem with Wifi adapter or outdated Wifi driver also slow down the internet connection or Wifi disconnect frequently. Restart your device or router, update or reinstall the wifi adapter driver are some working methods that help fix this type of problem on windows 11.
How to increase internet speed Windows 11
Let's first restart your computer and router, which help clear temporary glitches that may present there and cause slow internet or Wifi disconnect frequently.
There are chances, your laptop's Internet speed is slow because it's too far from the router. Take the laptop closer to the router and check the Internet speed.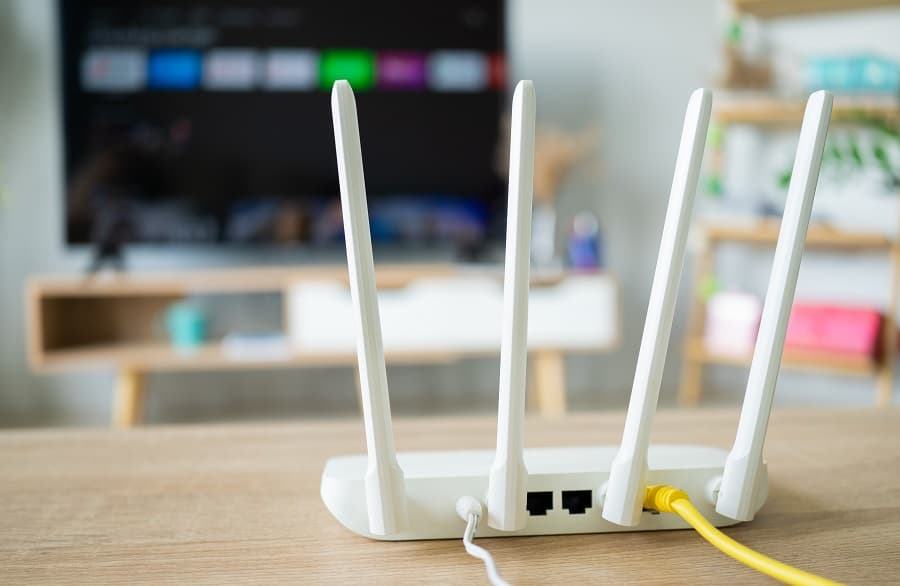 Also close or stop the programs that consume large bandwidth, Such as if you are downloading or uploading something. Again Some applications can also take up a lot of bandwidth, including Dropbox and other cloud services that work in the background. close them and check your internet speed.
Temporarily disable the firewall to check whether this is the culprit affecting your Internet speed. If you found the firewall causing the issue check your firewall settings to see if there are any unnecessary rules or other configurations you can tweak.
In addition, perform a Clean Boot and check if there are any changes afterward.
Disconnect VPN
If you are connected to VPN it might slow down the internet speed, It's nature of VPN. Because it will encrypt all of your traffic, which will result in slower internet speed. Disconnect VPN or temporarily uninstall third-party antivirus and check your internet speed.
Adjust your network bandwidth settings
Press Windows key + R, type gpedit.msc and click ok to open group policy editor,
Under Computer Configuration expand Administrative Templates
Next, expand Network and then QoS Packet Scheduler
double click on Limit reservable bandwidth and select the enable radio button.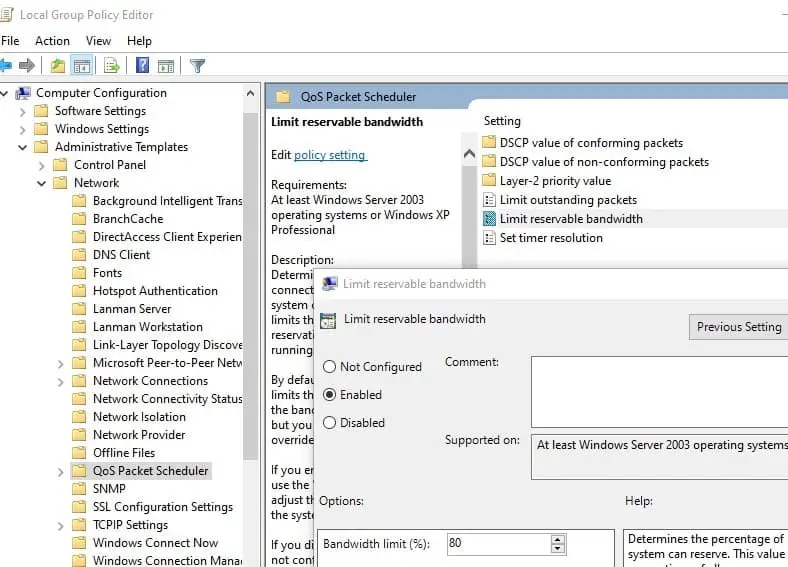 Change Network Adapter's Power Management Settings
Press Windows key + R, type devmgmt.msc and click ok to open the device manager
This will display all installed device driver list, locate and expand network adapters,
Right-click on your network adapter/wifi adapter, and select Properties.
Go to the Power Management tab, and Uncheck the box next to Allow the computer to turn off this device to save power.
Once done reboot your PC and check the Wifi and internet status.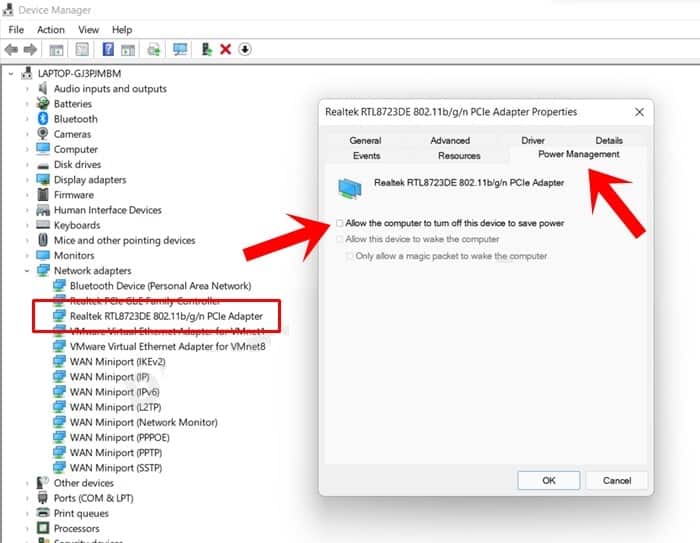 Run Internet troubleshooter
Windows 11 has a built-in internet troubleshooter, which would not only help in finding the underlying issue but could well fix it as well. Let's run the internet connection troubleshooter and let Windows fix the problem for you.
Select Start, and go to Settings > System > Troubleshoot > Other troubleshooters.
Next to Internet Connections, select Run and follow the instructions.
When prompted, choose the option to troubleshoot connection to the internet.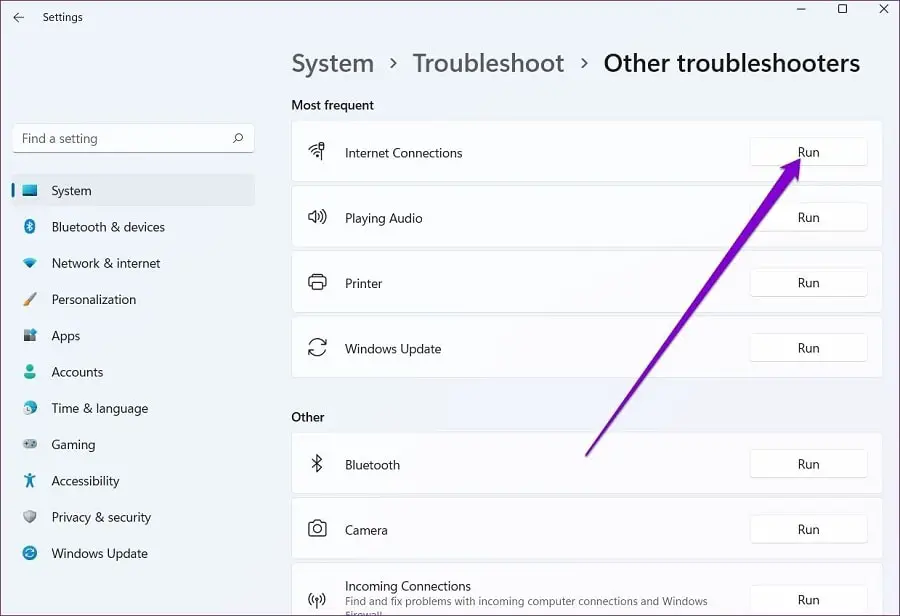 Windows will start diagnosing issues related to your network and internet connectivity. After a brief moment, depending on your computer, Windows should return with a result.
Update your WiFi drivers
Drivers are software that enables your computer's hardware to work together, but using wrong or outdated WiFi drivers can cause slow connection speeds. Let's update the wifi driver with the latest version which probably speed up the internet connection and fixes the Wifi disconnect issue on Windows 11.
Open command prompt as administrator
Type command netsh wlan show drivers and press enter key
This will display which wireless driver is being run on your PC, including its date and version.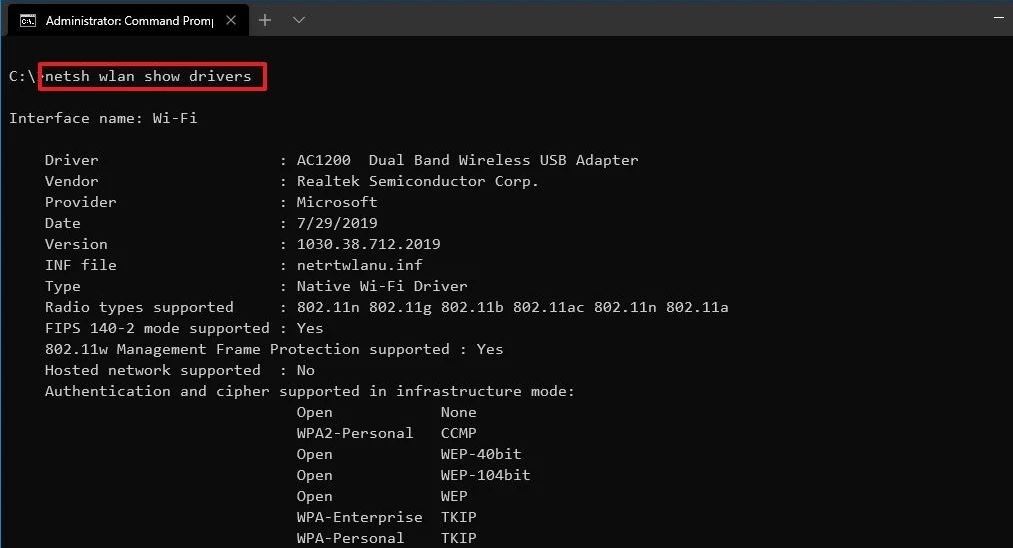 Copy the driver name and paste it into the Google search bar.
Download the latest available driver for your Wifi adapter from the manufacturer's website as a file to your Desktop.
Run the installer as administrator and follow on screen instructions to install the driver.
Reboot your PC after the installation finishes, and check the internet status.
If a driver update didn't fix it or an update wasn't necessary, there might a network-related bug fix from Windows Update.
Switch to Google DNS
Press Windows key + R, type ncpa.cpl and click ok to open the network connection window,
Locate the active network/wifi adapter, right-click it select properties,
Select Internet Protocol Version 4 (TCP/IPv4) and click Properties
Select the radio button Use the following server DNS addresses and type in the below values:

Preferred DNS Address: 8.8.8.8
Alternate DNS Address: 8.8.4.4

Finally, click OK to save the changes and then restart your PC. Check if it fixes the slow internet or wifi disconnect issue on your Windows 11 PC.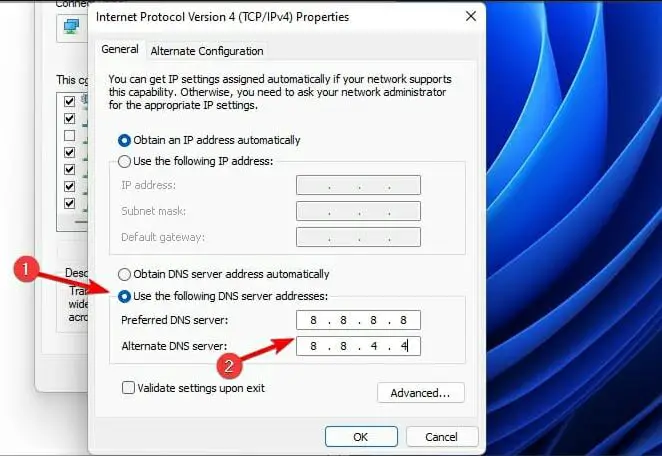 Reset Your Windows 11 Network Settings
Press the Windows key + I to open Settings, and select the Network & Internet option from the left.
Now, scroll down and click on Advanced Network settings
Finally, click on network reset under more settings, Click yes when prompted for confirmation.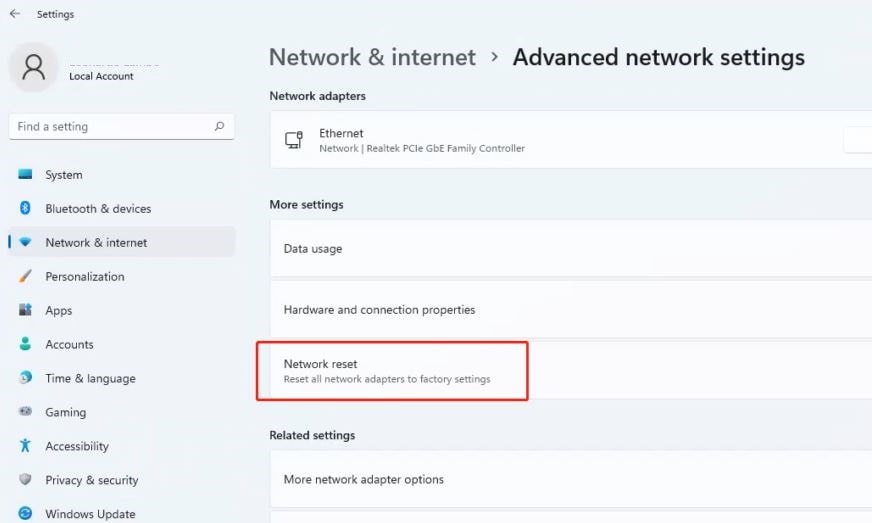 After the reset is complete you will be asked for restart, lets do it and check your internet status.
Repair system files
Missing, corrupt or damaged system files may reduce your internet connection speeds. To eliminate this issue run the DISM restore health command and sfc utility to repair possible system file issues.
Open command prompt as administrator,
Type command, dism /online /cleanup-image /restorehealth and press enter key,
Let the scanning process complete 100%, once done run sfc /scannow command.
This will scan for and missing corrupted system files, and try to replace them with the correct ones.
Once the scanning process is complete 100% restart your computer and check the internet status.
Also read: