If you suddenly got some unexpected behavior on your Windows 11 PC, the first thing you need to perform a Clean Boot to take a diagnostic approach by way of elimination. Performing a clean boot allows you to start Windows without running non-Microsoft services. And help you troubleshoot or determine what application or program is causing the problem that you have. In other words, the Clean boot option is specially designed to isolate a performance problem.
What is a Clean Boot?
Normally when you start your windows, it loads many files and programs to customize your environment. A clean boot eliminates these optional features and loads only those files and programs that are absolutely required by the operating system. So we can say the clean boot is a troubleshooting technique that allows you to get the computer up and running so that you can perform diagnostic tests to determine which elements of the normal boot process are causing problems.
When You Need Clean Boot?
If your computer is not starting normally, and you receive errors when you start the computer that you cannot identify, you could consider performing a clean boot to determine the issue.
Does a clean boot delete files?
A clean start-up is just a way of starting up your computer with a minimum of programs and drivers to enable you to troubleshoot which program(s) and driver(s) may be causing a problem. It does not delete your personal files such as documents and pictures.
clean boot vs safe mode
On Windows computers, Safe mode and Clean Boot, both Enter windows into diagnostic mode to determine and fix different Startup issues. But A clean boot is totally different from safe mode.
A clean boot provides more control over which services and apps run than Safe Mode.
Windows Safe mode boot shuts down everything that is not required to launch Windows and runs with the most stable driver available.
On another hand, Clean boot does not care about the Windows Environment and it only removes the 3rd party vendor add-ons that are loaded on startup. All the Microsoft services are running and all the components of Windows are enabled. But in Windows safe mode non-essential processes do not start and non-core components are disabled.
How to perform a clean boot in Windows 11
A clean boot allows you to troubleshoot and find conflicts with apps and drivers, and here's how to do it on Windows 11.
Note: The process for clean boot windows 11 and windows 10 or 8.1 or 7 are the same.
Press Windows + R, type msconfig, and ok to open the windows configuration window.
Under the General tab select the option Selective startup
Then uncheck the Load startup items check box.
Make Sure the Load system services and Use original boot configuration is checked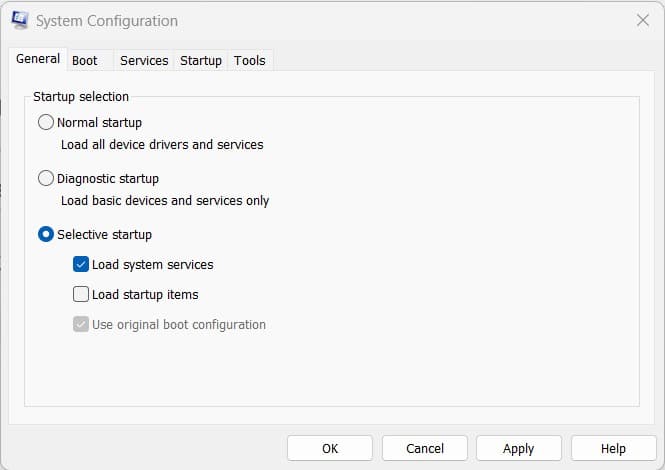 Next, Go to the Services tab,
From there, check Mark on Hide all Microsoft services.
You will find it at the bottom of that window.
Now, click on Disable all To Disable all third-party unnecessary services.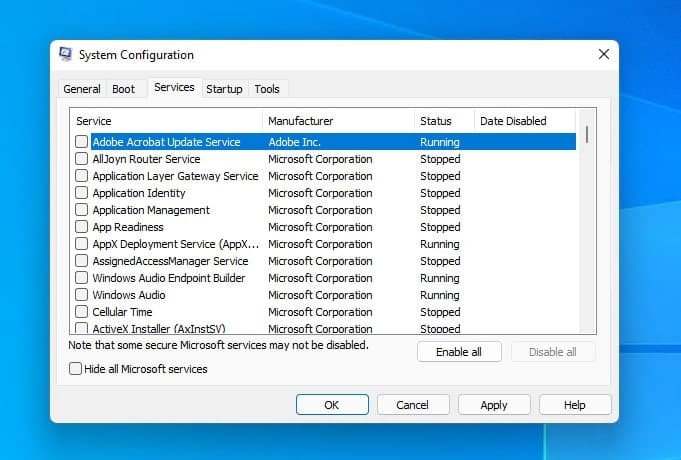 Now Move to Startup Tab, You find the Option open Task manager click on it.
On Task manager under Startup Tab Disable All the Startup Applications.
Now close Taskmanager.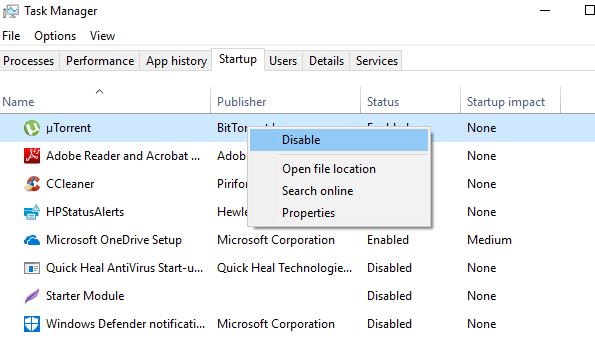 Note for Windows 7 Users: When you move to Startup Tab, You Will Find All startup Item List. Uncheck All the Startup programs and Click Apply And ok.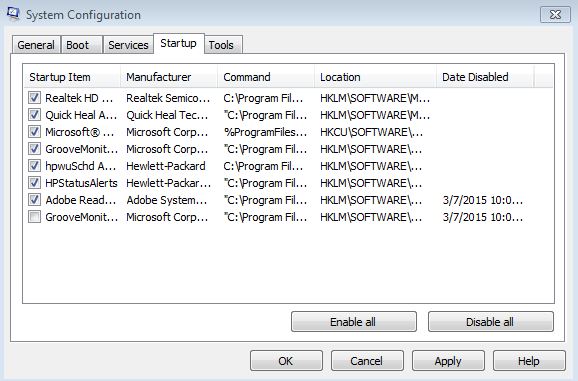 That's all Now restart your computer. It will keep your PC in a clean boot state and see if the problem is gone. You can turn on each app one by one and services individually afterward to find exactly which app is the cause of your issue.
How to Disable Clean Boot
To return to normal boot, Just need to undo the changes you have done and restart your PC.
Open the system configuration By pressing Win + R, type msconfig and hit the enter key.
Then under the General tab select the radio button Normal Startup.
Move to Services tab, Check the Hide all Microsoft services option And Click the Enable all button.
Next on the Startup tab Click the Open Task Manager link,
Under the Startup tab, select each item and click the Enable button.
That's All Close Task Manager, Apply, and ok in the System Configuration window. This will ask restart to take effect the Changes, Restart windows to Start at normal mode on the next boot.
Also If a clean boot Didn't help To Fix Startup Issue we recommend To Boot Windows into Safe Mode (Which Start windows into minimal System Requirements And Allow you to perform troubleshooting steps to fix Different Startup problems.
I hope after reading this post you can easily perform a Clean boot to determine or fix different windows related problems on windows 11.
Also Read