New optional updates are available for download on windows 11 and windows 10 devices. Here is what's new.
A new set of optional updates Windows 11 KB5026446 and Windows 10 KB5026435 are available for download with quality improvements and bug fixes. Windows 10 Build 19045.3031 is only focused on bug fixes and improvements, Windows 11 Build 22621.1778 is a big release as it brings so-called Moment 3 update with a number of new features and improvements. Today's release, Microsoft has introduced two new features related to the taskbar search experience and toast notifications on Windows 10. And KB5026446 is the "Moment 3" update for Windows 11 introduces Bluetooth Low Energy (LE) features, improved search box experience and many other smaller improvements. The patch is rolling out via Windows update as an optional update and you have to start the update search and start the installation manually. Microsoft has also published direct download links for Windows 11 KB5026446 and Windows 10 KB5026435 offline installers on the Update Catalog.
Note: Microsoft reserved the first week of each month for Office updates, the second week (B) is for Patch Tuesday releases. C and D weeks, which are the third and fourth weeks of the month, are reserved for optional updates. And these optional updates include non-security fixes and improvements only.
Windows 11 KB5026446, what's new?
Today's Cumulative Update KB5026446 brings the Moment 3 update for Windows 11 22H2 with many new and long awaited features and improvements. This update is being released as an optional cumulative preview update that can be manually installed by opening Settings > Windows Update and clicking the 'Check for updates button.
Windows 11 KB5026446 is an optional update and Microsoft hasn't made it mandatory for users to download
If you skip the update, all new features and improvements are included as part of the mandatory June 2023 Patch Tuesday updates, which include security fixes. Talking about features and improvements Windows 11 KB5026446 brings the Moment 3 update features and improvements.
Improvements to Windows 11 widget board, canvas size is now bigger and now supports three columns, depending upon the display configuration.
The company added new animation for the widget icon on the taskbar, triggered when you hover your mouse over the widget.
Today's update added new copy-and-paste feature for 2FA codes directly from the notification.
After install the update you will get a new copy button for copying the code and past it anywhere you want.
Microsoft now added a new VPN indicator on Windows 11 taskbar system tray with option to enable or disable in Quick Settings. It will notify users when the device is connected to VPN.
Change the default behavior of the Print Screen key, which now opens the Snipping Tool. However, the option is reversible
Notifications allow you to quickly copy 2FA codes without opening the received message
The user can activate the display of seconds in the systray
Task Manager now allows you to create a kernel memory dump
Content Adaptive Brightness Control or (CABC): new and improved energy saving option that changes the brightness of the display based on the content being played
View up to 20 Microsoft Edge tabs when pressing Alt + Tab
Accessibility improvements, including support for system-wide live subtitles in Italian
Bluetooth Low Energy Audio support for the first time on desktop
New per-app privacy settings
Minor fixes and changes in the operating system.
Microsoft noted a few known issues and the company is working on it to fix the problem in upcoming updates.
Using provisioning packages on Windows 11, version 22H2 might not work as expected,
You might have intermittent issues saving, copying, or attaching files using 32-bit apps, which are large address aware and use the CopyFile API.
We recommend reading the complete change log Microsoft support site here.
Windows 10 KB5026435 What's new?
Windows 10 Build 19045.3031 comes with an improved search box experience on the taskbar that can be used to easily access apps, files, settings, and more from Windows and the web.
Today's update introduces new features for toast notifications (pop-ups that appear on desktop and above apps) can now display up to three high-priority toast notifications at the same time.
Windows 10 KB5026435 update addresses an issue that affects access to Tab settings for IE mode sites.
Fix a multi-function label printer issue, that affects the installation of some of them.
This update addresses an issue that affects the touch keyboard. Sometimes, it does not show the correct layout based on the current input scope.
Add bug fix for an issue that sometimes fails to open the touch keyboard.
Here is the complete changelog from Microsoft's official site:
How to download Windows optional updates?
Today's update is optional, meaning that if you check for updates in Windows Update, you'll be given the option to download and install it. If you don't take it, it won't automatically install it. Instead, the fixes will be bundled into next month's Patch Tuesday update, which will install automatically.
Download Windows 11 KB5026446
If you want to download and install Windows 11 KB5026446 OS Build 22621.1778
Press Windows key + I to open Windows Settings
Click Update & Security then Windows Update,
Here you need to check for updates manually and then click on the 'Download and install now' link under optional updates.
Once done restart your PC to apply the updates.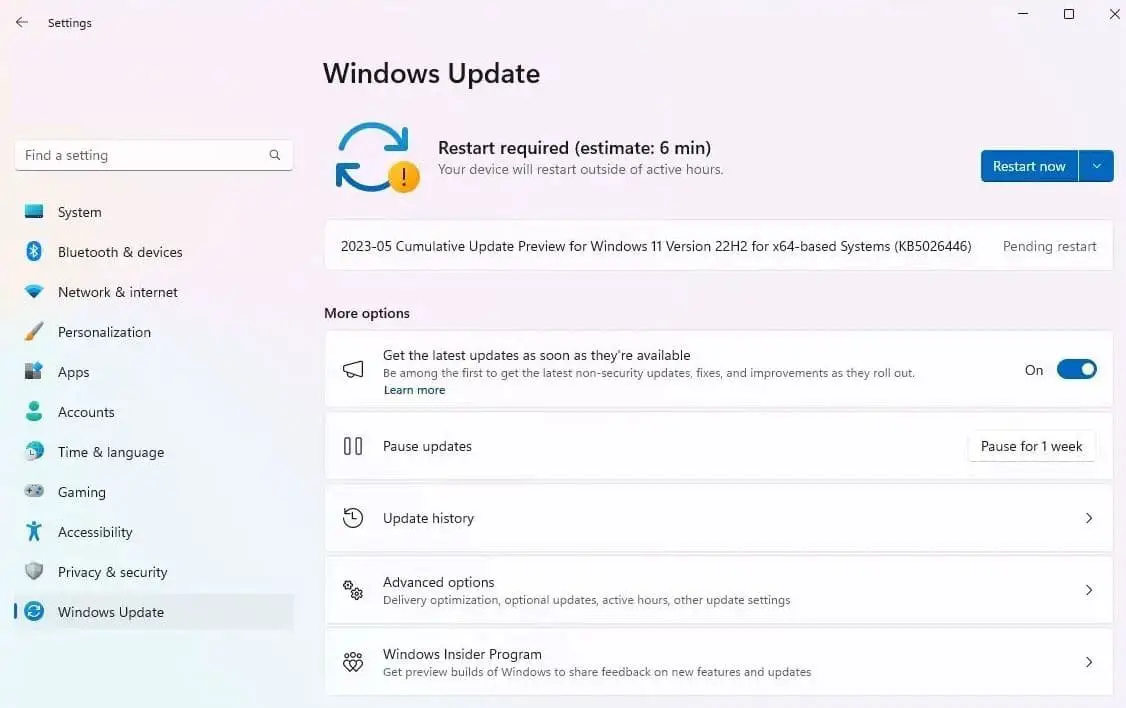 Windows 11 KB5026446 offline download link here.
Download Windows 10 KB5026435
If you want to download and install Windows 10 KB5026435 OS Build 19045.3031
Press Windows key + X and select settings,
Go to windows update and Security then Windows update
Now hit the check for updates button, if you see optional quality updates available click on Download and Install.
Once it is complete, you need to restart your PC to apply the changes.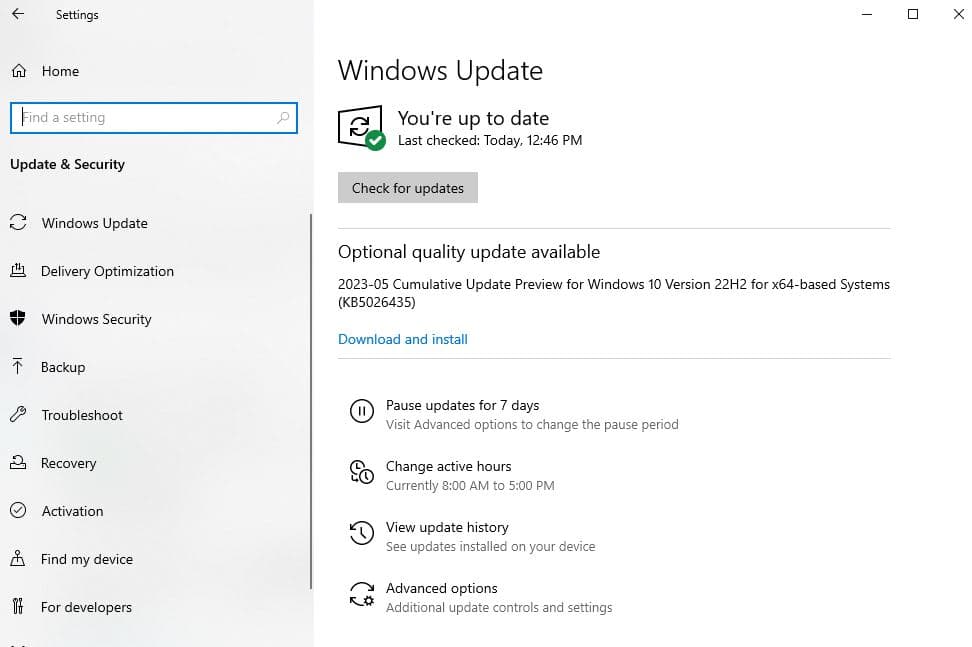 Windows 10 KB5026435 offline download link here.
Note-
The above link opens the Microsoft Update Catalog which is the library of Windows Update offline installers.
To get started, you can click on the 'Download' button next to the version of the OS installed on your machine and run the .msu files to begin the installation of the update.
If you are looking for the Latest Windows 11 ISO image, click here.
If you face difficulty installing these updates, check our Windows update troubleshooting guide here.
Also read: