How to go back to Windows 10 without losing data or Can I Roll Back to Windows 10 from Windows 11? Yes, it's possible during the first 10 days of the Windows 11 23H2 upgrade. If you have recently switched to Windows 11 and not happy with the latest OS then you can Downgrade Windows 11 to Windows 10 without Losing Data (Before 10 Days). After all, Microsoft has promised Windows 10 continue to be supported until October 2025. But what if it's longer than 10 days, Yes it's still possible Go back to Windows 10 but a little more complicated. Let's check both options, how to downgrade from Windows 11 to Windows 10 within or after 10 days of the upgrade without losing data.
Pro tip – Did you know to extend the 10 Days Rollback Period to 60 Days in Windows 11, here is the trick.
How to go back to Windows 10 without losing data
Bear in mind, if you do revert to a previous build you may need to reinstall some apps and programs, and you will lose any changes you made to Settings after installing the Windows 11 2023 update. You'll also be advised to back up your files as a precaution.
Also Before you continue, ensure you have installed all cumulative updates for Windows 11 version 23H2. With recent updates, Microsoft may resolve the potential issues you face when uninstalling it.
Downgrade from Windows 11 to Windows 10 (Within 10 Days)
To uninstall the Windows 11 23H2 update or downgrade to Windows 10, do the following.
Press Windows key + X and select settings, Navigate System then click on Recovery,
The fastest way to do this is to open the Start Menu and type "recovery options."
 Here under recovery options look for the option Go back and click on it
If you don't see this available, you're outside your 10-day window and will have to use the other method below to downgrade.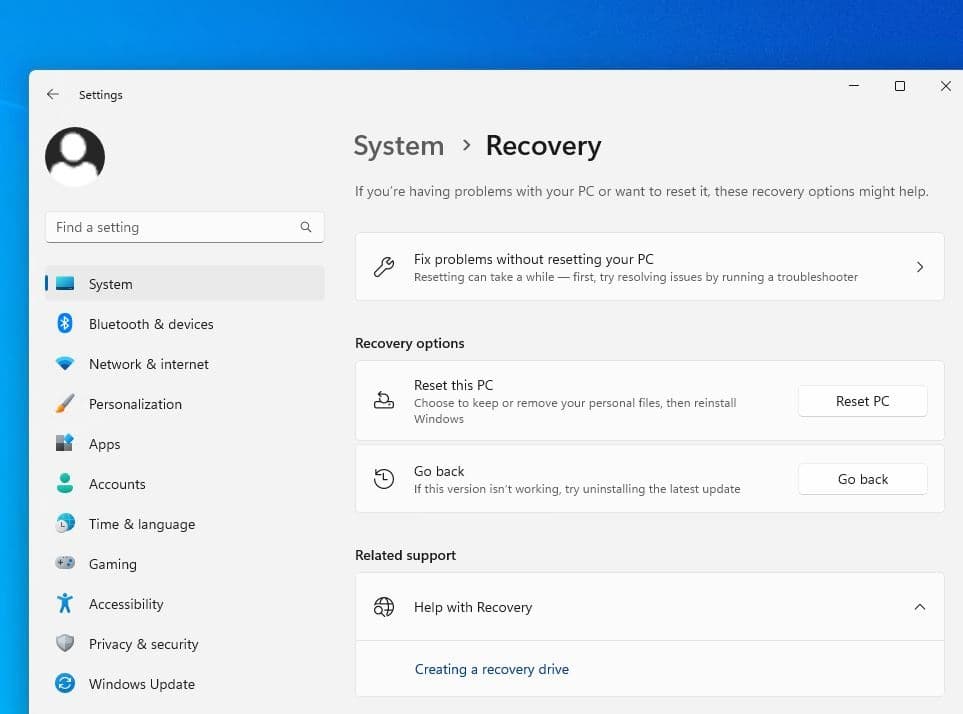 A popup window will appear asking why you're going back, Select the box next to anything on the list, then click 'Next'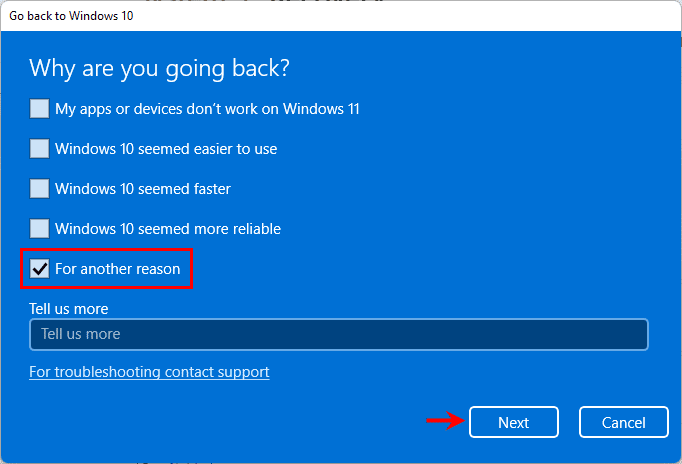 Next, you will be prompted to check for updates and that may have a bug fixes for your problem. Choose 'No, thanks' instead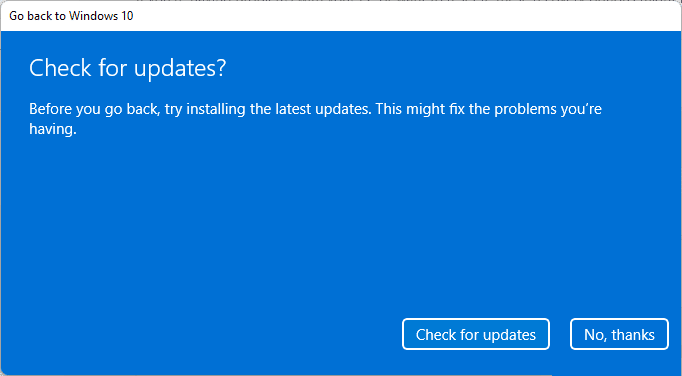 Next, it will prompt you to keep your PC plugged into a power source, and backup important data before proceeding with rollback.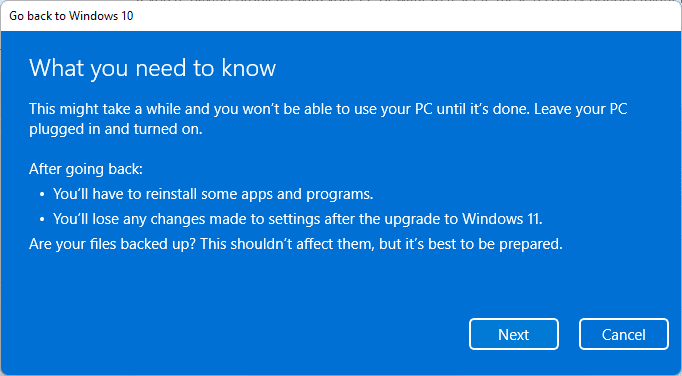 The next screen will remind you that you need to know the password of the user account in the previously installed operating system (Windows 10 ). Click 'Next' to proceed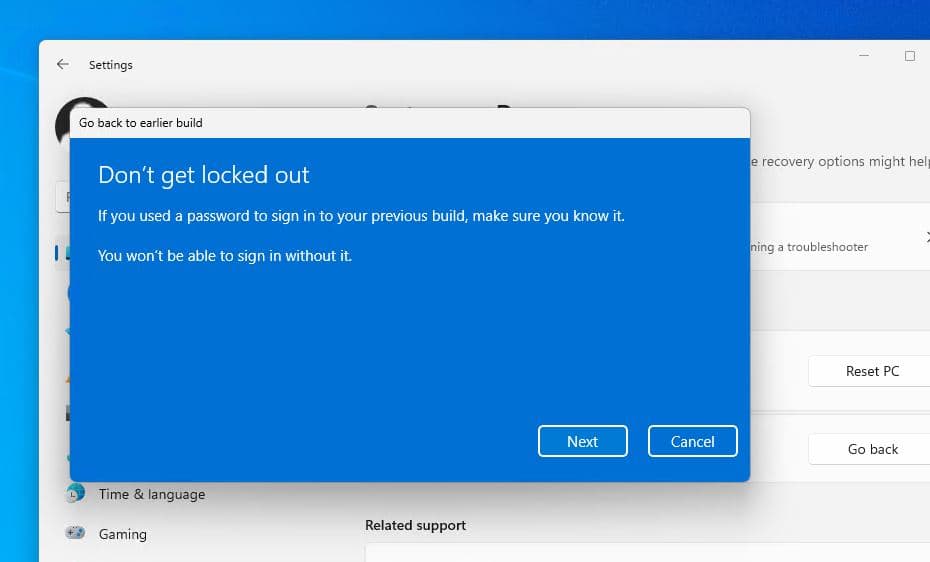 Finally, click 'Go back to windows 10'. This will take several minutes and your device will restart. And you will get the windows 10 desktop screen.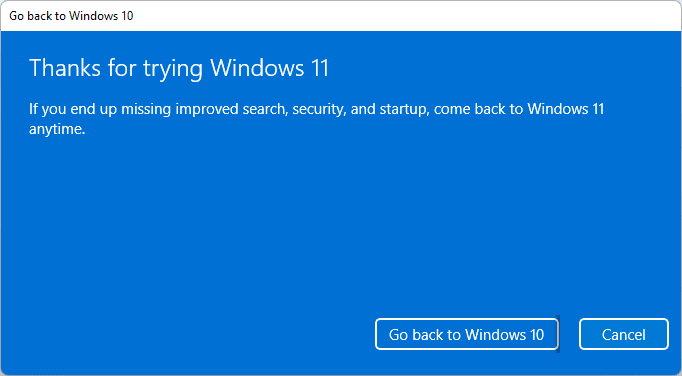 Rollback to Windows 10 from Windows 11 After 10 Days
If it's already past the 10-day rollback period then there is no Go back option mentioned above. This is because after 10 date Grace period Windows 11 will permanently delete the "Windows.old" folder (the previous installation).
Note – Its recommended to back up your important data before making big changes on your system.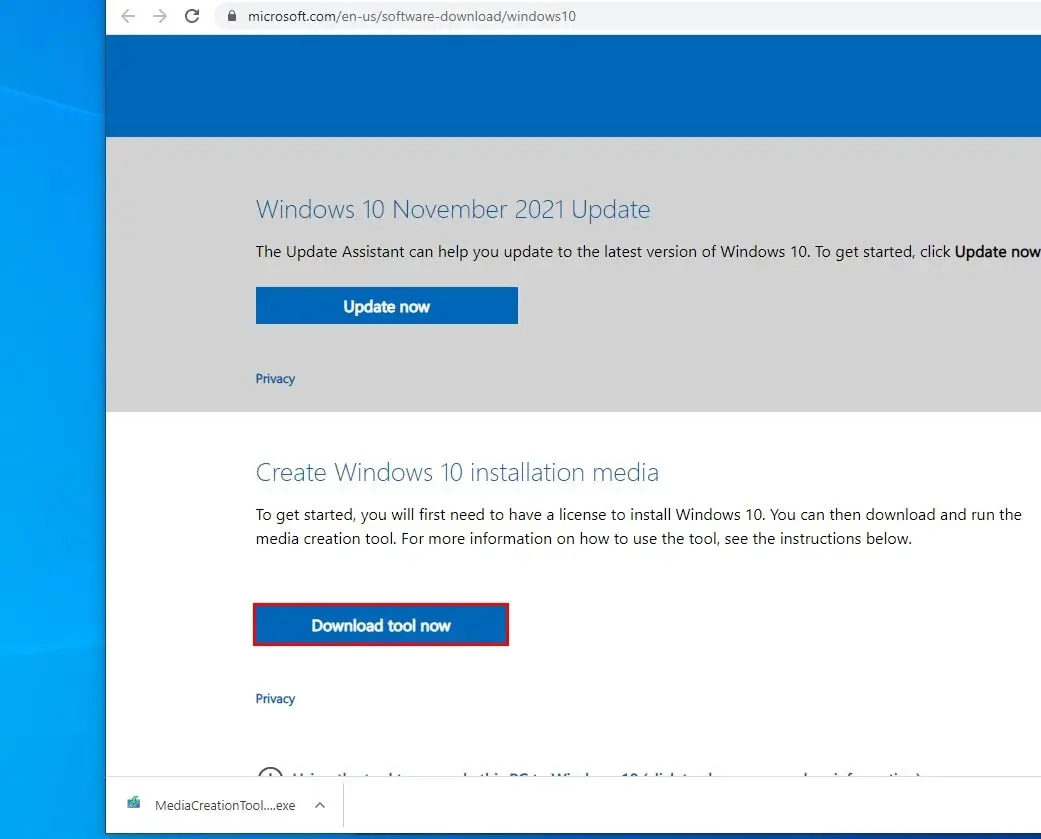 Double-click on the downloaded file to open it, Click yes if UAC prompts for permission,
This will open the windows 10 setup screen, After a few seconds, the software license terms and conditions screen appears. And you must click Accept to proceed.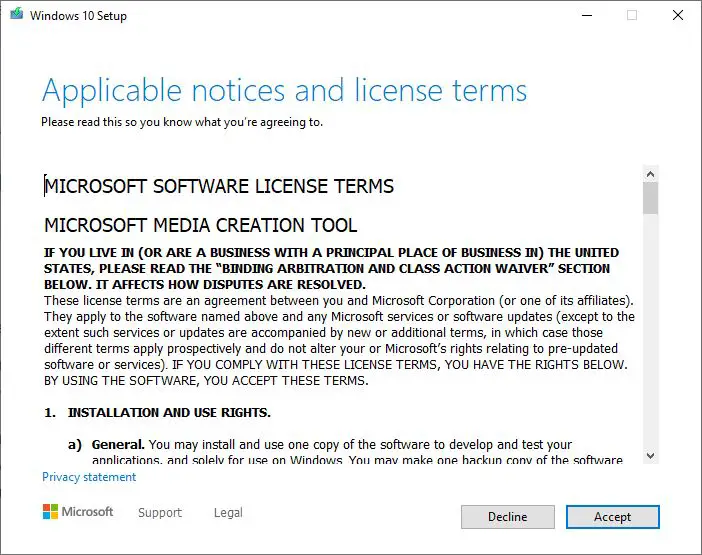 Getting a few things ready' screen will show for a few seconds, and next, it will prompt what do you want to do, Here select the upgrade now option and click next,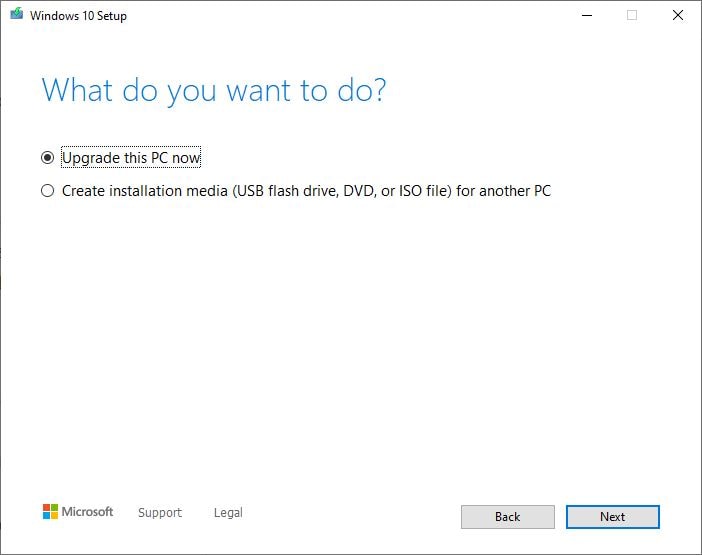 This will start downloading the latest version of Windows 10, it may take some time depending on your internet speed. You can still use your PC in the meantime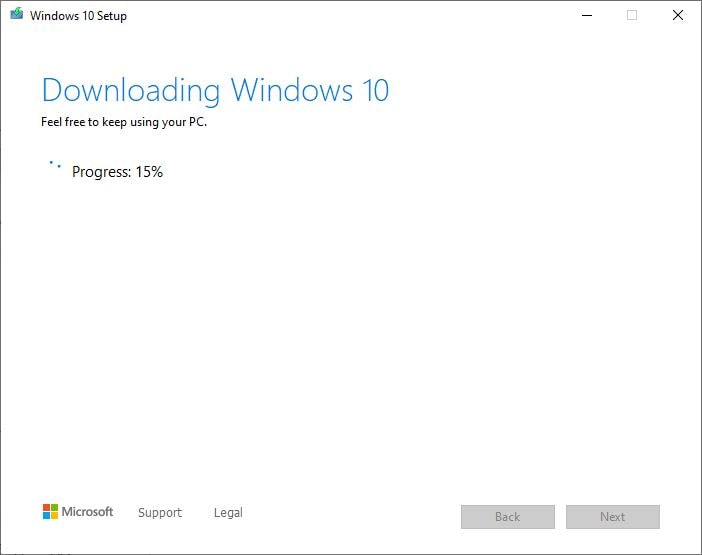 Once the download is complete, click 'Next' and then 'Accept' the windows 10 software license terms,
From the 'Choose what to keep' screen, make sure you select 'Nothing', then 'Next' once again
And finally on the Ready to install screen, Click on 'Install' to begin the process, but be warned: there's no going back from here.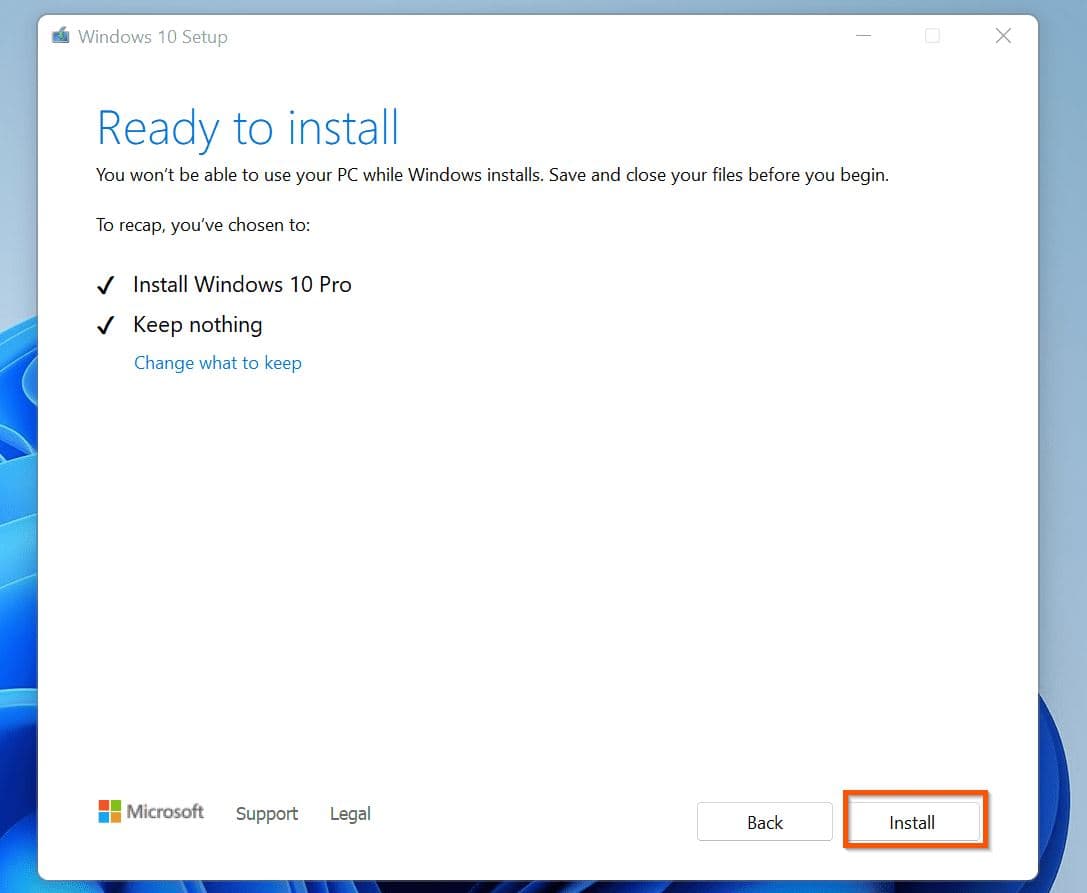 This will install and apply the required files, restart your PC several times, you need to follow on-screen instructions and you will be present a Windows 10 desktop.
Windows 11 Downgrade Note
Note – Microsoft has recently released Windows 11 version 23H2.
If you have upgraded your device from Windows 10 to Windows 11 version 23H2 then within 10 days you can uninstall the update and downgrade to Windows 10. But if you have upgraded your device from Windows 11 22H2 to version 23H2 then it can downgrade to the previous Windows 11 22H2 only not Windows 10.
Again if you have performed a clean install of Windows 11, you didn't get the option to go back to Windows 10.
It is possible to uninstall Windows 11 version 23H2 only if you have not deleted the Windows.old folder. If you already deleted it, then the only option available for you will be to perform a clean install of the previous operating system.
Also read: