Windows updates are important, that brings latest bug fixes and security enhancements. If Windows 11 Update Downloading Stuck at 100% or not installing, here is how to install it right way
Microsoft regularly releases windows updates with the latest bug fixes and security enhancements. Recently the company has released the "windows 11 moment 2 update" with a number of new features and improvements. Getting latest windows updates installed on your PC is easy and quicker just navigate settings then windows update and hit check for updates. If new updates are available allow them to download and install on your PC. But sometimes you may notice Windows 11 Update Stuck at 100% Downloading. Users report everything was fine until the windows update download reached 100%. It is constantly consuming my data but stuck at 100% download. There are multiple reasons cause windows update stuck at downloading, Here is how to past this issue and successfully upgrade your OS.
How to Fix Windows 11 Update Stuck?
Slow internet speed, corrupted system files, Lack of storage space or third-party antivirus or Proxy server blocking are some common reasons behind this problem.
Running the Windows update troubleshooter is one of the most effective ways to fix the problem.
You need to ensure your PC is connected to working internet, disconnect VPN, and disable third-party antivirus.
Check and make sure the windows update service is running, Free up system storage, and clear the update cache folder is one of the most working solutions to fix such problems.
In addition, run the system file checker tool sfc /scannow to repair system files that may prevent windows update installation on your PC.
There's a possibility that the update process is still undergoing in the background, wait a few more minutes before apply any solutions.

Add a header to begin generating the table of contents
Check internet connection
Your PC needs a stable working internet connection to download windows updates from the Microsoft server. If you are connected to a WiFi network check the signal or take your laptop closer to the Router.
Check your internet speed at fast.com or speedtest.net, if the download and upload speed is slower than usual you need to reboot your Router or contact ISP.
In addition press the Windows key + R, type ping google.com -t and click ok, Now check if continuously getting ping replay from the Google server, if it breaks between you need to troubleshoot the internet connection first.
If you are sure there is no problem with the internet connection, then reboot your PC and try to install the windows update again. When you restart your PC it will refresh the operating system, restart all running programs and clear temporary glitches that may prevent windows update download or install on your PC.
Also disconnect all external devices connected, such as a pen drive, card reader, printer, microphone, speaker, etc and try install the update again.
Restart the Windows Update
Windows update service and its related services must running to get latest windows updates download install on your PC. If due to any reason windows update service stuck running or not running you may experience problem install windows updates. Lets check and restart the windows update service and retry install the windows 11 updates again.
Press windows key + R, type services.msc and click ok
Scroll down to locate windows update service, right click on it select restart,
If the service not running, right click on windows update select properties,
Here change the startup type automatic and start the service next to service status.
Now click apply and ok to save changes.
Do the same with Background Intelligent Transfer Service and Cryptographic Services.
Run the Windows Update troubleshooter
Lets Run the built-in windows update Troubleshooter, help you fix your issues with Windows Update and restart the process.
Press windows key + I to open settings app,
Go to system then troubleshoot and click on other troubleshooters
This will display list of available troubleshooters, locate windows update then click Run next to it,
The troubleshooter will run and attempt to identify if any problems exist which prevent your computer from downloading and installing Windows Updates.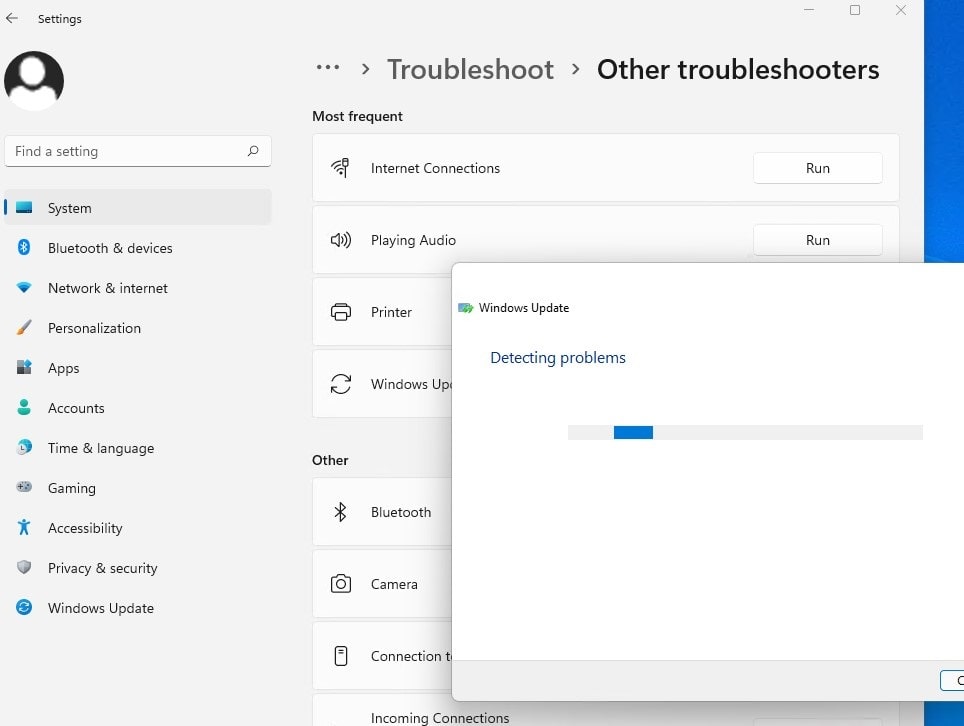 The troubleshooter attempt to clear windows update related temp files.
Clear the contents of the softwareDistribution folder,
Check the status of windows update and related services
Repair and reset windows update componets, check for pening updates.
Delete Windows Update Cache
If due to some reason, Windows update database gets corrupted with bogus file it may result windows update stuck at 100 percent. Usually running the update troubleshooter try to resolve such problems automatically, if not try to clear update cache manually following steps below.
Press windows key + E to open the file explorer manu,
Nevigate C:\Windows\SoftwareDistribution and open the download folder,
Here delete all files and folders, to do so press Ctrl + A to select all then hit Del key,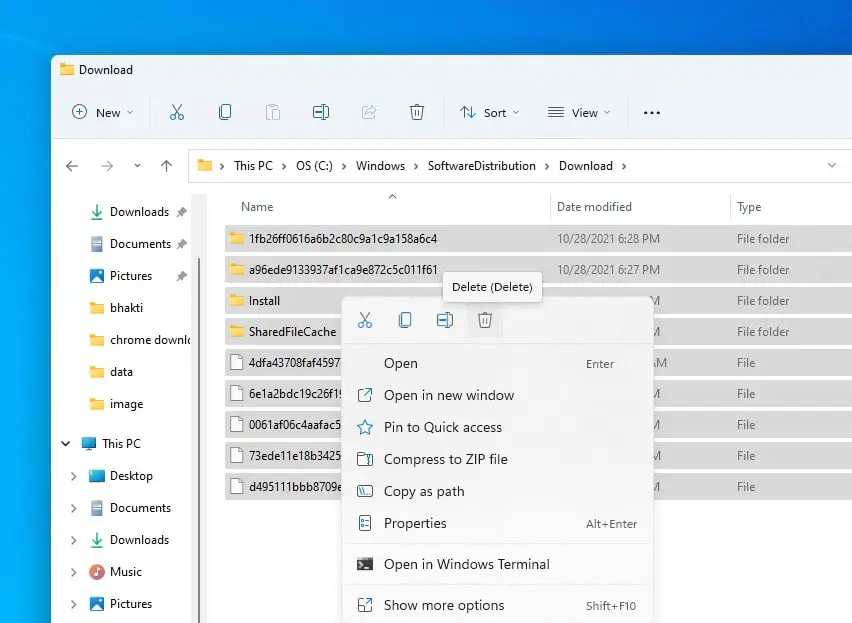 Also Delete all files and folders from DataStore.
Restart your PC and try updating your PC again.
Repair system files
If due to any reason system files corrupted or missing you may experience problem installing windows updates. Run the DISM restore health and system file checker command that help scan and replace corrupted system files.
Press windows key + S and type cmd, right click on command prompt select run as administrator,
First run DISM restore health command DISM /online /cleanup-image /restorehealth
Next run the system file checker command sfc /scannow
The above command scan all protected system files, and replace corrupted files with a cached copy that is located in a compressed folder at %WinDir%\System32\dllcache.
Once the scanning complete 100% restart your PC and try install windows updates again.
Free up storage space
Lack of storage space on system drive is another common reason why windows 11 update is stuck downloading. Windows updates need storage space to download the update files from microsoft server before apply them. If your system drive (usually its C drive) almost full it may result stuck downloading.
You can run Storage Sense tool to free up space with a single click
Press windows key + I to open settings
Nevigate system then storage
Click on Cleanup recommendations and delete temporary files from the same menu.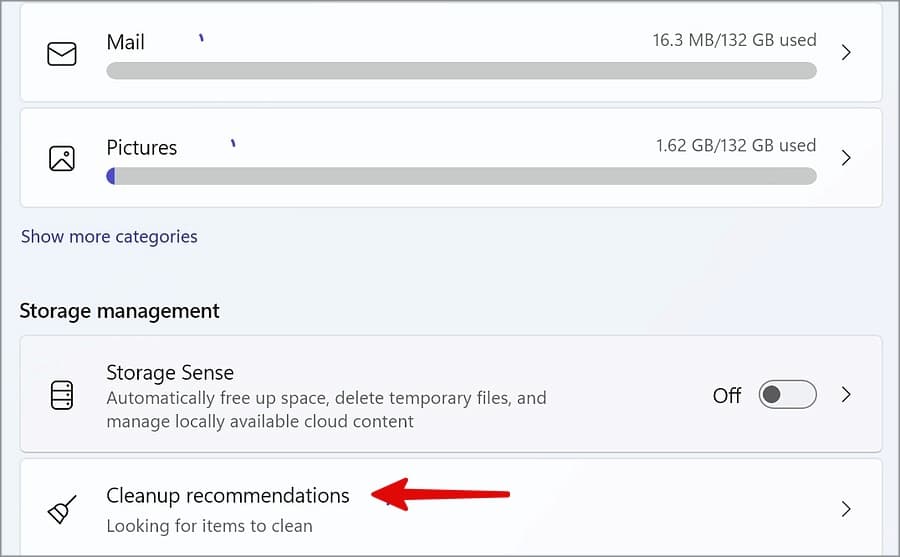 Close unnecessary apps and services to free up RAM
Right-click on Windows key and open Task Manager.
Check memory consumption. Select irrelevant processes and hit End task.
Check for virus or malware infection
Corrupt and malicious files on your Windows PC may interfere with the system upgrade process. You can use the Windows Security app to find and remove such bogus files. Also you can perfere thrid party antivirus to perform a full system scan and remove virus or malware infection.
Switch Google DNS
Few users report changing DNS server on their PC help them fix the windows 11 update stuck download problem.
Press windows key + R, type ncpa.cpl and click ok
This will open network connections window, right click on active network adapter select properties,
Select Internet protocol version 4 (TCP/IPv4) and click on properties,
Here select use the following DNS server address, and set preferred DNS server 8.8.8.8, Alternate DNS server 8.8.4.4.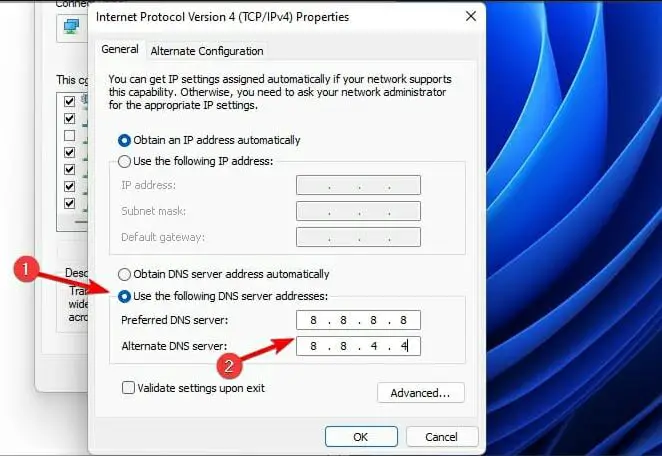 Now open windows update and check for updates again.
Install windows updates on Clean boot
Start windows 11 clean boot state that start your PC with a minimal set of drivers and startup programs, so that you can determine whether a background program is interfering with windows update.
Press windows key + R, type msconfig and click ok
This will open system configuration window, Move to startup tab
Here check mark on hide all microsoft services, then click on Disable all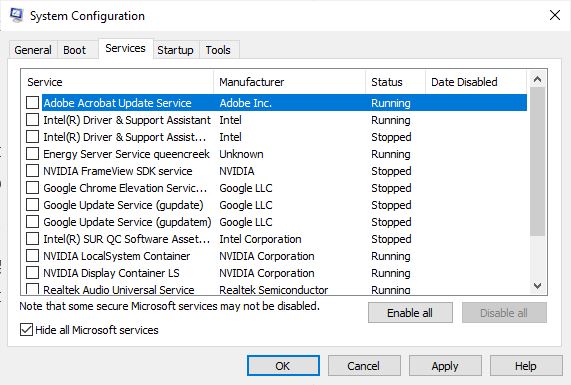 Now move to startup tab then click on open taskmanager
Here disable all startup app that impact high at startup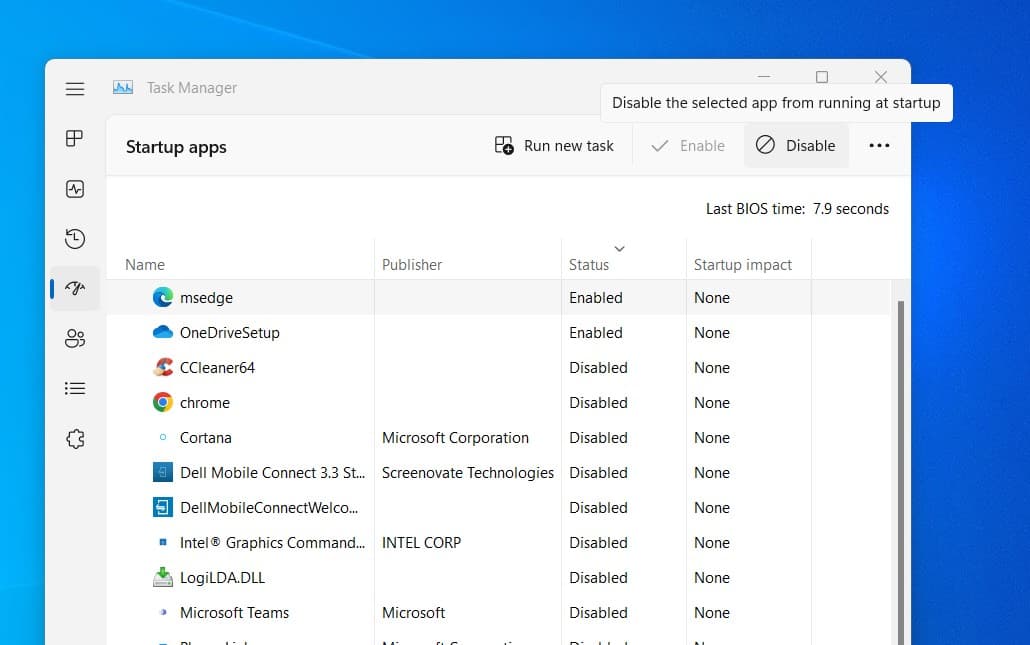 Close taskmanager, click apply then ok to close system configuration window and reboot your PC.
when windows 11 start clean boot state, open windows settings, nevigate windows update then hit check for updates.
In addition Press windows key + R, type Firewall.cpl to open windows defender firewall, click on Turn Windows Defender Firewall on or off option on the left. And select the Turn Off Windows Defender Firewall option under both Private network settings and Public network settings.
Manually install windows 11 update
If above solutions fails to fix the problem, still windows 11 update stuck downloading try install the update manually.
First notedown the windows update Knowledge Base reference number (KB number). For example, KB4505903.
Next Go to Microsoft Update Catalog, and search for the update number
Click the Download button for the version of Windows 11 you are using.
A pop-up window will appear after the download button is trigged. Click on the .msu file to download it.
You can double-click a .msu file to manually install the update manually and a system reboot is required to finish the installation.
FAQ:
Why Is My Update Download Stuck at 100?
Its probably due to slow or unstable internt connection that prevent download windows updates from Microsoft server.
How to fix windows update problems?
Running windows update troubleshooter is one of most effective way to fix windows update problems on your computer. Again make sure update service is running, or clear the update cache files on softwareDistribution folder.
What is importance of windows update?
Microsoft regulary drop windows updates that include latest bug fixes and security improvements that enhance computing experience, or improve the performance of the windows compoentns.
Also read: