Is Wi-Fi dropping or Internet not working after the windows 11 22H2 update? You are not alone, several users report, experiencing slow WiFi connection or Windows 11 wifi not working after sleep. There are several underlying causes that lead to issues with either connecting to the Wi-Fi or accessing the internet after establishing a connection. WiFi driver issues, corrupted files, Incorrect network configuration, third-party antivirus or firewall are some common reasons behind Wifi or Internet not working on windows 11. Whatever the reason, here is how to fix slow WiFi speed, "Limited access," "Unidentified Network," or no internet access on windows 11.
Wifi not working windows 11
Before moving forward, let's first identify whether is problem with the PC or the router. To do this connect to the same wifi network using different devices either a laptop or mobile phone. If you are able to establish a connection and the internet working then the problem lies with your PC only. Let's apply the solutions listed below to fix the wifi connection problem on windows 11.
Bring your PC or laptop closer to Router and check if the Internet working and Wifi is stable now.
If you're using a laptop with a physical Wi-Fi switch on the body, make sure it's switched on.
Temporarily uninstall third-party antivirus and disconnect VPN (if configured on your device) and check the Wifi or Internet status.
Restart the Router and Laptop
If you are unable to connect, try restarting the router. Restarting the modem/router is known to fix several issues pertaining to Wi-Fi connectivity. In addition, restart your device (laptop or PC) as well that clear temporary glitches that may prevent connection to the wifi network or internet.
Follow these steps to restart your router:
Unplug the power cable for the Wi-Fi router from the power outlet.
Unplug the power cable for the modem from the power outlet.
Wait at least 10 seconds or so.
Plug the modem back into the power outlet. The lights on the modem will blink. Wait for them to stop blinking.
Plug your router back into the power outlet. Wait a few minutes for the modem and router to fully power on. You can usually tell when they're ready by looking at the status lights on the device.
On your PC, try to connect again.
Troubleshoot Internet Connection
Windows 11 offers a built-in Internet troubleshooting tool and running that troubleshooter automatically detects and fixes Internet connection problems on your device. Let's run the troubleshooter and allow windows 11 to fix the problem itself.
Press Windows key + I to open the Settings app,
Navigate to the system, then troubleshooter,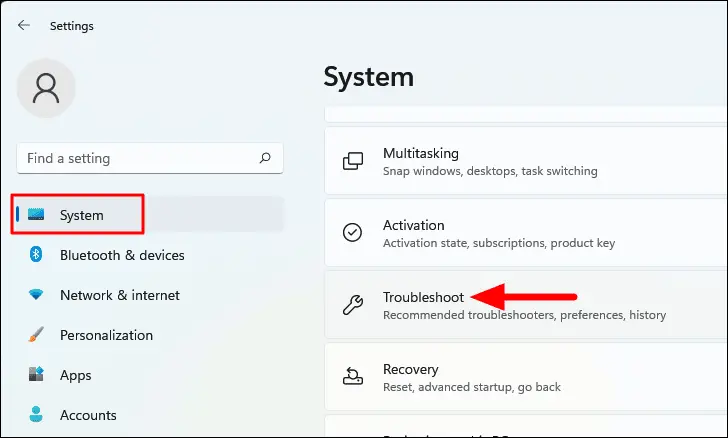 Now click on other troubleshooters then locate Internet connections and run the troubleshooter.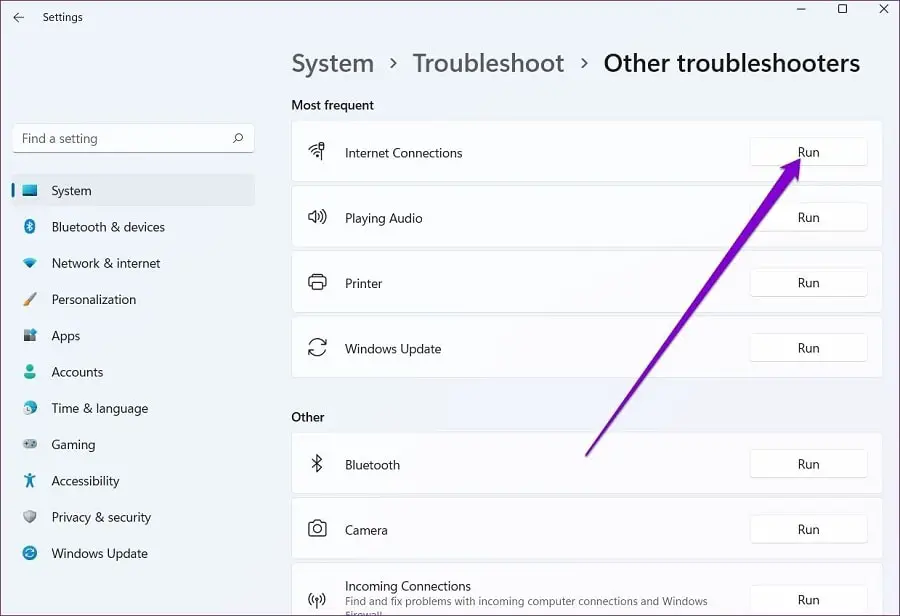 Let the troubleshooter detect the problems causing slow wifi speed or wifi disconnects frequently on windows 11 and fix them.
Once the diagnosis process completes close everything and reboot your PC.
Now check the Wifi and internet status if it's stable or not.
Reinstall wifi driver windows 11
There are chances your device's wifi driver mess up the wifi settings on your computer. Or the current Wifi driver is corrupted, outdated or incompatible with the current windows 11 version. Let's Reinstall the network adapter drivers from the Device Manager menu, its one of the most working solutions that help most users fix the problem
Press Windows key + R, type devmgmt.msc and click ok to open device manager,
Expand the Network adapters menu and find the default wireless drivers.
Right-click on it and select Uninstall device.
Click uninstall again if prompt for confirmation and restart your device.
On the next start, your PC installs the default wifi driver for you.
Try connect to the wifi network again and check the Internet status and Wifi is stable or not.
Note: If your device fails to install the default wifi driver, then download and install the latest version of wifi driver again from the Manufacturer website
Check Wi-Fi Power Management
If you notice wifi disconnect frequently or slow wifi speed on Windows 11, you should make changes from the network adapter's power management settings.
Open Device Manager and go to Network adapters.
Expand the menu and double-click on the Wi-Fi driver.
Select Power Management from the Properties menu.
uncheck Allow the computer to turn off this device to save power.
Try using Wi-Fi on Windows 11 and you won't notice frequent dropouts.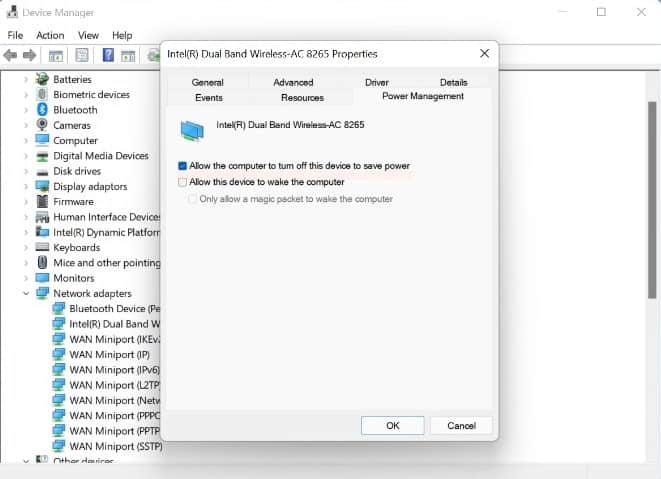 Reset TCP/IP stack and Flush DNS Cache
If you are able to connect Wifi network but there is no Internet access or "Limited access," "Unidentified Network,". It could cause due to problem with IP or DNS (Domain Name System) configuration. Let's reset the TCP/IP stack and Flush DNS Cache that helps fix the Internet problem on windows 11.
To Reset TCP/IP stack on Windows 11:
Open the command prompt as administrator, perform the following command and press ENTER after each to execute before moving to the next one.
netsh winsock reset
netsh int ip reset
ipconfig /release
ipconfig /renew
ipconfig /flushdns
After executing the above commands, restart the computer and check if the Internet connection is working or not.
Reset Network Settings
Yet another effective solution apply to fix if network settings are misconfigured and result No Internet on Windows 11.
Open settings using the windows key + I
Go to Network & Internet then select the 'Advanced network settings' option on the right.
Here in the 'Advanced network settings, select 'Network reset' under 'More settings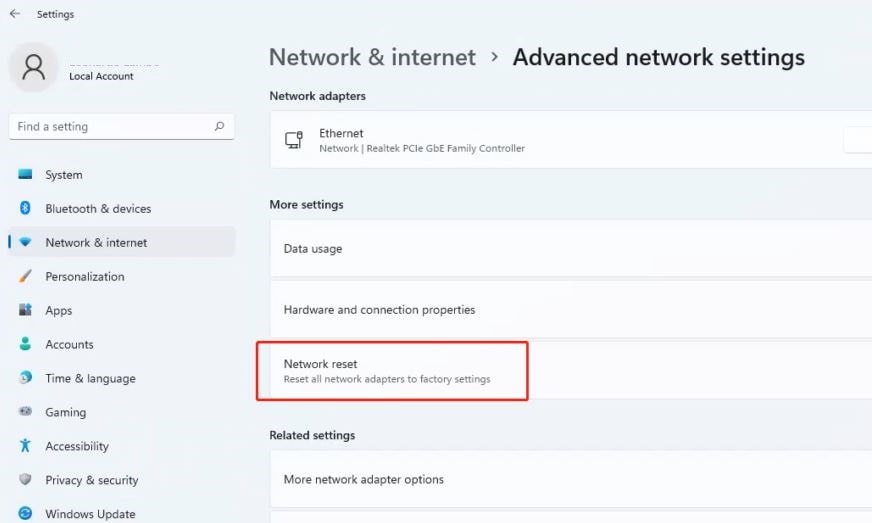 And finally, click on 'Reset now' next to the 'Network reset' to reset the network settings.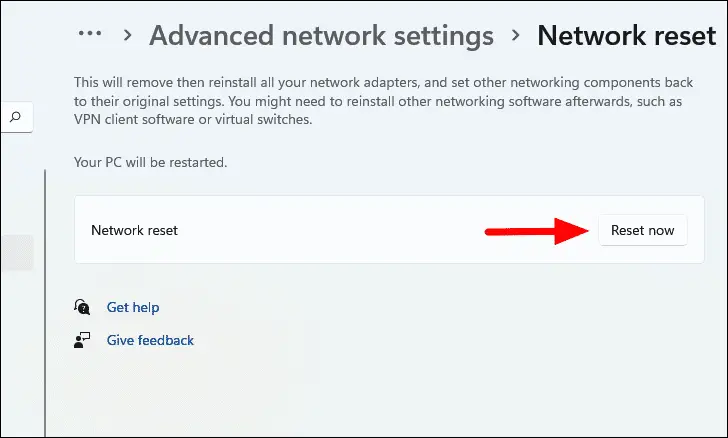 Click reset now when prompt for confirmation and restart your PC.
This will reset the network configuration to its default, check Wifi Driver for errors and try to fix them as well.
Now check if the Wifi and Internet connection is stable now.
Reconnect Wi-Fi network
Disconnect and reconnect the Wifi network again help many users to fix no Wi-Fi connection on Windows 10. It's worth trying out on Windows 11 as well.
Click on the Wi-Fi icon in the Windows Taskbar.
Expand the Wi-Fi menu and right-click on the Wi-Fi name.
Select Forget.
Try to connect to the same Wi-Fi connection with a password.
Enable to Connect wifi Automatically When in Range
Open the Settings app using the Windows key + I
Go to Network & Internet menu.
Select Wi-Fi > Wi-Fi connection properties
Finally, enable Connect automatically when in the range option.
Disable Metered Connection
If your Wi-Fi connection is set as the metered connection you might experience slow Internet speed to reduce data usage.
Open Windows Settings using the windows key + I
Go to Network & internet then Wi-Fi.
Select the Wi-Fi connection that you are trying to connect.
Disable Metered connection toggle (If enabled)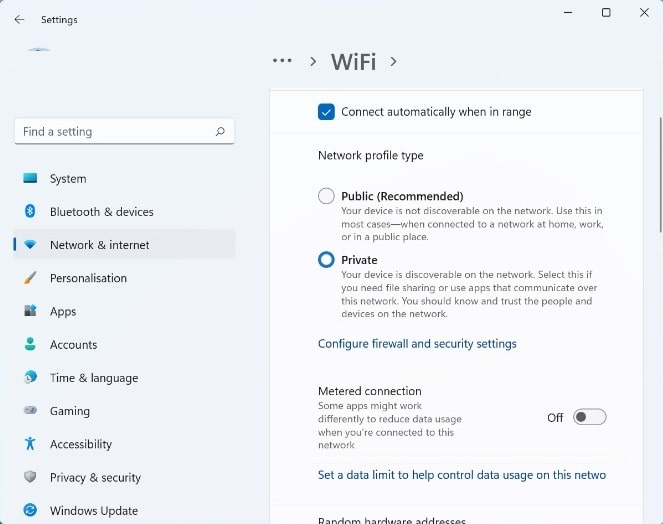 Switch to Google DNS
If you are still experiencing No Internet access or Unidentified Network Switch to google DNS follow the steps below. That probably helps fix the Internet problem on windows 11.
Press Windows key + R, type ncpa.cpl and press ok key to open network connection window,
locate your active wifi adapter, right-click on it select properties,
Double click on Internet Protocol Version 4 (TCP/IPv4) to open its properties,
Select radio button use the following DNS server addresses and set preferred DNS server 8.8.8.8, Alternate DNS server 8.8.4.4
Click ok, apply and ok to make save changes and check your Internet status.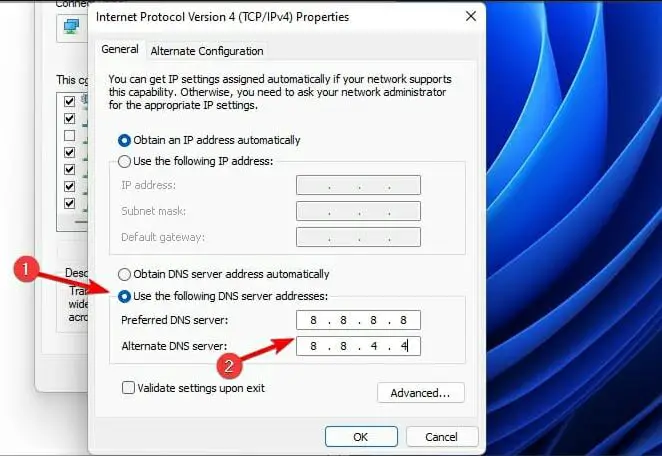 Did the above solutions help fix Wi-Fi and Internet Connection Issues in Windows 11? Let us know on the comments below.
Also read: