Windows 10 Running slow, startup and shutdown take much time after windows 10 1809 upgrade? If you own a desktop or laptop is running Windows 10, chances are high you might regularly use the web to find guides on how to make Windows 10 faster and improve its performance. Don't worry here this post we have collected 10 effective tweaks that help to fix sluggish Windows 10 performance and boost overall system speed.  With a few tricks and tweaks such as maximizing RAM, disabling visual effects and getting rid of unnecessary services, you can make windows 10 run faster even on old computers.
Optimize Windows 10 performance
Here Follow these steps below to make your Windows 10 startup and shut down faster. Speed up the start menu And Boost Over All System Performance many other things besides.
Faster startup (say Buh-bye, startup password On User login)
For most people, Windows 10 will ask for the user to type in a password every time they start the computer. Now while this is a very good idea when you are in an open plan office and you don't want others to gain access to your PC. You may want to not do this when you have a computer that sits at home all day.
To cut this step out and save seconds, Here How to Bypass Windows 10 Password and Automatically Login
Click on the Search field next to the start menu
Type netplwiz and then press Enter.
Untick the box next to Users must enter a username and password to use this computer.
Click on Apply and enter your password to finish.
This removes the need to enter a password ever again.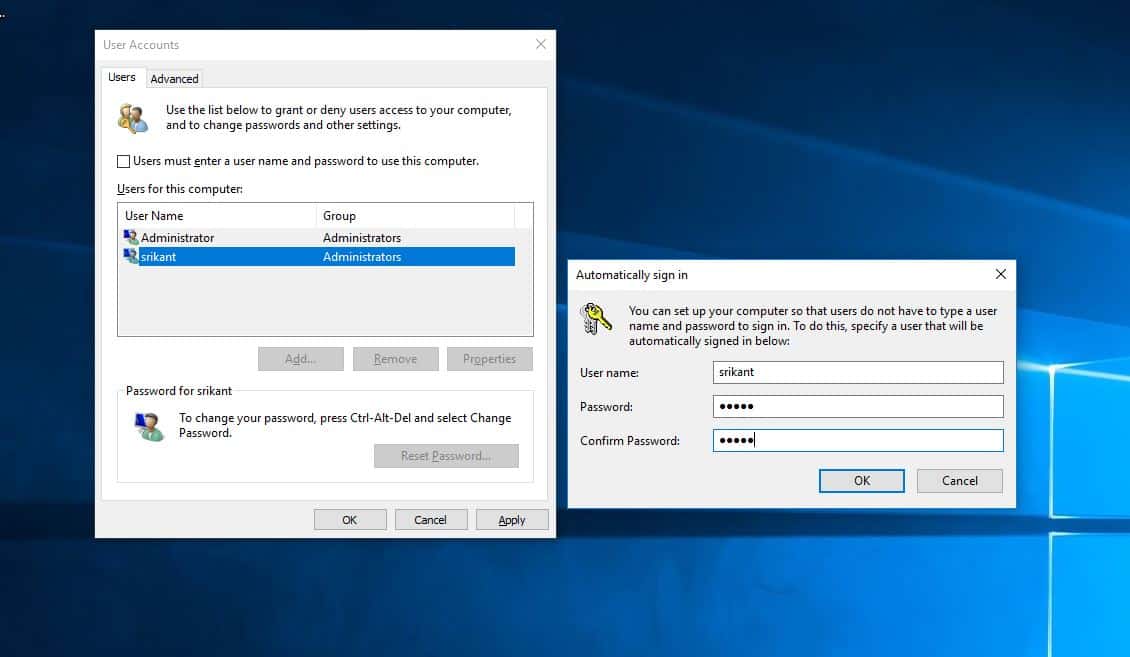 Tweak to Faster shutdown windows 10
In Windows 10, the shutdown process still requires three clicks and a menu. Come on! If you like to shut down your computer after a hard day's work, then you will realize that the process still requires three clicks. To speed this up you can use a shortcut.
Simply right-click anywhere on a free part of the desktop
then click New > Shortcut.
In the Location field, type in the following.

%windir%\System32\shutdown.exe /s /t 0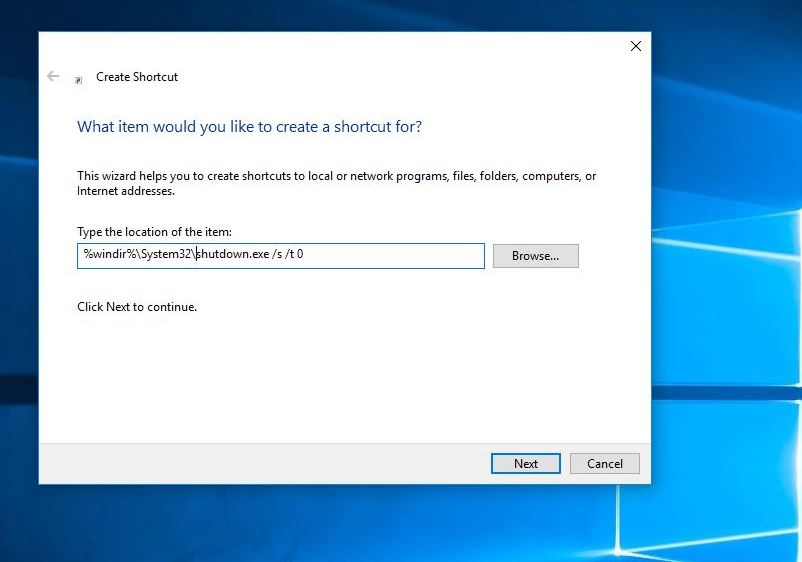 Click on the Next Name it fast shutdown and click finish.
The shutdown shortcut will take place on Desktop,
which adds an actual shutdown icon to the desktop.
Now each time you click on that shortcut, your PC will immediately shut down.
Enable Windows 10 Fast Startup
With Windows 10 there is a new "hybrid" startup mode that should cut down on bootup times. It does this by putting the PC into hibernation instead of fully shutting down.
To enable Windows 10 fast startup:
Right-click the Start button.
Click Search.
Type Control Panel and hit Enter on your keyboard.
Click Power Options, then Choose what the power buttons do.
Click Change settings that are currently unavailable.
Scroll down At the bottom, click "Turn on fast startup" under Shutdown settings Click "Save changes"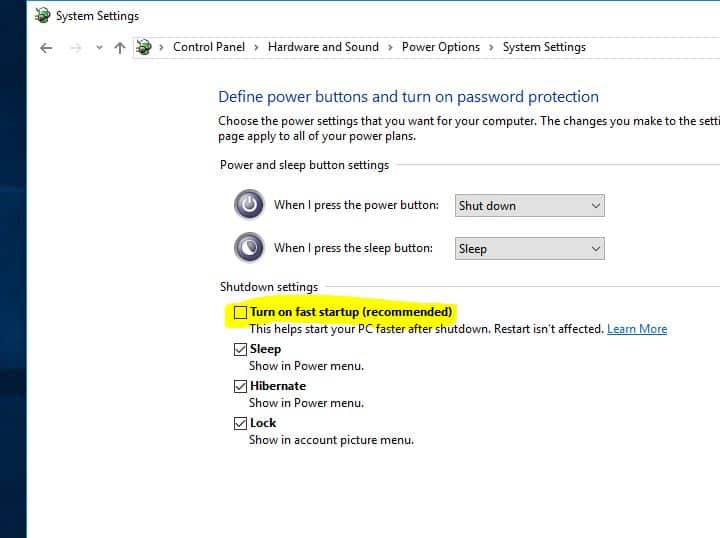 If your machine is a few years old (or older), you may have noticed that Windows 10's spiffy new Start menu is slow to appear. That could be because it's animated, and animation consumes horsepower.
To turn off this animated feature,
Click in the start menu search field, type sysdm.cpl, and press Enter.
On the system properties window click on Advanced Tab.
Now click the Settings button in the Performance section.
Uncheck the box for Animate windows when minimizing and maximizing,
then click Apply.
This should speed up not only the Start menu but also all other windows that appear on your desktop.
Disable unnecessary Third Party Startup services
Open the run command and type msconfig in the Run Window and press enter.
This will bring the system configuration tab.
Select the services tab and you will see the list of services running.
you must check the box below to hide all Microsoft services.
Now here you will see all the third party services which are running.
Now you will be able to disable unwanted services and this will make Windows faster.
Disable programs that run on startup
Many of the programs and services that run on startup may be familiar to you, like OneDrive or Evernote Clipper. But you may not recognize many of them. The Task Manager helps you get information about unfamiliar programs. These startup services make computer slow startup. Stopping some programs from starting up will speed up the OS.
Right-click the taskbar and choose Task Manager,
If the Task Manager launches as a compact app with no tabs, click "More details" at the bottom of your screen.
The Task Manager will then appear in all of its full-tabbed glory.
And then click on the Startup tab.
You'll see a list of the programs and services that launch when you start Windows.
Included on the list is each program's name as well as its publisher.
Whether it's enabled to run on startup, and its "Startup impact," which is how much it slows down Windows 10 when the system starts up.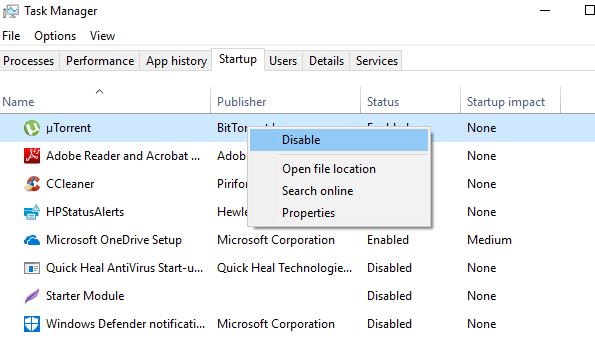 To stop a program or service from launching at startup, right-click it and select "Disable." This doesn't disable the program entirely, it only prevents it from launching at startup. You can always run the application after launch.
Disable background apps
Microsoft is a big fan of its native universal apps, which might be why it allows them to run in the background even when you haven't actually launched them. That means you can access their features more quickly, but it's a waste of system resources if you don't use these apps on a regular basis.
To modify software running in the background:
Go to Settings from the Start menu
Then click Privacy and Background apps.
Turn off the toggle switches next to the apps you don't want to have running all the time.
Of course, you can still launch these programs manually if you need them.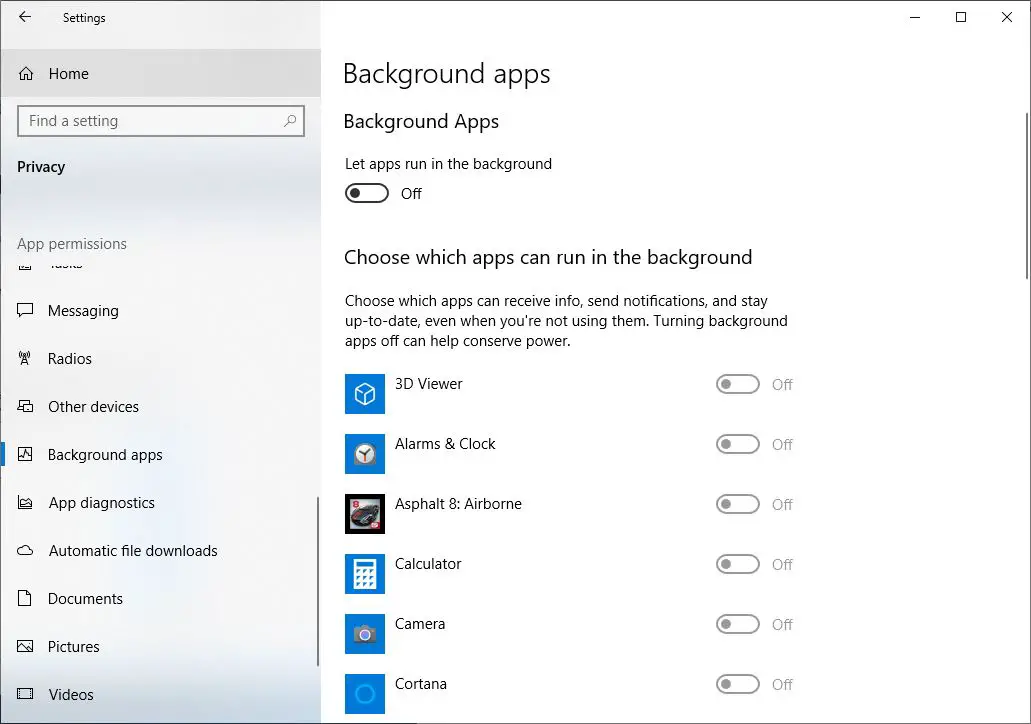 Stop apps taking up high memory
There are might be many apps running on your Windows 10 and some of these might take up huge memory. Open the task manager and you can see the list of app running and the memory they are consuming. If you see any apps taking up huge memory, you can stop them and make Windows 10 faster.
Disable shadows, animations and visual effects
Windows 10 comes with lots of animations that are included and enabled by default. These animations take up additional time and in case you want your PC to be ultra-fast you can disable them. To do this,
Open the Run command ( Win+ R) and type "sysdm.cpl" and Enter.
That launches the System Properties dialog box.
Click the Advanced tab and click "Settings" in the Performance section.
That brings you to the Performance Options dialog box.
You'll see a varied list of animations and special effects.
Here you can adjust the visual effects for best performance.
You can also choose custom settings and then select the animations you want and disable the rest of them. This will improve the performance of Windows 10.
Clean up your disks (Using Disk cleanup utility)
Microsoft's Disk Cleaner utility has survived through all of the recent Windows upheavals. And it's still a great way to sweep out some of the temporary data and unnecessary files taking up room on your hard drive. Even better, now it's mostly automatic and easy to navigate. The built-in Disk Cleanup tool in Windows actually does a decent job of removing unnecessary files. If you want to go further though, like finding duplicates, you'll need a third-party tool
To Run The Disk clean up Tool
Open This PC, Right-click Local Disk C: and choose Properties.
Now Under the General tab, click the Disk Cleanup button.
It targets files including system memory dump files, temporary internet files and more.
Also, you can review its findings before clicking on the OK button to confirm.
Select unnecessary files (temporary internet files, etc.) then click OK
You can Also Use the Advance Button To Clear old backup, Restore point, Windows. old Etc files.
Defragment Hard Disk
Over a period of use, your hard disk is sure to get fragmented and thereby reducing the speed of your computer. From a fragmented disk, it takes the computer much more time to find files that are scattered everywhere. Defragmenting your drive restores order to that chaos, and speeds up your computer.
Defragmenting C: drive is more applicable if you're still booting off a spinning disk hard drive and not a SSD. SSDs don't need defragmentation, and unless you're using a more advanced file system format like EXT4, you're going to need to do some defragmentation.
Windows 10 does come with the default defrag tool. To use it just type defrag in the start menu and you can see the desktop tool called "Defragment and optimize hard disk". Open this app Select the system drive and click the optimize button to make the drives faster.
Or you can open This pc now Right-click Local Disk C: and choose Properties then Click the Tools tab here you will find the option "Optimize and Defragment Drive"
Disable Windows Indexing
Windows Search service provides content indexing, property caching, and search results for files, e-mail, and other content. Whenever new files are added to your PC, indexing services are in action. You can make PC faster by disabling the indexing services.
open the Run command and type services.msc and press enter.
Search for Windows search option and right click to select properties.
In the properties tab, select startup type as disabled.
This will make Windows search slow, but if you do not search files often, this can actually speed up your PC.
Manage Power Plans
There are different power plans available in Windows, to manage them open Control panel and navigate to Hardware and Sound-> Power Options. Here you can select the high-performance power plan. It might use up more battery, but it is optimized for better performance.
Uninstall Unused Programs
This one is self-explanatory! Remove stuff you don't use!
Right-click the Start button
Click Programs and Features
Select the unwanted software and click "Uninstall/Change"
Setup virtual memory (Optimize Paging File)
Don't take this lightly because paging file is a major aspect behind the bootloader time. Once you correctly configure it, you will surely feel the change. And this thing is especially recommended for the low-end ram computers. It is really very important for them to optimize the paging file. Once successfully do that your PC will become much speedy than before.
Launch Start Menu and navigate to the Control Panel.
In the Control Panel, just go to the Search field at the top-right of the window and type Performance.
Once the results pop up, just choose "Adjust the appearance and performance of windows."
This menu can also be accessed by right-clicking on My Computer and then choosing Properties from the context menu.
Go to the Advanced tab and click Change key in the Virtual Memory section.
Now uncheck the option: "Automatically manage paging file size for all drives."
Select the drive (default C: drive) where Windows 10 is installed and then choose Custom Size > change Initial Size and Maximum Size to the recommended values by Windows.
Then click Set and then hit OK to save the settings. Finally, reboot the computer for the changes to take effect.
That's it. Once the computer boots up, you will likely notice a significant boost to the overall system performance minus the unexpected lag you experienced earlier.
Set Unwanted Services to Manual
As with all versions of Windows, working in the background are services. While some of them are vital to the smooth running, quite a few aren't for day-to-day use. If you disable these services, you can speed up Windows 10. Setting up unwanted services to the manual is another best way to stop Unwanted programs from being started automatically in Windows. It will also help you to improve your computer's performance. Here are the instructions:
Press Windows + R, type services.msc and click ok,
Look for the services you don't need to start automatically and prefer to set it as Manual.
So right click on the service and choose Properties.
Under the General tab, you can see the Startup type section.
Use the drop-down menu and select the Manual option.
Click Apply and Ok to save the changes. That's it!
Kill bloatware
Sometimes the biggest factor slowing down your PC isn't Windows 10 itself, but bloatware or adware that takes up CPU and system resources. Adware and bloatware are particularly insidious because they may have been installed by your computer's manufacturer. You'd be amazed at how much more quickly your Windows 10 PC can run if you get rid of it.
First, run a system scan to find adware and malware. If you've already installed a security suite such as Norton Security or McAfee LiveSafe, you can use that. You can also use Windows 10's built in anti-malware app—just type Windows Defender in the search box, press Enter, and then click Scan Now. Windows Defender will look for malware and remove any it finds. It's a good idea to get a second opinion, though, so consider a free tool like Malwarebytes Anti-Malware. The free version scans for malware and removes what it finds; the paid version offers always-on protection to stop infections in the first place.
Keep PC updated and Use Default Protection
There are many anti-virus and anti-malware tools available, although they provide additional protection, they also tend to slow down your PC by running in the background. You can use the default Windows Defender included in Windows 10 and also keep your PC updated with the latest updates as and when they are released.
Run the Windows troubleshooter
Windows 10 has a very useful, little-known tool that can sniff out performance problems and solve them. To launch it, type troubleshooting into the search box, and click the "Troubleshooting Control Panel" icon that appears. Then click "Run maintenance tasks" in the System and Security section of the screen that appears. A screen titled "Troubleshoot and help prevent computer problems" will appear. Click Next.
The troubleshooter will find files and shortcuts you don't use, identify any performance and other issues on your PC, report them to you and then fix them. Note that you may get a message that says, "Try troubleshooting as an administrator." If you have administrative rights to the PC, click it and the troubleshooter will launch and do its work.
Once you applied these methods on your Windows 10 PC, you will recognize an effective improvement in the performance of your Windows 10 computer. Apply these tricks on your computer in order to make computers faster and share your view with us through comments.
Also, Read