We live in a digital world. Branding products and companies online is critical! Do you need to design your own brand logo for social channels, blogs or a website? If the answer is "Yes", then the rest tips might be what you needed. We are about to introduce an easy logo maker online, which is creative and entertained to play with.
The tool is DesignEvo logo maker, a free and easy-to-use logo maker that provides thousands of templates, millions of icons, 100+ fonts, and powerful editing tools. With only a few clicks, you can create your own custom logo that perfectly matches your brand, even if you have no professional design skills. No matter bloggers, small business owners, entrepreneurs, startups or individuals, anyone can get creative logo design ideas from DesignEvo.
DesignEvo Feature Highlights

• 3000+ professionally designed templates.
• Millions of professionally designed icons to search through.
• 100+ fonts and beautiful text styles.
• 100+ built-in shapes and lines.
• Adjust opacity, flip & mirror effect for the selected element.
• Edit font color, size, style, alignment, spacing and uppercase.
• Add an outline or glow text effect.
• Freely move, resize and rotate elements.
• Set transparent background or fill with solid and gradient color.
• Change canvas size and scale as needed.
• Automatically generate different layouts.
• Undo/redo every step of your logo editing.
• Easily align multiple elements on your canvas.
• Manage layers with mouse clicks.
• Copy/paste and delete any element at will.
• Download JPG and PNG files, as well as a transparent PNG file.
How to Make A Decent Logo In DesignEvo?
Refer to DesignEvo, an online logo app: https://www.designevo.com/
Go for [Make a Logo for Free], the main operating interface will show.
Tips: For those who have English as their first language, or don't understand English very well, DesignEvo offers the translation versions for Español, Português, Deutsch, 日本語, 繁體中文 and 简体中文. The language switching box can be found on the bottom of DesignEvo homepage.
Hold tight! We will use it to make a logo now. Of course, you can follow the rest steps to design yours.
Design A Logo from Scratch
After entering DesignEvo, you will see the workspace for logo templates. Click [+Start from Scratch] to skip logo samples.
Step One: Input logo Text on Canvas
Choose [Text] and select logo text from [Classic] and [Art]. In the top functional bar, you will find all customization choices for your instance.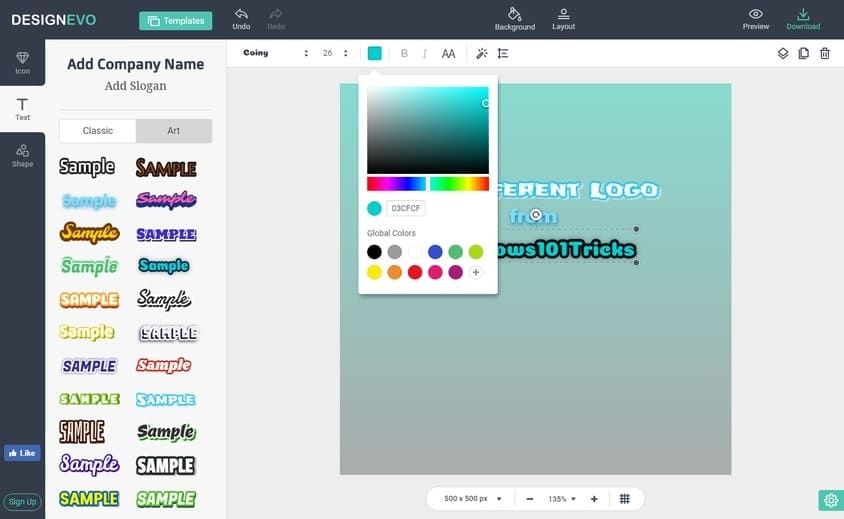 Step Two: Find Your Logo Icons And Logo Shapes
Click [Shape] or [Icon] to select your items. [Icon] supports searching icons from thousands of icons. [Shape] allows users to drag any shape from DesignEvo organized shapes.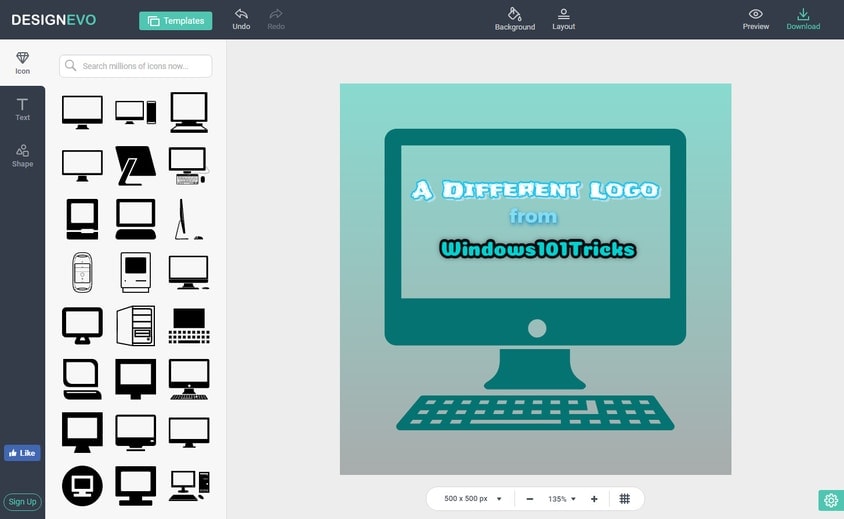 Step Three: Preview And Re-edit
Preview for a logo generator is of great significance. DesignEvo provides 6 ways to preview a logo, i.e., viewing logo as a business card header, on notebook cover, listing on a website, printing a white T-shirt, projecting on a wall screen, etc. If you are not satisfied with your logo, you can then close the preview mode and re-edit it again.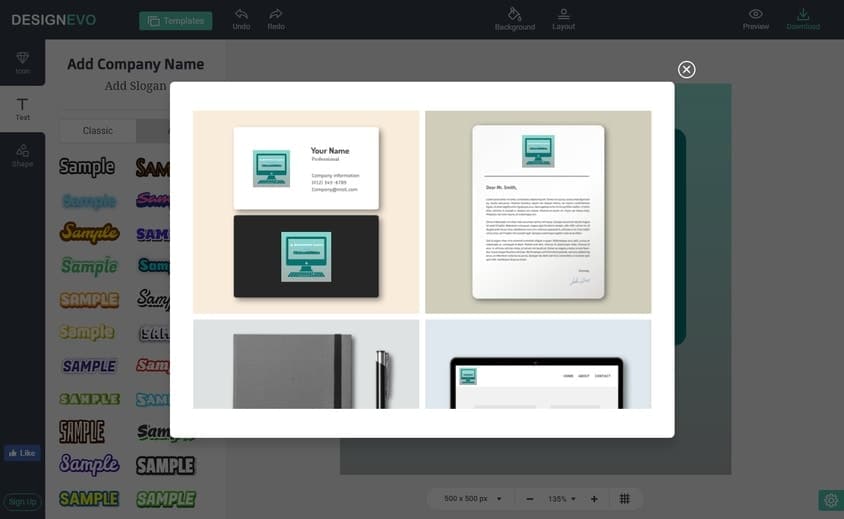 Design A Logo with Templates
Like what we mentioned in the first step, DesignEvo offers a template mode. For those who want to make a logo in a minute, it's a good choice. DesignEvo logo template offers searchable function, which makes it easy to find a good one. But you need to notice that using logo templates doesn't make your logo unique. So we will just take a screenshot for you. The rest steps are the same.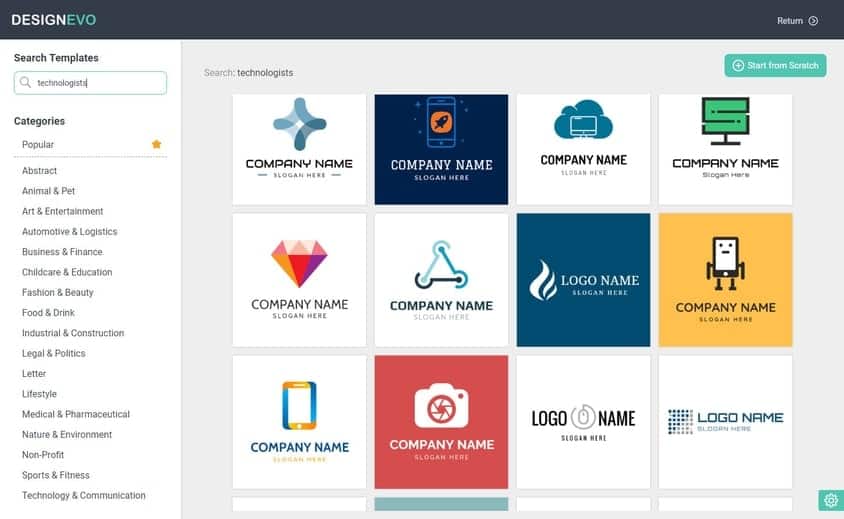 Final Words
Generating a logo is very easy once you choose the right tool. DesignEvo is such an easy logo generator, very intuitive and highly efficient. Giving it a try, you may find it delightful.