Here is how to OPTIMIZE Windows 11 for GAMING & PERFORMANCE (Make Windows 11 Faster and run Games smoothly on your laptop or computer.
So you get the best gaming computer or laptop with a higher configuration to enhance your gaming experience. But did you know besides your hardware, enabling certain
settings on your PC also boosts your gaming experience? If you are experiencing slow gaming performance or windows 11 slow freezes while open games Here are 8 ways to
Optimizing your computer and Boost Gaming Performance on Windows 11.
The gaming performance of your windows 11 laptop depends on many factors but CPU, GPU and RAM make the biggest impact.
CPU or central processing unit's job is to retrieve process and execute the operations, while GPU or Graphics processing unit has the job of rendering the images your see in your game. And lastly, RAM or Random access memory stores data for your computer for short-term use, which means more RAM on your PC can do more activities simultaneously.
Optimize Windows 11 for video games
With the latest windows 11 Microsoft has integrated new features and tweaks to improve the gaming experience.
If your screen is HDR compatible, there is Auto HDR feature that allows you to offer better brightness and more beautiful colors in many games designed under DirectX 11 or DirectX 12.
Additionally latest windows 11 is also DirectStorage compatible which allows you to take advantage of reduced loading time and a larger and ore detailed display in your games.  Note- To use the DirectStorage technology, you must have an NVMe SSD and a DirectX 12 compatible graphics card.
Also to get the most from windows 11 for gaming, make sure it's up to date, has the latest windows updates installed and the graphics driver is updated as well.
Enable Game Mode in Windows 11
The first feature you need to enable, of course, is Game Mode. Once enabled, the operating system will optimize your gaming experience by disabling background elements.
Enableing the Game mode on windows 11, optimize your PC for play by turning things off in the background.
To enable game mode in Windows 11:
Open windows 11 settings using windows key + I, or press windows key + X and select settings
Click on Gaming then Game mode in the right part,
Finally, next to the "Game Mode" option, toggle the switch to " On ".
And Game Mode is now enabled on your Windows 11 PC.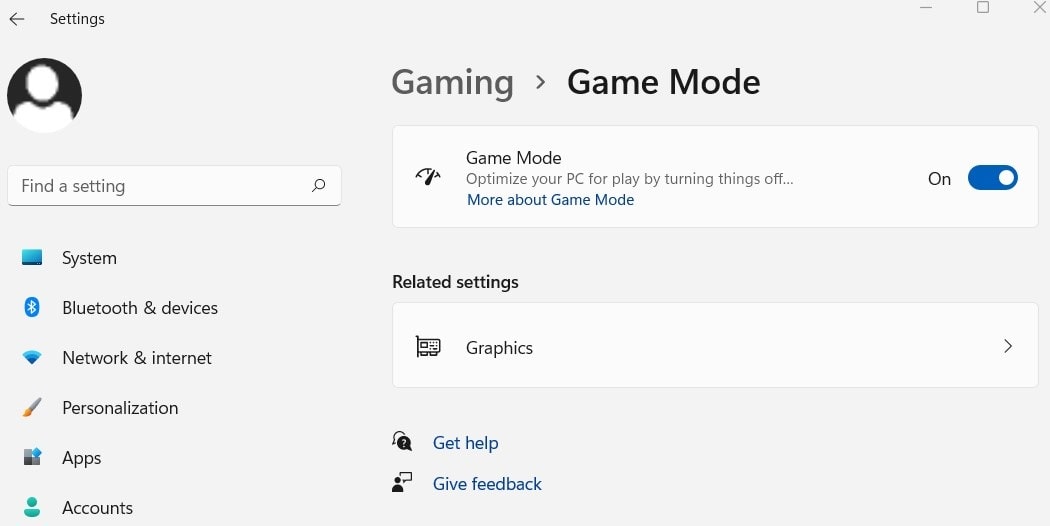 Enable HDR in Windows 11
As explained above, there is Auto HDR feature that allows you to offer better brightness and more beautiful colors in many games designed under DirectX 11 or DirectX 12. Let's check and enable HDR mode if you have a compatible screen. This feature makes games more detailed with vibrant colors.
Here's how to enable HDR on windows 11:
Press the Windows key and select settings or use the windows key + I to open the settings app,
In the left pane, click on " System ", then on " Display " in the right part of the window.
Open the HDR option and Finally, next to " Use HDR ", toggle the switch to " On ". Your PC screen should then flicker once while editing.
Note- This option is only available if you have a compatible screen.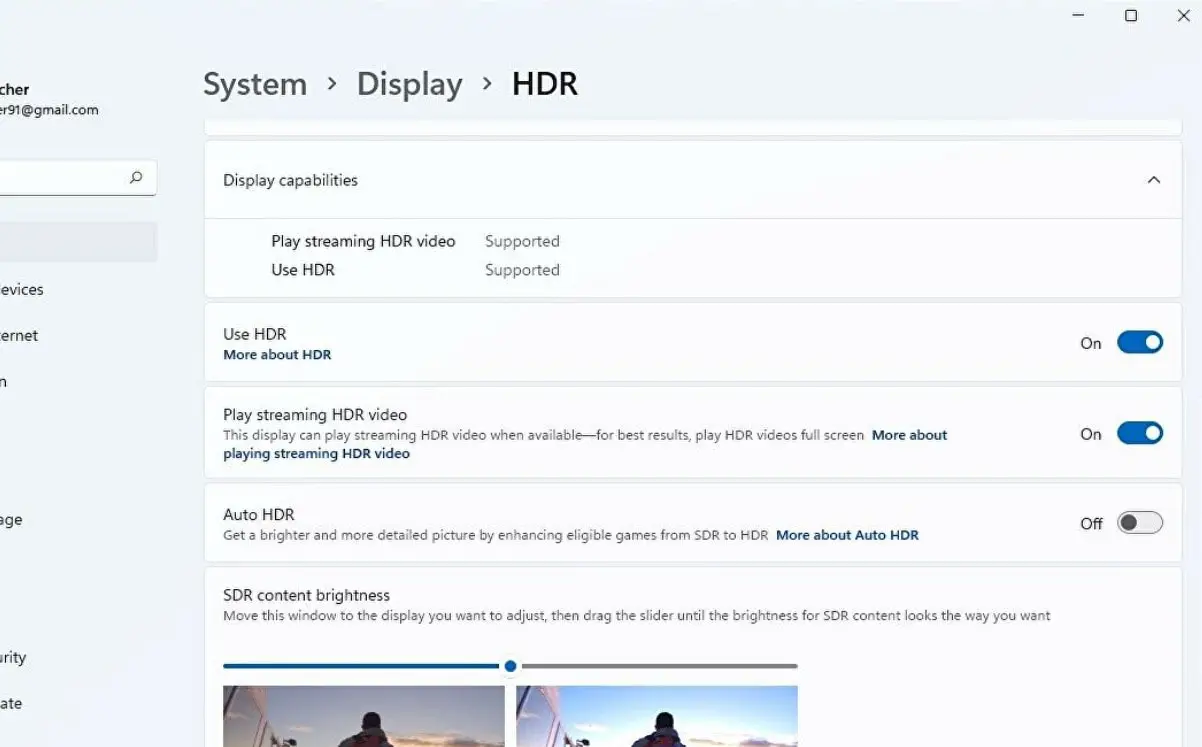 Update Graphics Drivers
Updating your graphics card drivers is an essential step to not only optimize system performance but also boost windows 11 for gaming. installing the latest driver update or upgrade the graphics driver helps get the latest features and fixes to improve game performance. You should therefore definitely monitor whether a new graphics driver update is available.
Updating your drivers regularly, maximize the performance of your GPUs as new updates drop that are designed to increase performance and stability.
Press Windows key + X and select device manager, this will display all installed device driver lists,
locate and expand display adapters, right-click on the installed graphics driver select the update driver option,
Select search automatically for drivers, and follow on-screen instructions to get the latest driver update from the Microsoft server.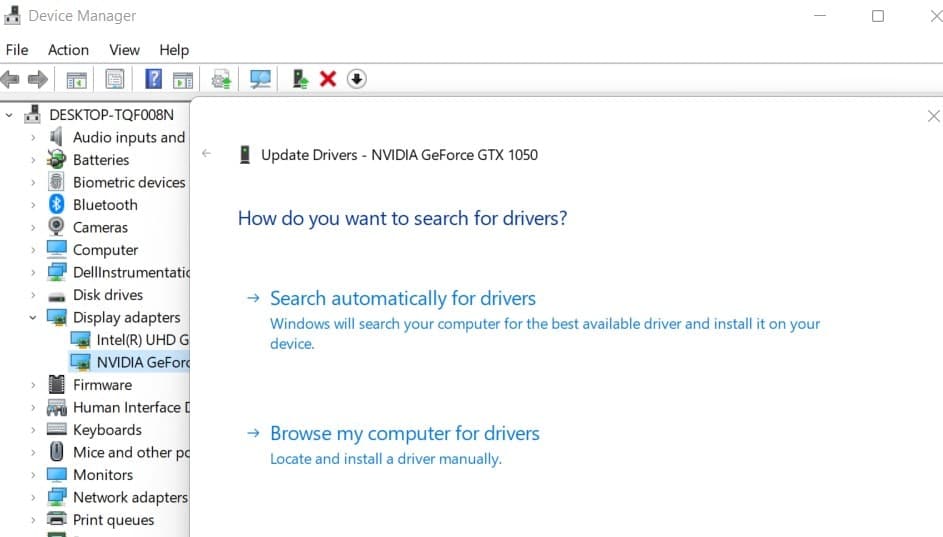 Tweak display settings
The refresh rate is very important in video games, especially in FPS. It corresponds to the number of images that your screen is capable of displaying in one second. For example, if you have a 165Hz display, then it will be able to refresh the image 165 times per second. And of course, the higher the refresh rate, the better the display quality, sharpness and fluidity.
Also with the aim of optimizing Windows 11 for gaming, you can change the refresh rate of your PC screen. To do this,
Open windows 11 settings, go to the system then display,
Locate and click on the Advanced display option
And finally, change the refresh rate next to choose a refresh rate option.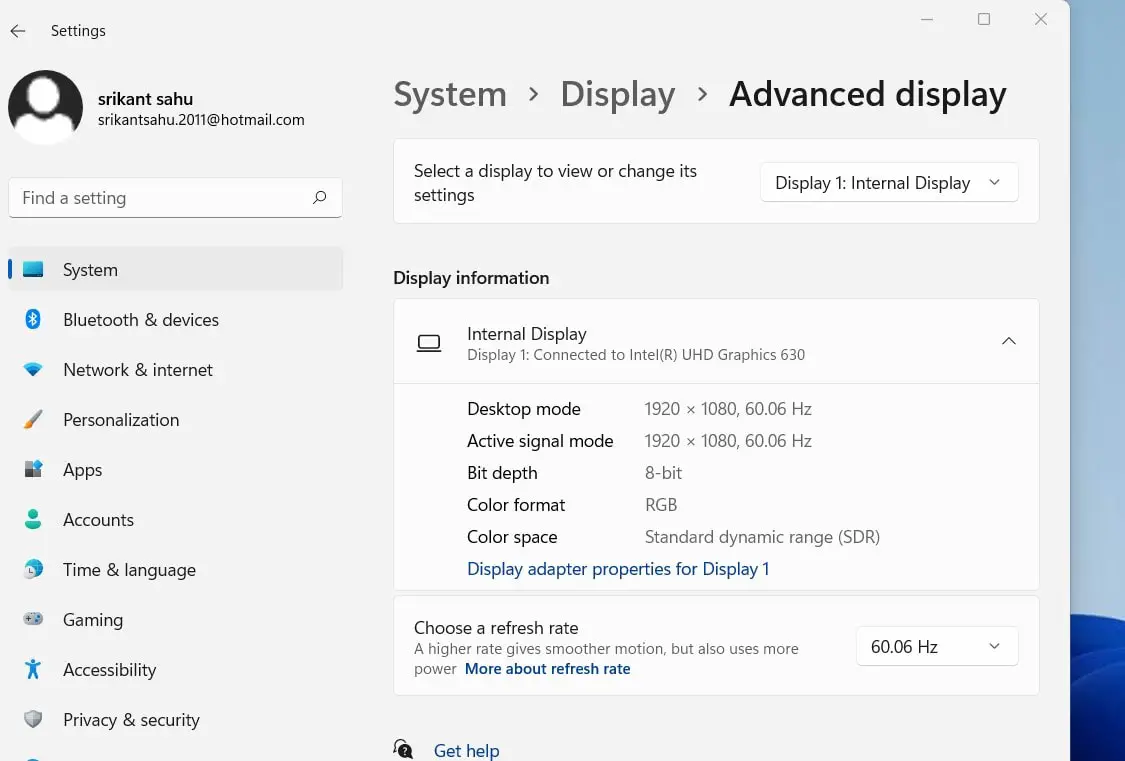 Disable Startup Programs
Over time, when you install applications on your computer, some of them may launch automatically at startup. To prevent these apps from consuming system resources in the background, you should disable as many of them as possible. Here's how.
Press Ctrl + Shift + Esc key simultaneously to open task manager,
Move to the startup tab, then select the application that runs at startup, and click on " Disable ".
Repeat the same operation for all unnecessary applications that run when Windows 11 starts.
That's it, you've just disabled startup programs on windows 11.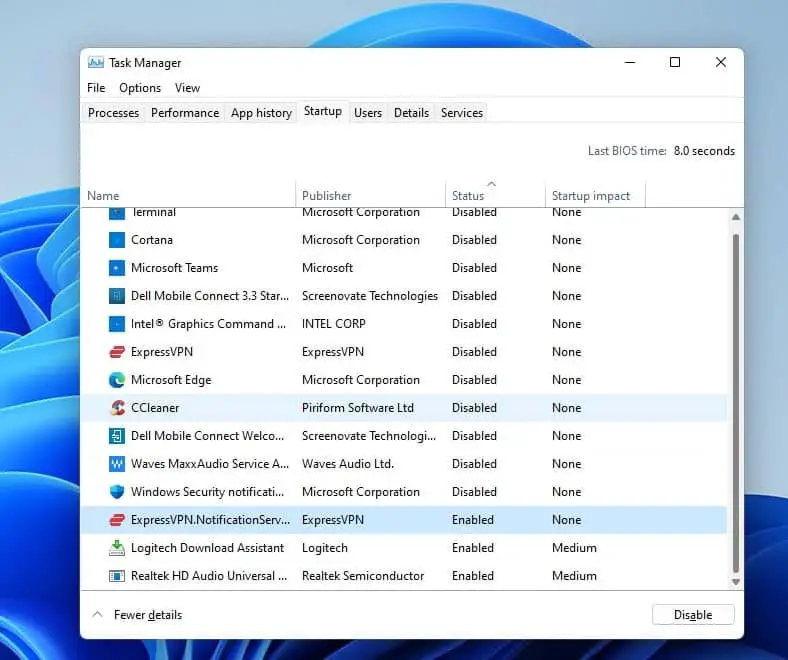 Check GPU priorities on games
To optimize Windows 11 for gaming, you have the option to assign GPU properties on any application. If you have only one graphics card, it is not worth checking. On the other hand, if you have a laptop for example, it can be useful to check that Windows 11 is using the right graphics for a particular game. Here's how to do it.
Press the Windows key and select the settings app,
Go to the system then display,
Under Related Settings, click on Graphics.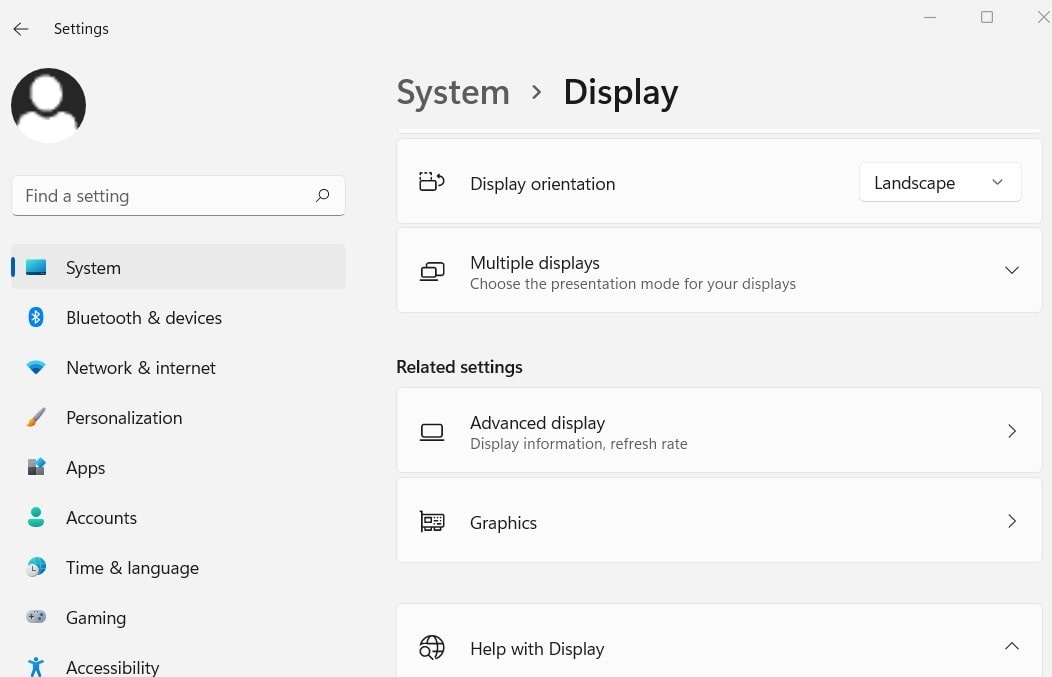 Here From the list of applications that appears, click on a game, then on " Options ".
Finally, check the "High performance" box, then validate with "Save". Repeat the same operations for all the other games.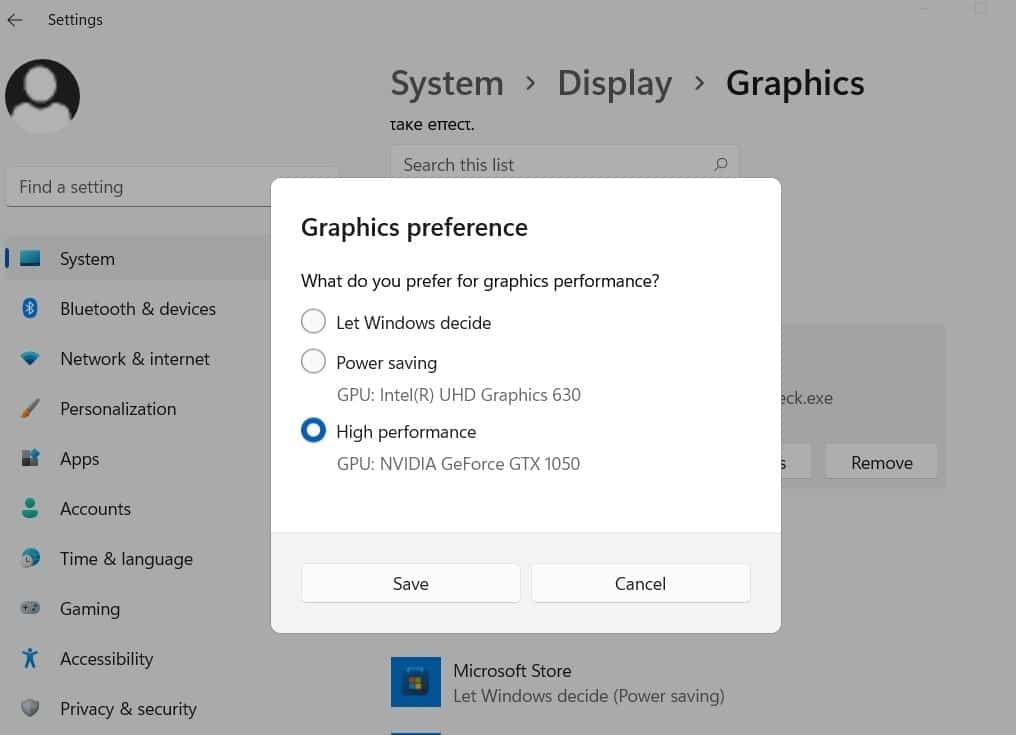 And Your PC games will now use your primary graphics card with a "High Performance" power plan.
Disable SysMain and Prefetch
Also, few users mention disabling Sysmain, previously known as SuperFetch, and the prefetch service helps them increase game load times and drive up your background activity.
Press Windows key + R, type services.msc and click ok to open the windows service console,
Locate and double-click on SysMain to open its properties,
Change the startup type disabled and stop the service next to service status.
Click apply then ok and close these windows.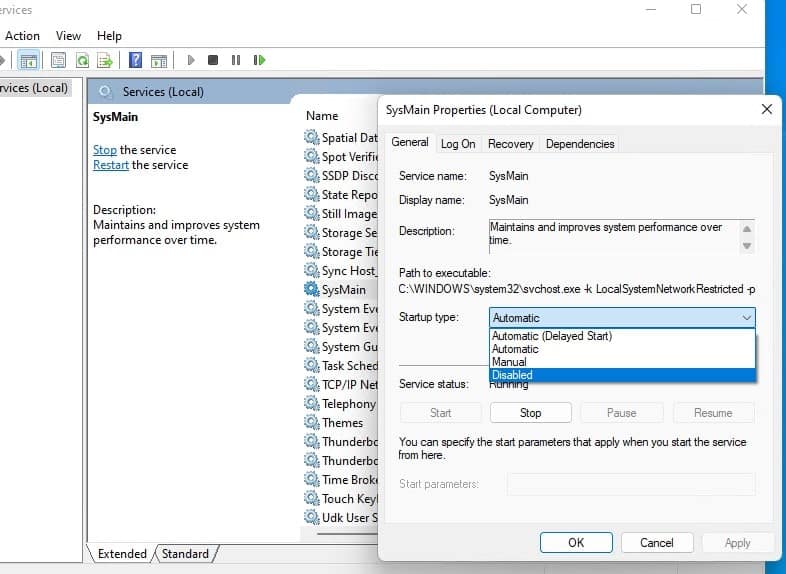 To disable prefetch we need to tweak the windows registry editor:
Now Press Windows key + R, type regedit and click ok to open regitry editor,
Nevigate to Computer\HKEY_LOCAL_MACHINE\SYSTEM\CurrentControlSet\Control\Session Manager\Memory Management\PrefetchParameters
Double-click the EnablePrefetcher entry and type 0 to turn off the Prefetcher, then select OK.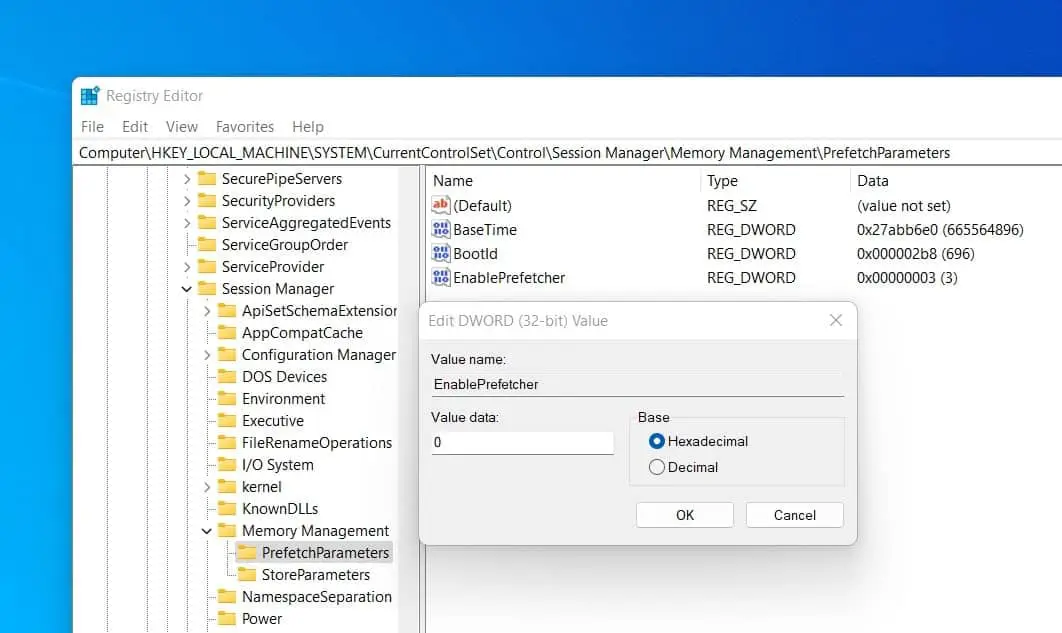 Keep Your Laptop or PC Clean and Dust-Free
Also, make sure to Keep Your Laptop Clean and Dust-Free to Improve Gaming Performance. Yes, Dust and dirt are the enemies of performance, this reduces the airflow and results in a computer that gets too hot and slow. And the best way to deal with this is to remove the dust.
In addition, Upgrade your HDD to an SSD and adding more RAM slash loading times and make your computer much faster for gaming. Also if you are playing an online Game check your Internet speed. Because unstable internet connectivity or a slow connection between the laptop and wireless router Lag or usual cause of trouble with online gaming,
Also read: