windows 10 printer not working? Having Different problems with network Printer, cannot print documents after windows 10 update? Printer not showing in devices and printers or print job stuck in a queue, Print spooler not running or unable to connect to the printer. There is a various reason that may cause the problem such as incomputable printer driver, incorrect configuration, print spooler service stopped or print spooler file corrupted. And most probably reinstall the latest printer driver and Clearing the Print Spooler probably fixes the problem for you.
Windows 10 printer not working
If you're unable to print or connect to your printer in Windows 10
Make sure that your printer is plugged into the power supply and turned on.
Check the USB connection (for wired printers) or the wireless connection (for wireless printers).
Run printer troubleshooter
Run the build-in printer troubleshooter that automatically detects and fixes the problems prevent printer to function properly.
Press Windows + I to open the settings app,
Click Update & security, then troubleshoot,
Here on right-hand side select printer and click run the troubleshooter,
This will scan and detect problems and try to fix them
During the troubleshooting process, this will restart the print spooler service
Automatically clear the corrupted print spooler files
Also, detect if an outdated printer driver causing the problem
Restart windows after complete the process and check the printer working properly.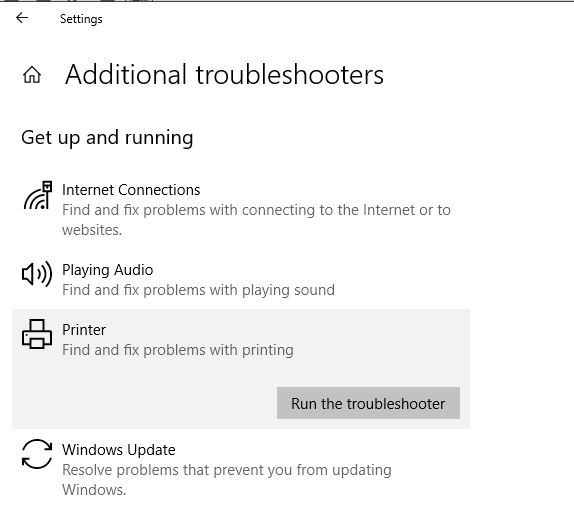 Clearing the Print Spooler
If running printer troubleshooter didn't fix the problem, let's manually Clear the Print Spooler that most probably fix the problem for you. Follow steps below to clear print spooler on Windows 10, 8.1 and 7.
Press Windows + R, type services.msc and ok
This will open windows service console, scroll down and look for print spooler
Right click on print spooler service select stop, and minimize the Windows service console
Now press Windows + R, type %WINDIR%\system32\spool\printers  and ok
And delete Delete all the files of inside this folder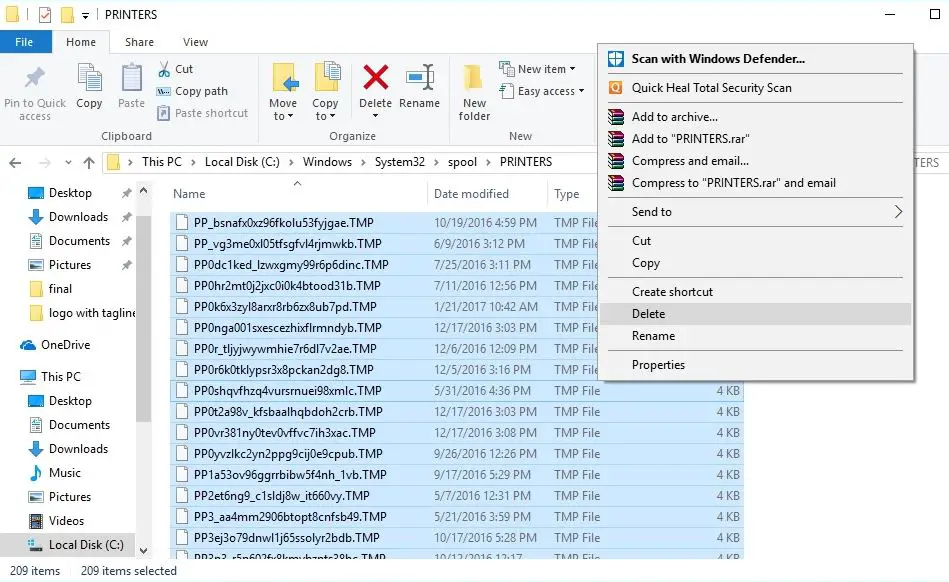 Again go to the 'Services' console.
Find the 'Print Spooler' service,
right-click on it and choose 'Start'.
This would fix if printer stuck printing documents, printer pending but not printing documents, or clear the print queue if a document is stuck
Update printer driver
If you're still having problems, your printer may need a new driver.
Press Windows + X  and select Device Manager.
Expand Printers, and  find your printer in the list,
right-click it, then select Update Driver.
Click on the 'Search automatically for updated driver software' option.
It will start looking for the latest drivers on the internet and ask you to install them.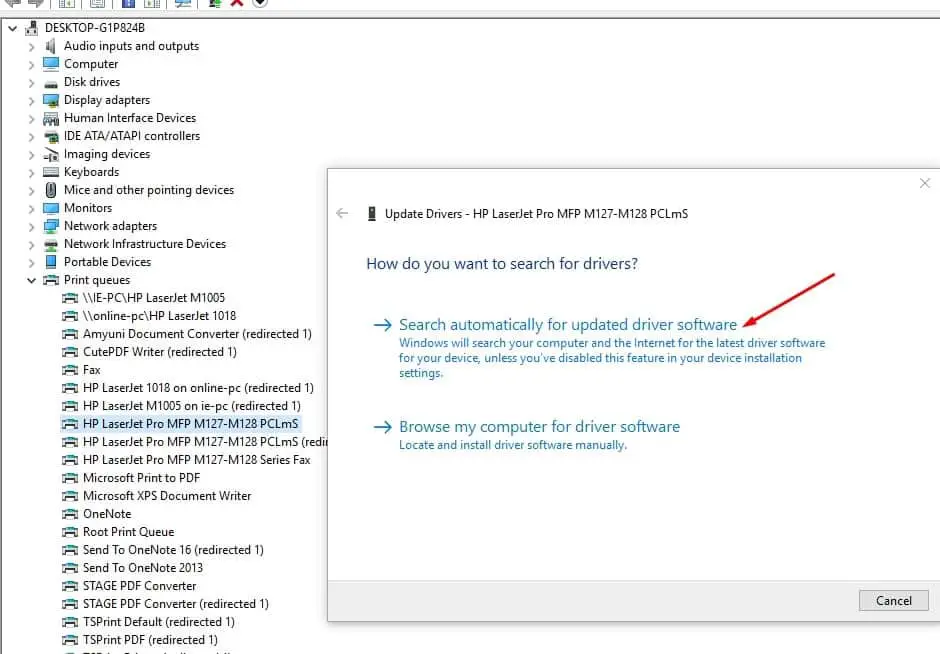 Reinstall printer driver
If updating a driver software didn't work, then try removing the driver completely and reinstalling them again.
Press Windows + I to open settings,
Then navigate to 'Devices > Printers & Scanners'.
Find your printer, click on it to expand options and click on the 'Remove device' button.
Go to the 'Start' menu, type 'Print Management' and press 'Enter' key.
Select all the printers, right-click on it and 'Delete' all of them.
Restart your PC, plug back the printer's cable and start installing the drivers again.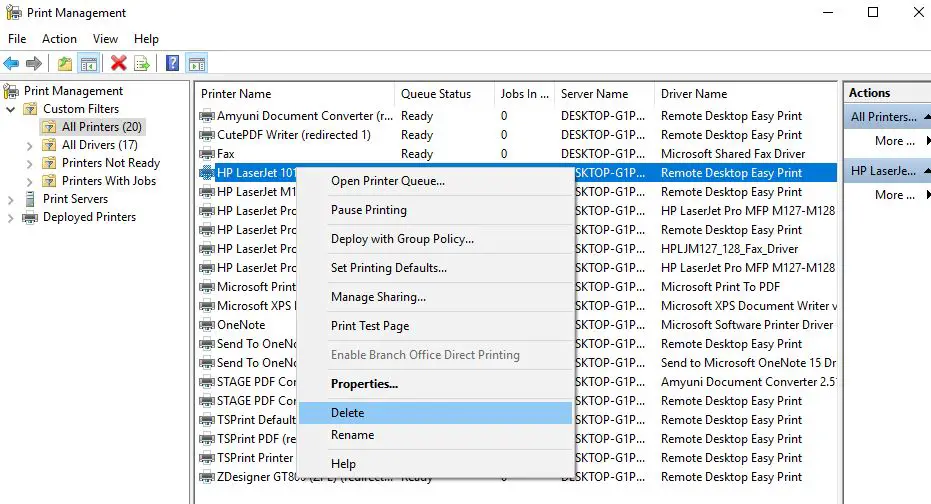 Also you can visit the printer manufacturer website to download and install the latest available driver. Check if this helps to fix printer problems on windows 10. Here are some links to driver download pages for most common makes of printer:
Note: Printer drivers tend to be .exe file. To install the driver, just download and run the file.
Set Default Printer
Sometimes Windows 10 could not manage the default printer when you have multiple printers connected or using network printers. And manually set a specific device as default printer probably helps.
Go to 'Control Panel' and change the view to large icons.
Search for 'Devices and Printers' option.
Click on any of the connected printers and choose 'Set as default printer' option.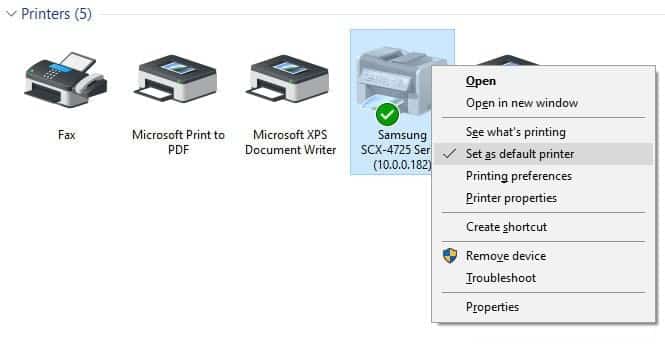 Add Printer Again
Sometimes, adding up the printer again can help in fixing the issue also.
Press 'Win + I' keys to open Windows Settings
navigate to the path 'Devices > Printers & Scanners'.
Click on the previously added printer and choose 'Remove Device'.
Unplug and then plug back the printer in the USB port.
Click on 'Add a printer or scanner' and let it find your device again.
Click on your device and add it.
Check if this helps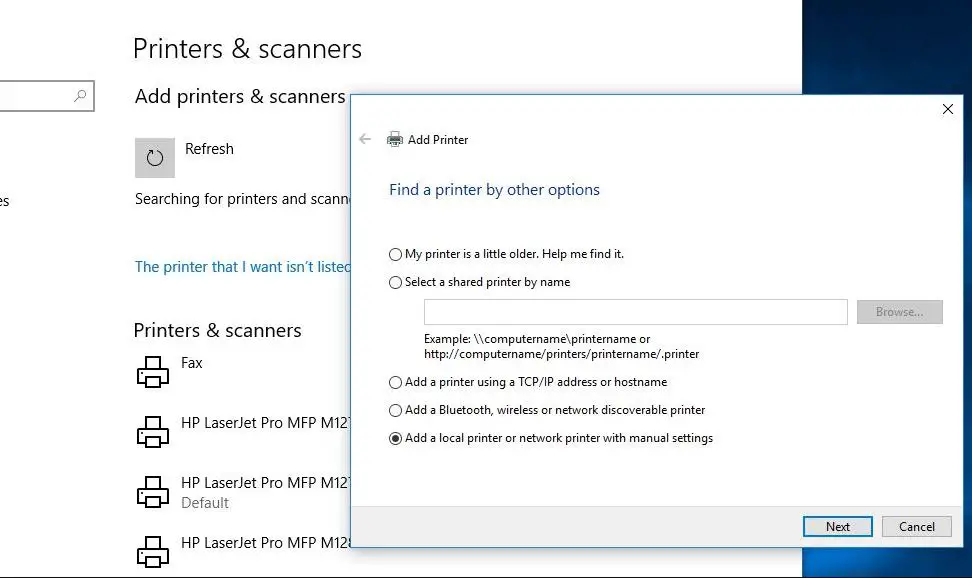 Fix Network printer problems
If you are having a problem with network sharing printer
Check the firewall and Antivirus/network protection software. These programs might block the incoming connection to the shared printer.
Disable VPN if configured on your system.
Turn on network discovery
Open Control Panel.
Then click Network and Sharing Center,
In the left pane, click Change advanced sharing settings.
Click Turn on network discovery, and then click Save changes.
Did these solutions help to fix Different printer problems on windows 10? Let us know on comments below, Also read: