Windows 11 Kernel Security Check Failure error indicated some of the important system files or components failed to the integrity or compatibility check. You might get this blue screen error after a windows update or while playing Games or completing some important tasks. Incompatible or outdated device drivers, corrupt windows system files, disk drive errors or faulty hardware are some common reasons you might get the Kernel Security Check Failure error on windows 11. And the most effective way to fix the problem is replace or update these files or components. If your windows 11 PC frequently restarts with Blue screen error Kernel Security Check Failure apply the solutions listed below.
Fix Kernel Security Check Failure In Windows 11
Whenever you get Blue screen error on your computer the first thing you need to disconnect all external devices and restart windows. If you have more than one HDD connected disconnect the secondary one and check if this help.
Most of times, Blue screene error can solved by disconnecting, disabling, or uninstalling related devices, drivers, applications, or updates
If due to this blue screen error, having trouble restarting, you can start your PC in safe mode with networking and apply the solutions listed below.
If your PC is infected with virus or malware you may experience windows 11 freezes and then restart with blue screen error. Therefore we recommend performing a full system scan with windows security (windows defender) or you can prefer third-party antivirus for scanning and remove viruses or malware on your PC.
Update windows 11
Microsoft regularly drops windows updates with different bug fixes and security enhancements. And whenever you experience a problem with windows 11 the very first thing you should do is install the latest windows updates.
Running an outdated version of Windows can lead to so many problems.
Press the Windows key + X and select settings,
Go to windows update on the left sidebar and hit the check for update button on the right side,
If pending updates there, allow them to download and install on your computer,

After installing the updates, restart your PC, and the issue should be fixed by now.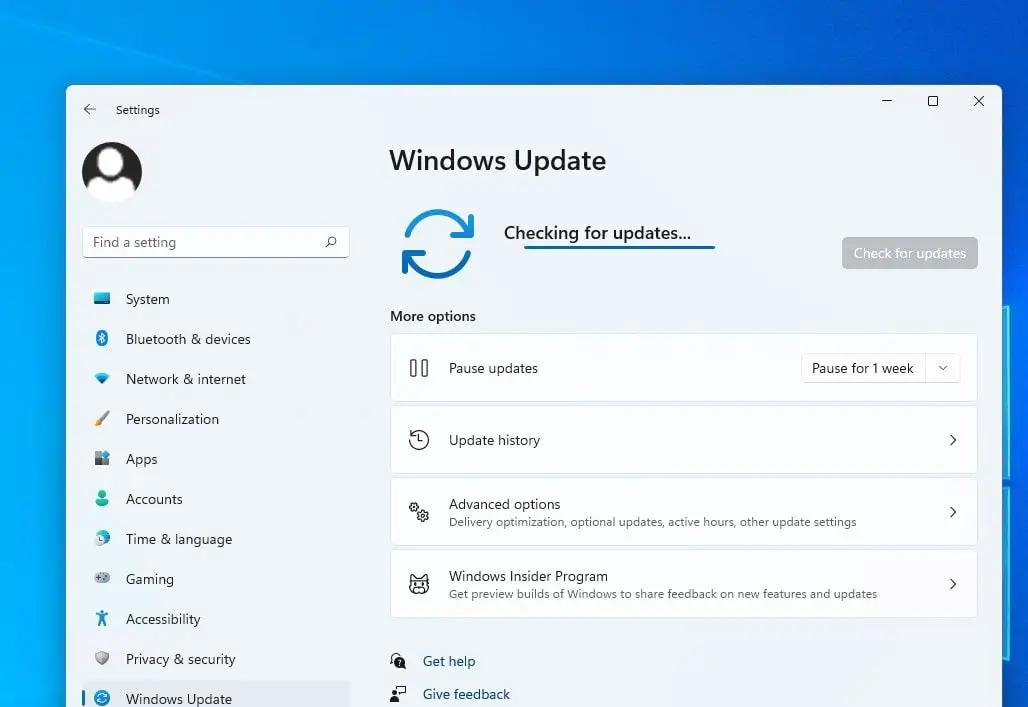 Run system file checker utility
Sometimes you may encounter this blue screen error due to faulty system files, run an SFC scan to fix and prevent such BSOD on windows 11.
System file checker utility will check the integrity of Windows system files and will perform appropriate repair operations if required
Press Windows key + S and type cmd, right-click on the command prompt select run as administrator,
In the Command Prompt, type the command sfc /scannow and hit Enter to run the SFC scan.
This will scan all protected system files, and replace corrupted files with a cached copy that is located in a compressed folder at %WinDir%\System32\dllcache.
Let the scanning process complete 100% once done reboot your computer.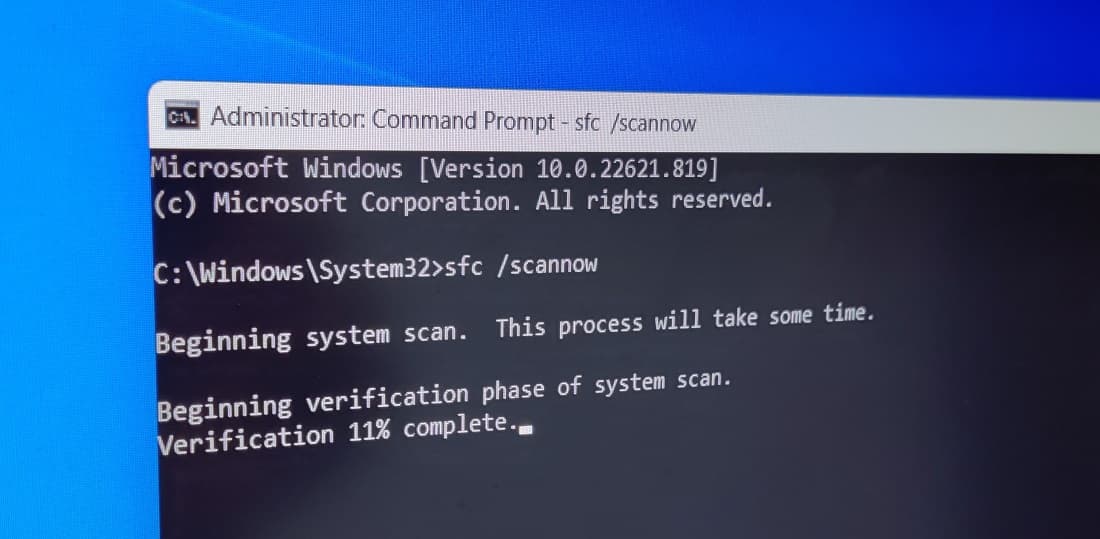 If the SFC scan results cannot repair your system files, Run the DISM restore health command. DISM.exe /Online /Cleanup-Image /Restorehealth command detects and fixes corrupt files in the component store of the Windows system image so that SFC can work properly.
Use the CheckDisk tool
Disk drive errors or bad sectors in the hard disk drive also lead to different blue screen errors on windows 11. Running the chkdsk command helps scan for issues with the drive and try to fix them.
A damaged or corrupted hard disk can be another possible reason for kernel security check failure
Press Windows key + S and type cmd, right-click on the command prompt select run as administrator,
In the Command Prompt, type the command chkdsk C: /f /r and press enter key,
Here chkdsk command is to check the disk drive for errors, C: is the drive scan for errors and /F fix the errors on the disk and /r Locate the bad sectors on the target hard disk and tries to recover the readable information from the bad sectors.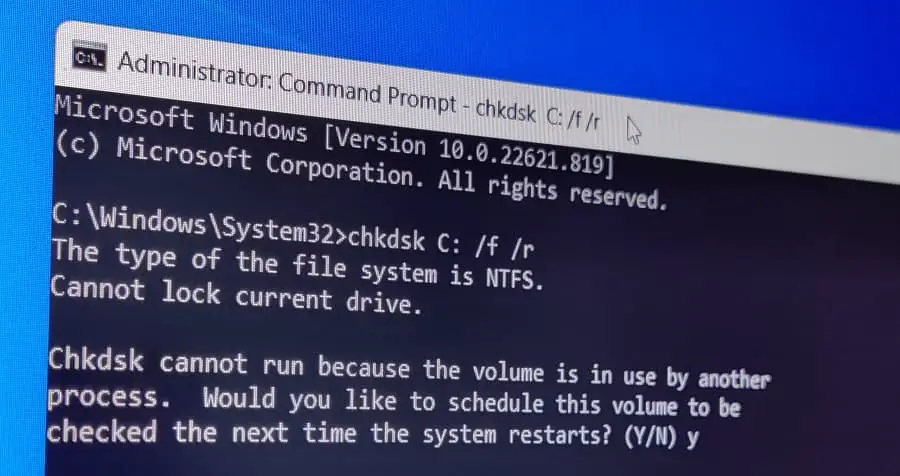 When it prompts to schedule to scan the volume on the next restart type Y and press enter key,
Close all working windows and reboot your PC to start scanning the drive for errors and fix them.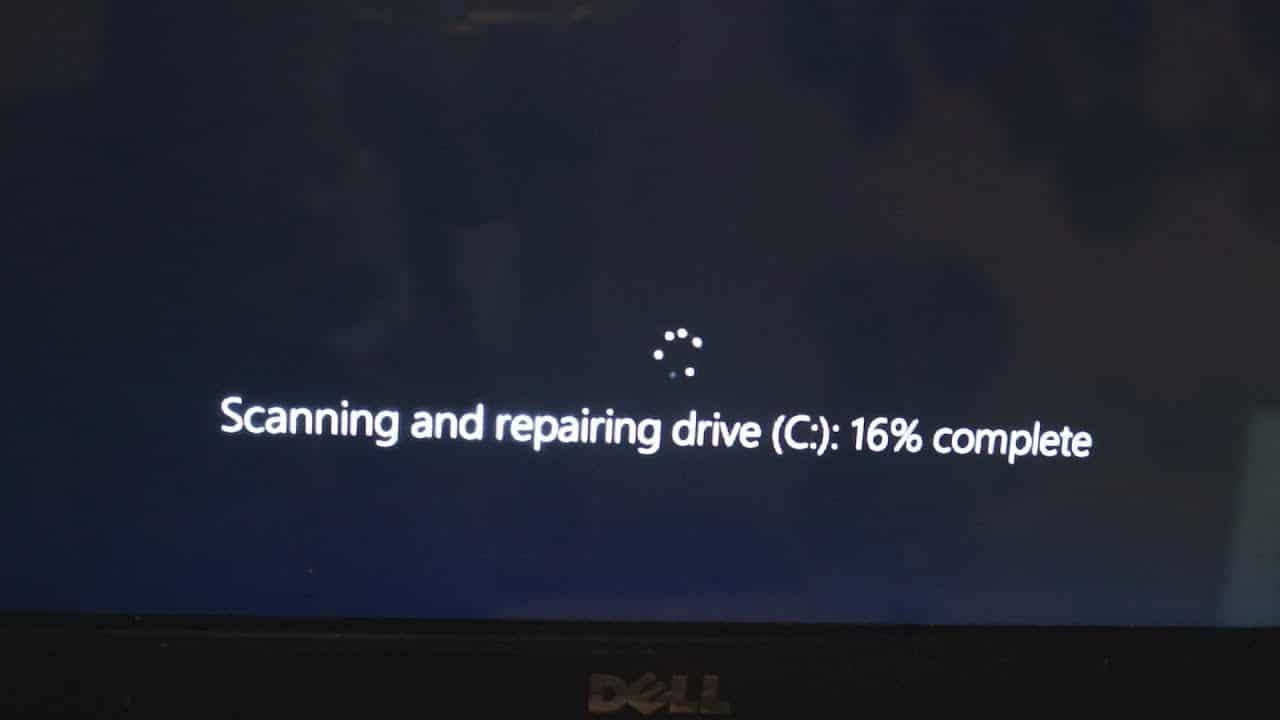 Run Windows Memory Diagnostic Tool
Problems with physical memory also refer as RAM can also cause different bluescreen errors on windows 11. Thus, running the Windows Memory Diagnostic tool analyzes the issue with the memory and fixes it.
Check and make sure there is nothing wrong with RAM memory on your PC.
Press Windows key + R, type mdsched.exe and click ok to open the windows memory diagnostic tool,
Click on Restart now and check for problems (recommended. However, if you want to analyze the issue the next time you start your PC, click on Check for problems the next time I start my computer option.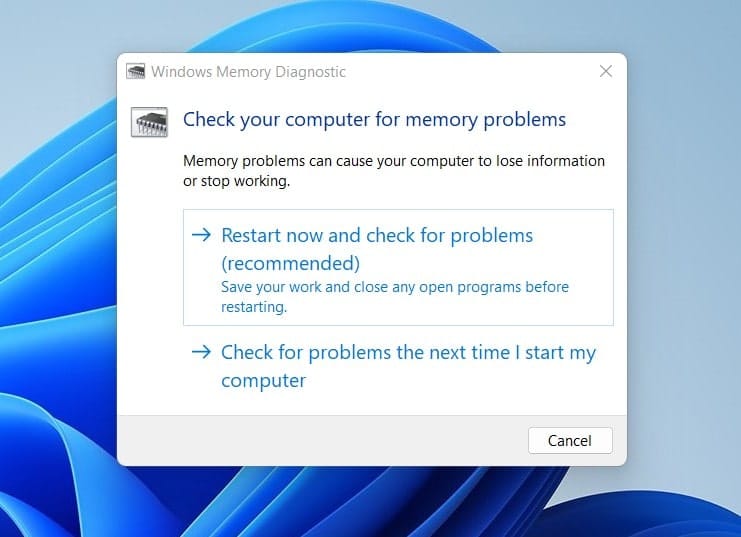 This will restart your PC, the tool will launch and run the memory test, attempt to identify possible errors and issues regarding RAM
It may take 20 to 30 minutes depending on your memory configuration. Once the test is complete, Windows will continue to start and display if any error is found.
Update device Drivers
Out of all the possible causes of this "Kernel Security Check Failure" issue, the most likely cause is outdated drivers. And One easy way to check for drivers with issues is by using Device Manager.
Press Windows key + X and select Device manager,
This will display all devices and peripherals connected to your computer,
Expand them and check if any drivers are listed there with a yellow exclamation mark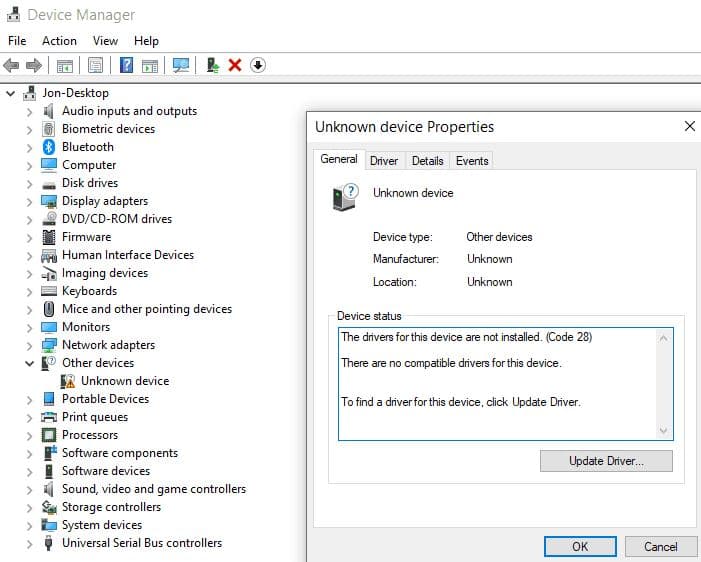 If found any right click on it and select the "Update driver" context menu item.
Next, select between, search for the driver automatically or choose the manual option and search your computer for the relevant new driver file that may already exist on your computer
In the same way, we recommend update the essential drivers for windows 11. That includes the latest driver update for the display (Graphics) driver, Audio driver and network adapter driver.
Also, you can refer to device manufacturers (for example Dell, HP, Acer etc, Or NVIDIA, AMD, and intel) for downloading and installing the latest driver update on your computer.
Once done reboot your PC, this should most probably fix the Kernel Security Check Failure in Windows 11.
Reset windows 11 factory default
If the above solutions didn't fix the blue screen error on windows 11, your last resort is Reset the windows 11 factory default. Don't worry there is option to choose either completely wipe the system and reinstall Windows 11 or save the files while removing the applications and settings.
Press the Windows key + X and select settings from the context menu,
Navigate the system tab, and click on the Recovery option on the right sidebar.
Now click on the 'Reset PC' option next to 'Reset this PC' under 'Recovery options'.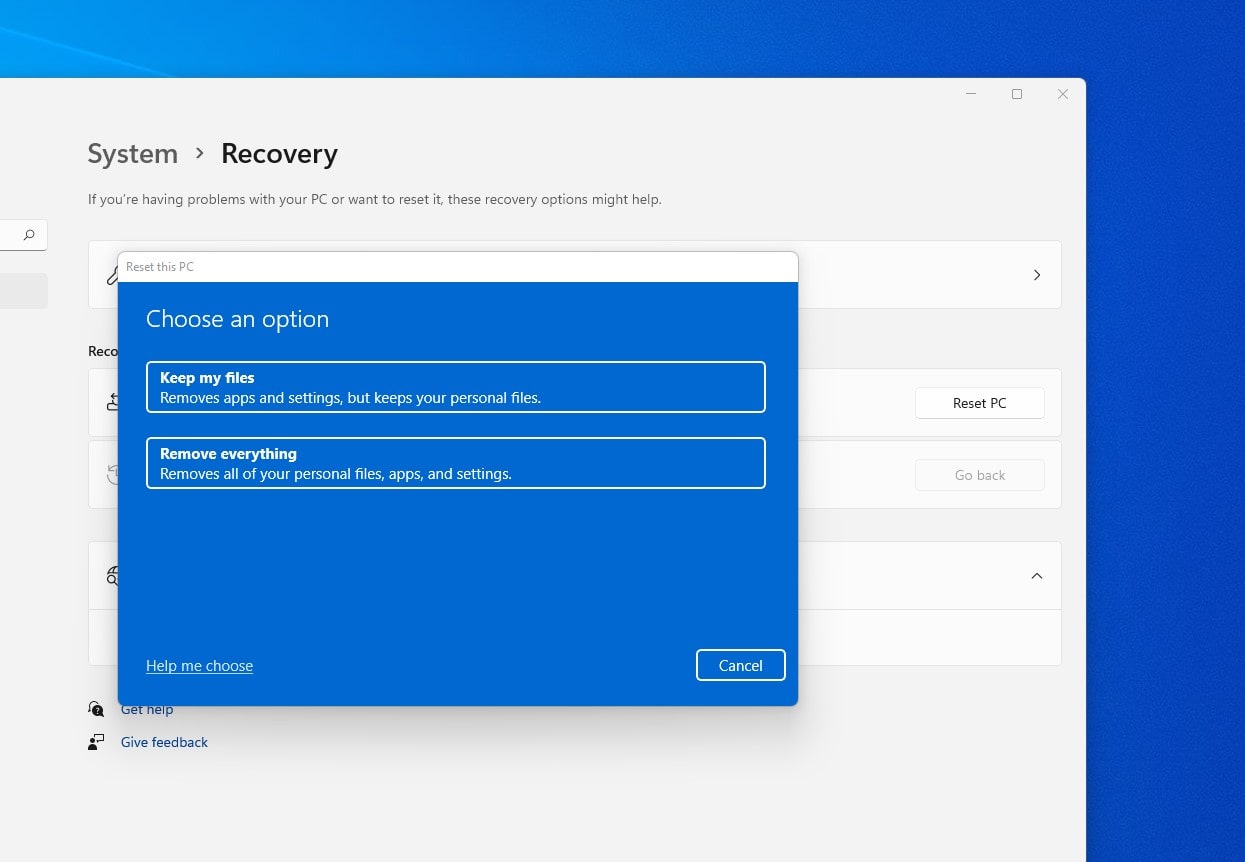 You will now see two options- Keep my files and Remove Everything. Select any options as per your preferences, and then follow the on-screen instructions to reset windows 11.
Did the above solutions fix the Kernel Security Check Failure error in Windows 11? Let us know on the comments below.
Also read: