A device driver is a software program that enables the windows System and the device to communicate with each other. Or we can say, The purpose of a device driver is to ensure the hardware will be connected smoothly to any version of the operating system. All the devices and peripherals connected to your computer need Driver software to operate. Also whenever a new device is connected to the computer then its drivers will be installed automatically Or you need to install it manually.
All device drivers installed on your computer, need to update regularly that fix security and compatibility problems, errors, broken code, and sometimes even add features to the hardware. If you have older or outdated drivers or device drivers not been updated a long time you may experience different problems on your PC. Hence drivers play a crucial role in allowing your computer to interact with devices smoothly, you need to make sure it's updated and the latest driver version is installed on your computer.
All drivers Installed on your computer should update regularly, so that it helps the device to work properly.
How to Update Drivers On Windows 11
Outdated drivers on your computer or laptop can cause many problems and can make it difficult for you to use the device. Whenever you experience different problems on your computer, system crashes or black screen at startup, problems with Wi-Fi connectivity, system speed, and more, updating drivers on Windows 11 is advised.
You can use a built-in device manager to quickly update drivers on windows 11. Installing the latest windows update also brings the latest driver updates as well. Also, you can visit the device manufacturer for latest driver update or go for the third party driver update utility programs to make the process automatic.
Install the latest Windows update to update the drivers
Did you know installing the latest Windows updates not only brings security enhancements and bug fixes but also brings driver updates as well? Yes, many device drivers such as network adapters, monitors, printers, and video cards, are automatically downloaded and installed through Windows Update.
If you want to update drivers on your PC, then you can check for Windows updates
Press the Windows key + I combo on your keyboard to open windows 11 settings,
Go to the Windows update section and click on check for updates button,
Wait for your computer to complete checking for available updates,
If pending updates there allow them to download and install on your computer,
Now to check and install the driver updates click on advanced options,
On the next window, you will see optional updates click on it,
Next expand the driver update section, checkmark on available driver updates and click on download and install.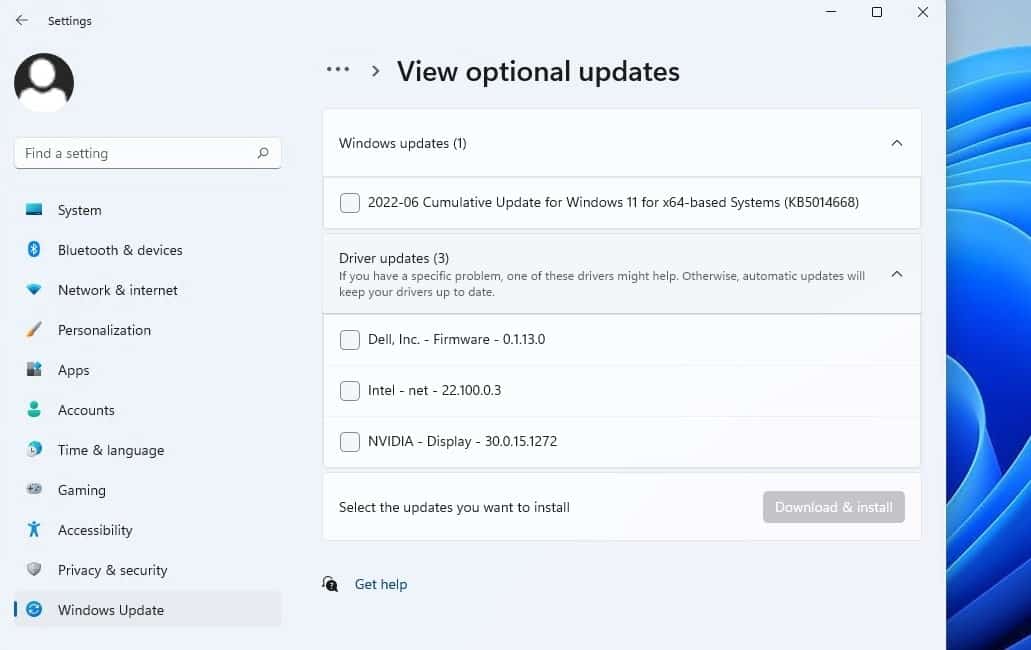 After you have installed the update, restart your PC to apply them
Update Windows 11 drivers using Device Manager
In addition to Windows Update, Windows 11 also includes an in-built tool, Device Manager, that helps update drivers without any issues. You can open the device manager using devmgmt.msc or right-click on the windows 11 start menu. And when you open the Device Manager it displays a graphical view of the hardware that is installed on your computer. Also, you can use this tool when you want to view and manage hardware devices and their drivers.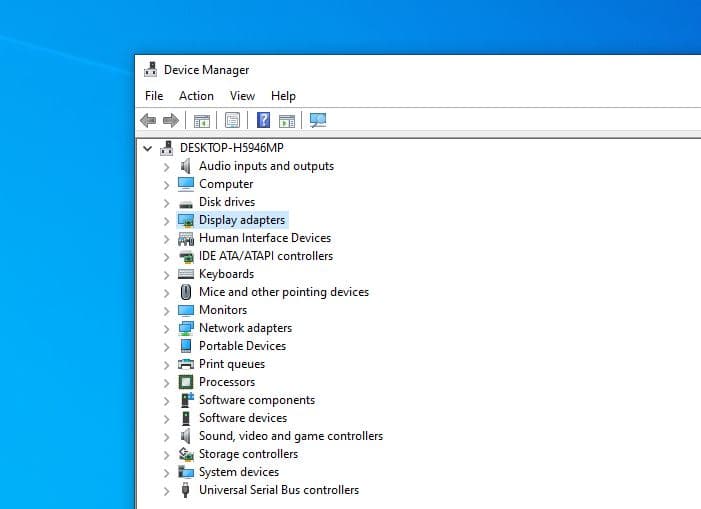 To update the drivers from the device manager:
Press the Windows key + X and select the device manager
This will display all installed hardware and peripherals connected to your computer,
You can Double-click on individual hardware to expand the list of devices. Now right-click on the device and then click on update driver.
For example, if you are looking to update the Audio driver:
Open the device manager, and expand the Audio inputs and outputs section,
Now right-click on the audio driver and select update driver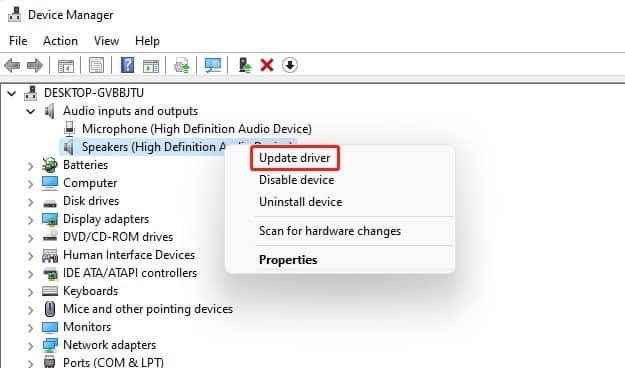 Next, select the search automatically for driver options if your PC is connected to the internet. This will find the driver for the device from the internet and update it.
You can click on Browse my computer for drivers to locate and install the default driver manually.
Let's click on Browse my computer for drivers then select let me pick from a list of available drivers on my computer.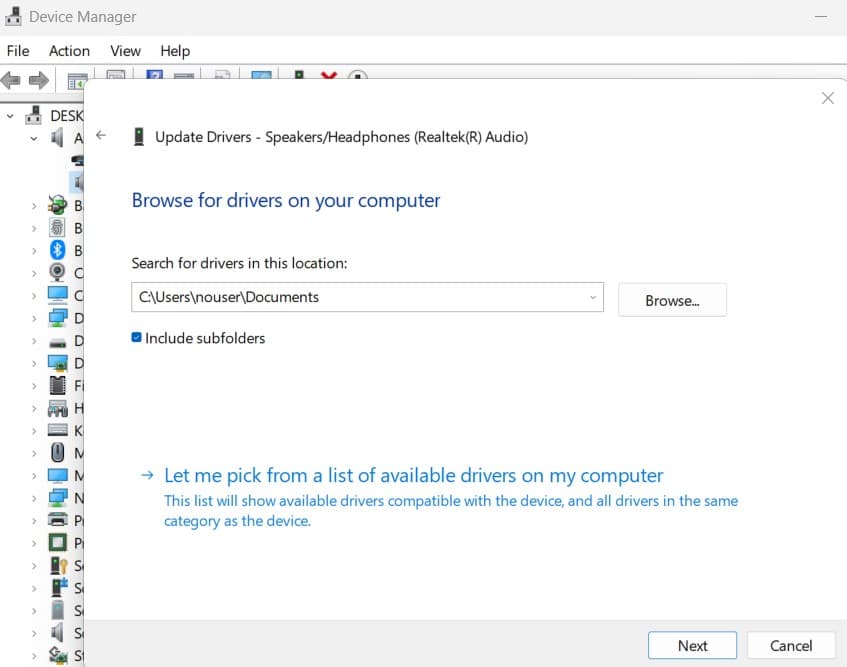 This will display available drivers that compatible with your device
Select the correct driver then click next and follow the on-screen instructions to install the driver on your computer.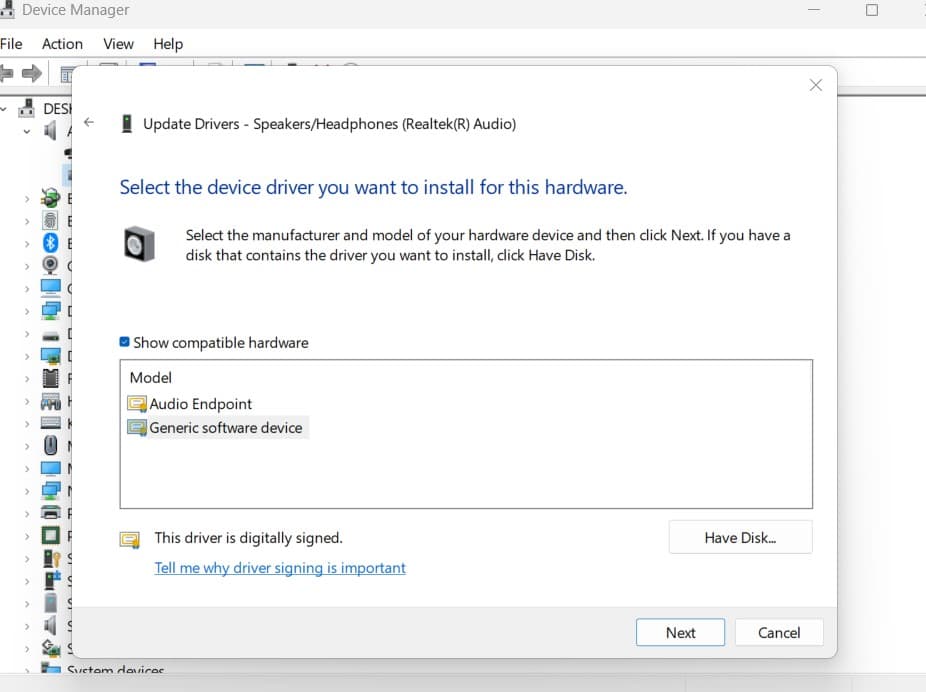 Once done you need to reboot your computer to apply the changes.
Update Drivers in Windows 11 from the official site
Also, you can visit the device manufacturer site to get download the latest driver update for your computer. If you are unable to update the drivers through the above methods, you can download every driver from the internet. 
You can get the details of drivers on the device manager for example expand display adapter right click on the installed graphics driver select the properties
Here  Under the driver tab, you will get all the details.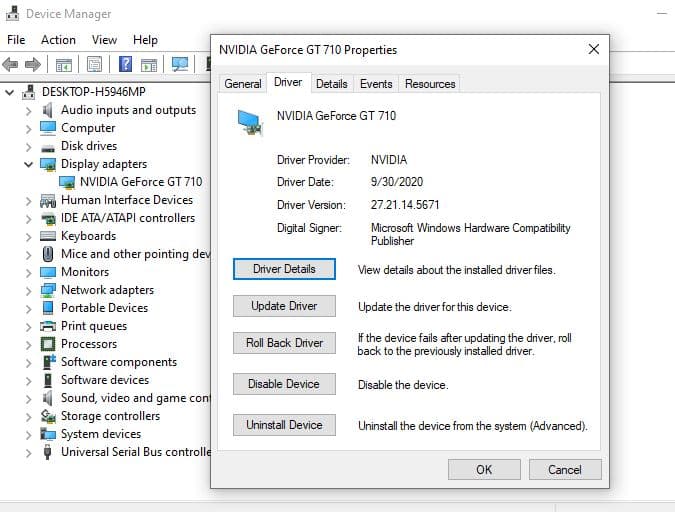 For example, look above image We have NVIDIA GeForce GT 710 Graphics card installed. And the driver version is 27.21
Next, you have to visit its manufacturer's website for example visit nvidia.com and then select the product type, operating system, and preferred language,
Click on search then download the latest graphics driver.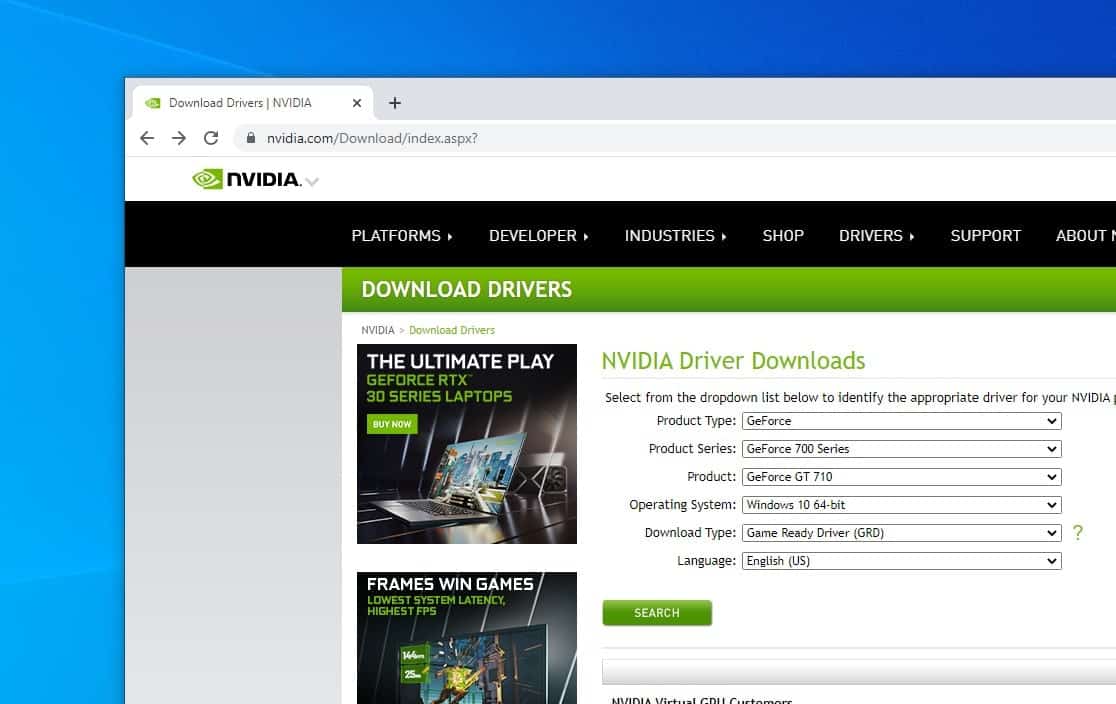 Make sure to download the correct driver and install it with admin rights.
Note – Beware that many scam driver sites exist that install malware instead of drivers, so make sure you've reached the actual manufacturer's site for download the latest driver update.
Also if you have HP laptop running Windows 11, then you can easily update drivers using its HP Support Assistant tool. The same thing applies to Dell or other laptops as well. Most laptop manufacturers offer support assistant tools that help get the latest driver update for your device.
If you have HP laptop running windows 11 you can get the HP support assistant tool here.
Run the setup.exe  it automatically looks for driver issues and installs the drivers on your PC.
Use third-party software for updating windows 11 Drivers
Also, you can use professional third-party driver update programs to make the process automatic. There are various third-party software that you can prefer to use if you want to update the windows 11 drivers. You can use tools like Driver Booster and DriverPack Solutions to update the drivers.
You can use any of third party driver update tools available on market,
Once download and Install the driver update tool on your computer, it will prompt you to scan your computer for any driver updates.
Make sure you are connected to the internet, the software will scan for driver updates and you will be prompted to download the drivers and update them.
You can select the drivers you want to update. After you have updated the drivers, restart your PC, and the changes will be made to your system
Device drivers are very important and need to be updated as it bring everything from new security patches that are designed to keep hackers from corrupting your files to upgrades to the technology of your device. Also, with the latest driver updates, device manufacturers identify glitches or errors known as bugs and then correct them with the latest update.
How to Reinstall the device driver
Open the device manager, expand the name of the device, right-click the device and then select Uninstall. When you Restart your PC Windows will attempt to reinstall the driver.
Also read: